Print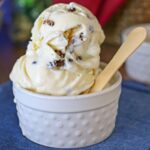 3 Ingredient Chocolate Chip Ice Cream
This no churn ice cream comes together so easily and will surely satisfy your sweet tooth!
Add whipping cream to your mixer bowl with the whip attachment.

Add sweetened condensed milk.

Whip on the highest setting you can set your mixer at without it spattering outside your bowl for 4-6 minutes or until lighter & creamy looking. It won't whip to peaks but just look thick & smooth.

Transfer to freezer safe container.

Slowly sprinkle in your chocolate chips & run a knife through the dish to distribute some of them through the ice cream without allowing them all to sink to the bottom.
You can substitute some coarsely grated chocolate for the mini chocolate chips if desired. The key is to keep the chocolate small though so that it melts in your mouth with the ice cream. You want to avoid it becoming something you have to chew. Larger pieces of chocolate (like a regular size chocolate chip) tend to get quite hard & uncomfortable when frozen.