If you're reading this article, there's a good chance you're sleep-deprived.
You're not alone.
Studies show that over 35% of U.S. adults don't get the recommended 7+ hours of sleep each night. Plus, almost 70 million adults in the U.S. have some sort of sleep disorder.
As a wife, mom of 5, and a Pediatrician I've had my share of sleep deprivation. Years ago, while training as a Pediatric Resident, I had to work 30-hour shifts in the hospital.
That's right. 30. Straight. Hours!
Some nights, I could catch quick 20-minute naps if things were slow. Other nights, I was lucky to even sit down between admissions, evaluating patients, and responding to urgent calls. I remember driving home after one of these shifts feeling completely exhausted, unable to keep my eyes open long enough to make the 3-mile trip home. Being so drowsy with slow response time, I felt my car drifting into the lane next to me. Then I came eerily close to rear-ending a car in front of me. At that moment, I forced myself to pull over and take a quick snooze in a parking lot.
And I'm so glad I did.
Had I not, I could've been a statistic. Drowsy driving causes over 1500 deaths and over 40,000 injuries a year. At least 5% of drivers report falling asleep at the wheel within the past month. What a scary thought!
But, sleep deprivation doesn't just cause problems on the road. If you're getting inadequate sleep, you increase your risk of Type 2 Diabetes, heart disease, obesity, depression, and having a weak immune system. Lack of sleep can also affect your mood, and cause you to be short-tempered and more likely to snap at anyone in your path. I know that's been the case for me more times than I'd like to admit.
Poor sleep can also decrease your ability to focus, learn, and complete tasks. It affects your overall productivity. Mistakes are much more likely to happen when you don't get enough rest. You just can't be your best self without a good night's sleep!
My issue during residency was a pure lack of sleep. But, what other sleep issues plague us as busy women? And what can we do about them?
Looking to build some good new habits? Good or bad, habits require repetition. Once they become habitual, they become automatic! They no longer require extra thought—we simply do them. Embrace these 10 habits to really change your life!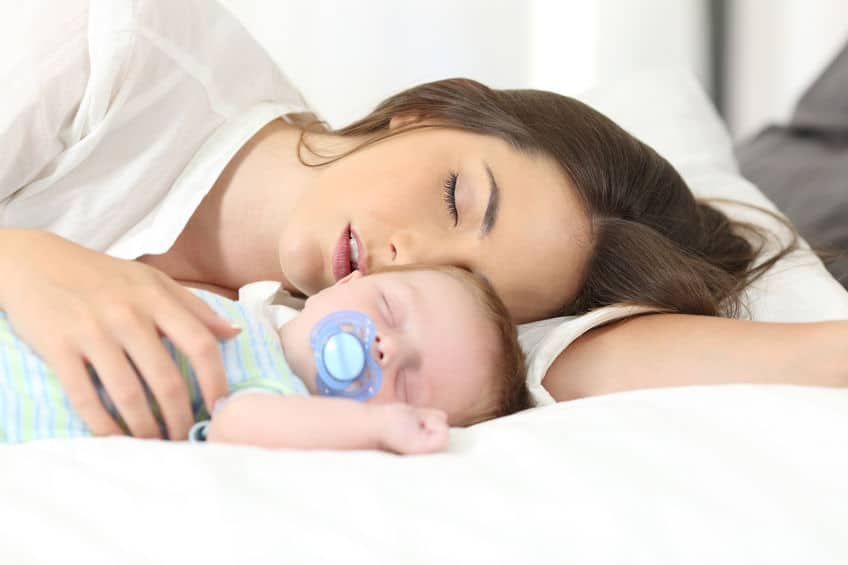 Problem #1: You don't get enough sleep
Adults should get at least 7 hours of sleep per day, according to the American Academy of Sleep Medicine. This may seem comical and nearly impossible for us busy moms, but it's so important! Near the end of each of my 5 pregnancies, I remember being too uncomfortable to get enough sleep. Then, with a newborn baby? Forget it! Sleep went out the window! I was lucky if I got in a 1-hour nap between feedings. As my children got older, I had to balance work, their activities, household tasks, my social life, plus spending time with my husband. There are only 24 hours in each day! Many times, I ended up sacrificing sleep for the sake of getting things done – and definitely felt the negative effects. I know I'm not alone.
Solution: Aim for at least 7 hours of sleep every night.
Treat your sleep time as "sacred" and don't schedule things that'll interfere with it. Of course, there may be times in your life where sleeping a full 7 hours at night is out of your control, but don't make shorter sleep periods a long-term habit. Make a realistic plan for each day and stick to it! Prioritize the things that absolutely must get done that day and get them done first. But, give yourself grace if you don't make it through your entire to-do list. Don't sacrifice your sleep for the sake of checking a "done" box. Your overall well-being is what's most important.
Problem #2: You sleep at the wrong times
Your body is naturally meant to sleep at night and to be up and active during daylight. Melatonin is a "sleep" hormone that your body releases in darkness. It sends the signal to your body, "Hey, it's dark outside, it's time to go to sleep!" Throwing off your sleep schedule can throw off the release of Melatonin, making it harder for you to sleep. That's why it's easier for most of us to fall asleep at night vs during the day.
Solution: Get your longest sleep stretch at night.
Since Melatonin is released at night, it's naturally easier for our bodies to fall asleep then. There may be periods in your life where you're forced to switch your days and nights (with a newborn or a night job – like me, in residency). But make this a temporary exception, and not your regular sleep routine. If you have to sleep during the day, rest in a dark room with as little sunlight as possible.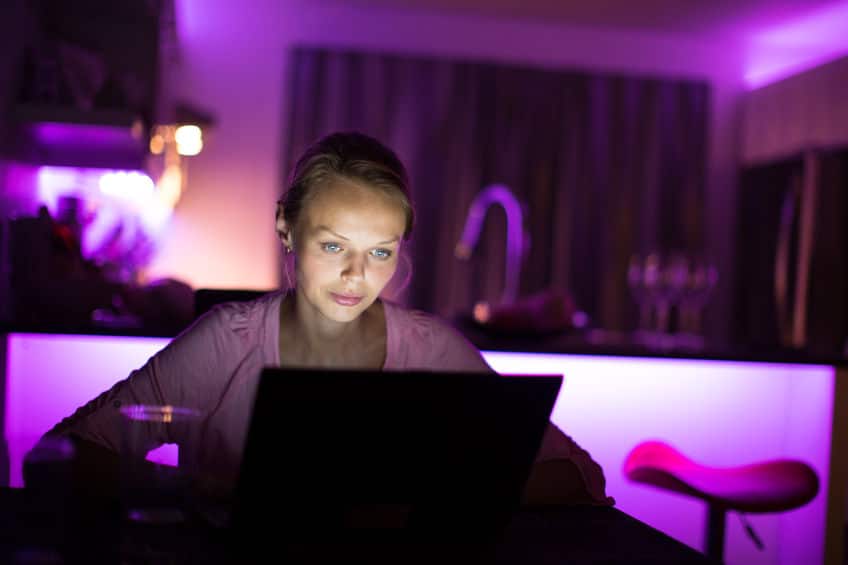 Problem #3: You have a hard time going to sleep and getting up on time.
Personally, I know I struggle with getting up in the morning when I have to get to work. I'm ashamed to admit that I hit the snooze button at least twice a lot of the time! Plus, I sleep in on the weekends when my 2-year-old allows it. But sleep research actually recommends against this. Having an irregular sleep schedule can make it harder to get to bed at night and to rise in the morning when you need to.
Solution: Aim to go to bed and wake up at the same time every day.
Keep your body "programmed" to a regular schedule so that it's easier to sleep when you should. As moms, we tend to have a strict bedtime routine for our kids, but we don't realize the importance of having our own. (If it works for them, it should work for us, too!). If you tend to sleep in on the weekends, try not to shift your sleep schedule by more than an hour.
Problem #4: You sleep poorly
Getting the right "quality" sleep is just as important as the "quantity" of hours you sleep. If you're still tired after getting 7 or more hours of sleep, your sleep quality could be the problem. 7+ hours of poor sleep each night can still give you the same consequences I mentioned earlier.
Solution: Make your sleep spot comfy and limit stimulation 30 minutes before bedtime:
Set your room to a comfortable temperature, wear comfy clothing, choose a comfy pillow, bed, blanket – whatever you need to rest well! Make the room quiet and dark (remember… melatonin!). Use your bed for sleep alone, so that your body knows what it should do when it's there! Don't work or eat in bed. A comfortable sleep environment will minimize your tossing, turning and waking up in the middle of the night, and give you more uninterrupted, restful sleep. Limit stimulating activities, like watching TV, using a computer or your phone before bedtime. If you must use them, dim the light or use the "night" option if there is one. Remember melatonin! Many people – my hubby included – can't fall asleep without some sort of screen on, or background noise. If that's you, try to "re-train" your body to fall asleep naturally to get your melatonin released the way it should. Also, avoid large meals, caffeine, stimulating books, and exercise before bedtime. These all make it harder to get to sleep. Moving your physical activity to the daytime can help you rest easier at night.
Problem #5: You sleep in short spurts
Sleeping for 7+ hours straight through is more beneficial to your overall health than breaking those 7 hours into smaller chunks. Your brain needs time to go through the natural sleep cycle, which usually lasts about 1-2 hours each time. Interrupting your sleep cycle also interrupts the amount of time you spend in deep sleep, which is important for good rest. If you're only sleeping in short spurts, your body is missing out!
Solution: Limit sleep interruptions.
As mentioned above, aim to limit distractions when going to sleep, and also distractions during sleep. Aim for 7 uninterrupted hours of sleep every night. Be sure that your kids, your hubby, and your pets have everything they need from you before you call it a night!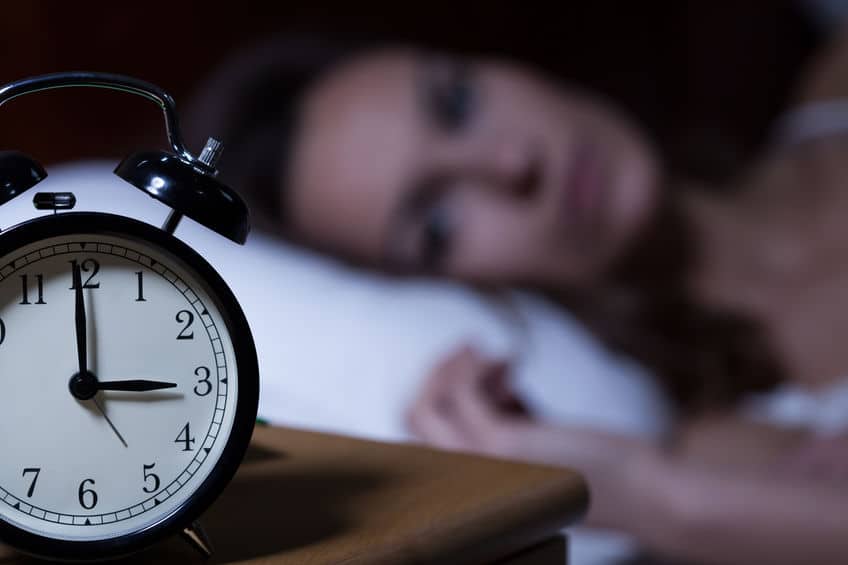 Problem #6: You have a sleep disorder.
If you find that you have problems falling asleep and/or staying asleep no matter what you try, you could have Insomnia. It's one of the most common sleep disorders – affecting at least 10-30% of adults. Medications, stress, trauma, and certain medical conditions (like anxiety or depression) can all cause Insomnia. Another common sleep disorder – Sleep Apnea – affects 25 million adults in the U.S. If you've been told that you snore or have pauses in your breathing when you sleep, you could be suffering from Sleep Apnea. This disorder can cause you to have excessive daytime sleepiness even if you're getting 7+ hours of sleep. That's because the pauses in your breathing jolt you out of your sleep, interrupting the sleep cycle I talked about above. Lastly, if you find yourself falling asleep without warning during the day and suffering from poor sleep at night, you could have narcolepsy. This sleep disorder affects approximately 50 in every 100,000 people in the U.S. and can cause significant issues in daily activities – especially driving.
Solution:
If you find that you have any of the symptoms mentioned above for Insomnia, Sleep Apnea, or Narcolepsy, talk to your doctor ASAP. The sooner these are recognized and treated, the sooner you'll be on your way to better sleep. Also, pay attention to sleep problems in your children and have them addressed as well. It may be hard to get your newborn or young infant on a sleep schedule. But, if your toddler or older child isn't getting the right amount of sleep or has trouble sleeping, discuss it with your Pediatrician. Odds are, if your child isn't sleeping, you aren't either!
I can't emphasize enough the importance of good sleep for us, as women.
We have so many things to do, so many people to care for, so much to balance. But, we aren't any good for those who rely on us if we don't take care of ourselves. Sleep should be at the top of our list of priorities. So, if you recognize any of the above sleep issues in your life, try implementing the solutions I've provided for better sleep.
I'm renewing my goal of getting adequate sleep this year. How about you?
Looking to build some good new habits? Good or bad, habits require repetition. Once they become habitual, they become automatic! They no longer require extra thought—we simply do them. Embrace these 10 habits to really change your life!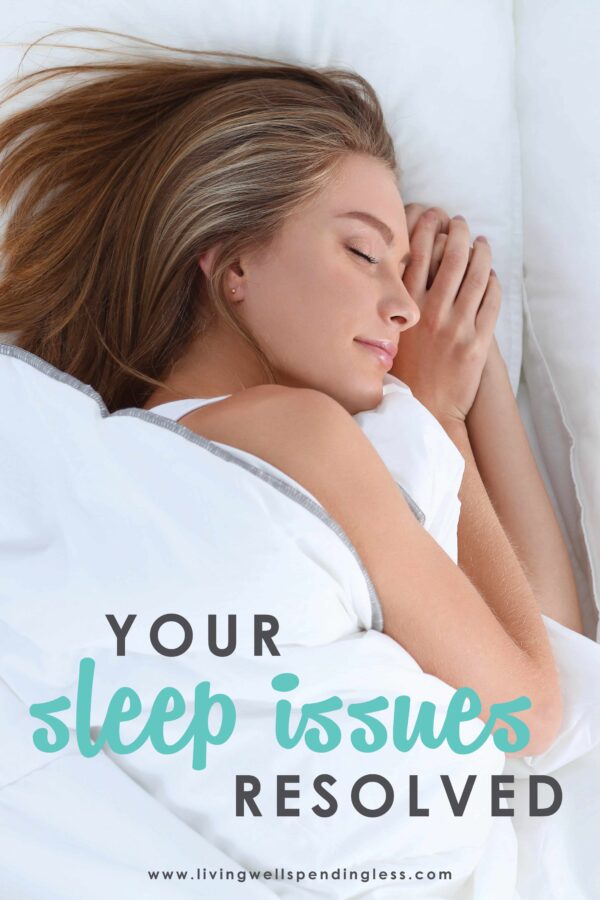 TAKE BACK CONTROL OF YOUR HOME LIFE
---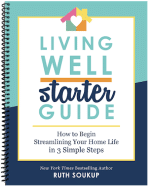 Ever feel like you just can't keep up? Our Living Well Starter Guide will show you how to start streamlining your life in just 3 simple steps. It's a game changer--get it free for a limited time!
If you love this resource, be sure to check out our digital library of helpful tools and resources for cleaning faster, taking control of your budget, organizing your schedule, and getting food on the table easier than ever before.