If you are overwhelmed by the prospect of clipping hundreds of coupons every week or don't even know where to begin, this series is for you.
Maybe you watched an episode of TLC's Extreme Couponing and now wish you too could save hundreds of dollars on your grocery bill each week.  Well guess what?  You can!  While it is important to remember that the show is filmed to be as extreme as possible, and there is no real reason to take it quite to that level, anyone can save money with coupons.
Over the course of eight weeks, I break down the process into easy-to-follow baby steps, complete with weekly assignments to get you started on your way to extreme coupon savings.  By the end of the series, you will not only have a firm grasp on the fundamentals of extreme couponing, you will also know how to save megabucks at the drugstores and will have established a plentiful stockpile.
View the series online here, or download all 8 weeks for FREE: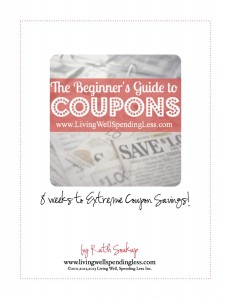 *   *   *
Affiliate links may be used in this post. Printing a coupon or ordering a product through this link may result in a commission, which helps pay for the cost of running this site and keeps the content free. Read my full disclosure policy here.