THE WAIT IS OVER!
---
Ready to finally create the life you've always dreamed of? Do it Scared is now available everywhere. Get the game-changing book everyone is talking about and discover the courage to face your fears head on.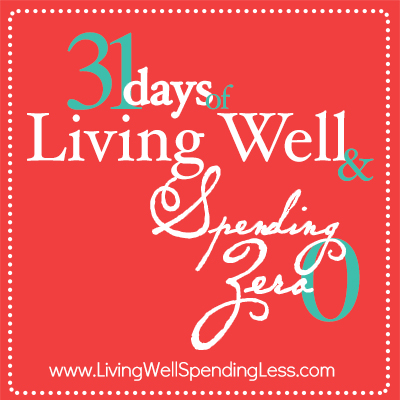 I'm not sure how many of you are on board for this month's challenge but the gauntlet has been tossed and I am calling on ALL of you to try, in your own way, with your own rules, to do this with me. Right here, right now commit to a whole month of no spending:
31 Days of Living Well and Spending ZERO
If you've read this blog for longer than a week you probably already know that my husband and I just finished a 30 day spending freeze. For the entire month of September, we cut out all of our non-essential (and even most of our 'essential') spending. (To read about the 5 financial lessons I've learned so far, check out Friday's post here.)
I'm not gonna lie, there were some tough moments. By the third day I was really, really regretting my lack of foresight to stock up on a few bottles of wine, and about halfway through the month I think I would have traded both my children for just one double -tall-one-and-a-half-pump-cinnamon-dolce-lattes.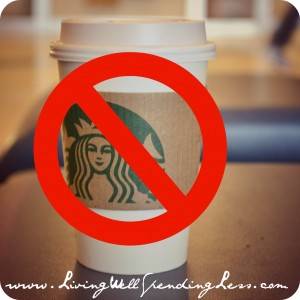 We ate more than a few very random–and not in a good way–meals and we sometimes found ourselves talking longingly about all the favorite restaurants we used to frequent. Princess is literally counting the days until we can go back to the Golden Corral. Yep, we really know how to live. 🙂
But guess what? At the end of the month we had saved over $1,000, tackled some very hard money discussions that we had previously avoided, cleared out much of the long-forgotten food in our freezer & pantry, and ultimately realize that we need so much less than what we have.
I wish I could say we didn't fight about money that whole time, but in a strange twist, we actually had a doozy of a fight when Husband wanted spend a few dollars on something and I said no, that it wasn't "essential." (Let me tell you, having had ALL our previous money fights originate from MY spending habits, it was practically like the Twilight Zone to have it go the other way.) But we lived!
So would I do it again? In a heartbeat! I am ready to start all over again, this month, with YOU. To be perfectly honest, I am far more concerned about committing to writing a blog post a day for 31 days then I am to committing to another month of no spending.
But this month is not just about spending ZERO, although that will be our main goal. It will also be about living WELL while we do it. It will be about finding out just how much we already have and how little more we really need. And hopefully, by the end of them month, my definition of "living well" will also be yours:  A life rich with faith, family, friends, & creativity, secure in the idea that a life well lived has nothing to do with what we have but who we are.
I thought it would be fun to put together some printables for this challenge to help you complete the challenges & track your progress. Not every day will have one, but some days will and as you print them out you can put them in a folder or binder and create your own (cute) 31 day notebook. If there is anything I love more than a 31 day challenge, it is a cute notebook to go with it!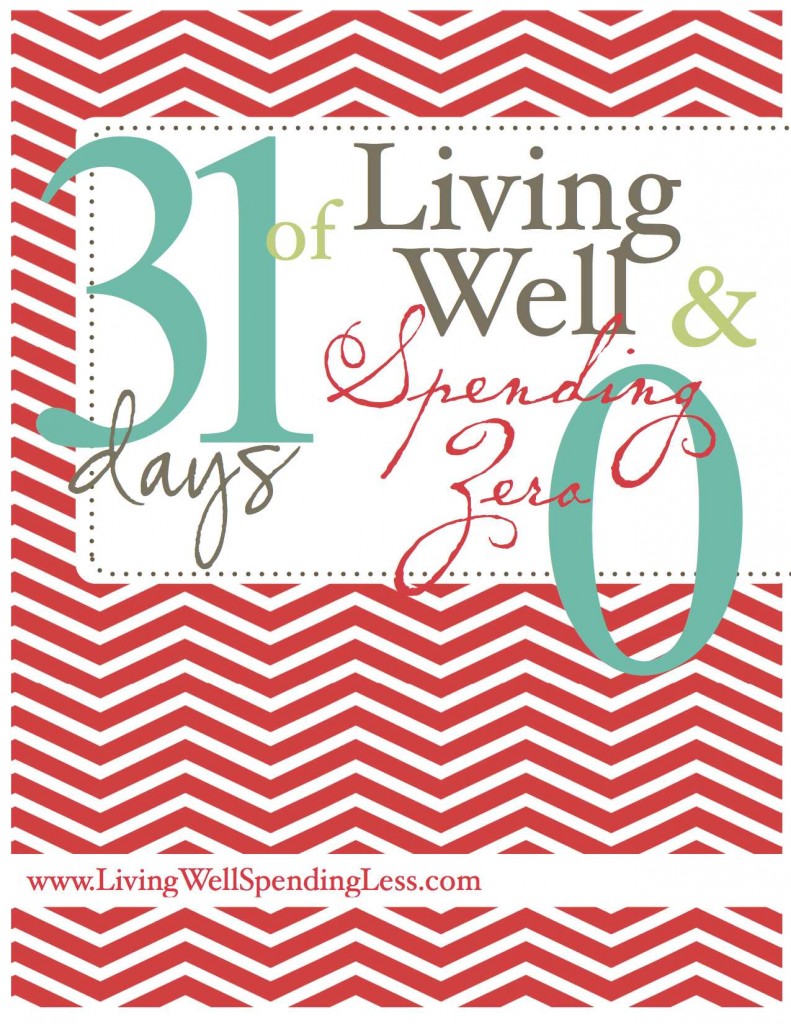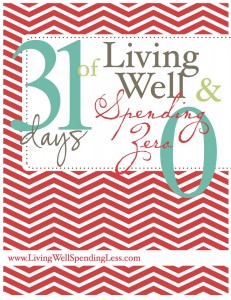 Get your printable notebook cover sheet here
*   *   *
So let's get started, shall we? Today your task is pretty simple. First, you have to COMMIT! You can't approach this half-heartedly or you will fail. If you are married you will also need to get your spouse on board–you will need each other! Once you've signed it, snap a picture and tweet it with the hashtag #31DaysLWSZ .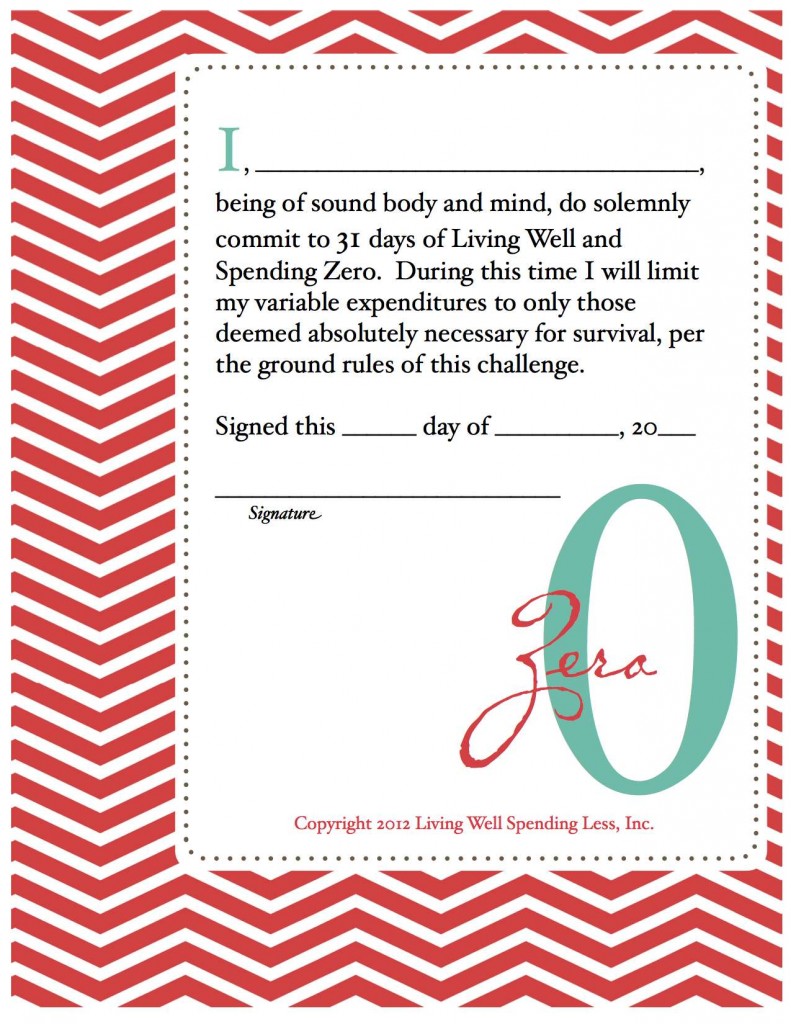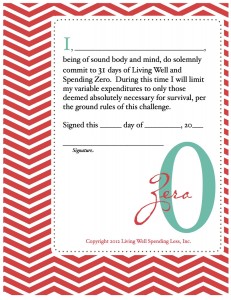 Get your printable commitment page here
Next, you will also have to set some ground rules for your challenge. Our ground rules last month were very basic: no spending on anything that wasn't absolutely essential.
For us that meant paying only our regular bills, as well as giving to the church, buying one birthday gift, and purchasing a handful of other "essentials" (such as seeds for our garden, a needed part to fix the car, etc.)  The only food items we allowed ourselves to buy during the month were milk, bread, eggs, & cheese. The rest of our food we ate all month came from our pantry and freezer, using what we had on hand.
Your rules should account for your own circumstances.  If you have a birthday or event or vacation already on the schedule, just account for it in your plan and move on. If you do not have a huge stockpile of food stored up, eating only from your pantry & freezer probably won't work, so you will have to include limited food purchases in your rules. This month, with our freezer and pantry already depleted, we will most likely run out of food. However, our plan is still to use what we have before we buy more. Resist the temptation to make too many exceptions ahead of time. The point is to stop spending! 
There are a few expenses that should definitely be cut out for the month:
Eating at restaurants
Starbucks
Clothing
Hobbies–crafts, golf, etc.
Entertainment
Toys
Toiletries
Alcohol & other vices
Lottery Tickets
Furniture/Home Decor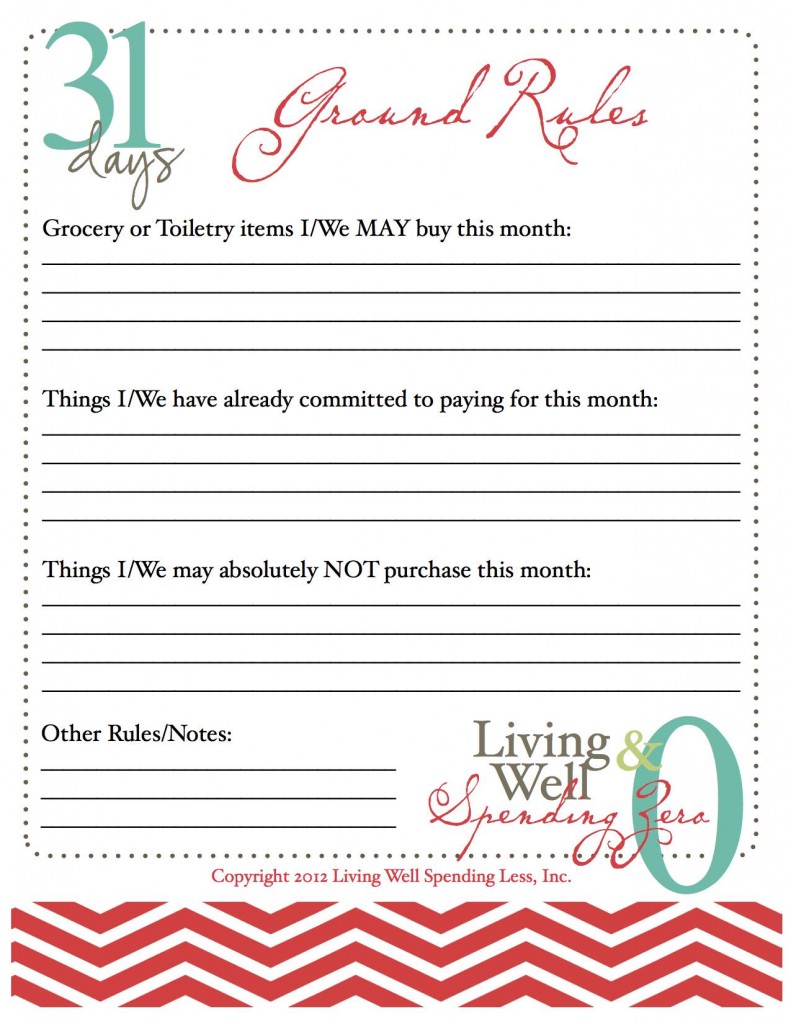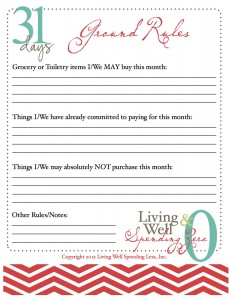 Get your printable ground rules worksheet here
*   *   *
So who's ready to take on this challenge? What are your fears or concerns? What are you most excited about? Do you have any questions? Let's do this!
*   *   *