If you pay close attention to my shopping results, you have probably noticed that I buy a LOT of pasta.  A ridiculous amount, really.  Enough to make you envision a whole room of my house filled from floor to ceiling with nothing but (practically free) noodles.
Sadly, that is not the case.
My kids love noodles.  They would eat them for breakfast, lunch, and dinner if I left them.  They are probably just a few steps away from pasta rehab, if there is such a thing.
And I gotta tell you, I'm not really a big fan of pasta.  Spaghetti with red sauce has always grossed me out, even as a kid, reminding me of something I won't mention here, for fear of ruining it for the rest of you.  I use red sauce in all sorts of other recipes, and we eat a lot of pasta, but I never, ever, ever buy spaghetti noodles.  Angel hair, yes.  Penne, BowTie, Ziti, Spiral…all fine and dandy.  But never spaghetti.
I realize have issues.  At this point in my life, I'm just going to let it go.
Out of necessity, I've had to find a few "happy medium" pasta recipes that can satisfy all of us.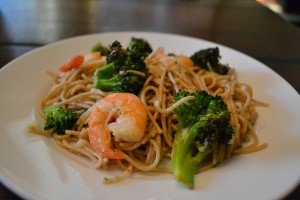 This one is probably my favorite.
It is based on a Ina Garten (the Barefoot Contessa) recipe I found in House Beautiful magazine a few years ago.  It combines 3 of my favorite things–shrimp, roasted broccoli, and garlic–into a pile of yummy deliciousness that is easy (and fast)enough to make every day yet still impressive enough to serve to guests, if need be.  In short, pretty much the perfect recipe.  Whenever I have broccoli in the house, I have to make it.  (And to answer your question, yes, I do eat shrimp.  I know it's not a vegetable.  I am one of those "cheater" vegetarians who sometimes eats seafood.)
Roasted Shrimp & Broccoli Garlic Pasta
1 package long noodles (whichever you prefer) 1 large head broccoli, chopped into large bite-size pieces 1 pound shrimp (I use the pre-cooked kind from Sam's club) 6-10 garlic cloves (depending on how much you like garlic), sliced red pepper flakes to taste, if desired. 1 1/2 cups vegetable broth or salted water 1 tablespoon parsley 1 cup parmesan cheese salt & pepper olive oil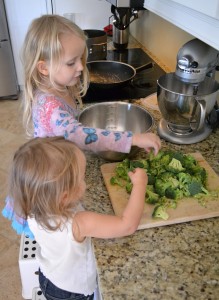 Step 1: Preheat oven to 400 degrees. Place the chopped broccoli & shrimp in a large bowl.  Pour in a couple of tablespoons of olive oil and salt and pepper to taste.  Mix well so that all the shrimp and broccoli is well coated.
Step 2: Spread out shrimp & broccoli on foil-covered baking sheet.  Roast for 8-10 minutes.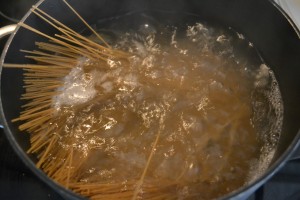 Step 3: While broccoli is roasting, begin boiling water in large pot.  Cook pasta according to package directions.  Drain, (reserving 1 1/2 cups of the water, if using in place of broth) & set aside.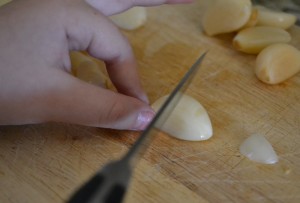 Step 4: heat 3-4 tablespoons of olive oil in large wok or pot.  Saute the garlic for a few minutes, stirring often, until gold brown.  Add red pepper flakes, if desired.  Add the water or broth to the garlic & bring to a boil.  Lower heat, add 1/2 teaspoon salt, & simmer for a few minutes until water is slightly reduced.
Step 5: Add the pasta to the garlic and toss well so noodles are evenly coated and well heated.  Remove from heat; add the roasted shrimp and broccoli, as well as the parsley and parmesan cheese.  Toss well and serve.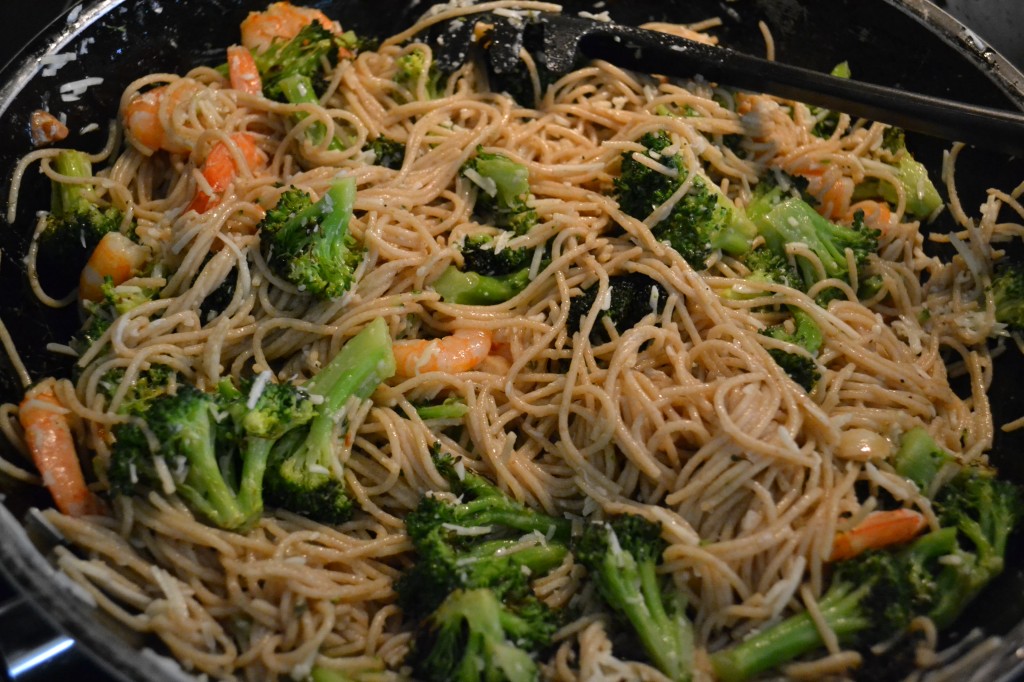 Happy cooking!
Affiliate links may be used in this post. Printing a coupon or ordering a product through this link may result in a commission, which helps pay for the cost of running this site and keeps the content free. Read my full disclosure policy here.