A well-stocked pantry can be a lifesaver! If you're not sure what you need to stock up on, don't miss this list of 10 pantry staples to always keep on hand!
Your pantry is your first and mightiest weapon of defense when it comes to feeding your family, making sure you have enough in case of a world meltdown, and ensuring there's a way to have staple items on a budget. But what should you purchase and how can you keep it stocked? I'm so glad you asked.
I get more questions about remaining on a budget in the category of food (grocery shopping, dining out, and meal planning) than any other area. By having the right pantry staples at home, you can prepare meals when you want or need them, save time and money, have food in the midst of a pandemic, and they will be healthier. Better yet, you won't have to feel overwhelmed at dinnertime, you won't have to resort to quick fixes or frozen foods, and you can definitely avoid the drive-through.
I firmly believe every family should have a "Pantry Top Ten." And having a stockpile of these items, let's say at least a few weeks worth, will come in hand in times of need. While you don't have to make David Letterman styled witty cracks about each item on your list, you do need to identify the foods you eat most frequently and staples that assist in making quick and easy meals. Depending on their tastes and budget, every family's top ten will look a little bit different. But the mere practice of defining ingredients you can maximize in your kitchen for multiple meals will help you recognize where to save money, time, and your sanity when it comes to feeding your family.
10 Essential Pantry Staples to Always Keep on Hand
With that being said, I'd love to share our family's Top Ten. Perhaps some of these items will land on your list, too.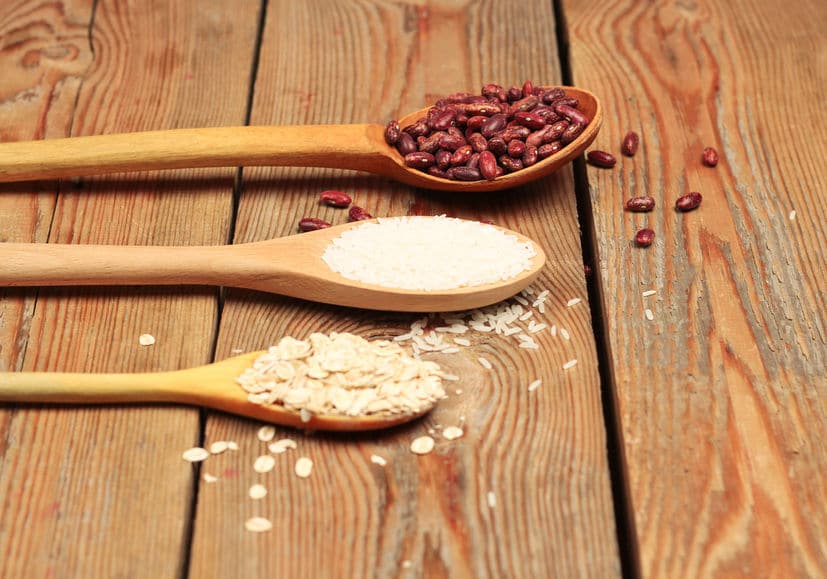 IN THE PANTRY
Peanut Butter
Does it get any more classic than a PB? Peanut butter (or another nut butter if your household has an allergy) can be a quick and filling food when you need to get your hunger under control. Even if it just fills the gap as a snack before you prepare a meal, it will satiate quickly. Use it in sandwich form, like a classic PB&J, or mix into oatmeal for a breakfast that packs a punch.
Rice
Rice is a suitable side and can even function on its own as a main dish. Used in a number of world cuisines, whether you fry it, serve it with a curry, or build a burrito bowl with rice as a base, you'll be a kitchen hero if you keep plenty on hand. Purchasing rice in a 25 lb. bag can save per ounce helping you rarely run out, and having a couple on hand for just-in-case scenarios is always a good call as it has an excellent shelf life. Depending on your family's flavor and nutritional choices, you can choose from a wide palate of rice varieties. Our family loves Jasmine rice because of its sweet flavor and ability to cook quickly.
Beans
Of course, you can't mention rice without following it with its fellow frugal and protein-packed food friend, beans. Canned or dried, beans are one of the most economical foods certain to fill you up and provide a protein wallop. I try to keep both dried and canned black beans on hand. When I have time, I soak the beans overnight in my crockpot; rinse, drain, refill with water and then cook all day long on low. Then I freeze them in individual bags. However, there are some nights when I use a can in chili or as a side dish.
Pasta
Gluten-free, whole wheat or plain 'ol pasta; you can choose your favorite shape or even flavor. No matter your preference, you need to keep several boxes of pasta on hand. Its versatility allows you to use it in salads, in soups, as a main dish, or on the side of your main course. Quick and filling, pasta allows you to fill your family at a low price. It's also the perfect extra item to grab for dry food storage.
Bread
It's always a good idea to have a loaf or two of bread on hand. Whether you're building your favorite sandwich or whipping up some French toast, bread is affordable. When you find a good deal on your favorite brand, purchase a couple of extra loaves and keep them in your freezer until you're ready to use them. We tend to have about four loaves in the freezer and restock to keep that up every time we go to the store.
Applesauce
It's not exactly a fancy side dish but especially if you have kids, this fruit source fits the bill. Both incredibly economic and with a long shelf life, applesauce helps keep your costs down and bellies full.
Salsa
It's rare that there's not an extra jar of salsa on our shelves. It's just one of those foods that you don't realize you need until it's all gone. Add it to a mashed avocado for a delish dip for chips and veggies, top beans and rice with it, use it on soups or on top of baked potatoes. Salsa has a low price tag and packs a high flavor. You can even cook a little into rice for a cheated version of Spanish rice.

FRIDGE + FREEZER ITEMS
Cheese
I realize cheese isn't shelf-stable and so technically it's stored in your fridge or freezer, not the pantry, but everything is better with cheese and completes one of the food groups. Top eggs or sandwiches or pasta. Melt some on chips or serve on a salad. Make homemade pizza or a yummy casserole. Cheese flexes its meal (and snack) muscles in a number of directions and almost everyone loves it. Grab a few extra bags when on sale and freeze them for later.
Eggs
Whether whipping up some famous chocolate chip cookies or making a quick sandwich, eggs are a staple we always keep on hand. Fried rice, French toast, or a simple egg noodle can all be made with few other ingredients and eggs. Once again, you'll need to store them in the refrigerator, not the pantry. If someone in your family has an allergy to egg, look for an egg replacer that might fill the same role.
Peppers, Onions, & Mushrooms
I grouped these three veggies together for a reason. For our family, these three veggies can work in a number of foods. We use them as pizza toppings and in fajitas. We top salads and sometimes sandwiches with them. They're easy to whip up in an omelet or add to pasta. When you get home from the grocery store, go ahead and chop them up and store them in separate airtight containers. Already prepared and at your fingertips, you'll easily prepare meals without having to spend extra time chopping or thinking about what to fix.
To recap, here are the 10 Pantry Staples to Always Keep on Hand!
Peanut Butter
Rice
Beans
Pasta
Bread
Applesauce
Salsa
Cheese
Eggs
Peppers, Onions, & Mushrooms
I'd love to know what pantry staples are in your top ten list! What items would meet your family's unique needs and tastes? What sorts of dishes do you regularly prepare that would benefit from a supporting cast of ingredient characters like these staples? What foods do you like to keep as emergency dry food storage for your family?
Other helpful resources:
PIN FOR LATER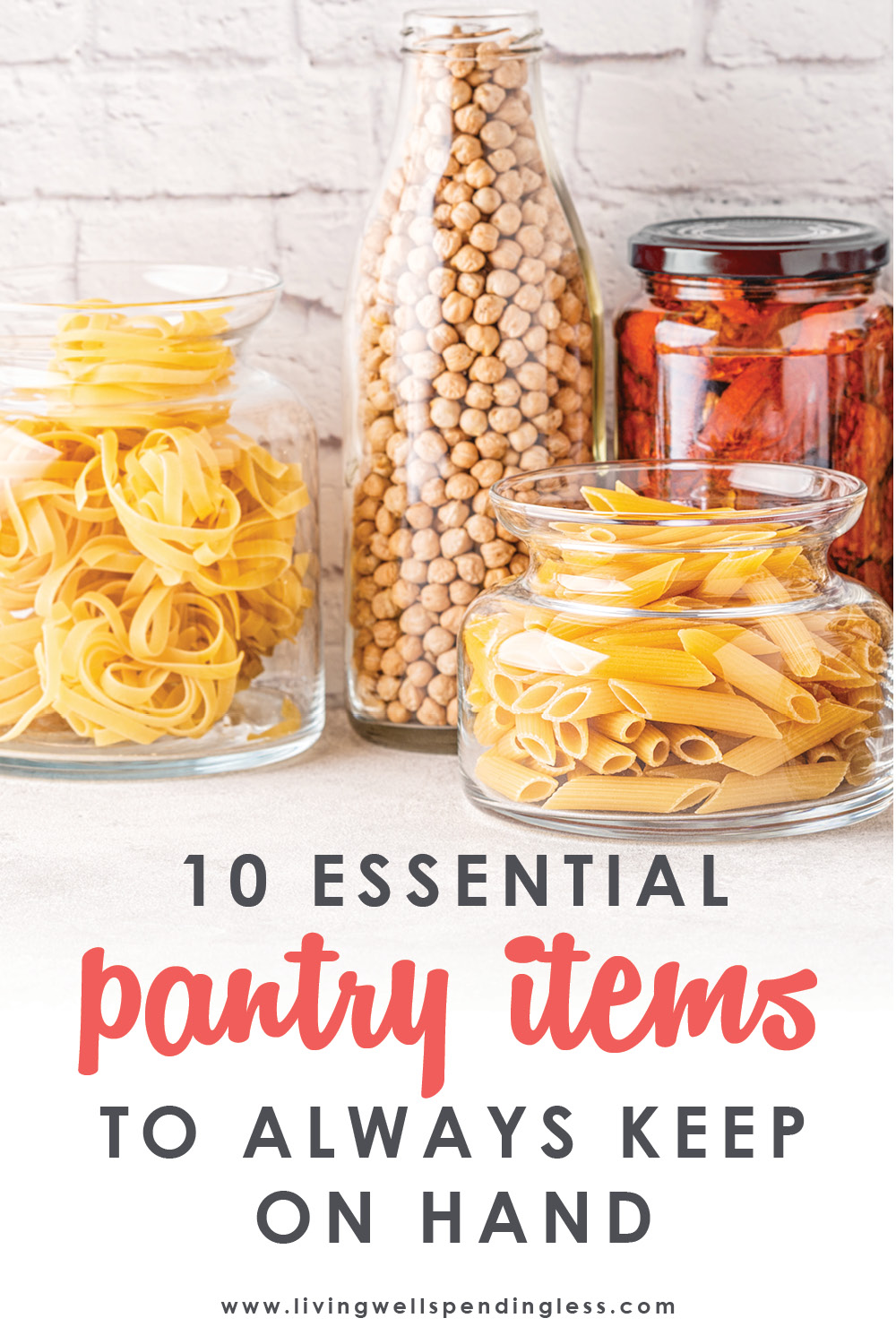 TAKE BACK CONTROL OF YOUR HOME LIFE
---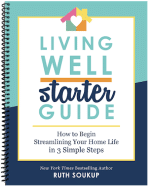 Ever feel like you just can't keep up? Our Living Well Starter Guide will show you how to start streamlining your life in just 3 simple steps. It's a game changer--get it free for a limited time!
If you love this resource, be sure to check out our digital library of helpful tools and resources for cleaning faster, taking control of your budget, organizing your schedule, and getting food on the table easier than ever before.