As a kid, there were few places I loved more than our local Pizza Hut. Reserved for special celebrations like a good report card (or looking back now maybe it had more to do with my mom being too tired to cook), the dimly lit, the delicious smelling restaurant made me happy for more than one reason. 1) Of course, I loved the buttery crusted pan pizza; pork topping was my favorite. 2) They had the old school arcade games you could sit down and play on the table. Hello, Mrs. Pacman. 3) The beautiful jukebox sitting in the corner streamed out all of my favorite songs.
Today, I take for granted being able to sign on to a streaming app like Spotify or Amazon Music and hear whatever I want to hear whenever I want to hear it. But I grew up in the 1980s when such a luxury was unheard of. You may have been able to buy a single song on a 45 or later when more sophisticated cassette single. But hearing anything you wanted at any moment in time was the stuff of George and Judy Jetson.
I would run my finger along the buttons of that old jukebox and flip through each and every album, carefully investigating the tracks. I knew what I was going to choose already though. The year was 1986 and nine-year-old Cherie could think of no better song than "The Super Bowl Shuffle."
That's right, I was a huge fan of the Chicago Bears that season. Honestly, I really only knew about them because I had a big brother, and to fit in, I memorized every rhyme in the song. However, I've always LOVED the Super Bowl. There's something in the commonality of everyone watching the same show at the same time. Even if they have different reasons for watching – the commercials, the halftime show, or the actual game – they're still all together. Plus any event that features delicious snacks makes good sense to me. Who wouldn't want in on that?
If you've ever planned a Super Bowl gathering before, you know that the cost of hosting such an event adds up quickly. From the party supplies to the food and beverages, your budget can be declared off-sides before the yellow flag is tossed high in the sky. But don't let the potential for overspending harsh your festive spirit. Use these smart Super Bowl savings techniques to keep the fun in your event without sacking your budget.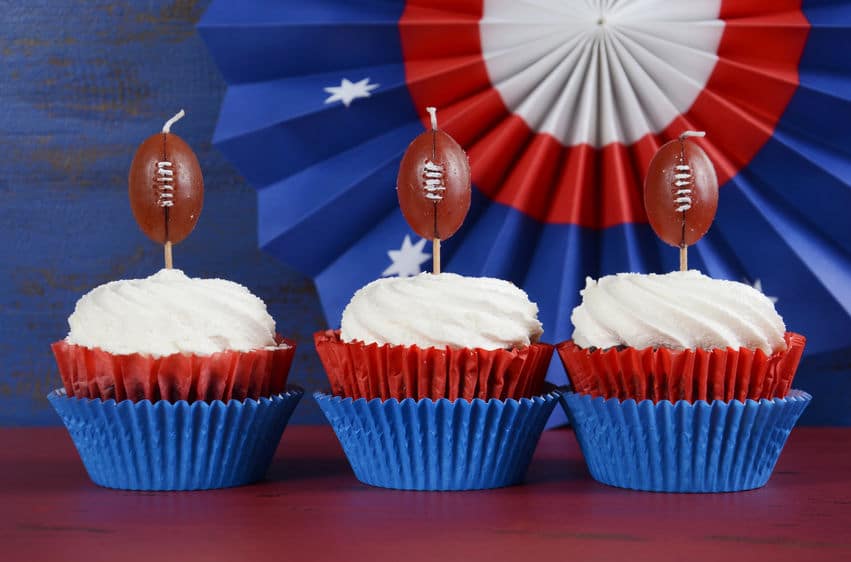 Keep Decor to a Minimum
Oh how I love the party supply store! There are so many fun items just waiting to help you celebrate every birthday, holiday, and special occasion. However, many of the items hanging on the walls and stacked in the aisles are unnecessary. In fact, if you weren't there, you wouldn't have given them a second thought. Unlike a longer holiday season, the Super Bowl lasts only one day and for only about four to five hours. You don't need to bedeck every inch of your space with decor.
Instead, keep the focus on the food and fun. Look for free printables on Pinterest. Choose solid team colors instead of branded items, and check your own home for football gear and other items that might spruce your spread. Jerseys, t-shirts, helmets, and more can give a festive feel without making a major investment.
Ever wonder why some people are always broke while others seem to thrive, even with the same income? Get our 5 Habits of Budget Savvy People Cheat Sheet to remind yourself of what you're doing right…and what you might still need to work on. It's free, but only for a limited time!

Tackle the Food as a Team
A quarterback doesn't play in the Super Bowl all by himself. You shouldn't bear the responsibility of all the game time snacks on your own either. The most delicious gatherings of families and friends arise from a potluck style of food. Fight the urge to micromanage your guests' contributions. Instead, allow them to bring their A-game to the table at your Super Bowl Party.
However, if you're hosting a large gathering you might consider dividing the guest list alphabetically by last name. Then, request either a sweet or salty dish to diversify your spread. You could start a Facebook group or send out an email so everyone can share what they're bringing. That way you won't end up with all queso and no chips.
Don't Get Lost on the Sidelines
For your own dish, keep things simple. Yes, that video you saw on Facebook to make a stadium out of pigs in a blanket was AMAZING. However, opening your home to football fans means you'll have a million small details to attend to. Instead of stressing yourself out over an adorable football-shaped cake or complicated hors d'oeuvres, give yourself some grace and choose a simple, tried and true option.
Skip the Pre-Made Trays
While convenient, pre-made veggie and meat trays have a huge markup. Plus, there's always an item or two on the platter that your crew doesn't really eat. It adds up to wasting food and money. Instead of snagging the platter pushed to the front and center by your grocery store or big-box retailer, opt to make your own. Stick to the basics everyone loves. Think carrots, celery, sugar snap peas, cucumbers, and peppers; add some dip (premade or homemade) and you're ready to roll.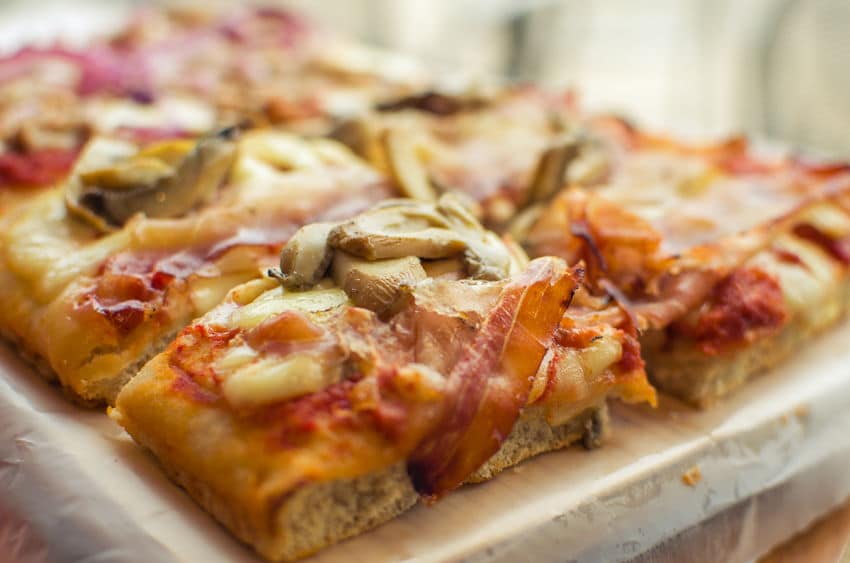 Opt for the Party Cut
What's that you say? Want to scrap the entire process of putting together a buffet and order a pizza instead? I love the way you think, friend. There are a couple of smart ways to save money if you choose this route, too.
You could pick up a deli pizza from a warehouse retailer like Sam's Club or Costco and bake the pizza yourself. We love the HUGE very affordable pizzas at ALDI, too. If you do order out, be sure you maximize coupons and rewards programs like Papa John's Papa Rewards, or Domino's Piece of the Pie Rewards. In addition, if you call the store and tell them you're ordering for a party they can help you out with available deals. Whether you go the DIY route or have someone else make your pizza, it's all in how you slice it that makes your dollar stretch further.
Instead of the traditional triangular cut, request your pizza be cut "party cut style". The smaller squares keep your guests from biting off more than they can chew, leaving half a slice on the plate. This is an especially smart tactic if you'll have any younger fans at your party.
It's All in the Line-Up
After years of holiday gatherings, family meals, and funeral dinners, I learned a secret of the ages. Everyone takes the very first item in a buffet line. It's typically the first dish emptied to the bottom. Don't fumble the ball on the line, be smart about how you arrange the food at your Super Bowl party.
Place more affordable items (bonus points if you place the healthier options there, too) at the head of the line. Keep the more expensive items at the very end. You're not hoarding the best stuff, you're just using smarts and strategy to make the food last.
Play Some Games!
Every year, I print out Super Bowl Bingo cards for those fans who are less than enthusiastic about the actual game. They can watch the commercials looking for the squares on their cards and still feel like part of the action. Whether you play just for fun or add a prize is up to you.
Whether you're a loyal fan cheering on the hometown team or you just show up for the snacks, the Super Bowl provides a great opportunity for you to make memories with your friends and family. Keep your spending in check and employ these smart strategies to make experience one you won't regret. Treasure the time and enjoy the fun!
And if you need a good belly laugh, go ahead and Google the Super Bowl Shuffle to watch the video-it's a Classic.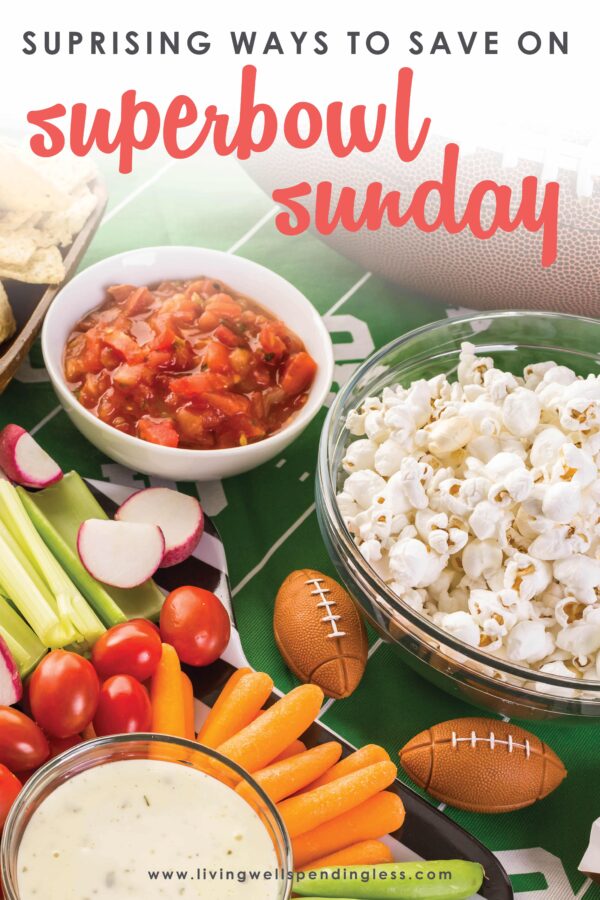 TAKE BACK CONTROL OF YOUR HOME LIFE
---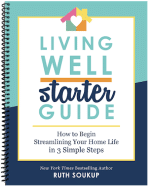 Ever feel like you just can't keep up? Our Living Well Starter Guide will show you how to start streamlining your life in just 3 simple steps. It's a game changer--get it free for a limited time!
If you love this resource, be sure to check out our digital library of helpful tools and resources for cleaning faster, taking control of your budget, organizing your schedule, and getting food on the table easier than ever before.