Can't ever find anything in your handbag? These tips will help your organize your purse and conquer handbag chaos once and for all!
What's in your purse?
We've all been guilty of carrying too much around with us. And if you're here, you're ready to organize your purse and reduce your load.
The thing is, as busy women, we feel like we always need to be prepared—for work, for our kids, and for all life's surprises and emergencies. We want to look our best, feel our best and be ready to resolve any issue… but when we start carrying around everything-we-could-possibly-ever-need, we start feeling unorganized and chaotic, rather than prepared.
Not to mention, carrying around all that extra weight isn't great for our health. That too-heavy purse might be causing back and neck strain, poor posture, and a myriad of problems (hello, pinched nerves). Who needs THAT extra hassle?
If your "excess baggage" is weighing you down, it's time for a change. Let's get out our purses and go through these ten steps to clean out and organize our bags once and for all!
Organize your purse – make it work for you
If you're ready to get organized, grab your purse and work near a garbage can. You'll need to assemble paper towels, a lint roller or vacuum with hand attachment, and perhaps alcohol-free baby wipes or cleaning solution.
1. Empty All Purse Contents
Empty out your purse completely. Lay out the contents on a few paper towels. As you empty your purse, group items together—pens with pens, makeup with makeup, and so on. Create little groupings of all the items you carry in your bag.
You may also want to open your wallet and empty all the contents as well. Again, group items together—change, cards, cash, receipts. When you're finished, you should have an empty wallet and an empty purse.
2. Shake It Out
When your purse and wallet are both cleared out, unzip any pockets or other compartments. Hold your bags over the garbage can and shake them out thoroughly. If possible, turn the lining inside out to really shake off any crumbs and lint.
Use a lint roller or the soft brush attachment of your vacuum to clean out all residue thoroughly. Lint rollers are great because they're gentle and won't harm the lining or cause damage to your purse.
3. Clean Your Purse
Use alcohol-free baby wipes to clean off any spots or stains on the inside and outside of your purse. Always test the cleaner in an inconspicuous spot in case it leaves a mark. For canvas handbags, a gum eraser gently removes spots. For ink stains, an alcohol prep pad will take them off, but use caution as alcohol dries out leather and will damage certain fabrics.
Follow the manufacturer's instructions for cleaning your bag. Never wash a handbag in the washer, unless it specifically states "machine washable." Spot clean any areas with alcohol-free baby wipes. For deeper cleaning, you may need a professional.
4. Keep What You Use
Once you've cleaned your purse, it's time to organize the contents you plan to keep in there. This is the time to ruthlessly purge any extra items you're carrying around.
Items you should keep in your purse:
Cell phone with hands-free set in a small pouch
Hand wipes (1-2), individually packaged
Pen and small notepad
Sunglasses with case
Touch up makeup bag with one lip balm/lipstick, nail file, powder, etc.
Medical needs such as aspirin, medication, a Band-Aid and feminine products
Wallet with credit/debit cards, cash and ID
Insurance cards and information
Small key chain with keys
Wipe off each item as you sort it out. You don't want to put any item back into your bag that's sticky or dirty on the outside.
5. Remove What You Don't Need
After you've portioned off the items you'll want to keep in your bag, there are also certain items you should probably remove.
Items to take out of your purse:
Full makeup kit
Large notebooks
Planner (take out when you don't need or move to your briefcase/work bag)
Extra coins (keep only about $2 in change in a coin purse or your wallet)
Multiple pens and markers
Social Security card
Passport
Checkbook
Gift cards you don't plan to use right away
Receipts you don't need
Unfortunately, when we carry around many of these items, we're inadvertently setting ourselves up for disaster. A checkbook contains your bank account information, copies of your signature and could easily be stolen or forged. If you plan to write a check, simply write it out at home and take the check with you to your destination.
Passports and social security cards can also be stolen from your purse and used for identity theft. Gift cards are another item easily taken and used (no ID necessary), so carry only what you plan to use on your specific trip.
I know many of us love and live by our Living Well Planner®. One great option is to store your planner in your briefcase or the computer bag you take to work. If you're heading out for coffee, date night or to run errands, leave your planner safely at home on your desk or near/in your family control center where it won't add extra weight to your bag. The same goes for your full-sized notebooks, extra pens, and markers.
6. Put Your Purse Back Together
Now that you've ruthlessly purged your bag of all those extra items, prepare to reassemble your purse with only the essentials. One great way to ensure every item has a home and returns to your purse in an organized fashion is to prepare small bags for each item.
Use a small pouch to store your hands-free earbuds and tuck them into a pocket with your cell phone.
Secure your keys with a clip onto an internal key chain in your purse or your wallet. You may want to create separate key chains for work and home, and carry only the keys you'll need for each trip.
Pare down the makeup you store in your bag. If you're going away for an entire day and you'll need touch-ups, prepare an extra bag to insert in your purse for the day. Typically, you can get by with a few cosmetic items.
Prepare a separate bag for feminine hygiene products to toss into your bag during your time of the month.
Gum, mints, toothbrush, toothpaste and other gear weigh down your bag and can even spill and cause a mess. Choose one type of gum or breath freshener in a small container and include it in your pouch with a small pill container, a Band-Aid and hand wipes.
Use a notepad with built-in pen holder and always cap your pen when not in use.
Immediately remove receipts from your wallet each night (along with excess change) or take photos on your phone to document and store them. Carrying receipts around not only adds to the "garbage" in your purse, but they may contain credit card information that could be misused in the wrong hands.
You may also want to create a bag to store in your desk at work with emergency essentials.
Using pouches and small bags to organize your purse is a great trick because switching handbags becomes a breeze!
You simply grab the few bags you need for the occasion and tuck them into your new bag. Simple!
7. Test the Weight
Your purse shouldn't weigh more than 10 pounds, and hopefully it'll weigh much less now! If you've only assembled the necessities, your purse should feel very light.
If you aren't sure how heavy your purse is, step on the scale! Weigh yourself with and without your purse to determine if it's too full. Go with your gut feelings as well. If your purse feels too heavy or weighs you down, consider removing other items.
8. Store Extra and Emergency Items in Your Car Kit
If you're nervous about leaving home and getting stranded without a needed item, store an emergency first aid kit in your car. In my car's console, I keep a small bag with tissues, rubber gloves, a pocket knife, matches, a melt free (no chocolate) granola bar, a small bottle of water and a few other emergency items. This ensures we're never stranded without items we need because we can almost always return to the car to take care of an issue.
There are many items we carry around with us that we don't need to haul back and forth. We could simply leave them at home, at work or in the car and we're covered for most situations.
9. Store Workout and Work Items Where They Belong
If there are items you use only for work such as ID badges, keys or larger notebooks, create a pouch and tuck them right in your briefcase or computer bag. There's no need to tote them around in your purse in your day-to-day travels.
The same goes for your gym bag. If you need a gym membership pass, extra socks, hair ties or even a larger cosmetic bag for the gym, create a separate pouch to store right in your gym bag. Your gym bag will be ready to grab and go with the essentials and you'll keep your purse light and easy to carry everywhere else you go.
10. Clean Out Your Purse Once a Week
Once a week set a time to clean out your purse. If you do it weekly, the whole process will be simple and manageable. In fact, it only takes about five minutes to reorganize every item in a purse that's mostly clean and organized.
When it's time to do your weekly purse-cleaning, simply check your pouches to ensure every item is in the right place, then remove any excess change, any receipts or other items that don't belong.
Return each item to the rightful home and you're ready to go!
Organize Your Purse Tips
Selecting a New Purse
Is your current handbag falling apart? If the straps are breaking, your bag is looking dingy or it's simply time for a change, there are a few guidelines to follow when selecting a new purse.
Go for quality and function
I know we all want a cute, fashionable purse! But look for a quality bag that will hold up for a while. You don't need to pay astronomical prices for a "statement" or "investment" bag. Find quality fashion bags for around $40 at shops like TJ Maxx and even outlets and department stores. Leather bags with stitching will outlast synthetic bags that are glued or sealed. Knockoff "designer look" bags are cute but are often low quality. It's better to find a well-made bag that's not plastered with fake designer logos.
Keep it light (under 10 pounds)
Your bag with contents should weigh in under ten pounds. This means when you're looking for a bag, watch for one that's lightweight when it's empty. Simple light fabric or leather should weigh very little by itself. Purses with a lot of hardware and bling get quite heavy. Go for simple designs. Alleviate strain by alternating your carrying side throughout the day.
Go for dark colors, patterns, and simple design
Darker colored bags will hide stains and scratches much easier than light-colored bags. You don't need to stick with black or brown—there are plenty of gorgeous purses in jewel tones, greys, and neutral colors or fun patterns that will stay pretty for longer. Watch out for light or white stitching which gets grimy fast and shorten the life of your bag.
Consider a rolling bag or backpack
If you've got a lot to carry, you're always hauling your laptop or tablet with you, or you suffer from back and neck strain, you may want to consider a rolling bag. There are many fashionable rolling bags, especially for your trips to work (paperwork is one of the heaviest items we carry around)! Backpacks are also a great option because they distribute the weight evenly over both your shoulders. There are darling bucket-style bags that convert to backpacks.
Look for a purse that offers built-in storage
If you want to really keep yourself organized, look for a purse with built-in storage. Zippered pouches, internal and external pockets provide a place for all the items you need. When you select a purse watch for these extra bonus storage features to find a handbag to last you for the long haul.
Caring For Your Purse
Protect your new purse with a few easy-care tips to keep it looking like new!
Use plain shoe polish to touch up a leather bag
Avoid colored shoe polish which may stain or transfer to your clothing. Use a clear shoe polish or Mink oil protectant to touch up your bag (test in an inconspicuous spot first).
Store purse in a felt bag or pillowcase
Plastic is bad for bags, trapping moisture and causing them to degrade over time. Instead, store your bags in a breathable felt storage bag or pillowcase. You should stuff your bag with acid-free tissue to help maintain the shape and keep it from getting crushed.
Store makeup in a separate bag
Always store makeup, even lip balm in a separate pouch or storage bag. Makeup may leak, melt or spill in your purse and ruin the lining. Use a small cosmetic bag to house any items that might cause a mess. Gum, toothpaste, lotion, medication, and even essential oils can also spill or stain. Store these items in a leak-proof pouch.
Have leather bags cleaned by an expert
Well-made leather bags last years if properly cared for. If your leather bag is starting to look worn or needs a touch-up, consider taking it to an expert cleaner. For an expensive purse, it's worth the price of professional cleaning, if you get another year or two out of your bag.
Avoid scratches by hanging or choose a bag with feet
If you're out and about, hang your purse on a hook rather than setting it on the floor. There are inexpensive purse hooks that fold and store right in your bag. Watch for leather bags with small feet, which also protect your bag from getting scratched and damaged. Always hang your bag when you go to the restroom (don't leave it on the germy floor—yikes)!
Handbags and purses are great tools. They become part of our wardrobe and look. They're an extension of our personal style. Keep your bag clean, organized and well-cared for with these easy purse care tips.
Never again will you feel embarrassed rummaging around in your purse or feeling as though you're carrying supplies for a small army. Lighten your load and clean out your purse. You'll feel more organized, less strained, and your back and neck will thank you!
Other Helpful Resources:
Pin for Later: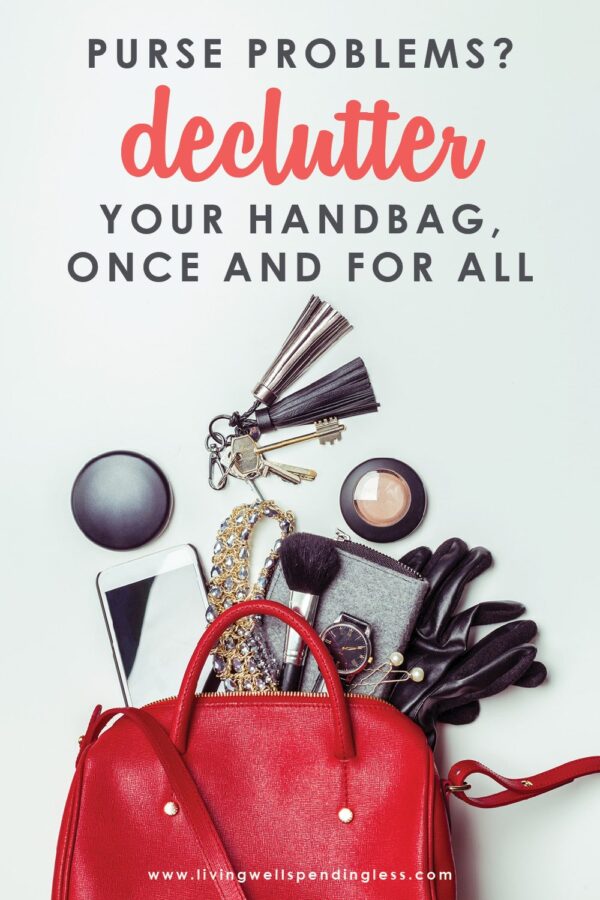 TAKE BACK CONTROL OF YOUR HOME LIFE
---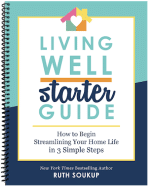 Ever feel like you just can't keep up? Our Living Well Starter Guide will show you how to start streamlining your life in just 3 simple steps. It's a game changer--get it free for a limited time!
If you love this resource, be sure to check out our digital library of helpful tools and resources for cleaning faster, taking control of your budget, organizing your schedule, and getting food on the table easier than ever before.