Don't have time to fuss over fashion? Why over-complicate your wardrobe with hard-to-match items? Here are 10 great ways to dress up a white t-shirt.
Is there anything more classic than a white tee?
Simple, clean, EASY. It literally goes with everything, and never feels overdone. You can dress it up, dress it down, wear it alone or layered. It really is the perfect wardrobe staple.
So why is it so often forgotten?
Have you ever noticed just how often we stuff our closets with hard-to-match items? We keep clothes that don't fit and don't flatter, simply because we can't bring ourselves to let them go. In this era of cheap, fast fashion, it's easy to accumulate a lot (and I mean a LOT) of clothes. Go to any discount clothing store and chances are you can walk out with multiple bags for under a hundred dollars. Unfortunately, much of this clothing is cheap and poorly made, while trendy items that might seem cute this season end up in the "goes with nothing" pile in a few months, and then we're left standing in front of the closet for 20 minutes trying to find something to wear.
Several years ago, when I first pared my wardrobe down to my just 40 hangers in my closet, it was a shock to discover how much more I had to choose from once I only included the items I really loved. Suddenly instead of having nothing to wear, the possibilities seemed endless!
These days, I'm incredibly selective with my clothing purchases, opting usually only to invest in classic pieces that I really truly love. Each item is precious, because when a new piece goes into my closet, I know something else must come out. Then, to keep temptation at bay AND keep things fresh, I often turn to Rent the Runway. It's amazing!
10 Ways to Style a White T-Shirt
But this simplified approach to my wardrobe has made me an even bigger fan of the classic white t-shirt. It really can go with nearly anything, and there are so many great, easy ways to style it.
Here are a few of my favorites

1. Pair It with a Skirt
The quickest, easiest way to dress up something simple is to pair it with something dressy, like a skirt. A beautiful bright floral pattern in an a-line, a classic black pencil, or a long maxi skirt all look great with a white tee. Given the right skirt and a tee in silk or rayon, you might even get away with taking your white tee to a fancy event. For your kids, try pairing a DIY tulle skirt with a simple white tee for an adorable outfit that looks AMAZING in photos!
Even a tee paring cotton with a bit of stretch like spandex or a fine gauge knit can elevate the average white t-shirt to something special and "skirt worthy." Look for little details: a pretty edge, piping along the collar, or a nicer flowy fabric to take a tee to the next level. Loose comfortable v-neck t-shirts can look great with fitted pencil skirts and a pretty peak of a camisole underneath. It's about playing up the comfortable tee in contrast with the dressy skirt.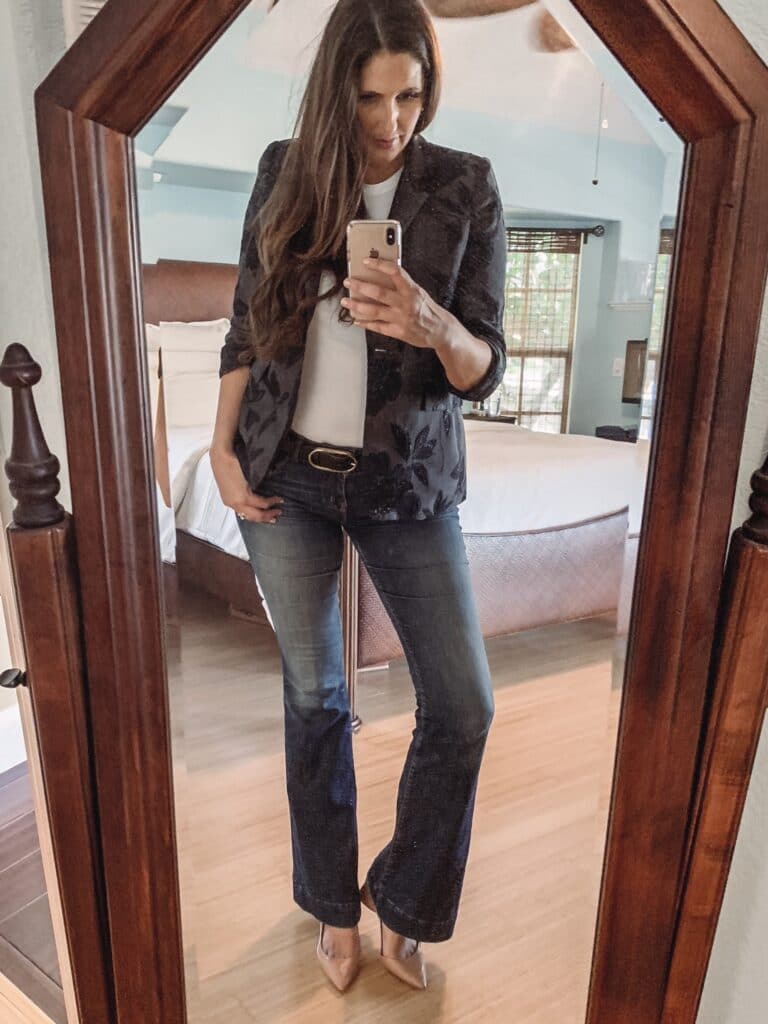 2. Throw on a Patterned Blazer
Have to run out somewhere and need to look polished? The easiest solution is to throw on a great blazer or jacket. Even if you're wearing jeans, a blazer or cardigan and some comfy dress flats can instantly make a white t-shirt look meeting-ready.
Patterned blazers can sometimes be hard to style in a way that doesn't make them look overdone. But a simple white tee is the perfect, classic base for your outfit. The combination is unstoppable and appropriate for nearly any occasion.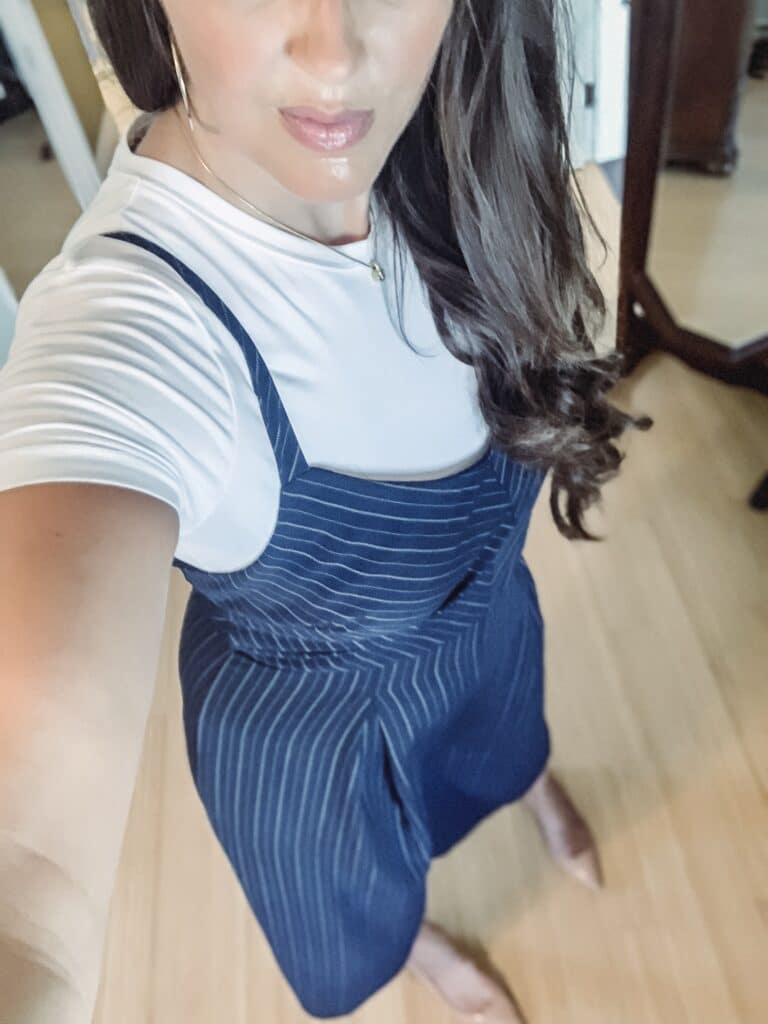 3. Wear It Under a Dress or Jumpsuit
Do you have a cute jumpsuit with a neckline that's a little too deep? Or maybe a slip dress you'd love to wear, but you feel like it's just a little too revealing? Pair a classic fitted white tee underneath your dress to add polish, make it a little more modest, or take an outfit from "beach" to "dinner."
Almost any sleeveless dress looks great as a jumper over the top of a classic tee. The trick is to find a tee fitted enough to lie flat under the dress and avoid extra bulk or bunching. Look for shell styles or t-shirts with a rayon-spandex blend in a size down.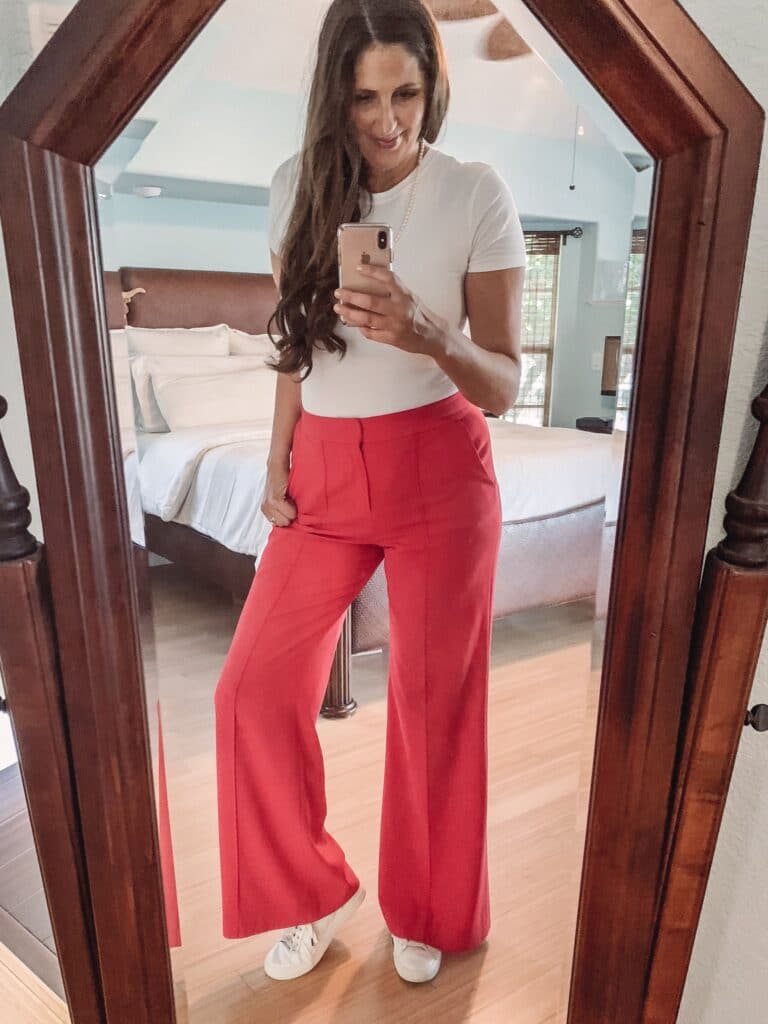 4. Go Classic with Wide Leg Dress Pants + White Trainers
A white t-shirt in the boardroom? You betcha! Pairing a classic fitted white tee with wide-leg trousers and a pair of bright-white trainers definitely throws off an "I'm confident, stylish, AND smart, so don't try to mess with me" kind-of vibe. It's still formal enough to be taken seriously, but casual enough to not make you look like you're trying too hard.
Of course other kinds of dress pants can work well with white t-shirts as well. Flowy, loose tees tend look better with fitted bottoms. A classic cigarette pant or ankle-length skinny pants can be very chic with an easy-fitting tee. Channel your inner Audrey Hepburn by pairing fitted and cropped bottoms with flats and a boat neck tee for a great summer-to-fall look.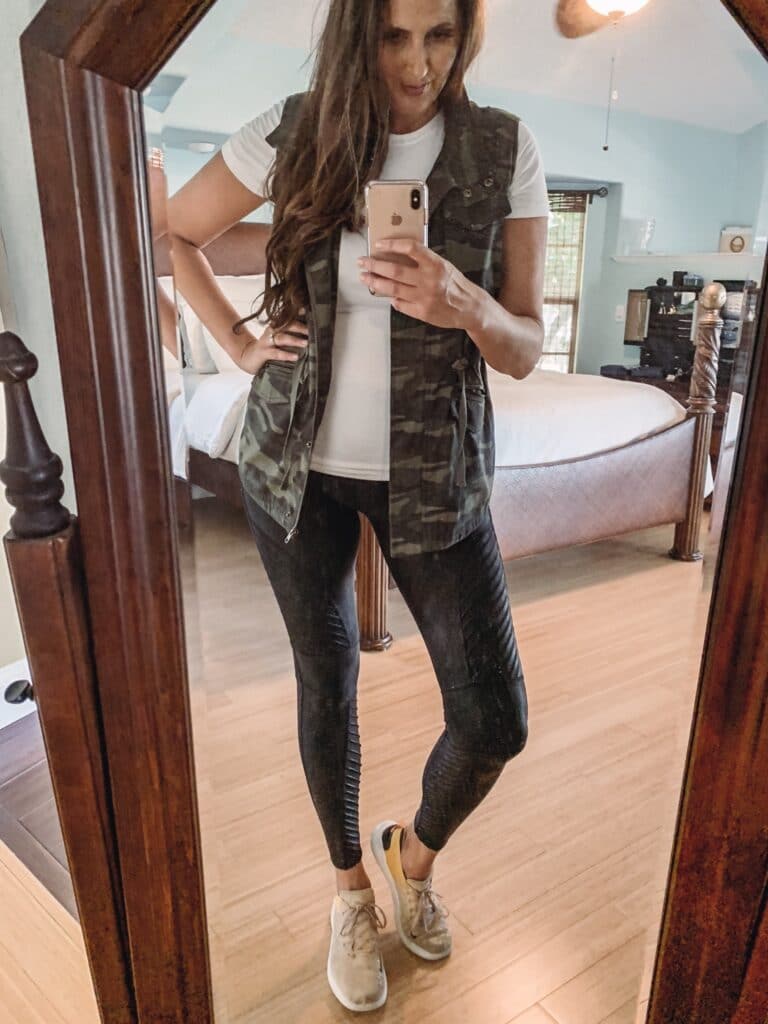 5. Step Up Your Comfort Wear with "Leather" Leggings & a Camo Vest
Who says your lounge wear has to look like you've given up? This combo is one of my favorite looks for traveling, especially on long flights! It's comfy enough to feel like I'm relaxing, but still polished enough to look put together. I'm an especially big fan of the Spanx brand faux leather leggings, which come in both plain and "moto" styles. And if you don't think you can pull off the camo vest, try pairing this combo with a comfy, casual jersey "blazer" instead.
For shoes, try cute trainers with just a little bit of flair, or level up with a simple pair of ballet flats.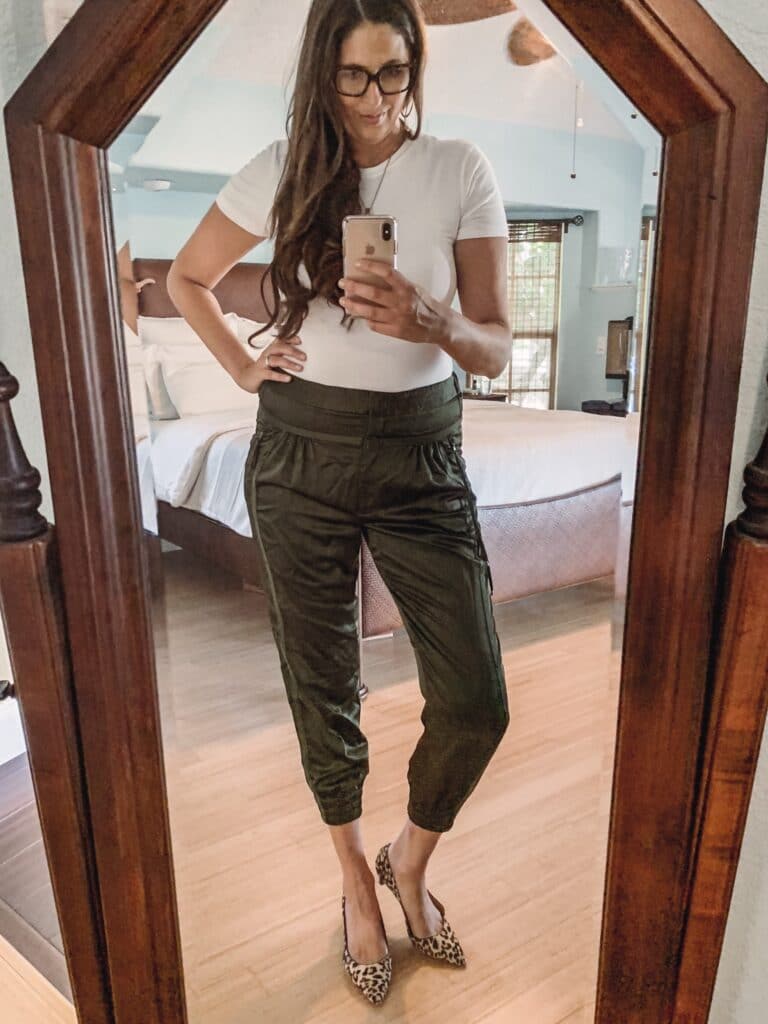 6. Get Daring with Satin Sweat Pants
One of the biggest benefit for me of using a service like Rent the Runway to "borrow" clothes as I need them, is that it allows me to take a few more risks with my clothes, and to add in pieces that I would never normally dare to try.
Case in point? These gorgeous high-waist designer satin sweat pants from Halston Heritage. For a more affordable version, grab this very similar pair of adorable satin sweat pants on Amazon for just $20.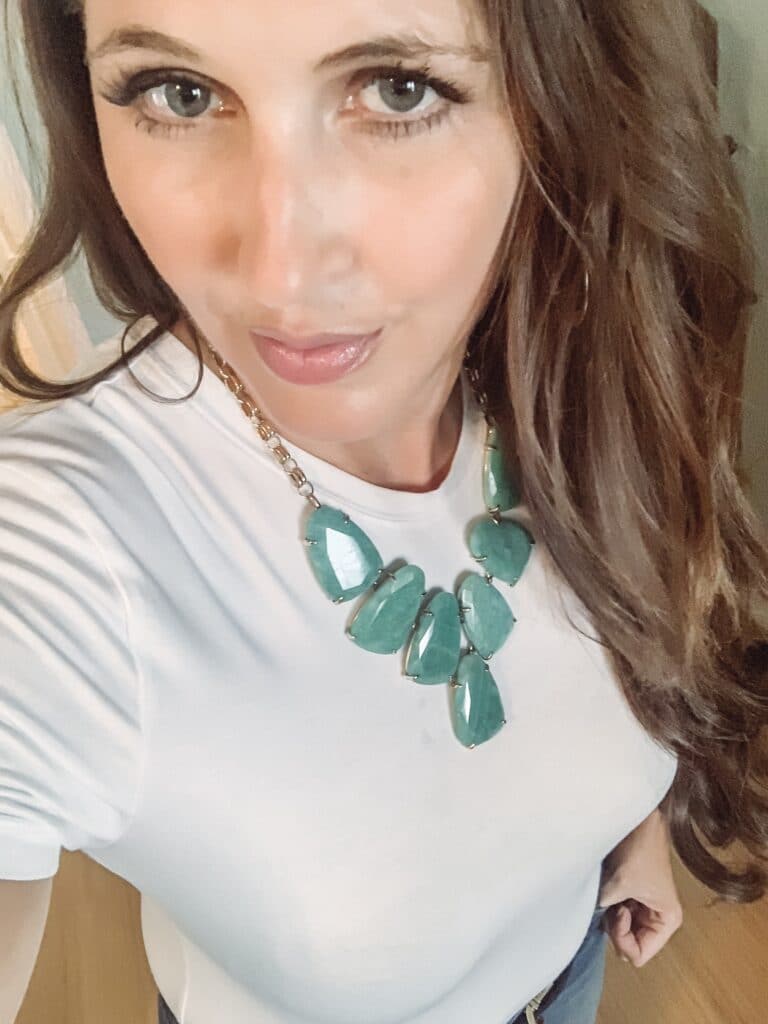 7. Add Statement Jewelry
Another super-simple way to take a tee from ho-hum to ooh la la is to add an eye-catching piece of jewelry. With a crewneck tee, go bold or go home. Use bright beads, chunky necklaces in candy colors, or fun fashion jewelry to really make a statement. Think of a white t-shirt as a blank canvas and add color and shape to really make things pop!
For a v-neck or scoop neck tee, sweet delicate necklaces (like chains, single or layered, or a floating pendant) can look great. Gold and silver both look wonderful with classic white t-shirts—and you can even go classic-on-classic with a diamond (or faux diamond) necklace. Long pendants also add a boho aura to a tee and can make your outfit seem effortlessly stylish.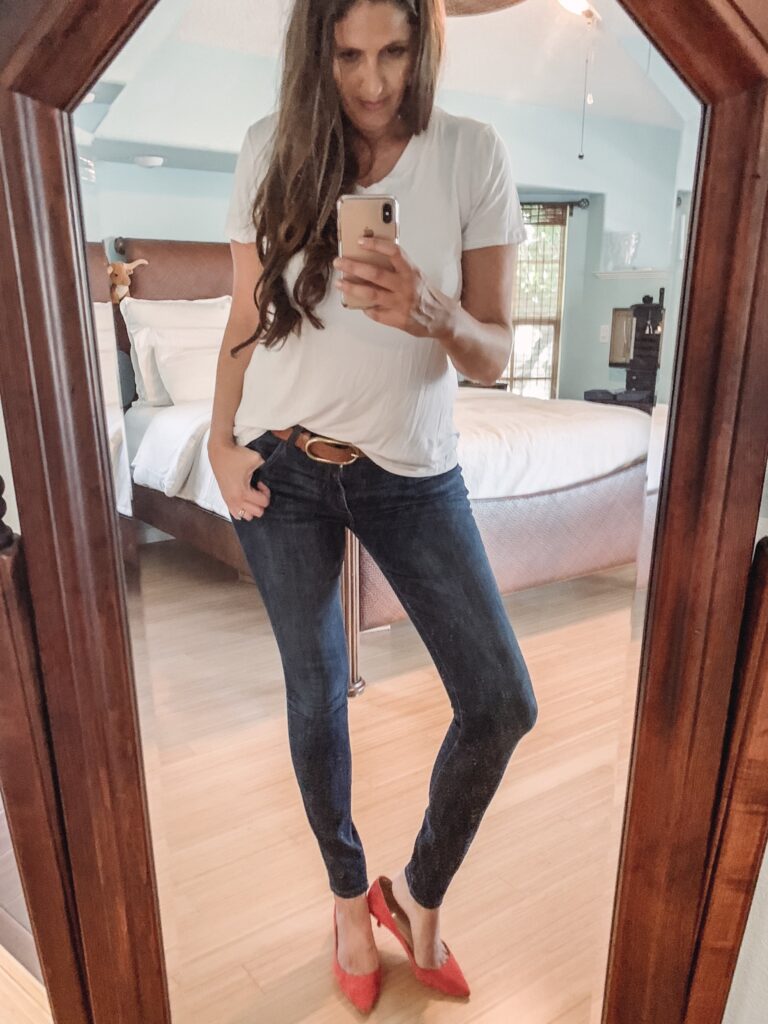 8. Add Skinny Jeans, Pop-of-Color Shoes, and a Front-Tuck
There's nothing easier–or more effortlessly chic–than a great pair of skinny jeans paired with a simple white t-shirt and a great pair of really bright pop-of-color shoes. Finish the look with a front tuck, and you are good to go, looking completely pulled together and yet like you didn't have to try too hard.
In fact, I love this look so much it's the one I chose for the cover of my book, Do It Scared!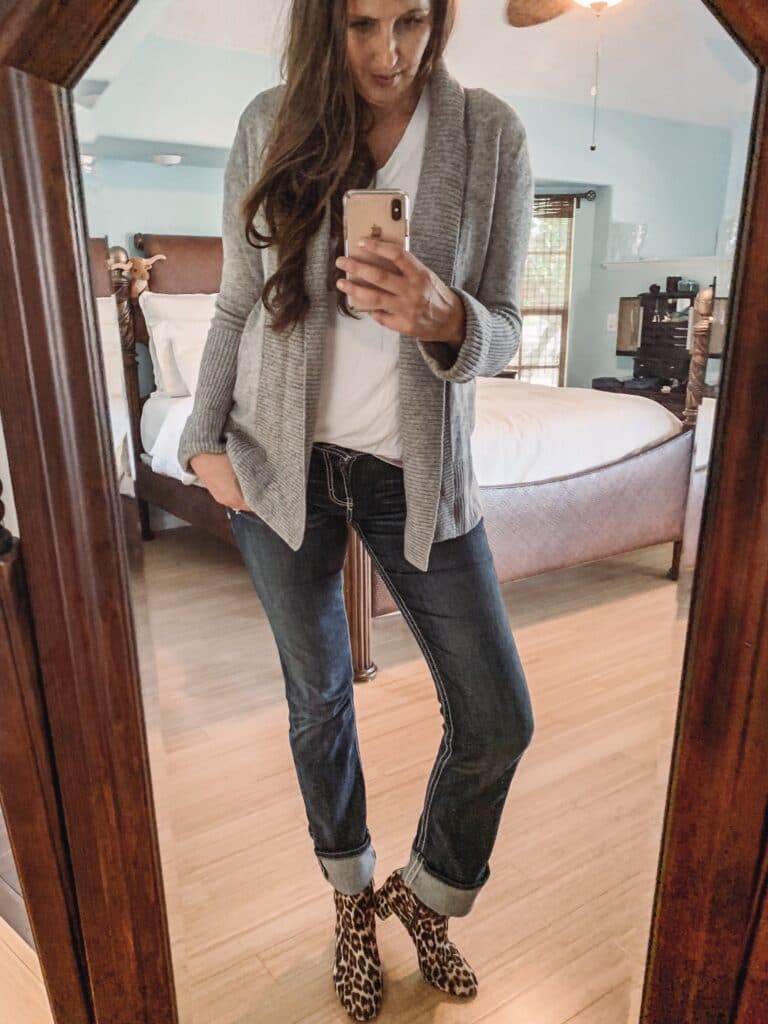 9. Get Comfy-Cozy for Fall in a Cardigan & Boots
I live in Florida, where cool fall days can be hard to come by, but I still love taking advantage of this look every time I travel up north! It's adding a cozy cardigan (like this one by Theory from Rent the Runway) with jeans and my favorite pair of animal print boots (these ones are by Tory Burch; grab this very similar pair at Amazon for less than $30!), which always add just that little something extra!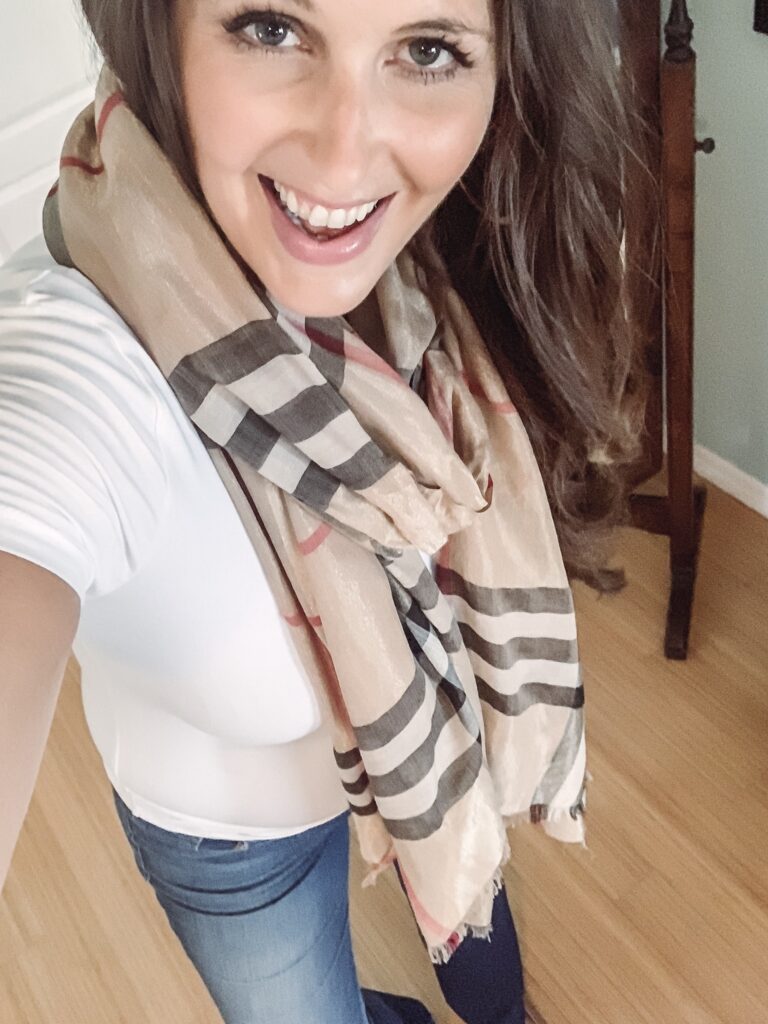 10. Add a Designer Scarf (Or Just a Look-Alike)
The number one, super-duper-easy way to dress up a white tee? Add a classic scarf! A great scarf can make a tee seem fresh, interesting and beautiful. Go for pretty colors and dare to try brights and patterns you would otherwise skip over. With scarves, when it comes to texture, color, weave and fabric, the sky is the limit!
Try taking a Pashmina or large wrap over a shoulder and tucking it into a wide belt for a DIY poncho (and plenty of warmth from the office air conditioning).
Create a cowl neck effect by double-looping an infinity scarf around your neck. Use a knit scarf and even arm-warmers to make a white tee seem instantly cozy and fall-ready. Use a pretty broach or vintage pin to hold the ends of a silky scarf together. Or, knot it around your neck for a French look that will pair with your boat neck tee and cropped pants!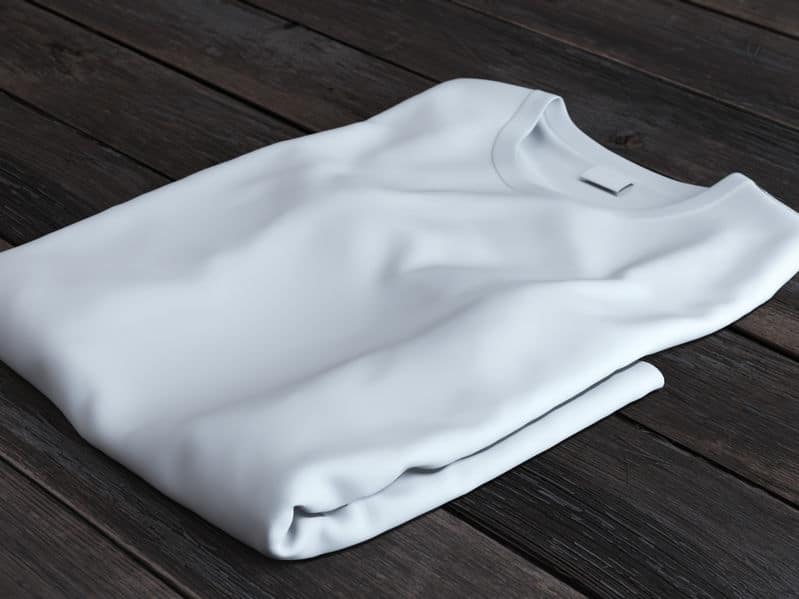 A Few Bonus Tips for Making the Most of Your White Tee Style….
Adding a little more style to your wardrobe is actually easier than we think, especially when you start with a plain white tee and build from there. Here are a few more bonus tips for making the most of your style:
Try Different Shapes, Sleeves and Necklines
When we think "white tee," most of us think of the classic crewneck, short sleeve option, but there are so many more cuts and styles to choose from! Tees come in many different fabrics—silks, rayon, knits, cotton and more. You can find great long sleeve options as well as tank and sleeveless tees. When it comes to necklines, there's boat, scoop, v-neck, crew and even turtlenecks. And just one quick pass through the top-rated women's t-shirts on Amazon will show you how cheap and plentiful this versatile little wardrobe staple can be.
Experiment with different shapes and fabrics to find your "classic white tee." Maybe you love a chest pocket or maybe it makes you cringe. Some women prefer baby doll or ladies cuts and others like a more classic shape. White tees are so versatile, you can really make it stretch through your entire wardrobe, so find something you love and go with it!
Take the Time to Add a Little Flair
Do you ever wonder why women on Pinterest and fashion blogs always have outfits that look so together? It's simple. They take time to "style" their clothing. This means rolling up sleeves, doing a half-tuck with a baggy shirt (tuck in the front at the waist), or even tying the corner of a shirt on the side.
These little stylist tricks take your outfit from "I threw this on" to polished. Adding a belt, accessorizing or layering can make a huge difference. It makes your look seem more thought out and put together. Experiment with these little low-effort tricks and you'll be hooked!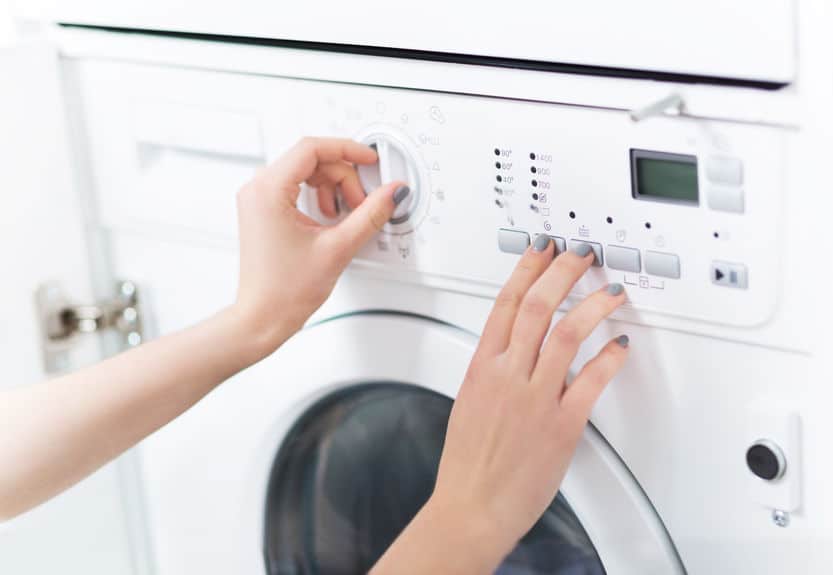 Keep It Clean & Shiny
As much as I wish it weren't true, t-shirts do have a limited lifespan. Even so, with a little TLC, you can get a whole lot more life out of your favorite tees.
First, be sure sure you treat stains before washing and always launder your clothes carefully. The great thing about white t-shirts is they're actually easier to clean than colors. You can use hydrogen peroxide, vinegar, and/or oxy-cleaners to get stains out without fear of bleaching or fading. I find it's actually easier to have white shirts come out in good shape.
There's also the dreaded "pit stains" which can be an issue with white tees. Treat yellowing underarms with a mixture of a half-cup baking soda, a tablespoon of hydrogen peroxide, and a tablespoon of salt. Mix together and dab on with a sponge. Let sit for about twenty minutes, then rinse clean. You'll be pit-free and ready to go!
A classic white tee is a wardrobe staple that's fun to play around with—and wow does it make for a simpler, less-time-consuming wardrobe! Make it an experiment to see how many different ways you can find to wear your classic white t-shirt. In fact, you just might love it so much you'll find yourself building your whole look around the simple white tee! Have fun!
Other fashionable posts: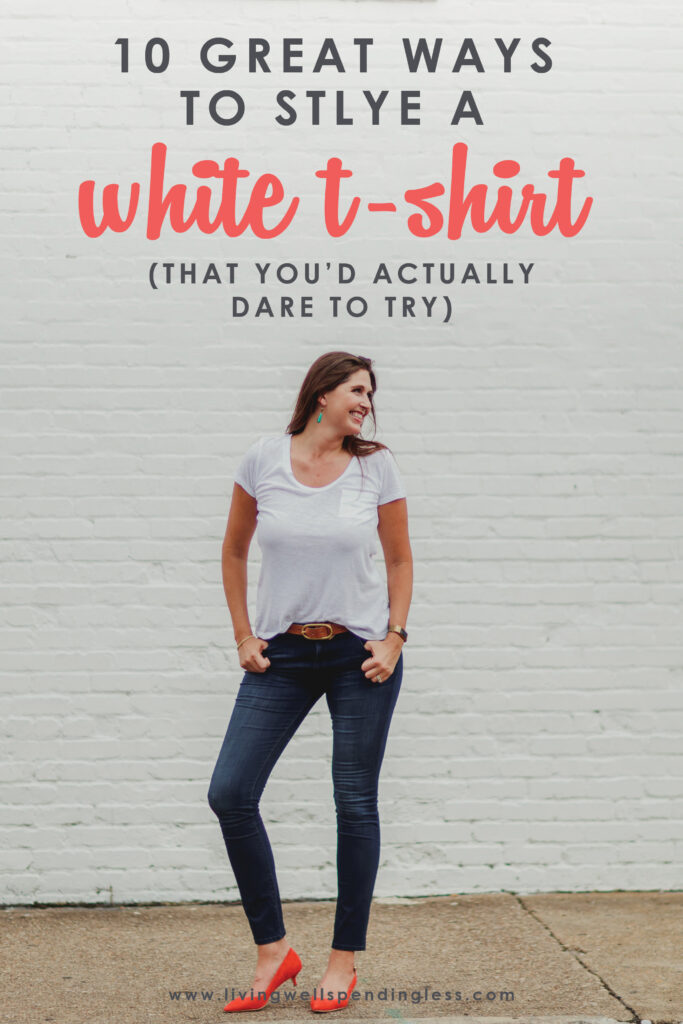 TAKE BACK CONTROL OF YOUR HOME LIFE
---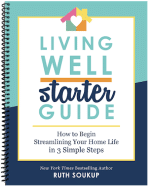 Ever feel like you just can't keep up? Our Living Well Starter Guide will show you how to start streamlining your life in just 3 simple steps. It's a game changer--get it free for a limited time!
If you love this resource, be sure to check out our digital library of helpful tools and resources for cleaning faster, taking control of your budget, organizing your schedule, and getting food on the table easier than ever before.