Need more space for your stuff? Use these creative storage solutions to maximize organization within your home and declutter!
I don't know about you, but I love me some organization! There's nothing that gets my heart to flutter like a trip to IKEA, the Container Store, or the cute bin aisle at Target. It's heaven. But since it's not always easy to head out to those fantastic stores, sometimes we just have to work with what we've got at home, which is more than enough!
And, I've learned the hard way that more bins and boxes are not really the solution to a clutter and organization problem anyways. Instead, the problem is most frequently too much STUFF! We're drowning in it. We're trying to make sense of it. We're trying to find a spot for all of it, but deep down inside we know what we really need to be doing is paring down instead.
And so your very first storage solution, before you buy a single new bin, basket, or container, should be to unstuff. Get rid of as much as you can. Rid yourself and your home of anything that is not currently useful, despite who gave it to you, and no matter how much it cost.
Of course, even if you've decluttered as much as possible, chances are you'll be left with quite a few things that still need a proper place. While storage is vital to becoming organized, it can be challenging, especially in older homes, apartments and small spaces. And so, my team and I have pulled together these storage tips and tricks to turn to when you need to get a handle on your remaining scattered items (after you've decluttered).
10 Creative Storage Solutions You Might Never Have Thought Of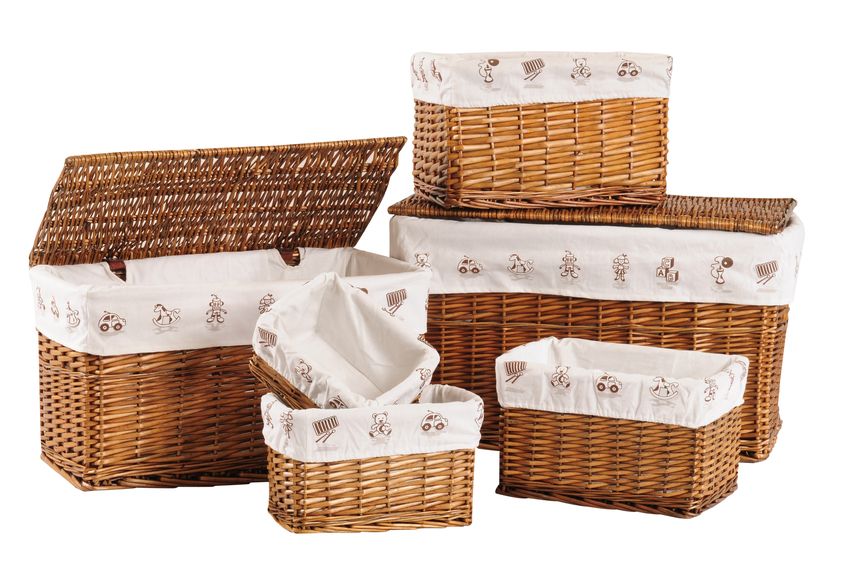 1. Think Outside the Shoebox
As much as I love Crate & Barrel, The Container Store, IKEA and all those other places that offer darling storage solutions, many storage solutions beyond the shoebox are already in your home—so you won't need to spend a penny!
Start thinking of new storage uses for unconventional items. A paper sorter can become a lid organizer for your pots and pans or Tupperware. A spice rack can be repainted, then used to hold nail polish, craft supplies, books, or other small items. A fishing tackle box or old toolbox can be a great storage option for small items like jewelry, beading supplies, or even a craft box.
Use baskets to hold all sorts of items. Hanging baskets originally created for fruit can be a great solution for toys or oddly shaped items. Binder clips can hold your cellphone cords or keep your chips closed. Look for "storage hacks" or "repurpose" ideas on Pinterest to find all sorts of new uses for items you probably already have on hand.
2. Get the Most Use Out of Your Space
Many of us have plenty of empty space, but it's hidden in the tops of closets, underneath beds and furniture, and inside our cupboards. Hang baskets under shelves to use up some of that extra space in your cupboard. Put items on a lazy Susan so they don't get lost in the back of the cupboard.
When you organize your pantry, always follow the example set by grocery stores and face food packaging toward you, with the closest expiration date first, and follow the first-in, first-out rule. This makes things easier to find and allows you to stack cans and boxes, and still see what you have.
Put the top of your closet to use by strapping bungee cords along the top to hold wrapping paper, stuffed animals or bulky items that seem like they never have a home. Tension rods can work wonders mounted under sinks, in closets, and even in the shower. Hang sprayer bottle handles from a tension rod to free up space below.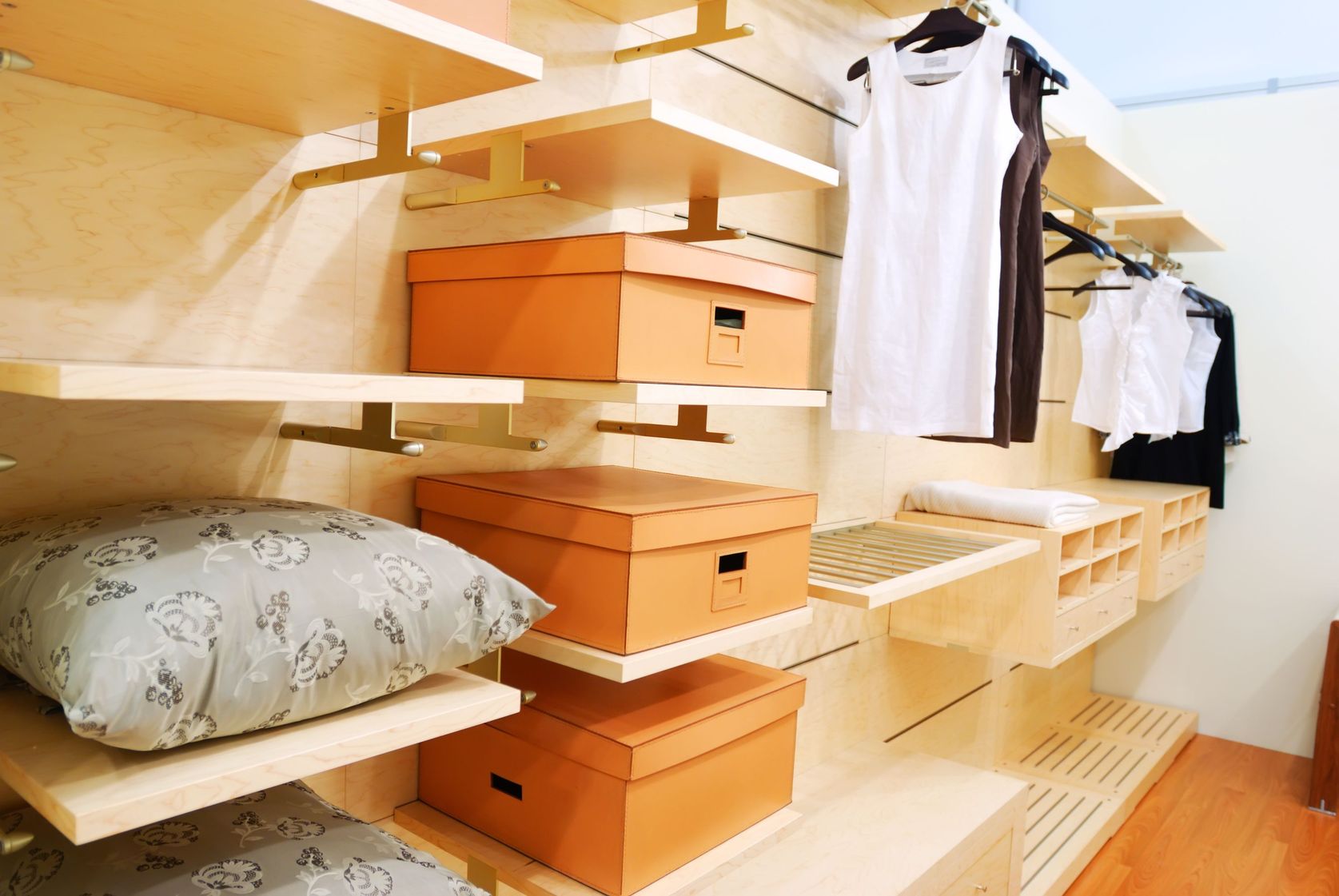 3. Make Your Storage Solutions Work Harder
When you do purchase storage solutions (bins, hangers, etc.), be sure you're buying high-quality items and maximizing their use. For example, inserting dowels in your bins offers a spot to hang Christmas ornaments or decorations. Purchasing hangers that "unhook" or allow for stacking ensures each hanger can hold multiple items, maximizing your closet space.
Invest in quality items like nice hangers and space bags, if you're in need. When I transitioned to my 40 Hanger Closet, the beautiful huggable hangers I'd purchased for the job inspired me. Since I could only afford 40 hangers, it set a nice benchmark for the number of items I could keep in my closet. Similarly, if you use bins or storage bags, invest in nice solutions, but hold yourself to a limited number and maximize their use. Once you've filled your set number of space bags, it's time to get rid of the remaining blankets or winter coats.
4. Hang Items to Stretch Space
Use a pegboard to create hanging space in your pantry and garage. Hanging items like measuring spoons or yard tools mean they have an easy go-to home, so they'll stay out of drawers and off the floor. Plus, you'll always be able to find them. Pegboards are cheap, and with a quick coat of paint, they look really nice.
Use screw hooks or 3M hooks to hang small items under cupboards and inside cabinets, freeing up counter space. Try a few ceiling hooks and hooks inside your closets to hang items that might otherwise end up on the floor.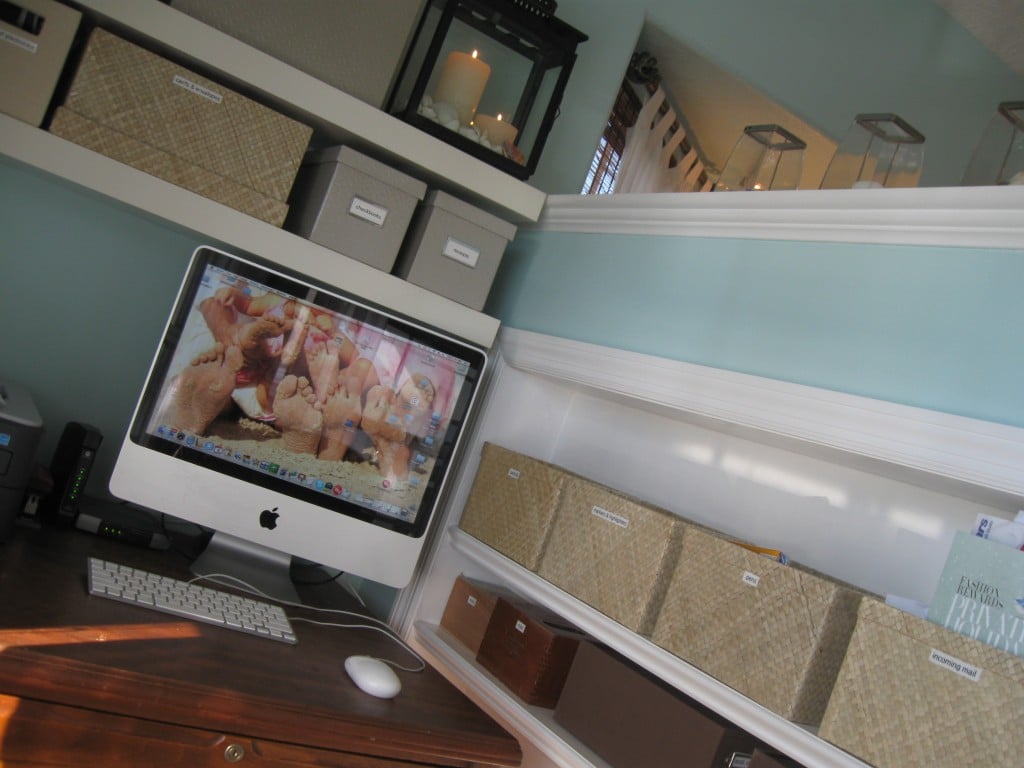 5. Designate a "Home" for Everything
Follow the mantra, "A place for everything and everything in its place." Each item in your house should have its own home. Teach your kids this mantra and request that all family members put things back where they go once they're done using them. If everyone knows there's a spot for DVDs and a shelf for books, it can help you keep everything under control (and make things easier to find later).
If you end up with items that consistently seem "homeless" (sunglasses that always end up on the counter, incoming mail tossed on the buffet), make a home for these items near the location they end up anyway. Adding a paper sorter on your buffet might not be the place you'd love it, but it's practical and it'll at least keep the mess contained.
6. Apply Labels to Stay Organized
Label everything! One of the best ways to ensure items end up back in their respective homes is to stick a label where the item belongs. If you have cute boxes or baskets on a shelf, affix a label on the inside. Labeling pantry jars can keep even different sized and shaped containers looking uniform and chic.
Labeling also helps you make tough choices about what will, and won't fit in your space. If you have a box for batteries or sewing supplies, then you know you're limited to what will fit within the container. Plus, labeling helps you quickly locate things without shuffling through bins and rummaging around for hours looking for a certain phone charger or tool.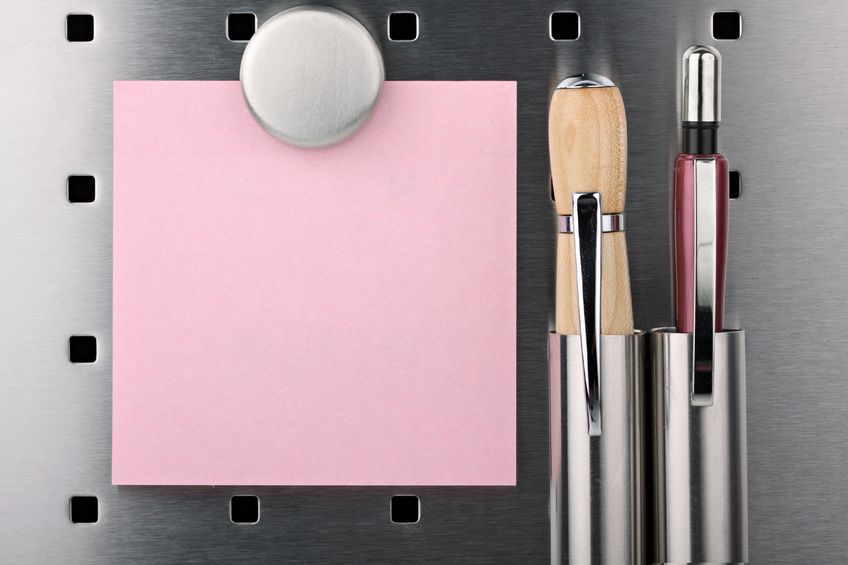 7. Find New Uses for Magnets
Magnets are great organizational tools. Of course, you can use a magnet strip to organize kitchen gadgets, knives, and other metal tools. But also consider affixing magnets to office supply containers and hanging them above your desk or control center.
Use magnets to organize jewelry, pins, paperclips, and all those small metal objects that get lost and misplaced. Magnets are also great for keeping keys on the ready, instead of thrown wherever or lost between the cushions (as long as it's not an auto-start key). Put a magnet on a pen and keep it on the side of your fridge so you can always find something to jot down notes or make a list.
8. Paint and Paper to Transform Jars and Boxes
Recycling is always a great idea! If you need containers of different shapes and sizes, try a coat of paint in a single color, use a pretty pattern of paper or fabric to cover boxes, jars, cans, and other organizational items. This quick fix can make a world of difference when it comes to the look of your storage items.
Magazine organizers, paper organizers, penholders, and other office items are very easy to cover yourself, and they look so phenomenal when they're done in matching or contrasting patterns and colors. Try mixing florals with stripes, polka dots with a chevron print, or complimentary colors. A coat of blackboard paint and chalk can be a really fun way to keep your storage cute and easily labeled as well.
In areas like your pantry, bathroom, and linen closet, using uniform containers can help keep things looking really neat and tidy. Try to find recyclable storage with consistent color, shape, or texture, even if the containers are in various sizes.
Using all clear or all white jars, pottery or containers adds an element of similarity that makes your organizing seem purposeful, deliberate, and pretty. It keeps things clean and fresh-looking—even when interspersed with other decorative items—so your storage appears to be part of your décor.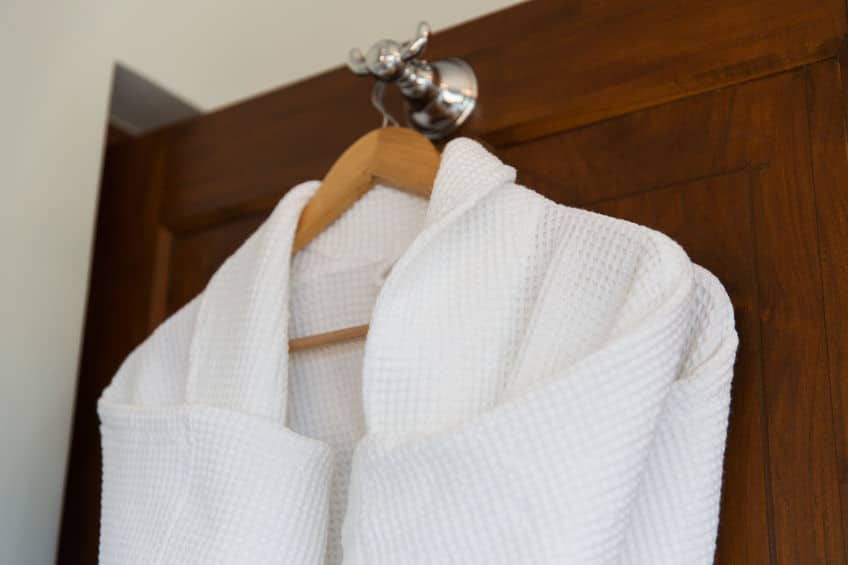 9. Maximize Your Doors
Don't forget the insides of doors and cabinets in your closet—you can even go beyond hooks. You'll be amazed at what you can fit in a shoe holder or over-the-door organizer inside your closet. Hanging coats, dog leashes and even keys on the back of the closet door, or behind the back door of your home can keep them right at hand when you need them.
Affix a small rack to the inside of your pantry or cupboard and use it to hold spices, small jars or other little items that don't quite have regular homes (or fall behind other items in the cupboard).
10. Upcycle Your Solutions
Sometimes great storage solutions come from items that would have otherwise ended up in the trash bin or have outlived their purpose. An antique chest or toolbox can make a great storage container for tiny items that have no home. Pottery, jars and old dishes can be reused to hold desk supplies and keep items in a drawer corralled.
Remove the wax from candle jars after they're used up, then repurpose the jars to hold Q-tips or cotton squares in your bathroom. If you need an alternative toy box, consider a steamer trunk or suitcase. It can be filled and stored under the bed or even look attractive in a corner.
You can bring new life to so many different items! If something's shabby or dilapidated, adding a quick coat of paint or furniture polish can really help it look refreshed. Watch yard sales and Craigslist for items you can repurpose and use as storage containers. Turn an old file cabinet into a cool storage rack for rakes and shovels in the garage. Find another old metal cabinet? Try using it to hold your fabric and keep your sewing room organized.
Just because you don't love the look of a piece of furniture, a box or a storage bin doesn't mean you have to throw it out. If it can serve a purpose, spruce it up with a little creativity and flair and it can become a beautiful storage piece.
* * *
So, are you ready to get unstuffed and really, truly organized?
Try these tips to get creative with your storage solutions and minimize the amount of storage you need to maximize the use of your space. Declutter and organize as you go—and please, don't hold onto something simply because you have a spot to store it! Keep in mind that you don't need to fill every corner of your cupboards or every inch of your closets just because it's available. Use smart organizational strategies and planning to keep your home looking and feeling great.
In the end, a little creativity can go a very long way when it comes to storage solutions. Don't be afraid to stretch your imagination–you might just be amazed at what you come up with!
To recap, here are 10 Creative Storage Solutions You Might Never Have Thought Of:
1. Think Outside the Shoebox
2. Get the Most Use Out of Your Space
3. Make Your Storage Solutions Work Harder
4. Hang Items to Stretch Space
5. Designate a "Home" for Everything
6. Apply Labels to Stay Organized
7. Find New Uses for Magnets
8. Paint and Paper to Transform Jars and Boxes
9. Maximize Your Doors
10. Upcycle Your Solutions
Other helpful resources: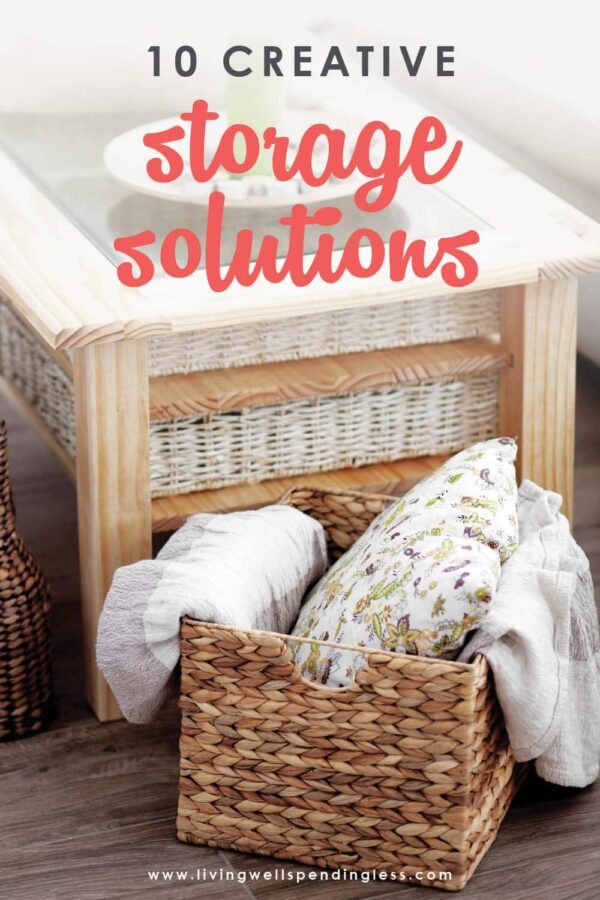 TAKE BACK CONTROL OF YOUR HOME LIFE
---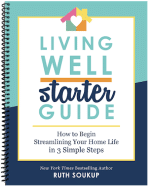 Ever feel like you just can't keep up? Our Living Well Starter Guide will show you how to start streamlining your life in just 3 simple steps. It's a game changer--get it free for a limited time!
If you love this resource, be sure to check out our digital library of helpful tools and resources for cleaning faster, taking control of your budget, organizing your schedule, and getting food on the table easier than ever before.