Today we are welcoming Edie from Life in Grace, who is sharing a fun and easy way to make adorable Rainbow Fish Puppets.
Hi y'all, this is Edie from Life in Grace and I am so happy to be back with you to share a little summer fun!
We started off summer with a bang this year when Ruth and her family spent Memorial Day weekend with us. I think I successfully made a country girl out of her—I took her to the mountains, we waded in the creek, we fished in the pond, we tubed on the lake, and I even cooked biscuits and gravy for breakfast! We had a blast together and I tried every way in the world to get those cutie little girls to stay here with me, but they seemed to be pretty attached to their awesome parents.
One morning before we headed out on the boat, we gathered the girls around for a fun and easy watercolor craft. I love watercolors all year round but something about summer makes them even more fun. You'll probably have everything you need on hand but if you don't have thick card stock or watercolor paper, it will be worth it to pick some up. I love using it in the summer for lots of easy art projects. Staying home with kids in the summer can be challenging but I've found ways to enjoy it as I try to remember how fast time flies!

Here is what you need:
Thick card stock or
watercolor paper
Watercolor paints
and brush (I love these!) Glue Glitter Scissors Clothes pins (optional but makes a perfect puppet holder)
The Rainbow Fish book
(not required but a great summer book for the littles in your life)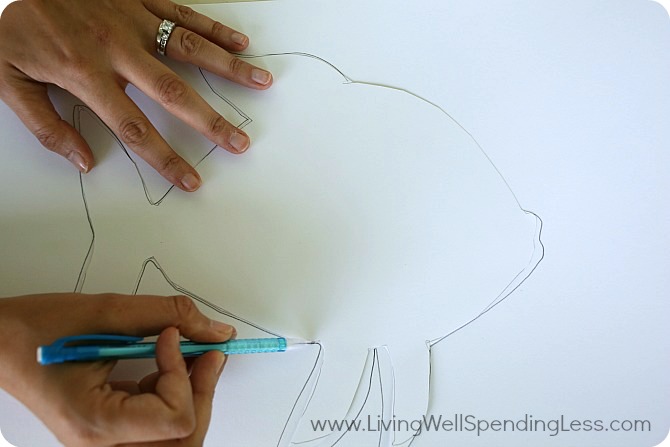 Step 1: Draw a fish, filling up most of your paper to draw it. (You can use my template, but trust me, I'm no artist!)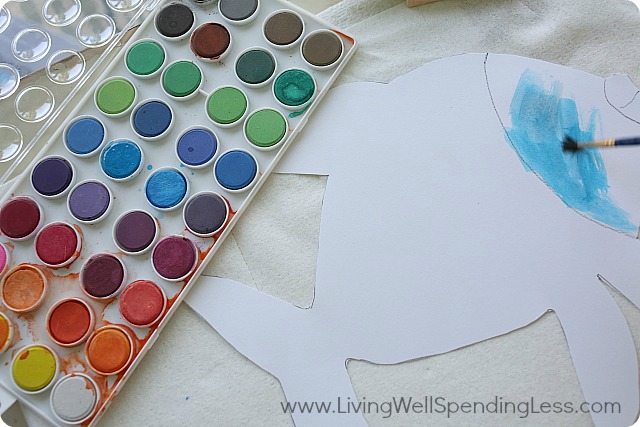 Step 2: Draw in the eye and lips and then lightly draw a semi-circle separating the face from the rest of the fish.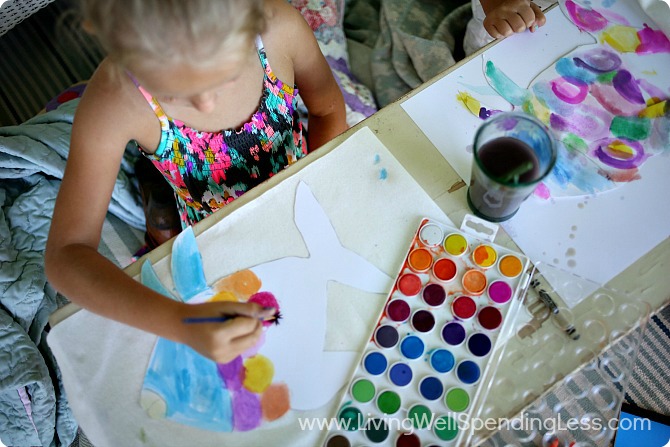 Step 3: Paint the fish with watercolors in water pattern you like. Use all the colors of the rainbow!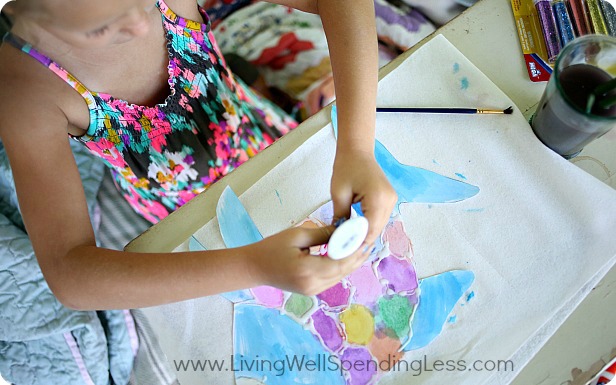 Step 4: After your fish is painted and dried, outline a scale pattern using the glue.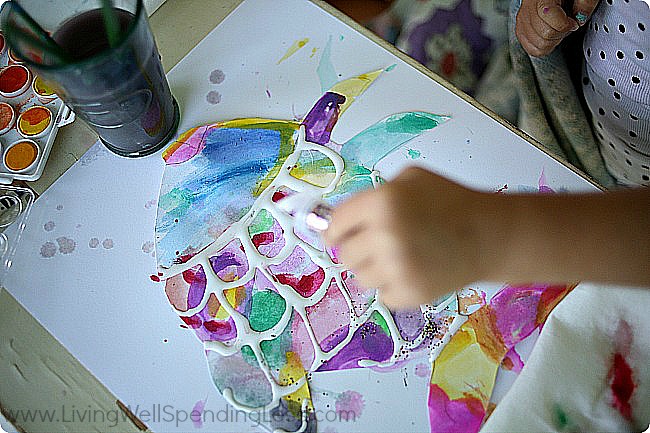 Step 5: Add copious amounts of glitter to your rainbow fish so that he's nice and shiny!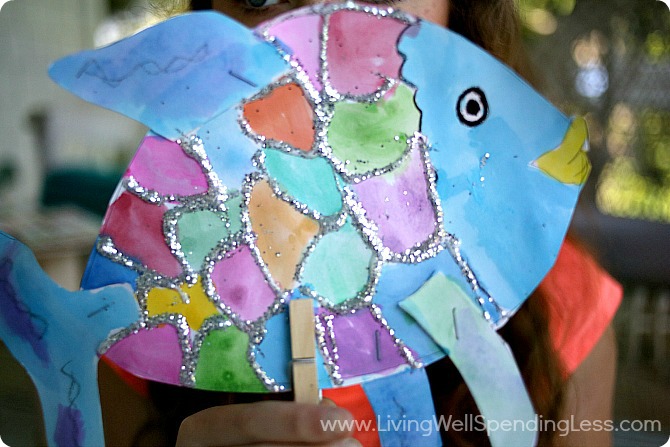 Step 6: Dust off the excess glitter, cut him out, and  add a clothes pin to make a puppet out of him... (We originally tried cutting the fins separately and stapling them on so that the fins would have more movement. It wasn't worth the extra step!)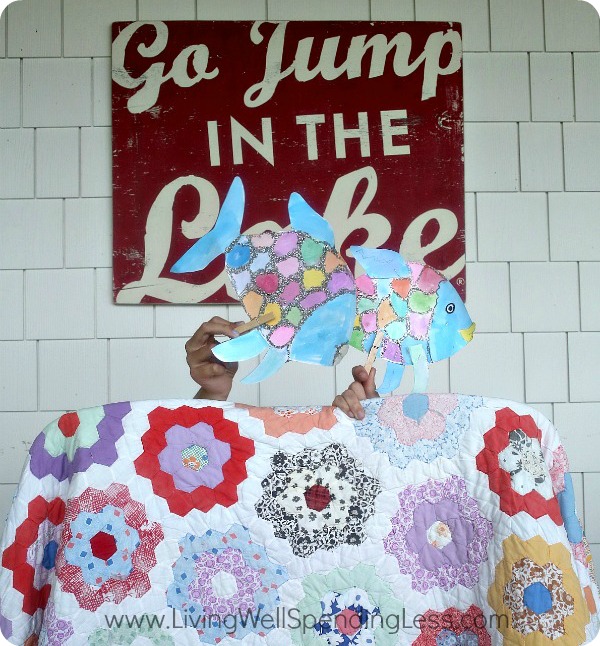 Step 7:  Set up an effortless puppet stage by throwing a blanket over two chairs. Let your kids have a blast by putting on their own show!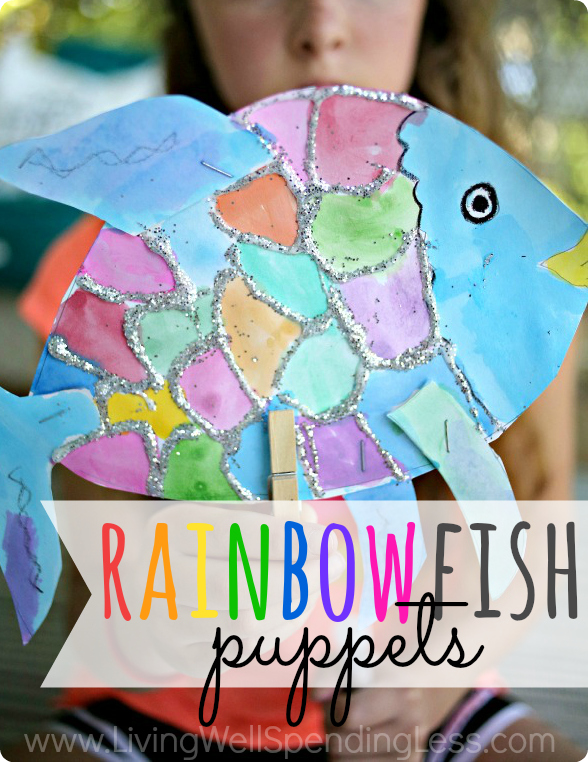 You could make several different sizes and have a whole school of fish! Most importantly, make memories with your kiddos this summer because the years slip by so fast.
What are your favorite no-effort art supplies?