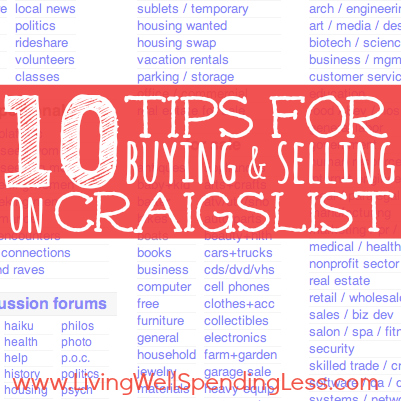 I don't know about you, but I am pretty much in love with Craigslist. It is simultaneously a thrifty shopper and compulsive organizer's dream. Did you spend the weekend cleaning out the garage and now have a bunch of stuff you want to get rid of? Craigslist is there for you. Need a new desk but don't want to spend a fortune? Craigslist has you covered. Moving cross-country and need to sell everything you own as quickly as possible? Craigslist, baby, craigslist!
As it so happens, I happened to have just cleaned out our garage this past weekend, which is probably what got me thinking about my favorite website of all time in the first place. And last fall when we moved from Seattle back to our house here in Florida, we sold everything we had, including one of our cars, on Craigslist. So when it comes to buying and selling stuff on CL, I've had a lot of chances to figure out what works….and what doesn't.
So without further ado, here are my top 10 tips for making the most of your Craigslist experience:

DO always offer less than the asking price. This may seem like stating the obvious, but for whatever reason, a lot of times people are scared to offer less. Even if it is something you really, really want or even if the asking price is waaaaay lower than you are willing to pay, or even if the ad says "price firm," offer less. The worst that can happen is that the seller will say no. In which case, you decide whether you are willing to pay more or want to keep looking.
DO agree on a price with the seller before you go to look at an item. Bargaining is much easier from a distance and you won't waste time inspecting an item, only to find at the end that you can't agree on a price.
DON'T idly browse. There are literally tens of thousands of items posted on craigslist at any given time, with thousands more being added every day. Without some idea of what you are looking for, searching for a bargain can quickly slide from a fun adventure to an overwhelming mess. Have an idea of what you are searching for, and then do a keyword search, starting fairly broad and narrowing as necessary. For instance, if your search for "coffee table" comes up with 1,000 results, try "pottery barn coffee table" or "round coffee table."
DO start your search as close to home as possible. There is no sense driving 60 miles out of the way for something you could find just down the street. Narrow your search results to your own county, then expand as necessary. Decide how far you are willing to travel for a given item, and then stick to your guns. A good deal isn't really a good deal if all your savings go to pay for gas to pick it up.
DO compare prices and product reviews online before buying. A quick search on Amazon.com can tell you a lot about what you should be paying, and whether the product you are considering is worth buying at all. This advice rings especially true for electronics and appliances!
DON'T ask too much. We'd all like to think our stuff is worth close to what we paid, but the sad truth is that used stuff isn't worth all that much. Do a search for your item to find out what other people are asking. If your price is significantly higher, don't expect any calls.
DO leave room for bargaining. Decide on the lowest price you are willing to accept for an item, then price your item 10-20% higher.
DON'T be afraid to say no to an offer. If someone offers you less than you think your item is worth, don't be afraid to hold out for more money. Craigslist is free and you can list your item as many times as you want (within the CL guidelines.) Determine whether it is more important to get rid of an item quickly or to get your full asking price.
DON'T over list your item! Follow the Craigslist rules or you will be flagged and ALL your listings will be removed. Each region is slightly different, but as a general rule you can post any given item once every 7 days.
DO consider creating a separate website when selling multiple items. Last year when we were selling all of our stuff I created a "moving sale" page on my family's personal website. I would include a link to this page on every craigslist ad I posted, which allowed people to see everything I was selling all at once. It was amazing how quickly things sold! I literally had one person buy almost all our furniture in one fell swoop, and another couple bought the rest of it, while several other people purchased multiple items, almost treating my moving sale page like their personal bargain mall. There are a lot of free & easy web page programs available, including Blogger.com or WordPress.com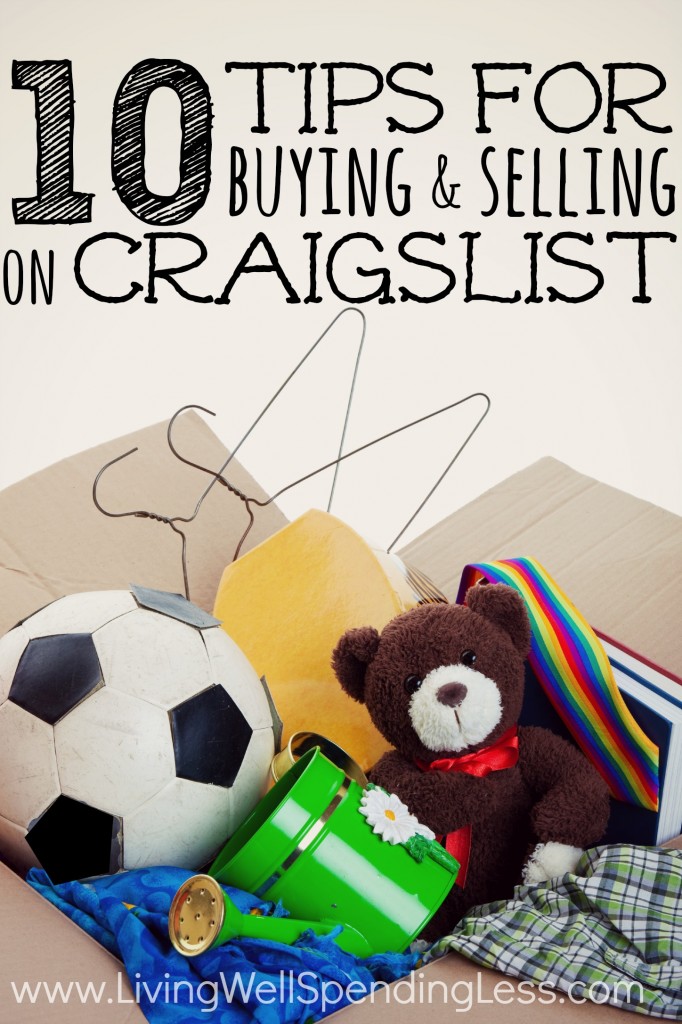 * * *
Do you ever buy or sell on Craigslist? What tips or advice do you have to share?
TAKE BACK CONTROL OF YOUR HOME LIFE
---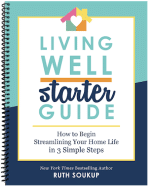 Ever feel like you just can't keep up? Our Living Well Starter Guide will show you how to start streamlining your life in just 3 simple steps. It's a game changer--get it free for a limited time!
If you love this resource, be sure to check out our digital library of helpful tools and resources for cleaning faster, taking control of your budget, organizing your schedule, and getting food on the table easier than ever before.