Ever feel like the happiest place on earth also the most expensive? If so you will not want to miss these 20 smart ways to save on a Disney vacation!
Ahhhh, Disney.
Where else can an otherwise rational, perfectly frugal set of parents throw every ounce of common sense out the window and happily pay $15 for a balloon that deflates almost immediately, $40 for their 4-year-old daughter to dine with Princesses, or $10 for the exact same disposable rain poncho they sell at the dollar store without batting an eye?
There's just something about the Happiest Place on Earth that makes spending ridiculous sums of money seem, well, fun.
Until, of course, the vacation is over, the Visa bill arrives, and suddenly all that fun seems a little less magical.
Don't get me wrong, I love vacationing at Disney! Over the years my family and I have spent a lot of time at both Disneyland and Walt Disney World and we've even been Annual Passholders once or twice. I honestly can't wait to go back. But I also know from personal experience how easy it is to get caught up in the magic and spend too much.
20 Smart Ways to Save on a Disney Vacation
With some careful planning, though, any family can experience the full fun that Disney (or any theme park, really) has to offer without breaking the piggy bank—and without paying 10-15% in interest fees on that credit card. As with any vacation, be realistic and only plan what you can truly afford—but if Disney is your siren song, there are smart ways to save on your trip.
SAVE on Entrance Fees
Disneyland or Disney World may be one of the few places where a ten year old requires an "adult" ticket. Nevertheless, there are still several ways to save.
1. Military Discounts
Members of the US Military can receive discounted rates for themselves or their spouse and up to six family members with Disney World 4-Day Military Promotional Tickets (which include Park Hopper) or Disneyland 3-Day Park Hopper Tickets. This is only valid certain times of year and the military discount might change, so check the Disney World Special Offers page or the Disneyland Offers & Discounts page for current military (and other) promotions.
2. FL & CA Resident Discounts
Off-season periods (less people and shorter lines!) are a huge opportunity for local residents. Florida residents receive great Disney World discounts and Southern California residents can typically find Disneyland discount passes during the off-season as well. These discounts often apply to the Annual Pass as well. (But, while the standard Annual Pass offers NO blackout dates and free parking, your discounted pass may not.) Dates and deals do vary, so be sure to check the website(s) for current offers.
3. Undercover Tourist
Be aware that Disney ticket fraud is common practice, so always be sure you're buying from a reputable dealer.Undercover Tourist is one of the few reputable discount ticket sites. It offers discounted tickets to Sea World, Disney World and Universal Orlando Resort. The site also offers trip-planning help and advice, complete with maps and crowd predictors.
4. Skip the Park Hopper
While it might seem like visiting more than one park a day is the best way to get the most bang for your buck, in reality the opposite is true. This ticket upgrade allows you to visit multiple parks in one day, but it's an additional $40 to $60 or more. That's a lot! Trust me, there's plenty to do in each park without having to jump around between parks in the same day. At WDW, the theme parks are not all that close together, which means that if you really want to make the most of your time, you won't want to waste an hour or more in travel time between the parks. The only exception to this rule: it might be worthwhile at the California Disney parks, as Disneyland and Disney California Adventure Park are literally right next to each other, so if you're only on a 2-day stint, Hopper can help you can maximize your mouse time.

Speaking of, be sure you plan which parks you want to see, especially if you're headed to Disney World, where there are four (BIG) parks: Magic Kingdom, EPCOT, Animal Kingdom and Hollywood Studios. Without the Park Hopper ticket, you can still easily spend a day in each park. Consider the Annual Pass if you visit Disney World more than two or three times a year, depending upon the length of each visit.
SAVE on Lodging
Now that you're all set to save on park admission, one of the biggest dreaded Disney expenses is lodging.
5. Visit During the Off-Season
Planning your trip around the off-season and during weekdays can really save you a bundle. If the time seems right and the kids can miss a few days of school, you'll save quite a bit by not going during typical vacation times. If you can't bear the thought of pulling the kiddos from classes mid-week, there are other options, too.
Disneyland: Best Off-Season Dates
January 15th through March 15th
After Easter through mid-May (skip Spring Break, of course!)
After school starts in September through mid-November (avoid Halloween)
Walt Disney World: Best Off-Season Dates
January through the first week in March (avoid President's Day/Week)
Late April to early June (skip Memorial Day weekend)
Post-Labor Day through the beginning of Thanksgiving week
The first 2 weeks in December
Highest attendance levels are always around the major holidays, so it's best to schedule your vacations between holiday breaks. Note that temps can be as low as 45 degrees, even in California, so bring coats and hats when it's chilly. Always look up current park hours during off-season, as they may be different than the summer schedule.
6. Go Camping!
How does your family feel about camping? These days, renting an RV can give you the comforts of home at a reasonable price. If you enjoy roughing it for a few days, there are several campsites in close proximity to both parks. Ok, in California, it's more like camping in a parking lot (after all, you are in the city), but it can still be a great adventure the kids will enjoy. Most sites offer showers, close access to fast food, and electricity—so even "roughing it" won't seem quite so rough.
If you're Disneyland bound, try Anaheim Harbor RV Park. It boasts clean bathrooms (a necessity, if you ask me!) and it's only a 15-minute walk to the parks. In Florida, it really doesn't get better than the campsites at Disney's Fort Wilderness Resort. Despite the Disney name, campsites are a reasonable $50/night and offer beautiful woodsy scenery and really fantastic amenities, including a fun boat ride right to the Magic Kingdom and a nighttime campfire sing-a-long with Chip and Dale. One note of caution–the campground is BIG, so either pick a site close to the dock or plan to do a lot of walking!
7. Stay Outside the Park
Even if you can't stand the thought of camping, staying offsite can help hold the bottom line as well. Hotels outside, but near the park, know they have to attract frugal tourists by offering discounted rates and better deals.
Watching sites like Priceline, Hotels.com or Kayak can help you get the best deals around. Keep in mind, while you might find hotel rooms for $60/night or less, you do get what you pay for. (Read reviews on Yelp and decide what you're willing to pay for the experience.)
If you really want to get creative and adventurous, try Airbnb. There are some really nice hosting options that are affordable and very close to the parks. Remember, while a good night's sleep is important, your real vacation activity is during active hours in the park anyway.
8. Rent DVC Points
If you love being part of the Disney Magic and you must stay in the park, try renting DVC Points. DVC Points are perks of membership in the Disney Vacation Club, where Disney's most affluent regulars pay loads of money to stay at the BEST accommodations for the next 40 to 50 years. Think Disney time-share club. …it's kind of a big deal.
Often Disney Vacation Club members have extra points that they won't be able to use within the allotted time-frame. There are several websites where members can "rent out" their points to "renters" like you, often at a discounted rate (currently about $12 per point). And it's worth it. Renters report saving thousands on top notch accommodations.
Club members don't waste expired unused points and others get to use them up—it's win-win. To be honest, the DVC system can be a little involved and somewhat confusing. To get started, read this Renting DVC Points guide.
SAVE on Food
Food at the parks is notoriously expensive…and appealing. I've spent $30 in a single family trip to the "snack" bar ($4 pineapple whips and $3 bottled waters anyone?). All I can say is plan, budget and go in with a full stomach.
9. Pack a Lunch & Snacks
First of all, be sure you get a good breakfast before you start. Pack a reasonably-sized cooler with lunch and keep a portable haul of snacks in your purse. (You can bring in outside food.) You can keep your lunches in the park's lockers for easy access. They're not free, but definitely worth a few bucks.
Try to pack easy-to-eat (but filling) snacks like nuts, energy bars and whole fruit. Try making the most of your pre-vacation prep by cooking up some of these snack items with the kids. Try these easy-to-prepare DIY Uncrustables or these kid-friendly White Chocolate Rice Crispy Treats for great grab-and-go eats.
Often, in the hot sun, on the pavement and in line, dehydration can hit hard and fast (making those pineapple whips irresistible). There are plenty of bathrooms and drinking fountains, so refilling a water bottle can really help. Keeping your parched family well-hydrated will help avoid a case of the "hangries" as well.
10. Grocery Delivery
Try a grocery delivery service to the hotel and skip the meal plan. Even if you just get some basics (bread, peanut butter, bananas) you will, at the very minimum, save yourself from major breakfast purchases and hold out for lunch.
Most surrounding hotels will offer a list of local grocery delivery services, so just ask for this amenity at the desk, or better yet, before you check in. In California, go for the popular Vons Online Grocery. Your first delivery is free! Just enter code EASY7 at checkout. In Florida, opt for Garden Grocer. The delivery fee is only $2 for orders over $200—a deal for a long family stay.
11. Vacation Package Meal Deals
The Disney Dining Plan is a component of Disney's Magic Your Way vacation packages. These packages are worth checking out, depending upon when you travel you could save a bundle. They're also a stress reducer for many people because you can take care of budgeting out everything (flight, hotel, airfare, park tickets, food)—all before you go.
Watch for Free Dining offers that come with these vacation packages. You could get all your food FREE. Be smart about choosing your vacation package benefits. As part of the Magic Your Way package, you may end up with a choice between 25% off your hotel room OR the Free Dining deal. Check which offers save you the most money at the time of purchase.
12. Eat One Big Meal & Make it Count!
Rather than fritter away cash on snacks or use meal points on small items, save up your dollars (and appetite) and go all out for one big meal a day. While most people think dinner is the "big meal," try going for a big lunch. It can give a great chance to rest and take a little mid-day break, plus you'll get better deals from ordering big off a lunch menu. As a bonus, there's plenty of time to burn off extra calories while getting more time in at the park in the afternoon.
SAVE on Memories
Disney can turn once reasonable, budget-conscious parents into spendaholics on things that will be strewn on the playroom floor and forgotten in a few months.
13. Bring Costumes from Home
Kids love to dress up, especially when they see so many other kids in costume. Save money by letting them go to the park already dressed up. Halloween costumes or DIY mermaid outfits can be just as cute, creative and fun as anything the park has to offer, and trust me, the costumes at the park, while beautiful, are also priced at a premium. Your child probably won't know the difference between the Elsa dress you found at Target and the deluxe version they are selling for upwards of $100. Your child will feel festive and you won't be guilted into outfitting your little princess once you're inside the park.
If you are adamant about having a "real" Disney park costume, try eBay ahead of time. I once found an authentic deluxe Ariel costume for $20–just a quarter of what they were asking at the park. Simply search "Authentic Disney Park" + the name of the character you are looking for.
14. Bring Your Own Souvenirs & Get Creative with Autographs
By the same token, bring along your own souvenirs or items. A treasured book or favorite shirt can be a great way to collect autographs from all the characters you meet while walking around the park. Get creative on this one—try a pillowcase, a photo mat, or even your child's favorite Princess or Pixar Characters storybook–each of the characters can sign on their own page!
Your kids will love collecting the signatures and they'll go home with a great (free) souvenir. Be sure to take photos! For additional fun, try a photo theme with each character your child meets. Perhaps your little superhero saves the princesses or your family's animal lover pretends to be each new animal character you meet. (Even if your theme falls apart halfway through your trip, it'll still be a ton of fun to try.)
Capturing photos, and even keeping a small travel journal with your kids, can prove to be one of the most valuable souvenirs of the whole trip. When you spend time at the end of the day, talk about and write down everyone's favorite activity. Think of a few prompts—what was the funniest thing that happened? What was the best thing you ate? What was your favorite ride? Who did you like meeting the most?
15. Give Your Kids a Budget
Work with your kids beforehand to set a budget. Children respond surprisingly well to this and I have even seen them get quite into it. ("I would like this item, but I only have $8 left, and I know I'll want this other thing more, later…") It's a great opportunity to teach some valuable life lessons and it will help them value the items that they purchase just a little more. This works especially well if you have already established a commission system in your home.
SAVE on Everything Else
The most important part of a Disney vacation is that magical feeling, the wonder, innocence and excitement. Avoid the little mishaps that can be expensive and derail your time by packing a few emergency essentials and planning ahead.
16. Pack an Emergency Kit
Check the weather and bring a rain poncho and don't forget bandages, wipes, tissues and some Tylenol. Sunscreen is mandatory to avoid red, sticky, tired and pained misery on the way home. Hydrate like it's going out of style and remember medications, asthma inhalers, and any other health necessities. If possible, slip a small, dry top and pair of knit shorts in your bag, just in case you experience any "wardrobe malfunctions."
17. Budget Your Time
Another great tip is to plan ahead and budget your time. Realize that you can enjoy the park's offerings, rides and activities without also bringing home "stuff," or paying for extras. Talk together about what you really value and remember that the memories of your Disney trip are the most important part. My favorite book for making the most out of our time and money at Disney is the Unofficial Guide, which has actual action plans you can follow to maximize your time and energy in each park. It also ranks each attraction and each restaurant, and offers the very latest in insider tips so you can tackle the park like a pro, even if it is your first time.
18. Plan a Free Day
Plan ahead, but don't overdo it. Give yourself and your family a little wiggle room by adding a free day into your scheduling. Pick a day in the last two thirds of your trip, so you can decide as a family on the most important bits and pieces no one wants to miss. Go exploring a bit and be sure to let the kids have some free play time, too, so YOU can relax and enjoy the moment! Most of the hotels in the Orlando and Anaheim area are family friendly and have great pools, and if you are staying at an actual Disney property, you will definitely want to have time to enjoy the facilities!
19. Earn Inbox Dollars
If you're planning a trip next summer, start earning Inbox Dollars to build up your vacation fund. In a nutshell, Inbox Dollars is a search engine which rewards you just for searching. You can use it just like you would use Google or Bing, and you will be randomly awarded Inbox Dollars for searching, usually every other search, plus bonus rewards. Unlike other rewards programs, Inbox Dollars pays in CASH, and you can also earn cash back for all sorts of other activities too, such as printing coupons, shopping online, and filling out surveys. (For more ideas, check out this post.) Signing up is super easy. Just fill out the form here.
20. Just Don't Go
Disneyland and Disney World are best when your kids are just the right ages to really enjoy what the parks have to offer. If your little ones are too tiny, why not wait a few years until they'll be old enough to cherish the memories?
Create your own family memories to love and remember year after year—wherever you are. You don't need to spend a lot of money to have a fantastic family vacation elsewhere. Decide what your priorities are, as a family, now and in the near future. If now isn't the time for a big family trip, try a staycation or a local campground or just a special day at the zoo instead.
Years from now, when the sunburn has turned to freckles and the tiara has long since been forgotten, togetherness and warm memories are what your family will look back upon as the real magic of your family vacations, whether at Disney or wherever you wander.
Other helpful resources:
PIN FOR LATER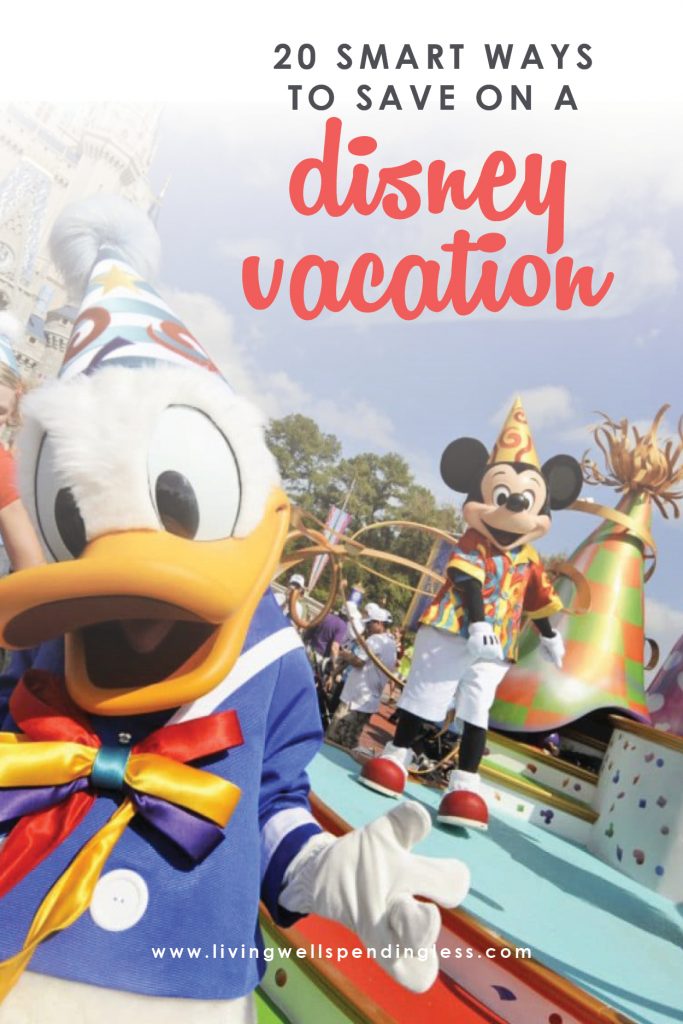 TAKE BACK CONTROL OF YOUR HOME LIFE
---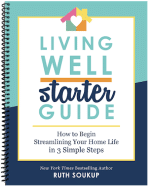 Ever feel like you just can't keep up? Our Living Well Starter Guide will show you how to start streamlining your life in just 3 simple steps. It's a game changer--get it free for a limited time!
If you love this resource, be sure to check out our digital library of helpful tools and resources for cleaning faster, taking control of your budget, organizing your schedule, and getting food on the table easier than ever before.