Want to truly get away? Cruising is not only relaxing, it is also one of the most cost-effective ways to travel! These 25 cruise secrets can help you find the best deals, discover little-known tips & tricks, and help you make the most of your next cruise vacation.
There's no getting around it–cruising is a great way to travel. Not only is it a great value and relatively easy to find fantastic deals, it is so relaxing to just get on the ship and have everything taken care of. No hassles, no decisions, no worries.
As a Florida resident, I get to enjoy the added bonus of living relatively close to several different ports, which makes it very easy to take advantage of last-minute deals. I realized it was high time I write a blog post about this topic, not just to list the benefits of cruising (which are many), but to actually share some of the best-kept cruise secrets we've learned along the way.
25 Cruise Secrets Everyone Should Know
Here are the 25 "insider" secrets to successful cruising that I think everyone should know.
Booking & Travel
You can guarantee about 80% of the success of your cruise vacation by taking a good amount of time to research and thoroughly plan for your trip in advance.
1. Choose the Right Ship for You
Choosing the right ship is the most important step in determining how successful your cruise vacation will be, and believe me, not all ships are created equal! Take the time to research the amenities of the exact ship you will be cruising on, not just the cruise line. We have cruised on Carnival, Norwegian, Holland-America, Royal Caribbean, and Princess, but our favorite ship so far has been be Carnival Sunshine. (Hard to beat a 4-slide water park and P.Y.O.B. (pour your own beer) on the Lido Deck!)
To avoid the cost of airfare, look for ports within driving distance, whether it be Florida, New York, New Orleans, California, or Seattle. Cruise Critic has an extensive searchable database of cruises where you can sort by destination, ports, special interests and more during specific travel dates. Or, if you are looking for a top rated cruise line, Conde Nast Traveler has an annual Gold List with the best cruise ships based on their readers' choice ratings.
2. Check for Special Interests
Whether you are interested in a romantic trip for two or a trip the whole family will love, look into cruises that fulfill your and your guests' special interests. Many cruise lines offer themed cruises or special events for singles, families, music lovers, etc. Carnival is now even offering big name concert events on some of their ships. This concert series, aptly named Carnival Live brings in some of the biggest names in classic rock and country music to do on-board concerts. For just $15 a ticket you can see big names like Lady Antebellum, Daughtry, Chicago, Kansas, and many more. (For $100 you can get a VIP ticket that gets you a front row seat and a chance to meet the band!)
3. Book at the Last Minute
If you are willing to be flexible with your travel plans you can get some amazing deals on last minute cruises! One of the smartest way to book a last minute cruise is to first find out how close to the departure date a traveler can cancel their reservation without a penalty. This time is typically 2-3 months prior to departure, and it is the exact time you will want to call and check back for better deals. Cruise lines will often try to sell any available space at this time by reducing fare. If your cruise is already booked, this is also a good time to call to check for cabin upgrades. On Norwegian we were once able to upgrade our inside cabin to a full suite (complete with butler service) for just $250 per person by calling a month before the cruise to check for cancellations. That same suite normally would have cost several thousands of dollars more had we booked well in advance!
4. Ask for Special Discounts
It doesn't hurt to ask, and more than likely it will be worth the time it took to ask the question. Just like hotels, cruise lines have incentives for different travelers… seniors, teachers, military, FL resident, etc. Cruise lines master accommodating all types of passengers and love to incentivize you to cruise with them over their competitors.
5. Compare Prices
When you are shopping for a cruise, there are numerous sites such as Priceline that you can use to search for best rates. Find a great deal? Call the cruise line directly to get an even better deal! Sellers will compete to get your business and can often discount the price you see online or give other perks such as on-board credit, free wine at dinner, or priority boarding. And remember, even after you book, keep checking back for additional deals or upgrades!
6. Check in After 2 pm
Most cruisers are eager to get on the ship as early as possible, which means that the cruise terminal can be really busy–and more than a little stressful–during the first few hours of boarding (generally from 11 m-2 pm). And while you may be able to get on the ship that early, chances are you won't be able to get into your cabin until later in the afternoon, which means your first few hours on board will be spent hauling your stuff around. Not exactly the most relaxing start to a vacation! Instead, avoid the rush and the crowds by waiting to check in until after 2 pm (assuming your ship sets sail at 4 pm or later!) You'll be able to walk right on without waiting and then go straight to your cabin.
7. Pick the Right Time to Go
Want to get a great deal on a cruise? Book your cruise for just after Labor Day when kids are back in school–the 2nd week in September offers some of the very best deals of the year. Coming in at a close second is the weeks between Thanksgiving and Christmas, a time when most people are too busy to travel.
Cabins
Once you decide on the ship that's right for you, look into room options that best accommodate you and your guest(s). Then, plan what to bring with you carefully and make yourself at home once you're there.
8. Spring for a balcony
Room options are typically either Inside (no windows), Outside (window/porthole view to the outside), Balcony (a room with a balcony on the outside of the ship), and Suite (a larger cabin often with separate living and sleeping areas and more amenities). If you plan on taking advantage of in-room dining, have kids who will be taking naps or typically get seasick, you will really appreciate the extra space and killer view you get from a balcony room or suite.
9. Make the most of an interior cabin
If cost is your primary concern, plan on spending most of your awake time enjoying the ship and excursions, making the time spent in your room mostly for sleeping and getting ready. To avoid seasickness, keep the TV turned on to the ship camera which will create the illusion of having a window when you have an inside room.
10. Don't Take Too Much Stuff!
Make a list of clothing you need on the trip. Then cut that in half! While ship cabins do make the most of a small space, they are still small, especially when you are traveling as a family! No one cares if you wear the same clothes over again, and all ships offer laundry service if necessary. Find out ahead of time how many "formal" nights the cruise has, if any, and also how strict the dress code is. If you don't like dressing up, you can always choose room service or Lido dining those evenings to avoid having to pack a tux or formal gown.
11. Bring Magnetic Clips
An often forgotten detail about cruise ships–they are made out of metal! These handy magnetic clips make it easy to hang important items, such as your ship card, dining menus, reminders, and even notes to your family and friends if you split up for the day.
12. Take Time to Unpack
Though you'll see many destinations while on your cruise, you only have to unpack once! Do unpack. Whether you are on a cruise for 3 days or 3 weeks, making yourself at home by unpacking will make your trip (and getting ready for each event) SO much more enjoyable. Room stewards are experts finding out-of-the-way places to stash suitcases, and even the smallest cabins have a surprisingly large number of drawers and closets.
13. Keep Things Tidy
Even "large" quarters on ships are a much smaller space than you are used to living in. Take a few minutes each time you come back to the cabin to keep things tidy in order to avoid feeling like the walls are closing in on you.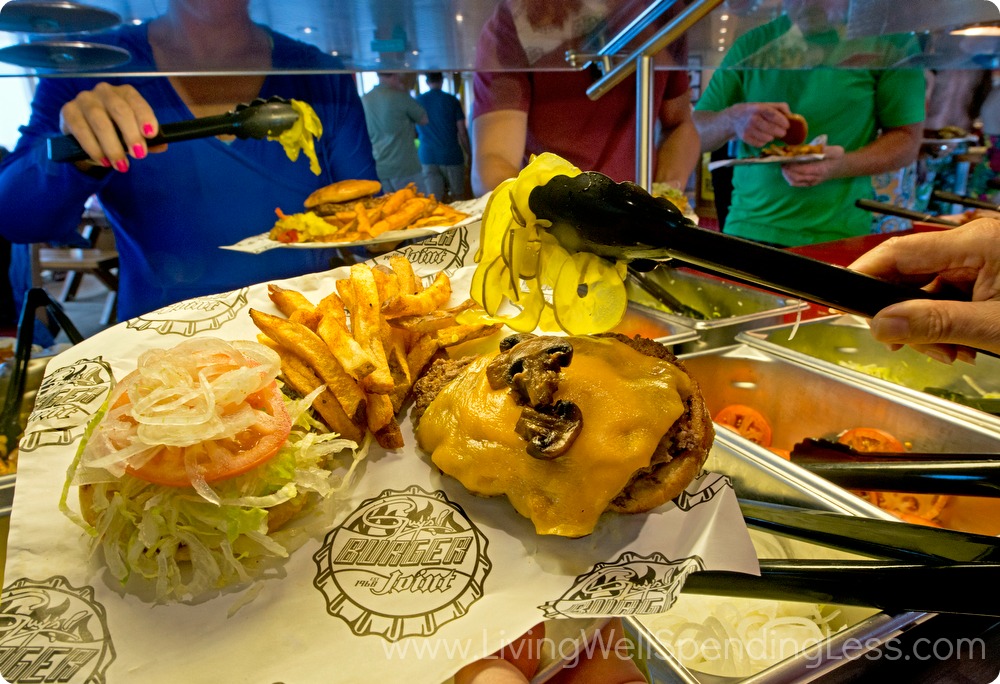 Food & Drinks
Cruise ship cuisine is pretty spectacular! It is best enjoyed when you know all of your dining options and take advantage of them.
14. Don't be Afraid to Order What You Want
You are on vacation! Many first time cruisers don't realize that even in the main dining room, you can order as many entrees, appetizers, or desserts as you please. And if you have special dietary needs, there are always healthier options you can mix in with the meal of your choice. Ask for a special diet menu that may include lower sodium and lower fat options.
15. Plan Meals Ahead
Ask to see the main dining room menu for the week. That way you can plan your meals accordingly and book specialty restaurants for the evenings that the main dining room fare doesn't excite you. On Carnival you can receive a free bottle of wine for booking a reservation at the steakhouse on the first day of your cruise.
16. Don't Miss the Specialty Restaurants
Most cruise lines have now begun offering specialty fare at a slight up charge (between $5 and $25 per person, depending on the restaurant.) While your first inclination may be to skip the specialty dining in favor of all the free options, it is worth setting aside a little extra room in your budget for at least one night of specialty dining. Carnival's JiJi Asian Bistro ($15 per person) is downright phenomenal, and the steak house on our Norwegian ship was absolutely amazing. Of course not all specialty dining has an added cost, and even some of the premium restaurants are free at lunchtime–just check your ship to see what is offered!
17. Take Advantage of Free Room Service
Most cruise lines offer free room service, which makes for a relaxing evening in. Don't feel obligated to go to the dining room – this is your vacation! Room service breakfast is also a very nice way to start the day, particularly if you have a balcony room.
18. Drink Smart
While cruising is mostly all-inclusive, drinks are not generally included! Therefore it is smart to get creative on how you partake. A tip for wine drinkers? Bring your own wine. You may be charged a cork fee but it will be significantly cheaper than buying a full bottle on the ship. For non-alcoholic drinks you can typically purchase a drink card that will give you access to unlimited soda.
19. Eat Lunch in the Main Dining Room
For a quieter, more relaxing lunch, try eating lunch at least a few times in the main sit-down dining room rather than the busy Lido deck buffet. The dress code is still casual but the food is usually amazing and the service impeccable. Carnival also offers a Sea-Day Brunch that is absolutely to-die for!
Excursions & Entertainment
Depending on the ship you choose, chances are each day you will wake up in a new place with the option to go onshore and explore or stay on the ship. By knowing what activities are available to you on and offshore, you will be sure to be entertained in a way that's best for you!
20. Explore Your Ship
There are tons of on-board amenities you can take advantage of when you are out at sea or want to stay on board vs. going on an excursion. In the first couple of days, be sure to walk around and familiarize yourself with the ship and its offerings. Also – ask others what they are looking forward to on the ship or have enjoyed doing thus far.
21. Choose Excursions Wisely
Cruise lines offer shore excursions at every port – from bus tours to activities like snorkeling and zip lining. You may also have the option to tour around yourself, but be mindful of time and language barriers. You are best off reviewing excursions in advance of the cruise and booking them online to avoid any confusion or overbooking the day-of. This will also give you time to carefully read the fine print and excursion restrictions.
22. Don't Miss the Shows
While the shows do vary from ship to ship, they are almost always really good and very entertaining. You may even have the opportunity to see a big name performer for a concert or comedy show for almost nothing. Because of the smaller size of a cruise venue vs. an arena, these events are more intimate and enjoyable than typical concerts–there is literally not a bad seat in the house!
23. Take Advantage of the Kids Club!
A ship typically has well-organized camps and activities for children, organized by age, typically 3+. (For younger children there are sometimes classes or special babysitting times offered.) These interactive classes and activities will keep the kids entertained while giving parents some free time as well. We have personally been most impressed with the quality of kids club facilities and variety of activities on the Carnival ships we have been on, but all the cruise lines have been very good. The best part is that aside from late night babysitting, it is completely free!
24. Research Ports Ahead of Time
Take the time to find out a little about the ports you will be visiting to find out what you might like to do or see while you are there. You may also find some highly rated excursions at a better price than you would find if you purchased on the ship. Our all-time favorite excursion in Alaska was this Sea Plane excursion to Taku Lodge, which is significantly cheaper when not booked through the ship, and our favorite excursion EVER in was Dolphin Discovery, which we booked online before our cruise. We went to the one in Cozumel, but they have locations all over Mexico and the Caribbean.
25. Find a Favorite Hangout
Every ship is different but all are purposely designed to offer comfortable spaces for a variety of tastes. Often your favorite memories from a cruise will come from having found your "special" place somewhere on the ship, whether it be a particular bar or restaurant, deck chair, or cozy corner in the atrium. The staff assigned to that particular spot on the ship will generally stay the same through the duration of your cruise, which can come in handy, and it is also a good idea to have a designated meeting spot in case you get separated on board, since cell phones don't usually work at sea!
Whether you plan to cruise for three days or three weeks, knowing some of these "insider" secrets can help make your next cruise your best trip yet. Bon voyage!
Do you have any other cruising secrets to share? What is your favorite ship?
Other helpful resources:
PIN FOR LATER: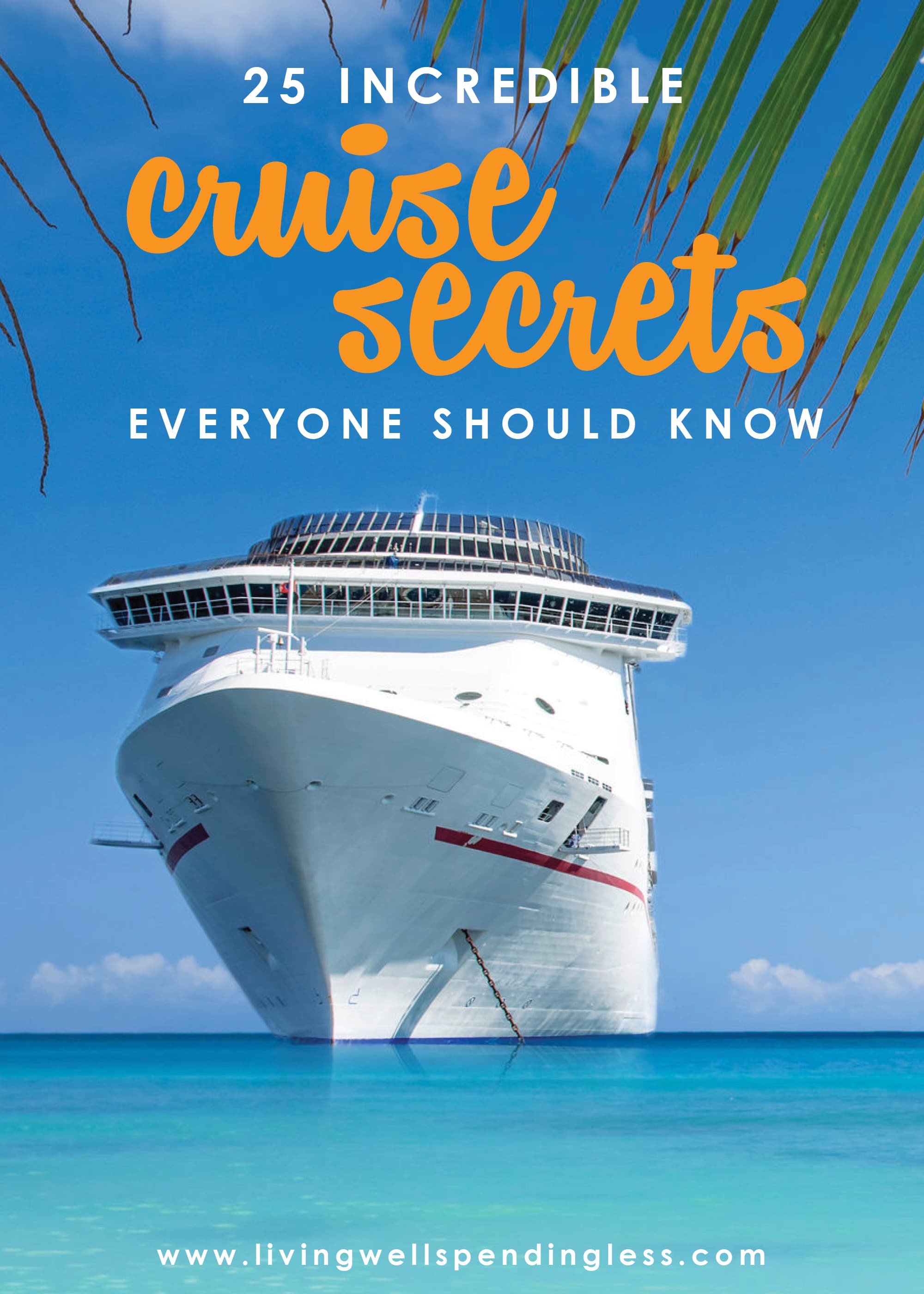 TAKE BACK CONTROL OF YOUR HOME LIFE
---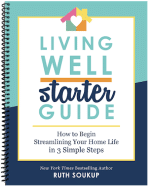 Ever feel like you just can't keep up? Our Living Well Starter Guide will show you how to start streamlining your life in just 3 simple steps. It's a game changer--get it free for a limited time!
If you love this resource, be sure to check out our digital library of helpful tools and resources for cleaning faster, taking control of your budget, organizing your schedule, and getting food on the table easier than ever before.