The holiday season is officially upon us, and I have to admit—I'm a total sucker for Thanksgiving! After all, what other holiday is completely and utterly centered around FOOD? Of course for some of us, just the thought of having to pull it all together—and host a whole house full of people—can be enough to induce a full-fledged panic attack, in which case (and just in case you were starting to break out in a cold sweat) don't worry—we've got you covered!
In fact, November here at LWSL is all about making time for what matters most. Our articles this month are focused on making entertaining as easy as possible so that you can actually enjoy your holidays this year….without feeling a single ounce of guilt for all those things you're "supposed" to be doing.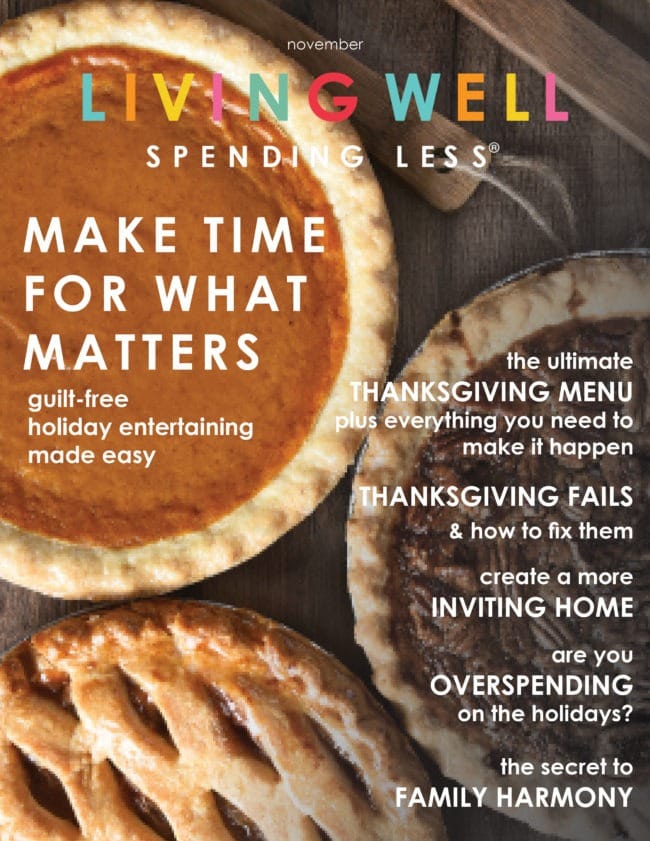 Here's the breakdown of what you'll find in this month's issue:
HOME 101
Whatever you do, don't miss our Ultimate Thanksgiving Menu, which not only has all the recipes you'll need but a complete shopping list AND a step-by-step timeline for pulling it all together. It's basically Thanksgiving done for you, and it's a game-changer! (You're welcome!) If you're nervous in the kitchen, you'll also want to check out our Thanksgiving Fails (and How to Fix Them). And if you're hosting guests, don't miss Create a More Inviting Home, as well as our Holiday Speed Cleaning guide and our tips for how to Stay Organized All Season Long.
FOOD MADE SIMPLE
This month's recipes are centered around our Ultimate Thanksgiving Menu, starting with our step-by-step tutorial for Stress Free Roast Turkey. We've also got Twice Baked Sweet Potatoes, and my kids' all-time favorite side dish, Creamy Corn Casserole, not to mention a round-up of our best Make-Ahead Appetizers, and our can't miss instructions for How to Make the Perfect Pie Crust!
SMART MONEY
On the money front, we've got some great solutions for keeping your holiday spending in check, starting with Are You Overspending on the Holidays?, as well as How to Save On Food for the Holidays. If travel is part of your holiday plans, you won't want to miss How to Save on Air Travel. Smart shoppers will appreciate our practical tips for Sneaky Retail Traps (& How to Avoid Them) as well as Your Biggest Money Problems, Solved.
LIFE ETC.
This month's life section is all about making time for what matters, starting with The Secret to Family Harmony and How to Raise Grateful Kids. If you're in need of calm, you'll definitely want to check out Stay Organized All Season Long, and if you're hoping to keep your family healthier this winter, definitely don't miss How to Illness Proof Your Home.
All-in-all, it's an issue jam-packed with incredible content designed to help you ease into the holiday season with a happier heart and a lighter load.
As always, I'd love to hear what articles have resonated most with you!
Here's to a gratitude-filled November!
TAKE BACK CONTROL OF YOUR HOME LIFE
---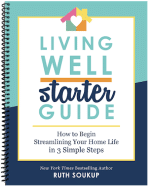 Ever feel like you just can't keep up? Our Living Well Starter Guide will show you how to start streamlining your life in just 3 simple steps. It's a game changer--get it free for a limited time!
If you love this resource, be sure to check out our digital library of helpful tools and resources for cleaning faster, taking control of your budget, organizing your schedule, and getting food on the table easier than ever before.