Believe it or not, the holiday season will be here faster than you can say Trick-or-Treat!
So the big question is this—are you ready?
Because, if you're anything like me, this is about the time of year, (before all the craziness has started), where you swear to yourself that THIS year will be different. THIS will be the Christmas you're finally super organized and have all your shopping done early, the Thanksgiving where you don't have to make fourteen trips to the grocery store, including one right before the store is closing on Wednesday night. THIS will be the year you stop running around like a crazy person and instead enjoy cozy nights at home in front of the tree.
DIG DEEPER
---
Want to have less stress and more joy this holiday season? It's easy with our free Holiday Planner.
Find out more by opting-in below to have our Holiday Planner sent straight to your inbox!

THIS will be the year of less stress and more joy.
And then November happens, and things start getting hectic, and before you know it December is here and the real chaos begins, and by the time January begins, both you and your budget are overspent.
Sound familiar?
Believe me, I get it! In fact, I used to feel exactly the same way! Until one day in 2011, I'd finally had enough. I decided something had to give and so, to help myself get control of the situation, I created my first-ever LWSL Holiday Planner™ and shared it with the Living Well Spending Less® Community. It was such an instant hit that we have been creating one every year since! Yep, that's right, this is our NINTH annual Holiday Planner, and I'm not kidding when I tell you that it is our best one yet!
And one very big thing I've learned over the years is that early planning is a key ingredient to having less stress for the holidays! With that said, I'm happy to announce that our 2019 LWSL Holiday Planner is now available and ready to download!
Our LWSL Holiday Planner™ is intended to help you create more joy and less stress around the holidays. It will help you prioritize your time, set a budget, plan your meals, create a gift list, and make the most of your holiday season. Each year we also take your feedback & suggestions, which means it just keeps getting better.
Oh, and did I mention it's FREE? Yep, you're welcome! We would also love for your to share the JOY and share our Holiday Planner with your friends. And if you do share our Holiday Planner with your friends you can enter our Awesome Giveaway and have the chance to win a $200 Amazon gift card (just in time for the holidays) and a Living Well Planner®.
But the thing is—this incredible resource will only help you stay organized this year if you actually take the time to use it. And so, in addition to simply just the download link, I thought it might be helpful to share the steps I use to organize my holiday season in order to stay on task, stay under budget, and keep stress to a minimum.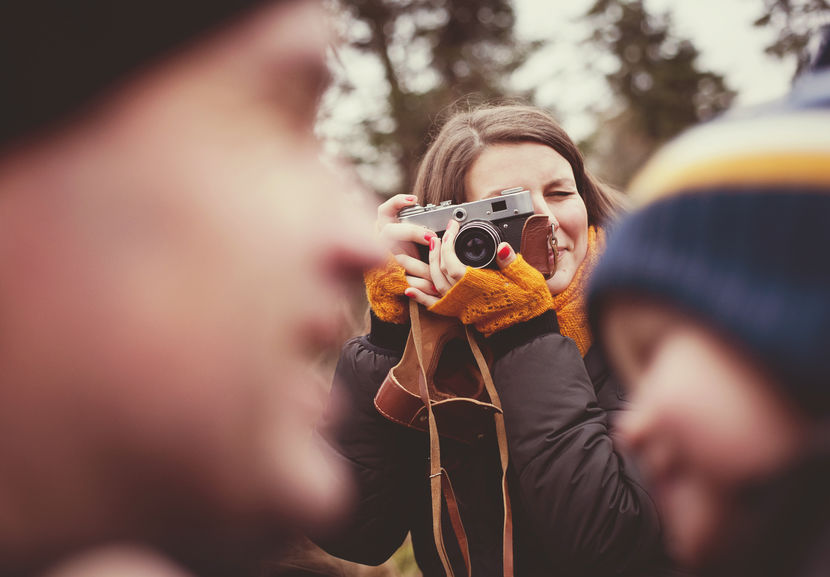 STEP 1: REFOCUS YOUR PRIORITIES
The first page of our holiday planner is by far the most important–so important, in fact, that if you are only going to print out and use ONE page of the planner, this would be the one that would have the biggest impact on your holiday season. I definitely recommend that you involve your family in this one as well. When my kids were younger, my husband and I would fill it out together, but now that our kids are a little older, we can do it as a family. It's especially important to take everyone's thoughts and ideas into consideration, both for the things you want to do and for the things you don't.
STEP 2: LOOK OVER THE HOLIDAY CHECKLISTS
You shouldn't feel like you need to follow these checklists step by step, but they can help give you a general idea of what your own timeline should be for planning your meals and activities throughout the season. Go ahead and cross out any items that don't apply to you–it's okay, you don't need to do everything!
STEP 3:  FILL OUT YOUR NOVEMBER & DECEMBER CALENDARS
Take the time to mark out all the important dates that you already know about–church events, school concerts, parades, parties, etc., then take time right now to block out a few days just for your family, especially for the things you all agreed about wanting to do this year. Because here's the thing–if you don't intentionally make time for those items now, when things get busy later it will be easy for that time to slip away. Make them a priority by getting them on the calendar! I also recommend that you block out time for gift & grocery shopping so that you don't feel pressed for time later on.
STEP 4: SET YOUR HOLIDAY BUDGET
Be realistic about what you can afford to spend this year on everything from food to gifts to travel and activities. The reality is that there is nothing more stressful than facing a pile of bills come January. Avoid that frustration early by being proactive about telling your money where to go. If funds are tight, be honest with your friends and family, and even your kids, and put the focus on spending time together, not spending more than you can afford.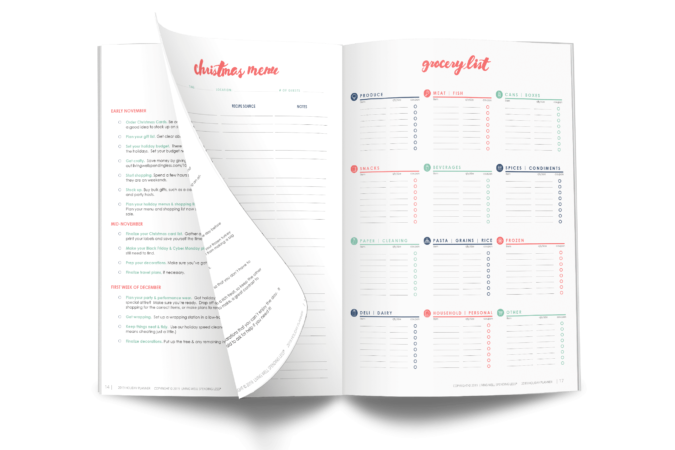 STEP 5: CREATE YOUR HOLIDAY MENUS & SHOPPING LIST
The grocery stores always have the most amazing sales in November and December, and with a little pre-planning it is possible to keep even the most lavish menus to a reasonable budget. That's why it is so important to start with you menu planning early. Decide on your Thanksgiving, Christmas & baking recipes as soon as possible, then create a master grocery list that you can bring along to the store each week and stock up on the items you need as they go on sale. (For more details about keeping your holiday grocery budget in check, be sure to read our in-depth article on How to Save on Food for the Holidays.)
STEP 6: PLAN YOUR GIFT LIST
Take some time to jot down notes about who you will need to buy gifts for this year, what your budget is for each person, and what you plan to buy or make for them. There are detailed gift pages for family members and close friends, as well as an extended gift list for those other important people you'll want to remember–teachers, neighbors, babysitters, etc.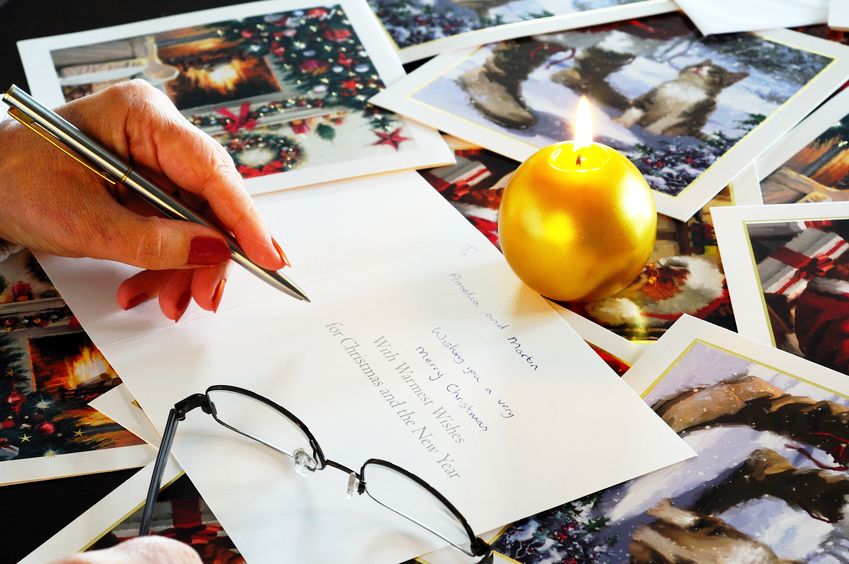 STEP 7: ORGANIZE YOUR CHRISTMAS CARD LIST
Christmas cards are one of my favorite holiday traditions, but I'll be the first to admit–they are a LOT of work (not to mention expensive!)  In fact, for the first time ever my husband and I are considering not even sending them out this year. While that decision is still yet to be decided, it is important to make sure you stay organized when it comes to your card list. If you only have a few cards to send, our holiday card planning pages are the perfect way to keep track of your list.
Keep in mind that for longer lists, you may want to use a spreadsheet, and this year I'm excited to let you know that in addition to our free printable Holiday Planner, we've also developed a digital Holiday Planning Spreadsheet that's designed to help you stay organized year after year. It's just $27, and you can grab it HERE.
*     *     *
And that's it! This is really all it takes to plan and organize a (relatively) stress-free holiday season, and to keep yourself organized all season long! All seven of these steps can easily be completed in an afternoon, and a few hours of effort early can be the difference between chaos and calm this year. I challenge you to give it a try and see for yourself! (By the way, in case you are wondering, in past years I have printed my planner at Staples and had it coil bound, but you can just as easily print it at home.)
To have your FREE 2019 Holiday Planner PDF sent straight to your email inbox, simply click the button below.