Do you ever look at your closet full of clothes and think, I have absolutely nothing to wear? Creating a wardrobe we love while sticking to a budget we can afford is not always easy, especially when we settle for items we don't like that much simply because the price is right. And while in a perfect world, shopping would be a fun adventure for all of us, regardless of how much we have to spend, the reality is that shopping for clothes–especially clothes that fit well, flatter our shape and complexion, and hold up to everyday wear and tear–can be a challenge when money is tight.
As moms the problem is compounded even further when we become responsible for not only our own closets, but for the rest of our family's as well. Fortunately, there are some relatively painless things we can all do to shop on a dime while creating a wardrobe we actually want to wear. Here are ten smart ways to save on clothing while still getting the looks you love:
1. Stock-Up Off Season
Shop ahead for upcoming seasons. With the quick turnover of clothing in and out of stores, shoppers who are prepared to think a season ahead have a great opportunity to get a great deal. This is easy for adults when you're pretty confident which size to buy, but can also be done for kids by estimating the size your child or children will need. If you're unsure which size to choose for kids and you're planning for the next year, simply purchase a size or two bigger than they are currently wearing.
Here are a few general guidelines for when to stock up:
January – Winter clothing, sweaters, & coats; holiday apparel
April – Spring clothing, Easter dresses
May – Athletic Apparel
July –Summer clothing & swimwear
October – Fall & back-to-school clothing.
This is a great start, but just keep in mind there will always be exceptions. The important thing is to plan ahead and shop a few seasons in advance to always get the best deals. Nothing can derail your budget faster than being forced to pay full price because your child grew 3 inches overnight and suddenly has nothing to wear!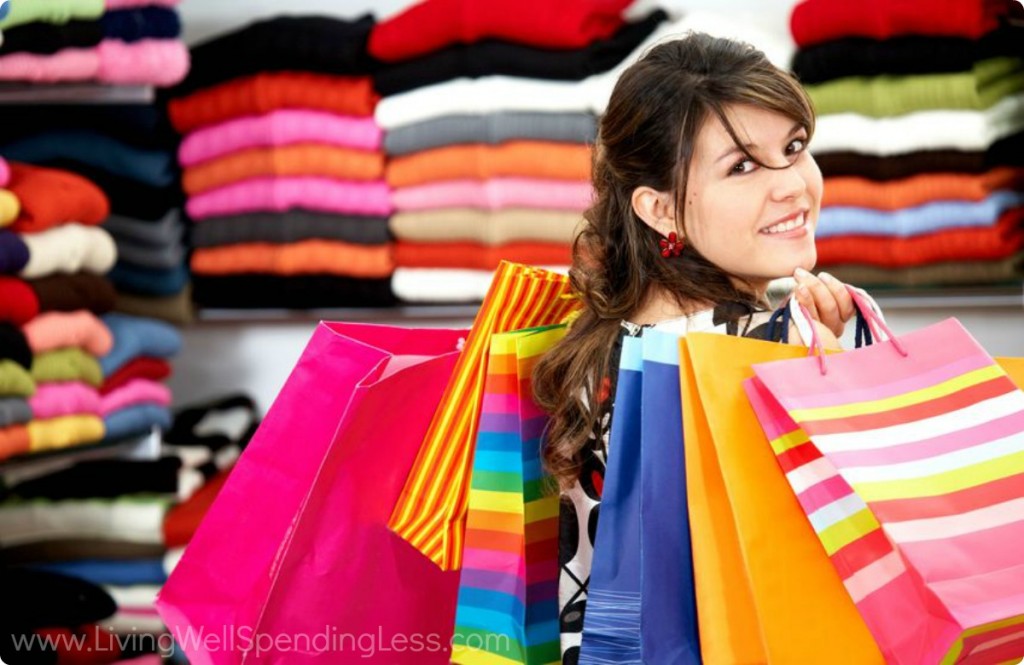 2. Check eBay Before You Buy
If you find a clothing item you like at a store or online, before you buy, go to eBay and search for the item by brand name and a brief description or size. Try it a few ways, as eBay sellers name their items differently (ie: "NWT Gap Women's Dress" or "New Gap Blue Maxi Size 8"). Check to see if the item you want is available at a better price before you buy from a retailer at full price.
If you don't find the exact item you're looking for, you might even find a similar item that you like for a better price. This works especially well for items you buy every year for yourself or your kids like bathing suits, jackets, and holiday apparel. If you prefer a "new" item, vs. used, you can always select "New" or "New with Tags" to narrow down your search.
When you're shopping on eBay, always check the photos and descriptions the seller provides to make sure the item is exactly what you're looking for. Before buying, make a point to review other buyers' comments on the seller to see if the seller typically receives positive or negative feedback. Try to only do business with those who have glowing reviews and at least a 95% approval rating.
3. Save Online
You've filled your virtual shopping cart, proceed to check out and see a space for "coupon code"…now what? Before you check out, search for online savings codes at sites like RetailMeNot, CouponCabin and CurrentCodes.com.These sites have a database of online coupon codes that give consumers everything from free shipping to hefty percent and dollar-off discounts when you apply the code at check out.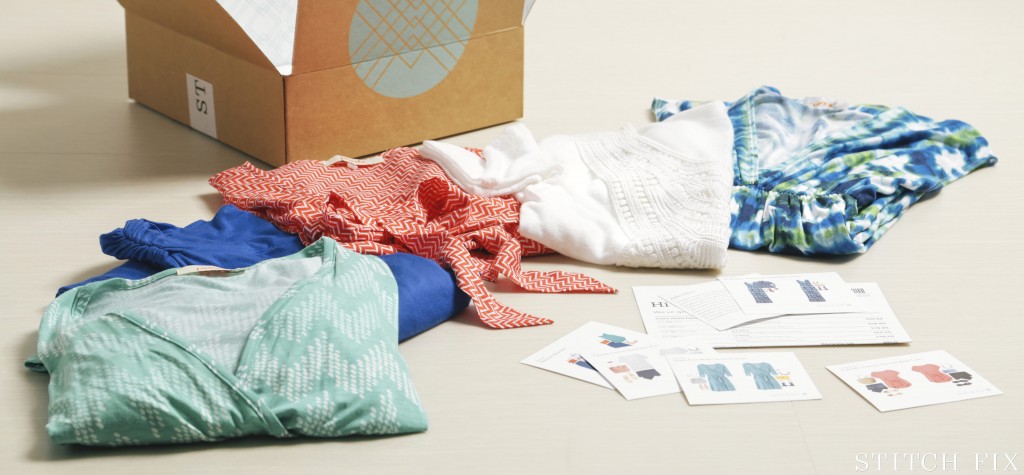 Another great option for your own wardrobe, especially if you are having trouble finding items you really love, is to take advantage of an online personal shopping service such as Stitch Fix. Each month, based on a survey of your preferences, your own wardrobe stylist will personally select and send you five items to choose from within your selected budget. The service costs $20 per box, but you will get a $20 credit towards any of the clothing that you keep, and you can choose to keep as many of the items as you like. This innovative service can save you money in a couple ways. First, it keeps you out of the stores, where the temptation is to buy more. Second, it allows you to focus on just a few pieces that you love rather than buying a bunch of random things just because. Finally, it allows you to set a reasonable clothing budget for yourself each month. (Still wondering if Stitch Fix is a good value? Check out my detailed assessment HERE.)
4. Sign-Up to Save
Make a list of the retailers you love to shop with. Go to each of the store's sites and sign up to receive email from them. In the past, you may have chosen not to do this to avoid "SPAM". However, retailers spend most of their efforts on sending consumers money saving coupons and other incentives, sometimes even daily, that will help you save the next time you want to make a purchase! (Note: If you're concerned with sharing your information, view the retailer's privacy policy posted on their website to see how your information will be used. Many times, retailers choose to protect your information and will keep it private, not selling it to third parties.)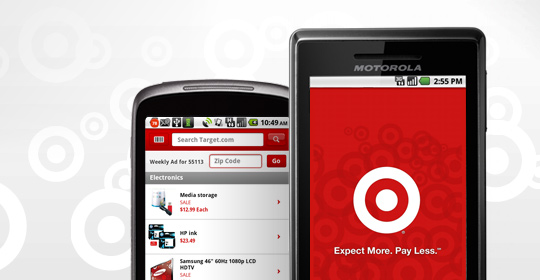 5. Participate in Loyalty Programs
A loyalty program is a rewards program a company offers to customers who shop with them. By signing up for a loyalty program and shopping with that company, program members have the opportunity to receive rewards such as exclusive coupons, invitations to private sales and more.
Retailers spend a lot of time and money analyzing shopping information to market to you in a way that makes you want to buy more – more often. Why not use their efforts to your advantage? There's a reason why there are over 2.5 billion loyalty memberships in the U.S.! (Colloquy)
When you maximize your loyalty program memberships, the results can be mutually beneficial. Take time to read through the pamphlets or emails you're given/sent when you sign up for a program. Understanding point scales and all of the soft benefits of the loyalty program will make it even more beneficial. Last October, Consumer Reports reported on the TOP loyalty programs… many of them were clothing retailers you may already frequent like Target, JCPenney, and GAP!
6. Get Smart with Coupons
Make a coupon binder – a binder full of clear page protectors for all of the coupons you receive by mail or in-store. If you receive a coupon by email, print it and store it in the binder, as well. When you begin a day of shopping, peruse the binder to see which shopping stops you should make.
Having coupons organized also works great right before the holiday season. When you're making a list for others, you can use the coupons you've collected to decide where to shop for gifts. Matching sweaters for the nephews? Use that 40% coupon you've been saving. Make sure to organize coupons by date so that you use the coupons before they expire. The key to maximizing coupon usage is organization.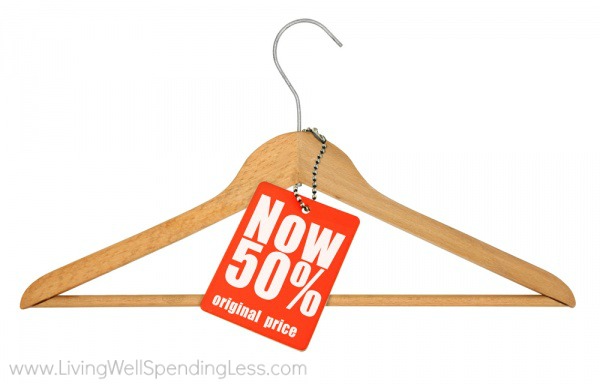 7. Wait to Buy
If you love it now, you'll love it later. Just be sure to keep a watchful eye in-store or online for that item you love and nab it when it goes on SALE. Chances are you won't have to wait too long. Retailers try to move merchandise as fast as possible, which means that even brand new items get marked down fairly quickly. Whenever possible, try to avoid buying items full-price… there will always be a better price. Just make sure you're willing to part with the item you're waiting for in case your preferred size isn't available when the item goes on sale. It happens!
8. Shop Discount Retailers
Retailers like TJ Maxx, Marshalls, and Ross sell clothing and other items at lower prices than you can find at other stores. They can do this, in part, because they sell merchandise from a previous year or season another store couldn't sell, and they were able to buy it at a very low price, passing on savings to customers.
When shopping discount retailers, you have to set your expectations for the shopping trip. KNOW that you will spend more time than usual looking through racks – typically everything is organized by type and size but there may only be 1 of each in each size. I've gotten by taking not only 1 but 2 kids into these retailers and having a successful shopping trip. Setting expectations and having patience (and a snack or 2J) is key.
Prefer to shop online? There are several sites like Zulily, Gilt, Jane and Bluefly that have daily and ongoing deals at great prices. Much simpler than digging through clothing racks…especially when you have littles.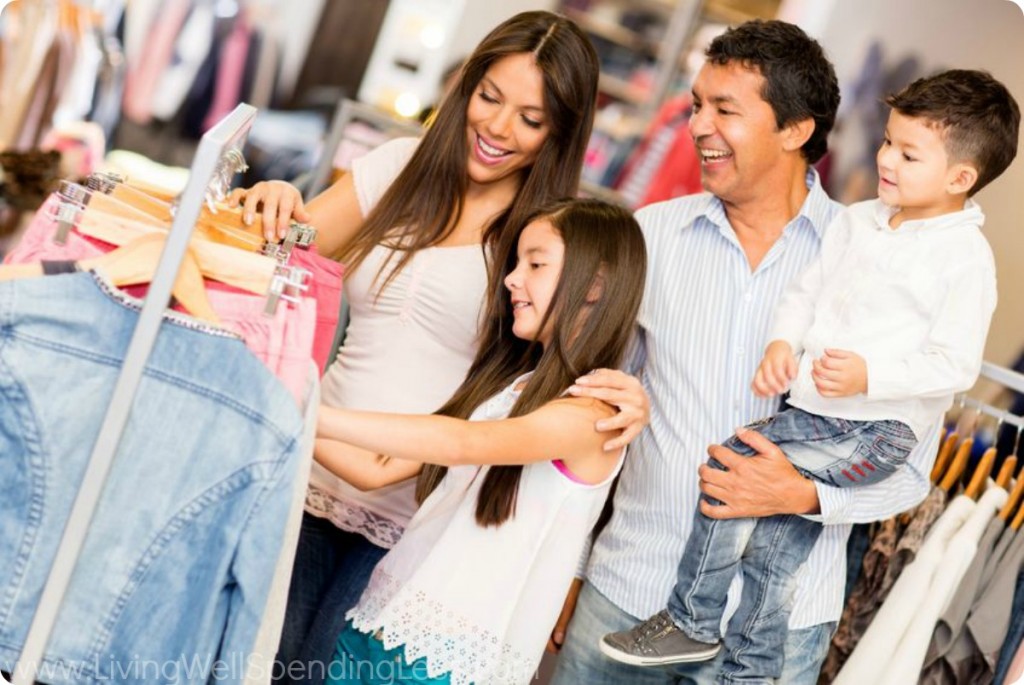 9. Give New Life to Old Clothes
What do unwanted clothes + good friends + a few appetizers add up to? An evening of fun at a Clothing Swap Party!
Host a party where everyone brings a set number of clothing items they are ready to part with. Each person exchanges their items for others' items and goes home with a shopping bag of "new" items. Add accessories to the mix to complete your outfits! Real Simple has great tips on hosting a Clothing Swap Party from appetizer ideas to organizing the party.
Furthermore, shopping secondhand stores for new treasures can be a great adventure, not to mention a great way to score some amazing deals on high quality clothing. Take the time to learn the sale cycles of your local thrift shops, as well as what days they put out their new items. You just never know what you might find! Even if the items you find aren't perfect as is, you can easily learn to repurpose and refashion old clothes into something new and amazing.
Check out these 20 cool ideas for inspiration, or visit Refashionista.net to see all the cool ways in which she's turned some truly horrible thrift store finds into adorable new outfits with just some basic sewing skills.
10. Downsize and Organize
By downsizing and organizing your closet, you might just be delightfully surprised how many new outfits you can come up with by using clothing and accessory items you already have! (Especially when you add "new" items from the Clothing Swap Party you just hosted…See #3 above!) Need help in the closet organization department? Check out simple ways you can improve your closet and minimize your wardrobe for maximum style with a 40 hanger closet.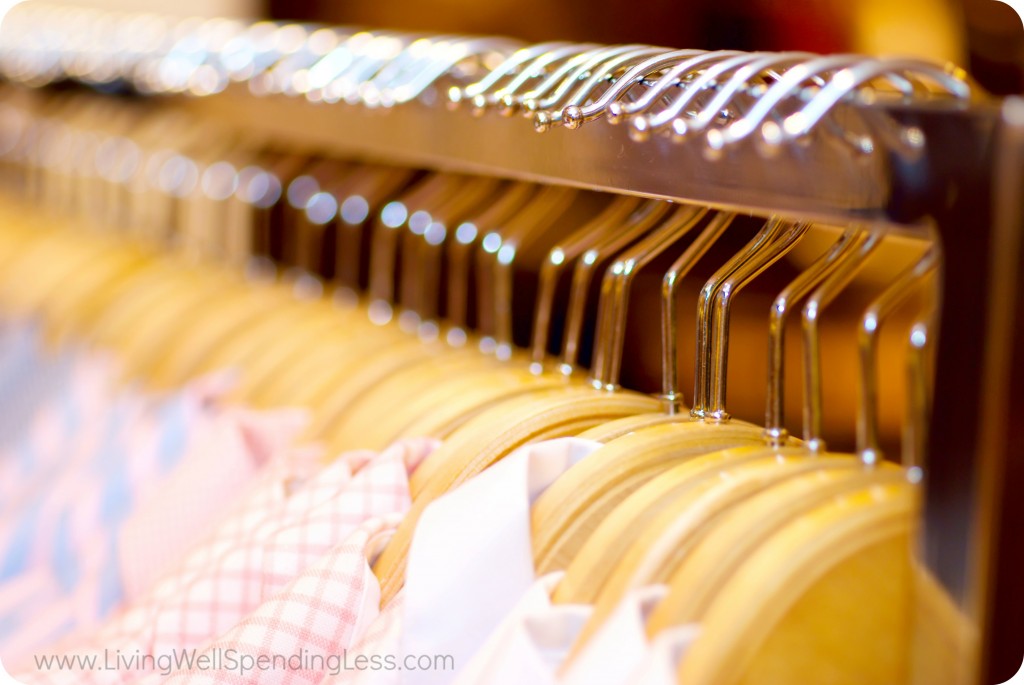 * * *
How do you save on clothing?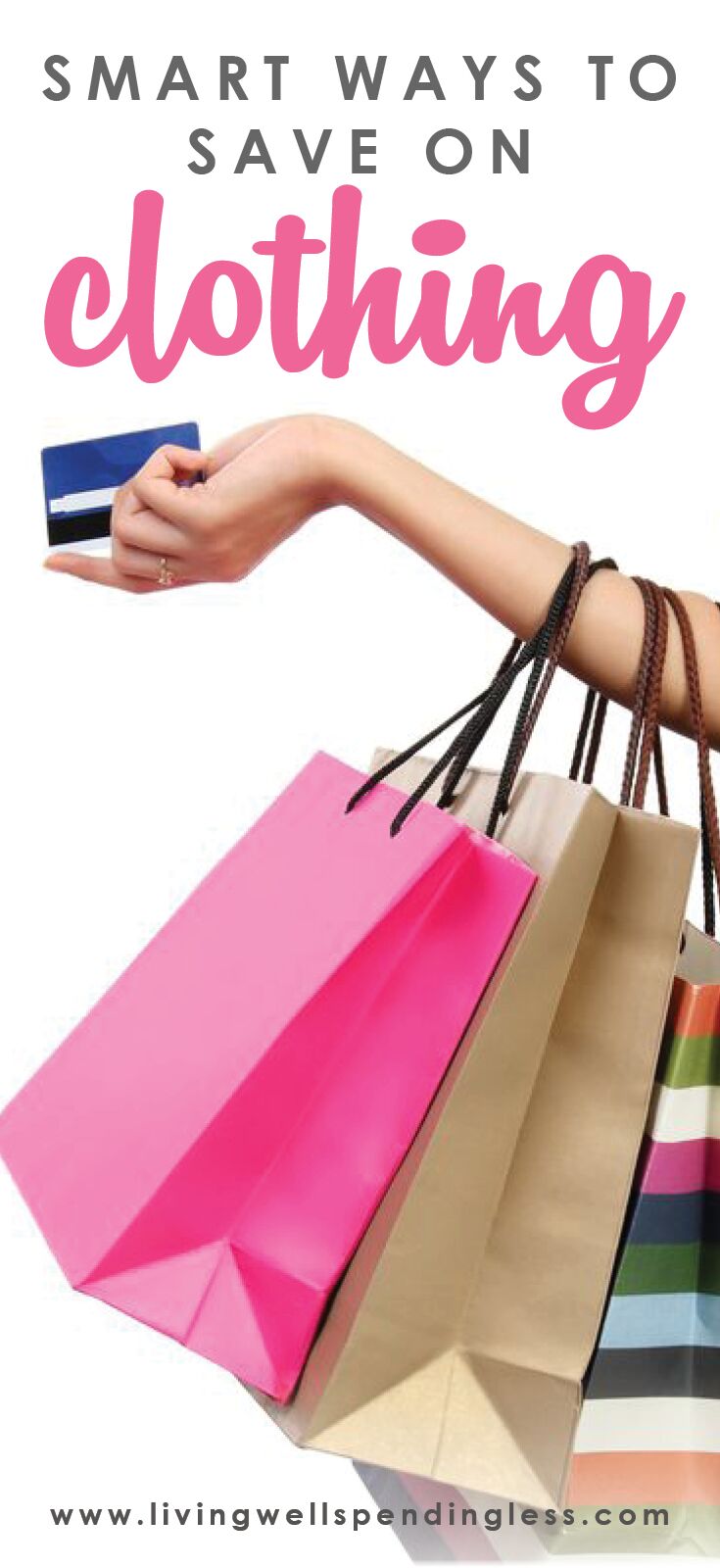 TAKE BACK CONTROL OF YOUR HOME LIFE
---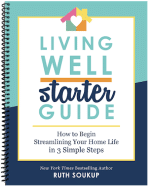 Ever feel like you just can't keep up? Our Living Well Starter Guide will show you how to start streamlining your life in just 3 simple steps. It's a game changer--get it free for a limited time!
If you love this resource, be sure to check out our digital library of helpful tools and resources for cleaning faster, taking control of your budget, organizing your schedule, and getting food on the table easier than ever before.