Our long vacation is officially over. After a very long day of flying yesterday, we are back in Florida and very glad to be warm again. I will admit that I am more than a little overwhelmed by all the post-vacation stuff I now need to catch up on–unpacking, laundry, paying bills, re-stocking the fridge–but it was really nice to sleep in my own bed last night and drink my own coffee this morning. Oh Mr. Keurig machine, how I missed you!
In the meantime, with all these thoughts of flying with little ones fresh in my head, I thought I'd share a few of my own tips for arriving to your destination with your sanity intact. I am not a big fan of flying, but when you live on one coast and your family lives on another, there is sometimes just no way to avoid it.
Here are my five tips for flying with young children:
1. Take a deep breath and try to relax.
It doesn't matter how much you prepare, how many activities and snacks you take along, and how perfectly you time your flights, traveling with the 5 and under crowd is really not fun. The sooner you accept the fact that it is going to be a very long day, that your kids will probably get crabby, and that things will go wrong, the easier it will be to roll with the punches.
Do whatever it takes to stay relaxed and keep your sense of humor and your day will go much smoother. Yesterday, for example, when our connecting flight was delayed, we entertained ourselves by going around and around on the moving sidewalks in front of our gate. We must have gone back and forth at least 50 times, but as long as the girls were entertained and content, so were we. After all, no matter how long the trip (or how long you have to ride the moving sidewalk) it will end eventually.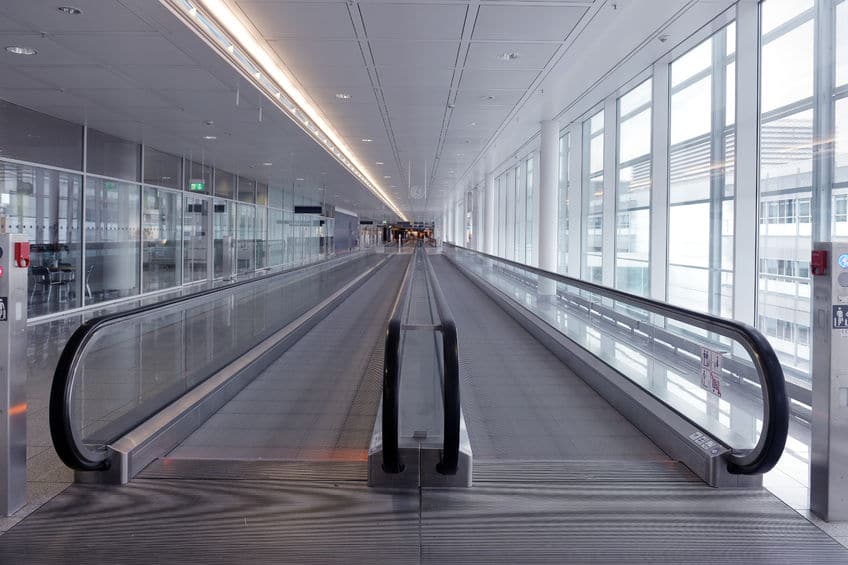 2. Let your kids blow off steam when they have a chance
A lot of airports have play areas for kids, but even ones that don't usually have some sort of open empty space that kids can run around in. Obviously you don't want your kids getting in the way of other travelers, but letting them get all that excess energy out before you board is a gift to everyone on the plane. I usually find that the harder they play right before we board, the more they settle down (or faster they go to sleep) once in their seats.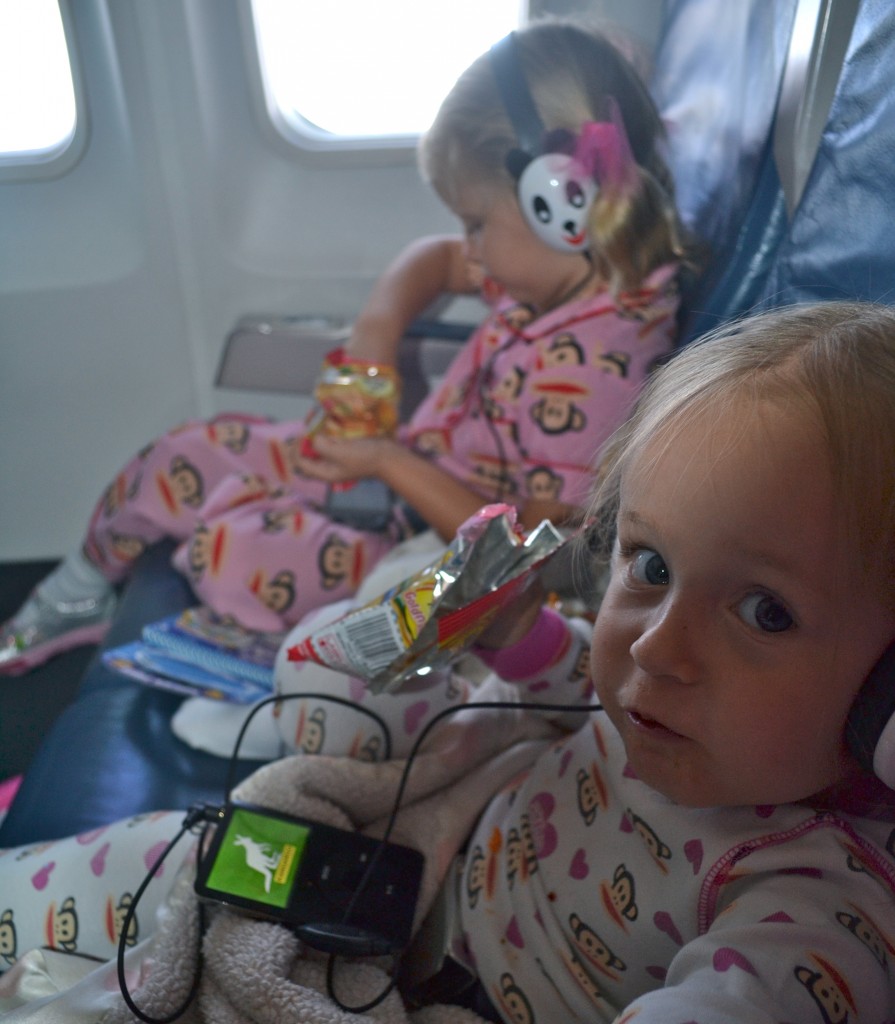 3. Bring fresh entertainment
Video iPods and iPhones are so handy for traveling with kids! If you don't have one, ask around to see if you can borrow one for the trip. (I bought a used iPod Touch on Amazon Marketplace for less than $100.) Older iPhones that are no longer being used as a phone are basically the same thing as an iPod touch, and there are a huge number of TV shows and games that can be downloaded from iTunes for free. Be sure to get some kid-size headphones, though, since a lot of kids won't use the earbuds. I bought these cute panda headphones for both my girls & they worked great.
You will want to be sure to bring some non-digital entertainment as well. Crayons or markers, stickers and paper are always a hit with my girls (ages 2 and 4). On this trip we discovered the wonders of WikkiStix, which might very well be the best toy on the planet. Another very entertaining toy for Annie was a little stuffed dog called BuckleyBoo which features 3 different kinds of buckles on the front. It regularly kept her busy for 15-20 minutes at a time, which is pretty much a miracle.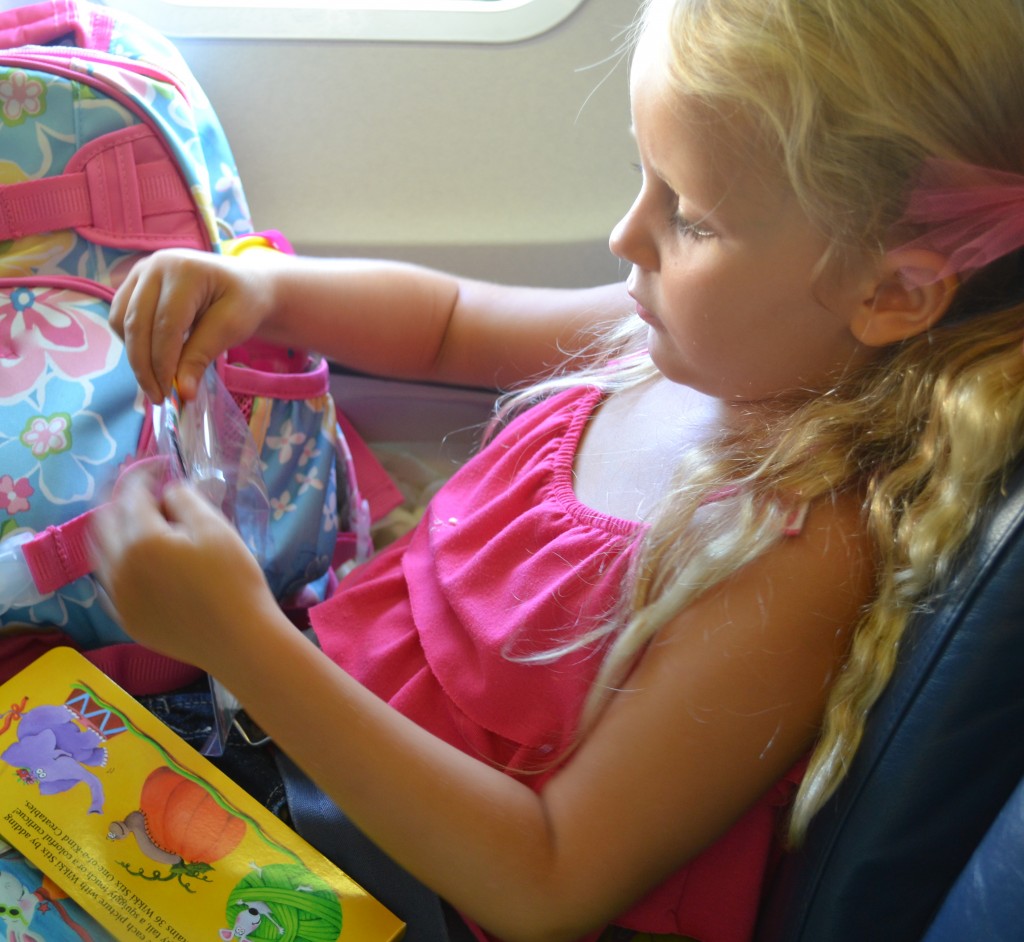 4. Don't worry about what the people around you are thinking
In all the times we have flown, I have been amazed by how nice everyone always is. Most people have had to fly with a child at some point in their life and can sympathize with your plight. In fact, yesterday was the first time we have ever encountered any nastiness from a fellow passenger, and her nastiness was so uncalled for that we even had other passengers stop us after the flight to apologize for it.
Don't waste time or energy worrying about what other passengers are thinking. It doesn't matter and you can't change it. The only thing you can do is entertain and soothe your kids the best you can, given the circumstances, and to take a deep breath and try to relax. Getting tense won't help you and your kids will sense it.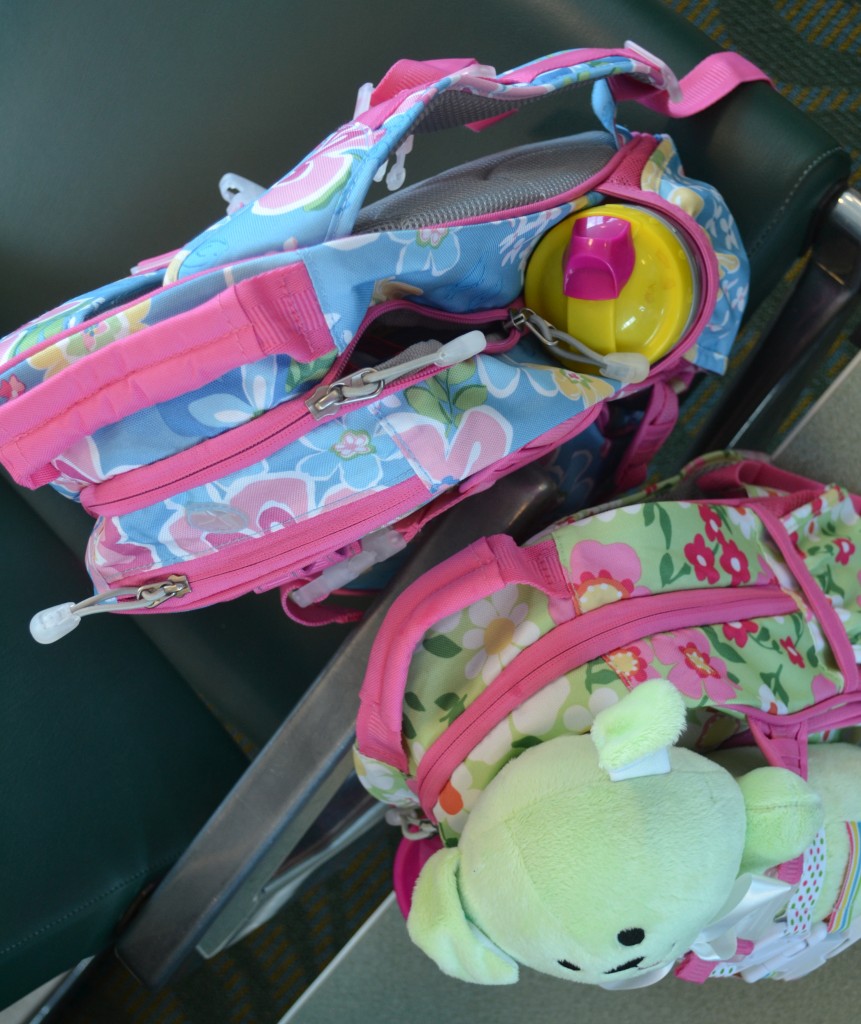 5. Be prepared.
Sure, going through security is a bit of a hassle, but it would be no matter what so you might as well bring what you need. I always bring a special backpack for each child, along with my own bag filled with necessities–wipes, diapers, band-aids, hand sanitizer, bib, extra pacifiers, water cups, & snacks.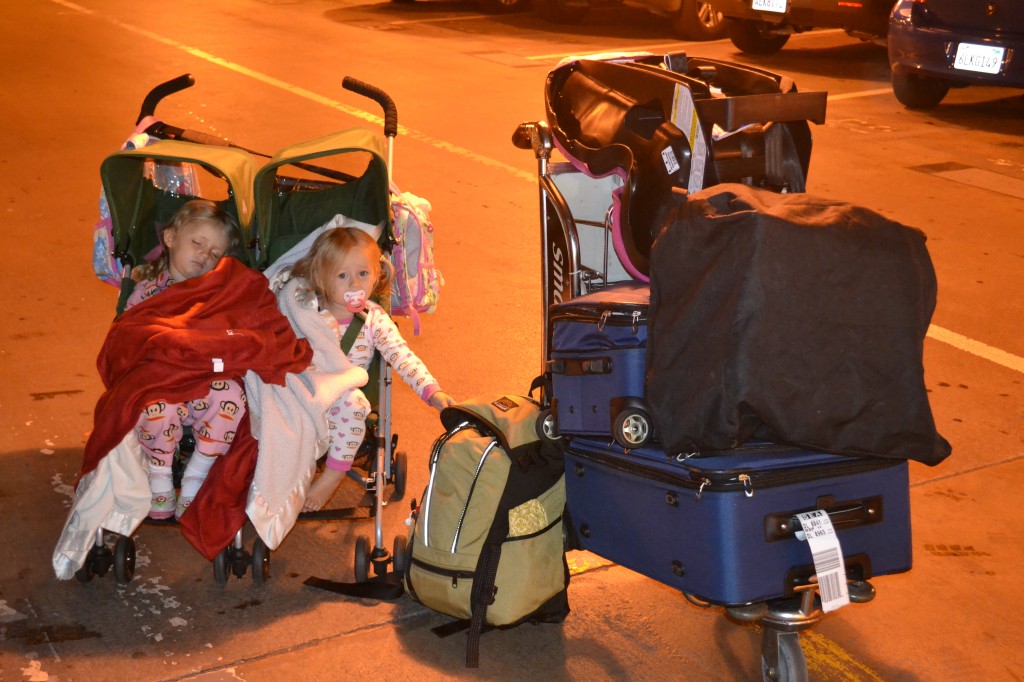 With a 4 year old and a 2 year old, I also still bring the MacLaren double stroller everywhere we go and just check it at the gate. For late flights, I've found that changing the girls into their pajamas helps settle them down and get them into "sleepy" mode and also makes putting them to bed easier upon arrival.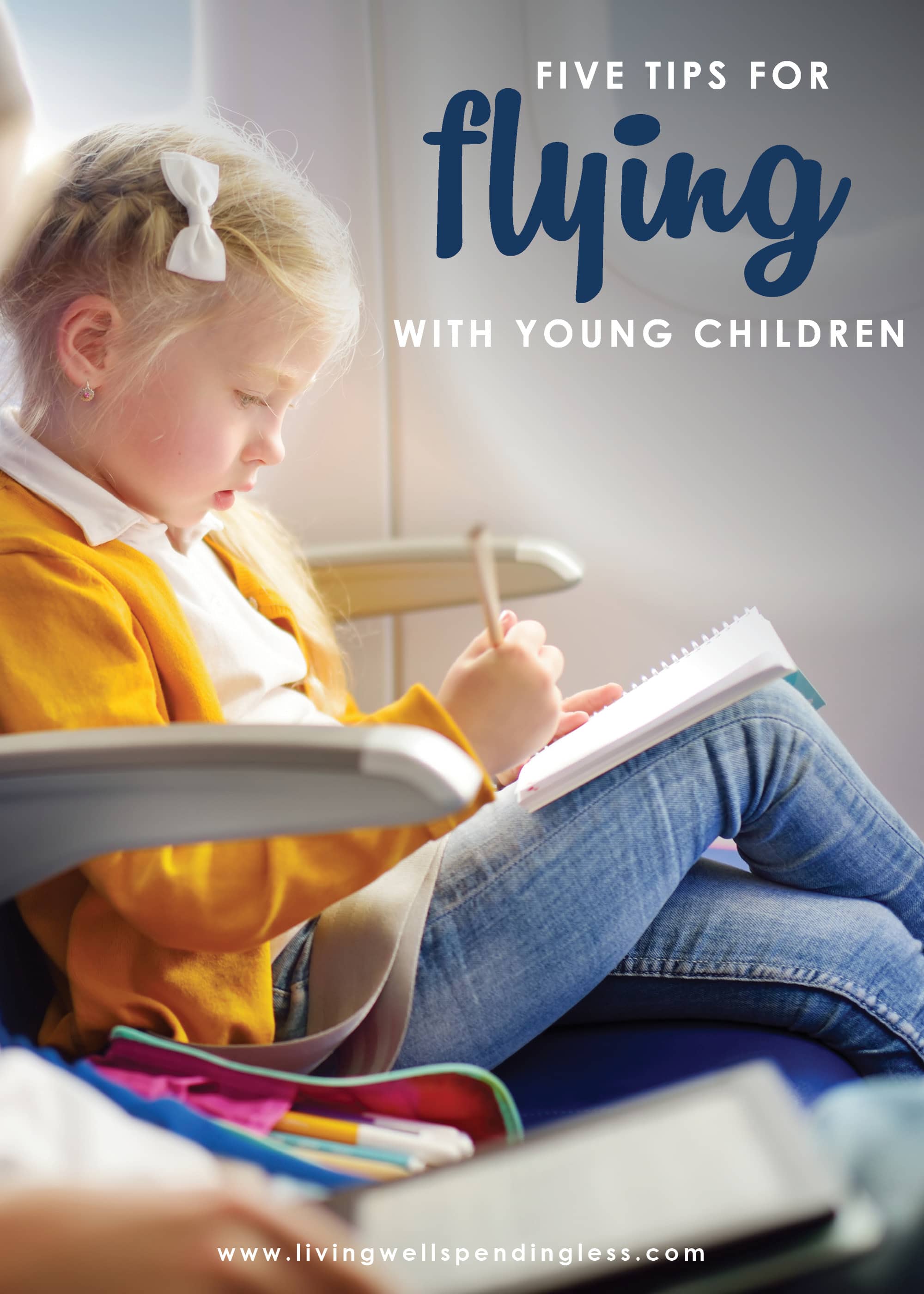 TAKE BACK CONTROL OF YOUR HOME LIFE
---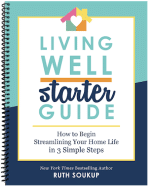 Ever feel like you just can't keep up? Our Living Well Starter Guide will show you how to start streamlining your life in just 3 simple steps. It's a game changer--get it free for a limited time!
If you love this resource, be sure to check out our digital library of helpful tools and resources for cleaning faster, taking control of your budget, organizing your schedule, and getting food on the table easier than ever before.