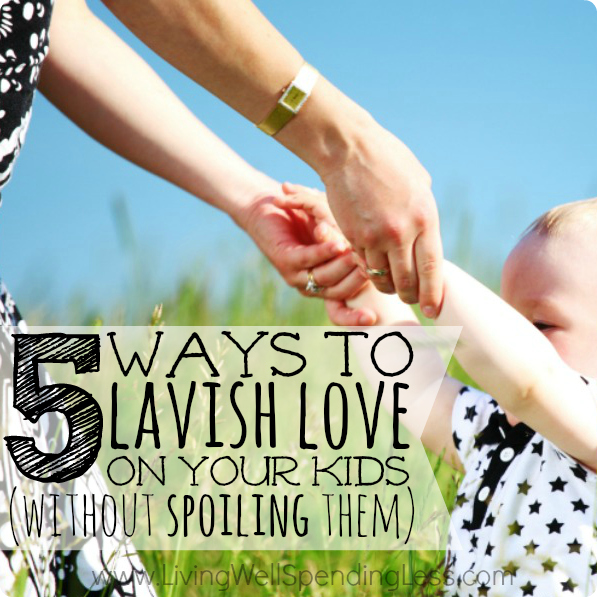 Today I am happy to introduce you to my friend Emily Wierenga. I first met Emily last October, and in the months since I have been so blessed and inspired by her writing about faith, parenting, and life after anorexia. Her brand new memoir, Atlas Girl, launches today, and I can't say enough good things about it! It is a very moving look at Emily's own experience in traveling the world in search of herself but finally finding home in the last place she thought to look. I was deeply touched by her story and I'm sure you will be too. Get it in bookstores, starting today, or order it online.
* * *
This is a guest post from Emily Wierenga.
I grew up in a mushroom cut and second-hand clothes. I was a pastor's kid whose father's salary flirted with the poverty line. Mum would visit "Sally Ann" or the Salvation Army once a month and I remember dreading what she would find because it never fit quite right and it wasn't what the other kids were wearing. I remember the day our van window shattered on the way to church because it was minus forty in northern Canada, the four of us kids in the back shivering and Dad duct-taping cardboard across the door to keep out the drafts. Dad would gather us in the living room and do a budget meeting with us, telling us how much we could spend on heat, water and food, and he installed a flow limiter in the shower to cut down the amount of water we used. We had dump days when we'd go with Dad and root for things of value. Our first television was found in a heap of trash.
And on the way home from church some Sundays we'd stop and get day-old donuts. And those donuts were delicious.
But they didn't fill the hole.
The one carved deep in my chest, the one that ached to know I was worth purchasing something new for. Something so new it had that smell, the never-been-opened-before smell. I wanted to know I was worth spending water and heat on—I remember being so cold in the winters and begging Dad to turn up the thermostat, but he told me to put on a sweater, and while he was just trying to be consistent and frugal with a tight preacher's budget, I heard that I wasn't worth it.
When you're only ever given other people's garbage, you begin to feel like other people's garbage.
And I remember sitting on my bed one day in the basement, making a list of all the things I would do differently when I was a parent, like having a warm house, using Bounce sheets instead of having stiff towels from hanging them on the line—not appreciating that we even had a house, that we had towels, not realizing that the bed I slept on was a gift and the clothes I wore too, second-hand as they were. It wouldn't be until years later when I visited Uganda and talked with mothers about their dreams, and they told me they longed to "have a mattress of their own, and a mop, and a bucket," that I realized I knew nothing of poverty.
But the problem wasn't so much a lack of things, as an association with my worth to it.
I believe in being frugal. I believe in using money wisely and in being selfless. I believe in thrift stores and in day-old donuts.
But I also believe in generosity. The Bible says God loves a cheerful giver, and this doesn't just mean giving to the church or to charities. It means giving to yourself and to your family. And it doesn't just mean spending money. It means lavishing time, affection and laughter—as well as money—and not all the time, but enough to tell them they matter.
I knew my parents loved me, but I didn't feel it.
In addition to not having much money, time and affection were tight. Dad would spend most days in his office and evenings visiting parishioners, and Mum would be so busy mending and baking and homeschooling that there was no time for just being held. Neither had been complimented much growing up—my mother doesn't remember being told "I love you"—so they in turn didn't know how to extend affirmation to their kids.
So how do we do it, friends? How do we lavish on our children, without creating a sense of entitlement? How do we teach our kids their true worth—priceless—without spoiling them? How do we balance frugality and wisdom with generosity, not only with others but with our own family?
Here are five tips which guide me as I raise my two sons—perhaps they'll help you too?
1. Let your children be children.
That is, don't worry them with money problems; don't let them hear you and your husband arguing about the bills or expenses, and don't hold monthly budget meetings. They will be faced with financial pressures soon enough. Let them be children. As far as they're concerned, life is free.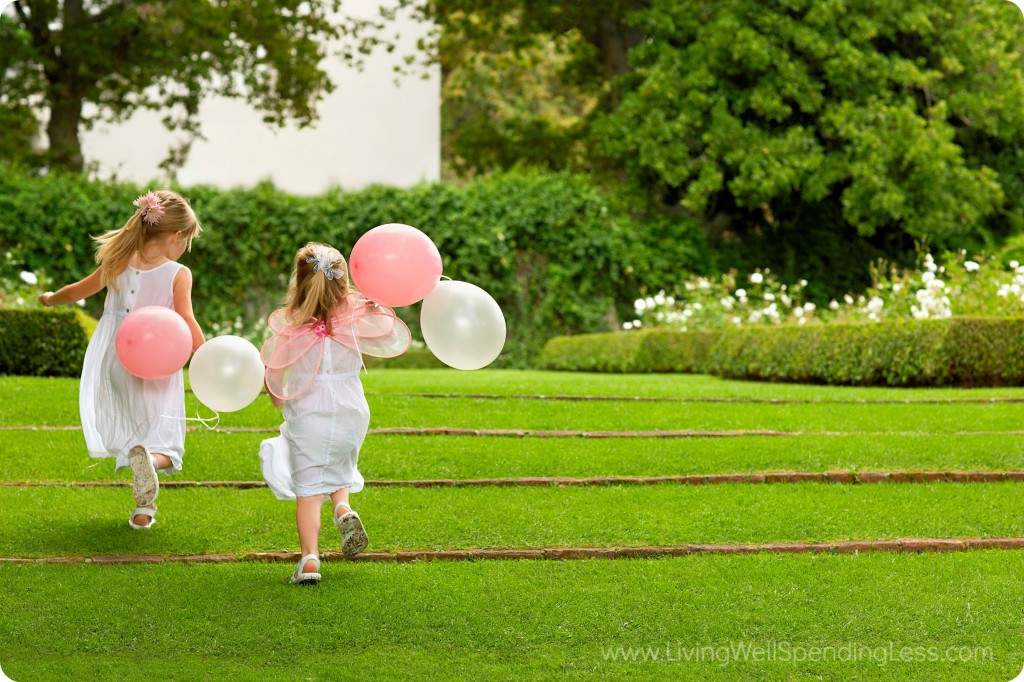 2. Don't be afraid to splurge on your family.
The other day I took my son Aiden to the doctor to get him tested for allergies. As a reward for being brave during the appointment, I told him I'd buy him ice cream. But then, he saw a Spiderman balloon. All thoughts of ice cream fled, as he begged for the balloon. It was $10—I thought it was a complete rip-off. But I also knew that my four-year-old was worth so much more than $10, and that I wanted him to know that. So I bought him the balloon, not because material things will satisfy our children's souls, but because it's good to give—both to others, and to our children.
3. Lavish affection and time.
Many parents are so busy they don't have time or energy to lavish what really matters on their children: time and affection. More than any number of Spiderman balloons, spend an extra five minutes just holding your son or daughter, or getting down on the floor and playing Legos with them. Read them another bedtime story, and then just sit and snuggle. If your kids are older, take them on coffee dates or to the movies. You may not think they notice, but the more you spend on your children, the less they'll hunger after material things.
4. Teach your kids financial responsibility.
When the right time comes, start giving your kids a monthly allowance and helping them to budget it, or implement a commission system for them to earn money through working. Take them to the bank, and teach them to put a percentage of their allowance in savings. Take them to church, and teach them to tithe. Budgeting is a lost art; help them to appreciate the commodity and to invest it wisely, without inspiring fear in them.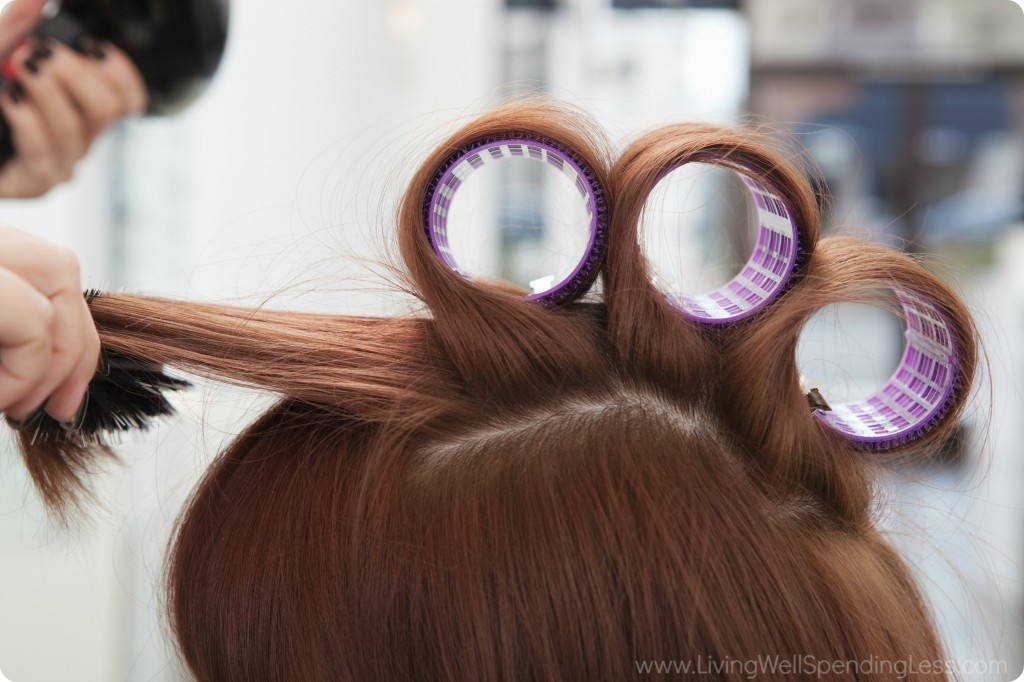 5. Spend money occasionally on yourself.
Growing up, my parents didn't spend money on themselves. Dad would only allow himself to shower twice a week because he was very conscious (and rightly so) of conserving resources. Mum would rarely buy herself even a second-hand outfit. I truly appreciate my parents' self-sacrifice and their desire to spend money wisely, but coupled with lack of affection and time, it created low self-esteem within their children. When you occasionally spend money on a new handbag or a haircut, or on taking a vacation with your husband, you're giving your children permission to enjoy life as well.
We live in a love-starved, consumerist society. But we can take back money, friends, and instead use it as a gift—both for the world, and for our families.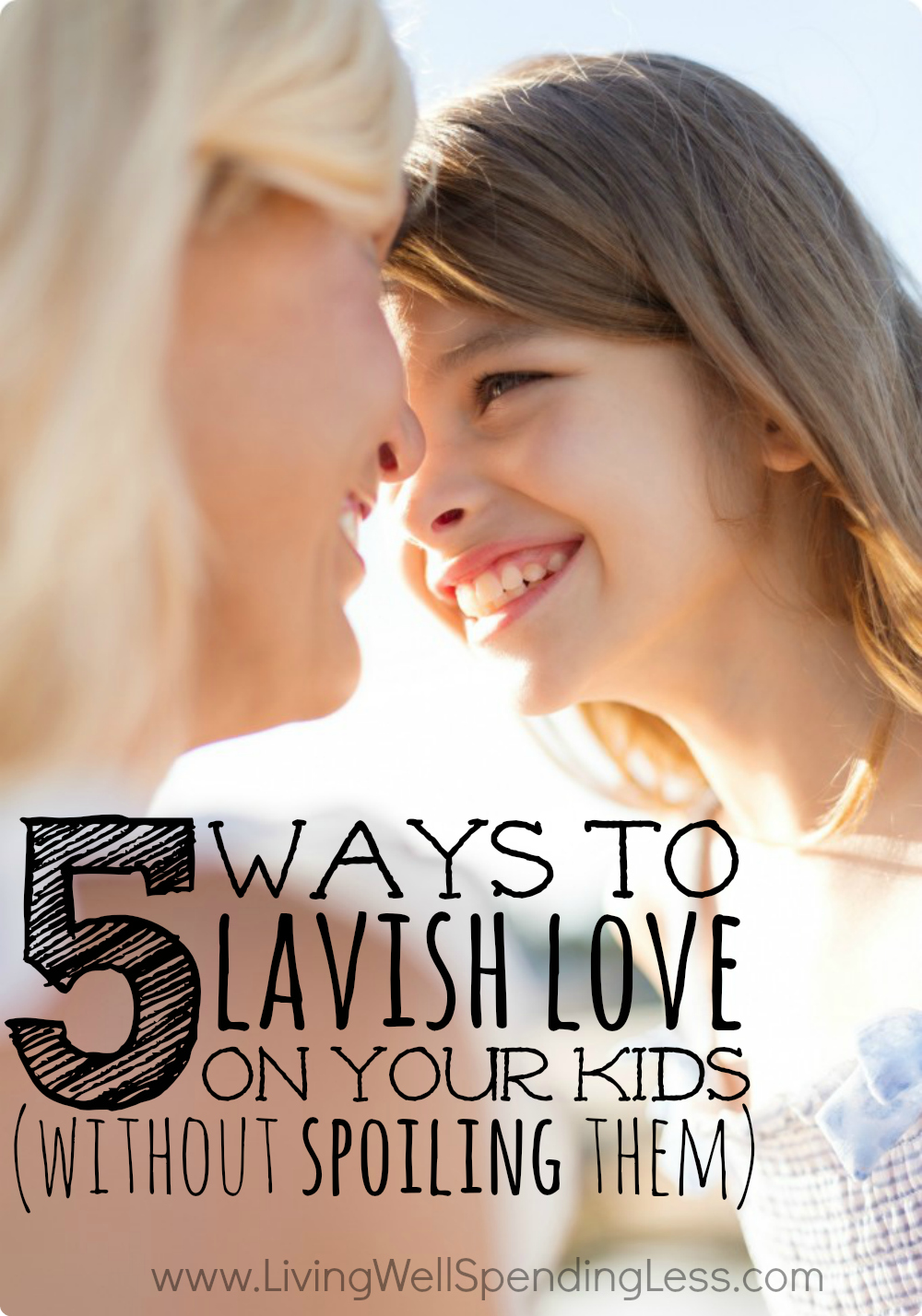 Emily T. Wierenga is an award-winning journalist, artist, and the author of five books. Her first novel, A Promise in Pieces, is releasing Spring of 2014, and her memoir, Atlas Girl: Finding Home in the Last Place I thought to Look (Baker Books) is releasing July 1, 2014. Emily is also a blogger with World Help, and in January of 2014 traveled to Rwanda and Uganda on a bloggers' trip.

* * *
How do you lavish love on your kids without spoiling them?
TAKE BACK CONTROL OF YOUR HOME LIFE
---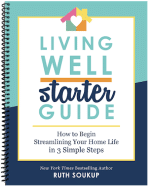 Ever feel like you just can't keep up? Our Living Well Starter Guide will show you how to start streamlining your life in just 3 simple steps. It's a game changer--get it free for a limited time!
If you love this resource, be sure to check out our digital library of helpful tools and resources for cleaning faster, taking control of your budget, organizing your schedule, and getting food on the table easier than ever before.