If you've read this blog for any length of time, you've probably figured out that I am pretty passionate about goal setting. (Some, including my husband, might call it obsessive. I like to think of it as focused!) And while for me, achieving my goals has usually meant getting up before dawn or working 12 hour days to get it all done, I also realize this isn't necessarily what everyone wants—and this may not be realistic for many people.
Rest assured, that despite my best efforts, I still don't always achieve everything I set out to do–not even close! More often than I'd like, there are days when I feel like I'm ten steps behind and my husband is frustrated because I said I would be off the computer in just a minute three hours ago, and my girls just spilled four buckets of legos all over the living room floor, and I have two articles due by the end of the day and I just remembered that I volunteered to take a meal to a neighbor AND I'm supposed to bake cookies for the PTO meeting tonight.
But I also know that those days happen to everyone, and no matter how badly one day ends, the next morning I'll get to press the reset button and start all over again. I know that if I can keep my focus on the big picture and keep my goals in mind, eventually I'll get there, despite the little setbacks that are bound to happen each day.
At some point you may have heard of SMART goals, which means that each goal you set should be Specific, Measurable, Attainable, Realistic and Timely. This is a good guideline and certainly makes for effective goal setting, but what the SMART plan is sometimes lacks the most important part: follow-through. Anyone can set effective goals, but what we really want is to be an effective goal achiever.
Here's how to set and achieve more goals…
Create a Mission Statement
Successful organizations and companies have a mission, a vision and guiding values to keep them focused. These statements capture their ultimate goals as an organization, how they see their organization's role and legacy in the community and world, and the values they uphold to steer their course.
Last year I spent some time putting together a mission statement and core value statement for Living Well Spending Less, Inc., the company that has grown from running this blog. With growth comes opportunity, and I knew that if I didn't take a step back to focus, it would be easy to get pulled in a million different directions. Ultimately, I realized that our mission is quite simply to inspire and empower women to pursue the Good Life by encouraging them to follow their dreams, reach their goals, serve their communities, and strengthen their faith.
Therefore, everything we do as a company has to fit within that framework.
While it's not exactly the same thing, looking at your life and family like a CEO and having a family mission statement can help you really narrow down what's truly important to your family. Tammy, my friend blogs at Tammy Strait, wrote a great guest post on reclaiming your schedule, with specific guidelines on crafting a mission statement for your family. I urge you to sit down and do this today, if you haven't already. It can really help direct your goals and create a context and framework.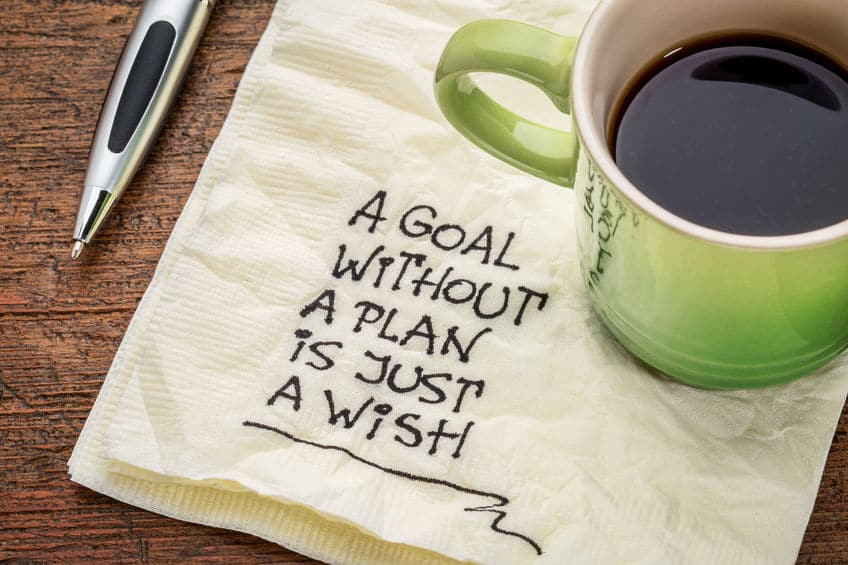 Really Feel It
After you've created your family's mission, envisioned the way you want your future to look, and thought about the guiding values you will use to steer yourself toward your goals, examine the real core feeling behind your goals.
I love the bucket list concept. It's a lot of fun and it can be great for crossing the "I never…" items off your list. BUT if you're looking for real success—achieving the meaty, hardcore goals most important to you and your family—you simply have to set goals you feel truly passionately about. If you are only listing the things you think you should do, you'll never be motivated enough to every accomplish them.
One of the biggest reasons I loved Dave Ramsey's Financial Peace University class so much was that, for the first time, he was able to make me feel the importance of getting control over my finances. He connected with me on an emotional level, and that made all the difference. My husband and I adopted a gazelle mentality and became completely focused on building our emergency fund and paying off debt.
Prioritize It
In my Goal Setting Workbook, I outline a simple way to prioritize your goals. First, list ALL the important things that currently take up your time. This can be everything from your monthly couples bowling league, to driving to-and-from your daughter's ballet lessons, to Pinterest, to writing out your monthly budget.
Once you have your list, use a red marker to circle the things that take up most of your time. Then use a green marker to circle the things that are the most important to you and the items that truly fit with your mission and vision. Which overlap? List the five most important items in order of priority and make those your main focus.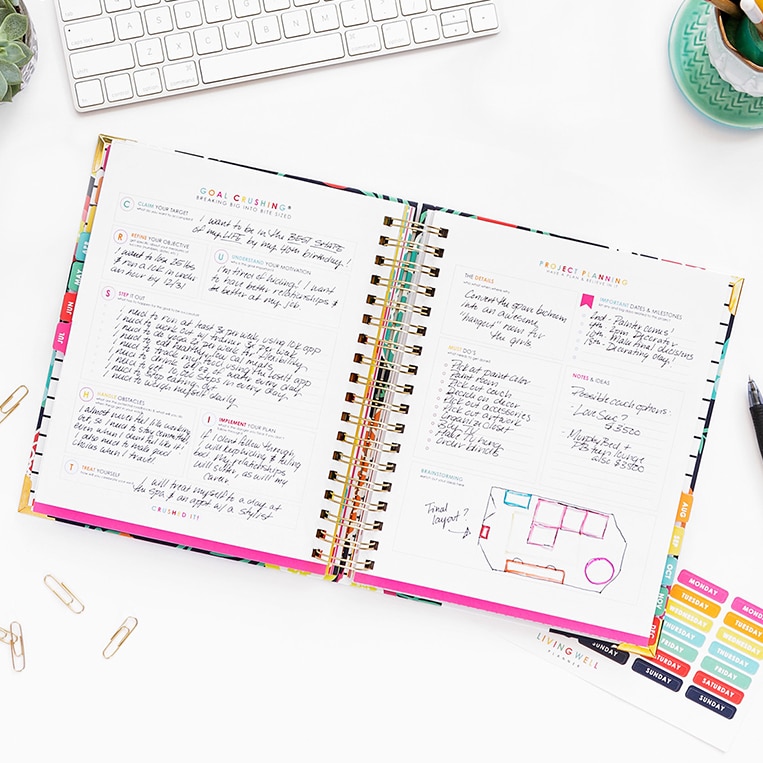 Schedule It
Once you've determined your most important goals, it is time to get them on your calendar! Break down each step required to achieve each goal. If you're hoping to become healthier by reducing your blood pressure, for example, you might break it down into steps such as: lower my sodium, lose ten pounds and exercise.
Now take those items and break them down further and set a timeframe.
"This week I will find five recipes with low or no sodium. I will find a salt alternative and use it to season my food. I will download a weight tracking app for my phone. I will set a goal to walk 10,000 steps per day on my pedometer and write them on my calendar. I will measure my blood pressure each day and record it on my calendar."
Then, block out the time. Use your calendar app, a paper agenda or whatever you find the easiest to use and schedule those items in! Make an appointment for yourself to walk each night and make time to record your numbers on your calendar. It may seem silly to make an appointment to make appointments but you must block out time and make your goals your priority.
Make it a Visual
If you are a visual thinker, creating a vision board can be a powerful tool to help you focus on your goals. It can inspire you and motivate you to work towards the things you want. Attaching a picture, and even making a slideshow of our goals with music and images, can embed a reminder into our subconscious. Athletes often use this kind of creative visualization to help them focus on winning before a game. Vision is a powerful tool.
Whenever you find yourself losing focus, having a visual reminder of your goals can make you think about your priorities and help you keep your eye on the prize. It can be as simple as a list taped to your bathroom mirror that you read while you are brushing your teeth! My husband and I like to keep a chalkboard in the kitchen of the goals we are working towards together–we have found we are much more focused when we are reminded of our goals every single day!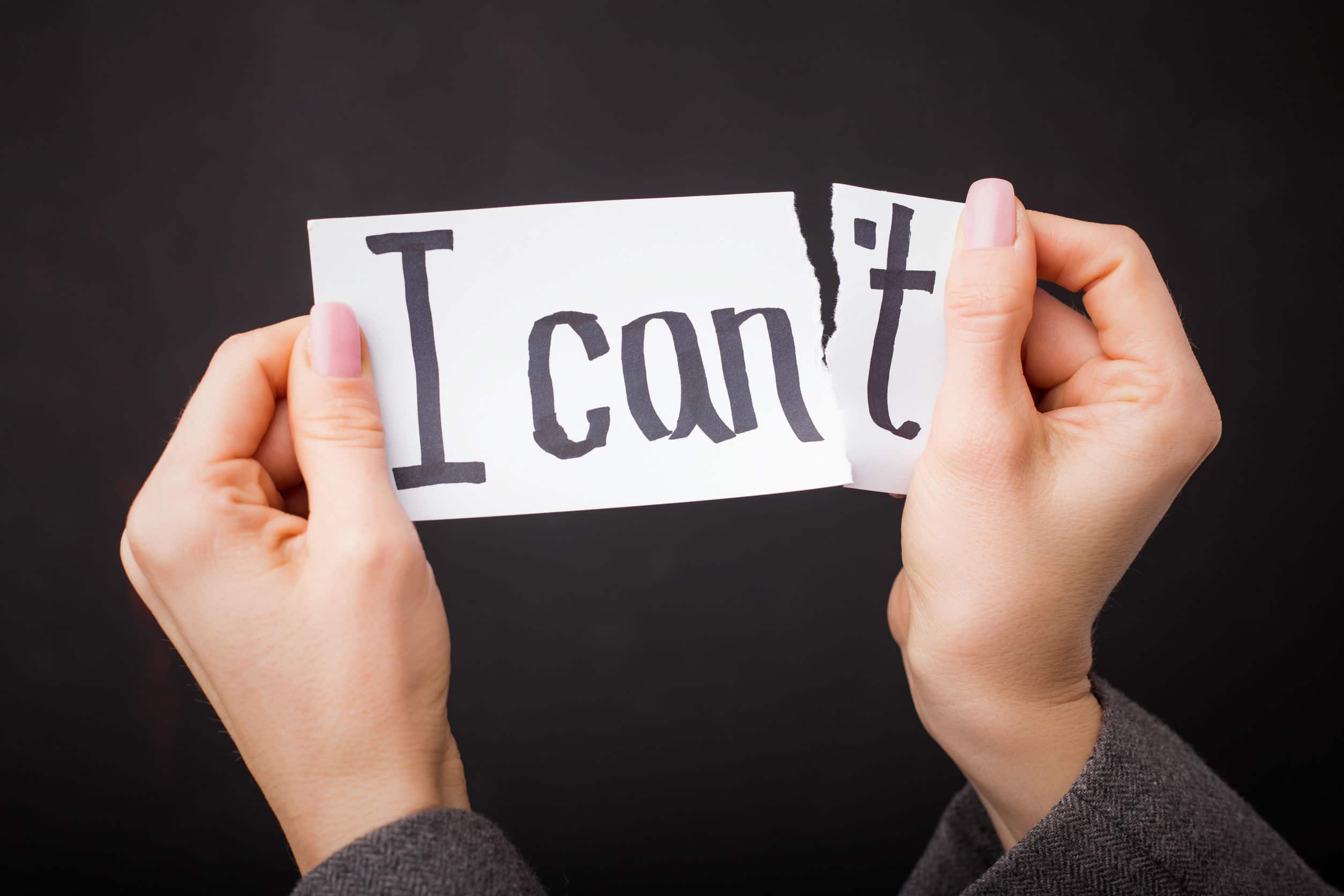 Believe in Yourself
If you really want to achieve your goals, believing in yourself is critically important. If YOU don't believe you can do it, no one else will either! Resolve to stay positive and keep your eye on the prize, even when there are setbacks and frustrations along the way. Because there WILL be setbacks and frustrations along the way! It is all part of the process! Don't beat yourself up when you fall; instead, give yourself grace and keep going. The successful keep getting up, even in trying times.
It's easy to get discouraged, especially if you're new to goal setting. Part of breaking down the goals into small, bite-sized pieces is that they're easier to achieve and that success can snowball into larger motivation. Each small victory should be celebrated. Keep yourself positive and never forget how far you've come!
Find accountability
Share your goals with your family, friends and colleagues. Social media can be a tool to share your victories and to gain some positive feedback. Don't think of it as "bragging." As long as you present your victory in a humble way, it can be very encouraging when others tell you, "Way to go!" You may even be an inspiration!
Runners and exercisers who set goals with friends are more likely to keep up on their plan. Why? Because it's a lot harder to blow off the gym when a friend is counting on you to meet there. Find someone you can really rely on to keep you motivated, positive and yet accountable, and make them your goal buddy or accountability partner.
My friend Edie and I have been accountability partners for two years now, and let me tell you, it has made a huge difference in my goal-setting! Having someone to bounce ideas off of is great, but she also holds my feet to the fire and lets me know when my priorities are out of whack.
Working with a coach or mentor can also be a very powerful tool. Choosing someone to help you examine your goals and check in on your progress can keep you on track. Oftentimes, we will be more likely to stick to a plan knowing we need to report to another person.
In the end, Goal setting and achievement is a lifelong process. We are never done. Instead, we will always be growing, learning and changing and our goals and priorities should evolve and reflect those changes.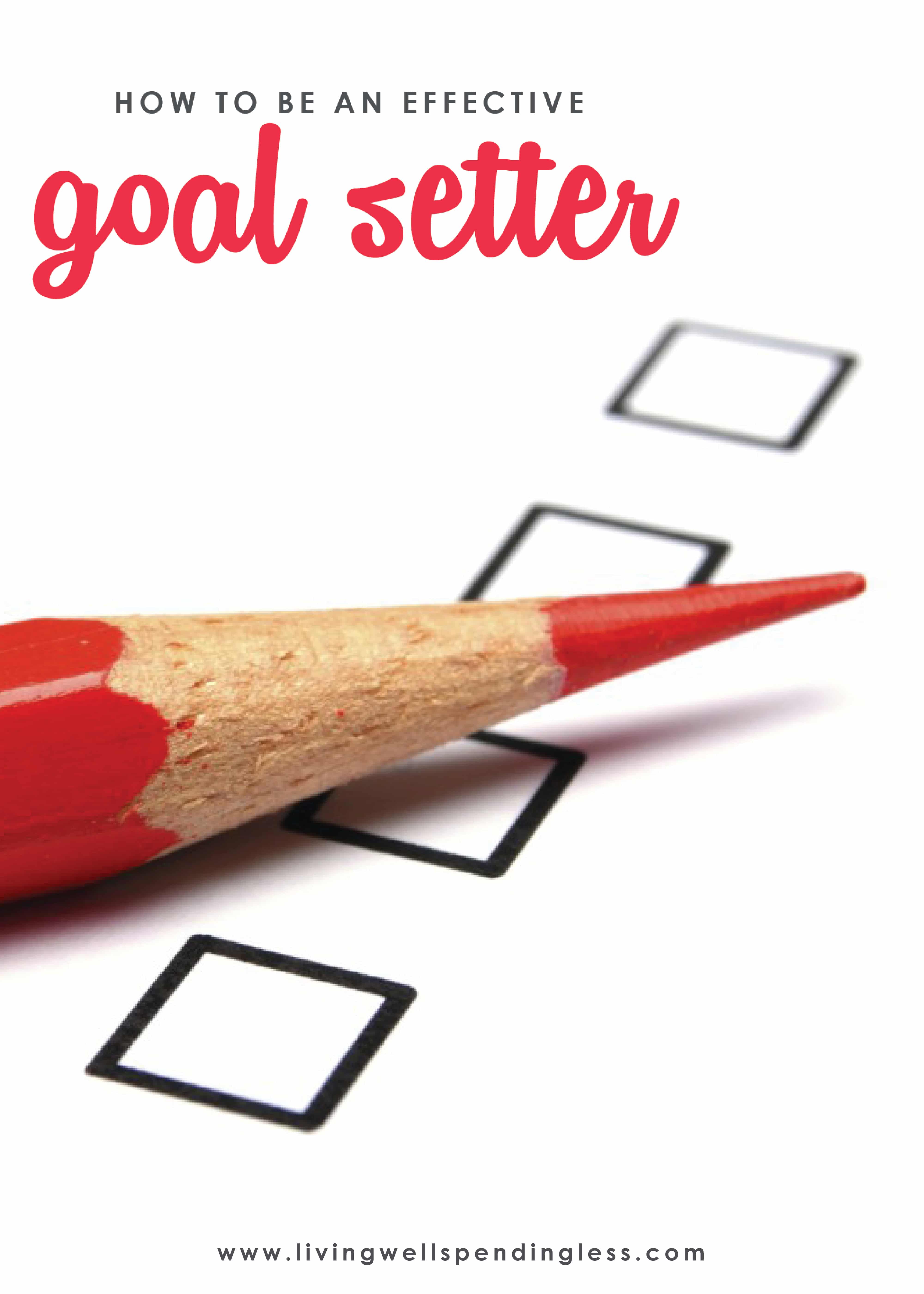 TAKE BACK CONTROL OF YOUR HOME LIFE
---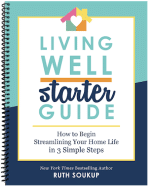 Ever feel like you just can't keep up? Our Living Well Starter Guide will show you how to start streamlining your life in just 3 simple steps. It's a game changer--get it free for a limited time!
If you love this resource, be sure to check out our digital library of helpful tools and resources for cleaning faster, taking control of your budget, organizing your schedule, and getting food on the table easier than ever before.