My husband makes fun of me sometimes because I use the word "stockpile" so often.
But I can't emphasize enough the importance of having a well-stocked pantry for successful couponing. Extreme couponing without a stockpile just doesn't work.
What is a stockpile?
For couponing purposes, a stockpile is your personal collection of food, toiletries, drugstore items, and other household items that have been purchased at their ROCK BOTTOM prices and then stored until needed. It is sort-of like your own personal Supercenter right in your own home.
So why stockpile?
In order to maximize your savings each week, you need to buy almost exclusively what is on sale. Different things go on sale each week. Some weeks you'll come home with a huge selection of food. Other weeks all you'll get is some toilet paper.
And you can't eat toilet paper.
But if you stock up on items when they are at their lowest price, you won't need to eat toilet paper. You'll already have all the food you need in your pantry.
What should my stockpile look like?
Ultimately, what your stockpile looks like is up to you. It can be big or small, all in one place or split into different areas. The only thing that is really essential for a good stockpile is organization. You should be able to easily find what you need and know what you have with just a quick glance.
But since I know how much you all love our little videos, Annie (Trouble) and I decided to show you what our stockpile looks like, just to give you an idea of how to start.
If you are lucky enough to have a huge house with tons of extra space or a basement or well insulated garage, then you may be able to keep your stockpile all in one place. If not, then you may have to split it up into different areas.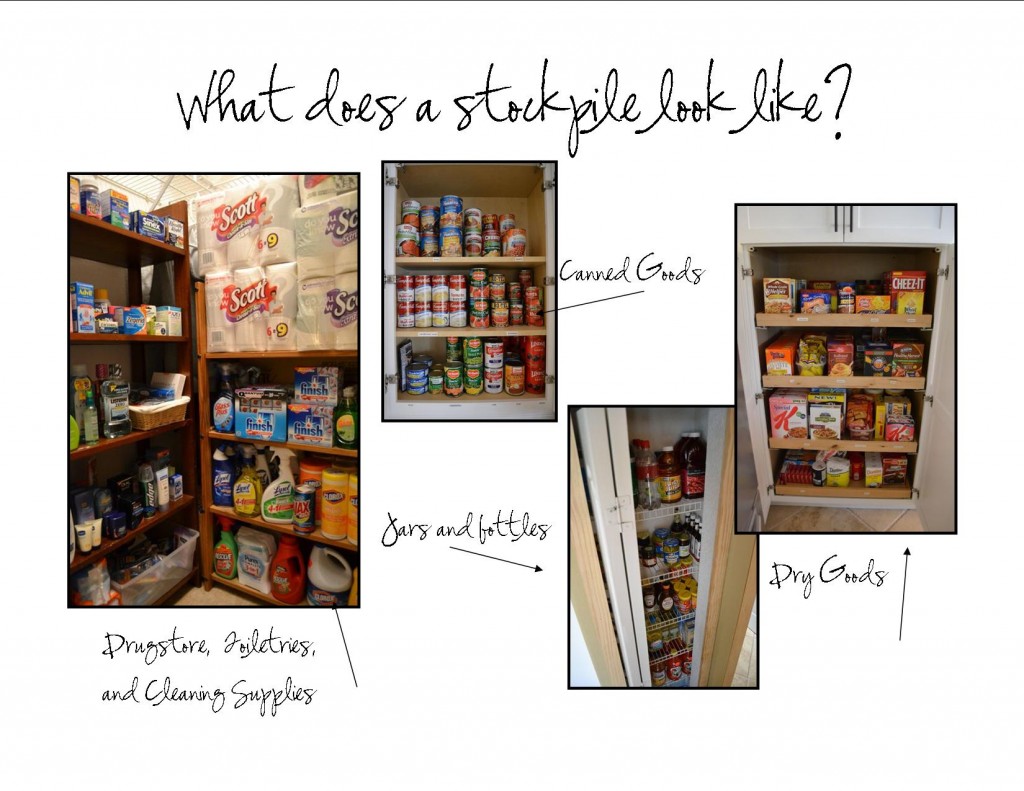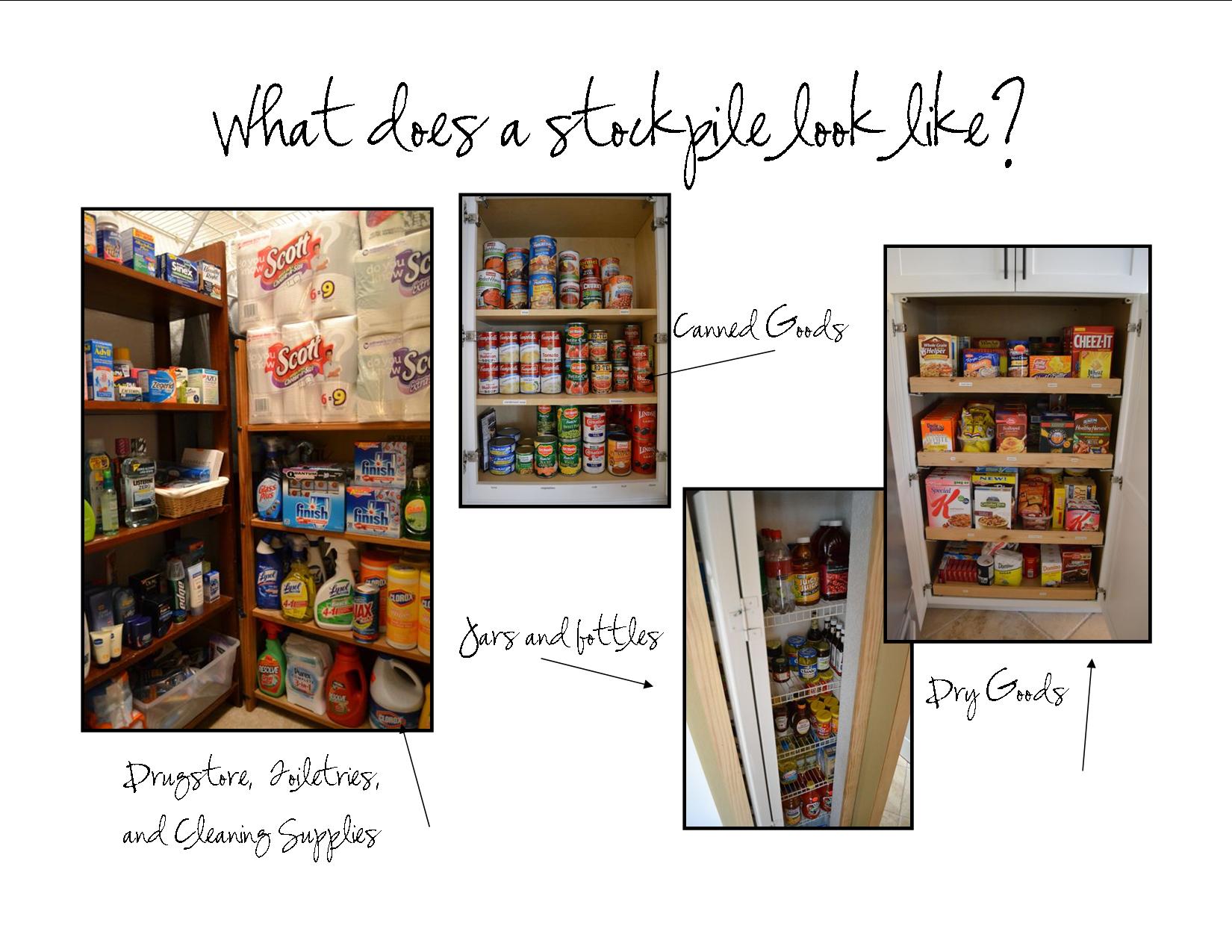 How do I create my stockpile?
1. Decide where you will keep your stockpile. Clear out a designated room, closet, cupboard, pantry, or basement corner, or multiple locations if necessary.
2. Figure out what will go where. Group like items together. Place any stockpile items you may already have in the correct place. Labels are nice and help the rest of the family know where everything goes, but keep in mind that as your stockpile grows, you may have to make adjustments. (And always give yourself room to grow!)
3. When you go shopping, buy items in large quantities in order to fill your stockpile. For the first few months, you will need to buy a LOT to get your stockpile established. Once you've filled your space, you can cut down on the quantity of items you purchase and buy just enough to keep your pantry well stocked.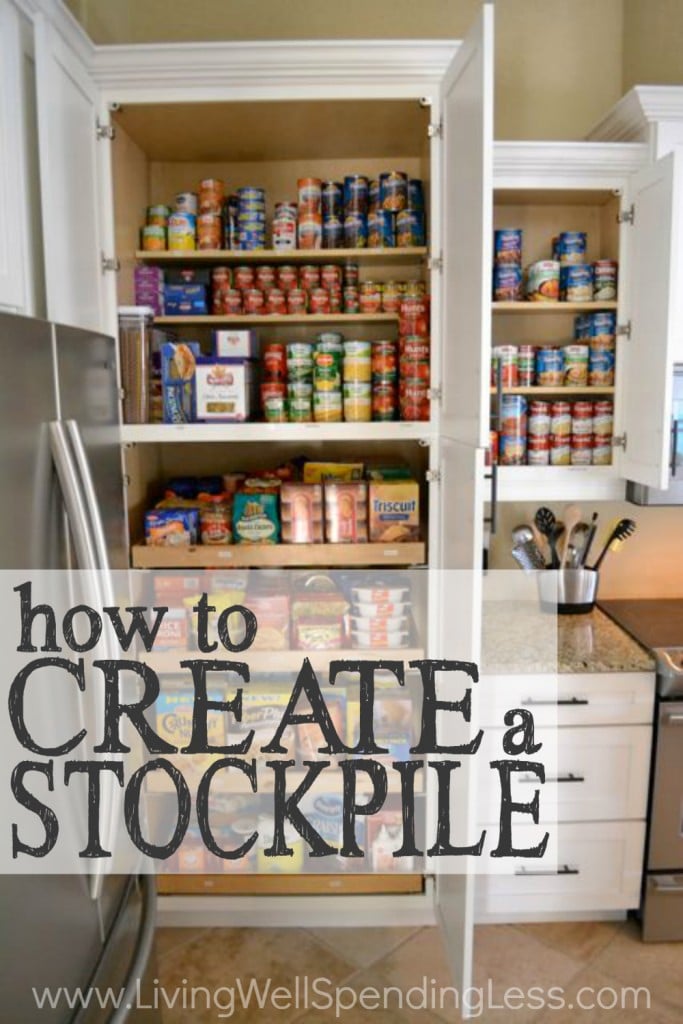 TAKE BACK CONTROL OF YOUR HOME LIFE
---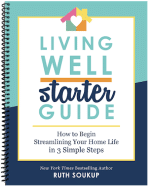 Ever feel like you just can't keep up? Our Living Well Starter Guide will show you how to start streamlining your life in just 3 simple steps. It's a game changer--get it free for a limited time!
If you love this resource, be sure to check out our digital library of helpful tools and resources for cleaning faster, taking control of your budget, organizing your schedule, and getting food on the table easier than ever before.