Do you love every room in your home? This budget-friendly instant fixes for every room in your house will help you love the home you have!
Do you love every room in your home?
Do you feel comforted by your surroundings after a long, hard day?
Is home your favorite place to be because it makes you so happy?
If you didn't answer yes to every single one of those questions, you are missing out on a huge opportunity to live your best life. You see, how we feel about where we wake up and go to sleep every day profoundly impacts every aspect of our lives. So we should love every single room in our homes!
Instant Fixes for Every Room in Your Home (That Won't Cost You a Bundle!)
Here's the good news… You do not have to have a huge budget or an interior designer to create rooms that you genuinely look forward to spending time in. In fact, these 5 instant fixes for every room in your home don't cost a bundle and are easy to implement. But honestly, if you want someone to walk you through the process of making a cohesive plan for designing your room, with simple, easy-to-follow steps that actually make sense, there's no better resource than Designer in a Binder. It's amazing!
Problem: Your room feels too cold and sterile.
Instant Fix:
When people complain that a room feels unwelcoming, the most simple solution is to add curtains and plants! Simple and inexpensive ceiling to floor curtain panels do wonders in the way of softening a room and making it feel warm and cozy. And plants literally breathe life into a room (the effect still works even if they are fake).
I recently worked on a bedroom design for my best friend and while many changes were made in her space, she and I both agree that the biggest impact was the addition of curtains! It softened her entire space and finished it off beautifully.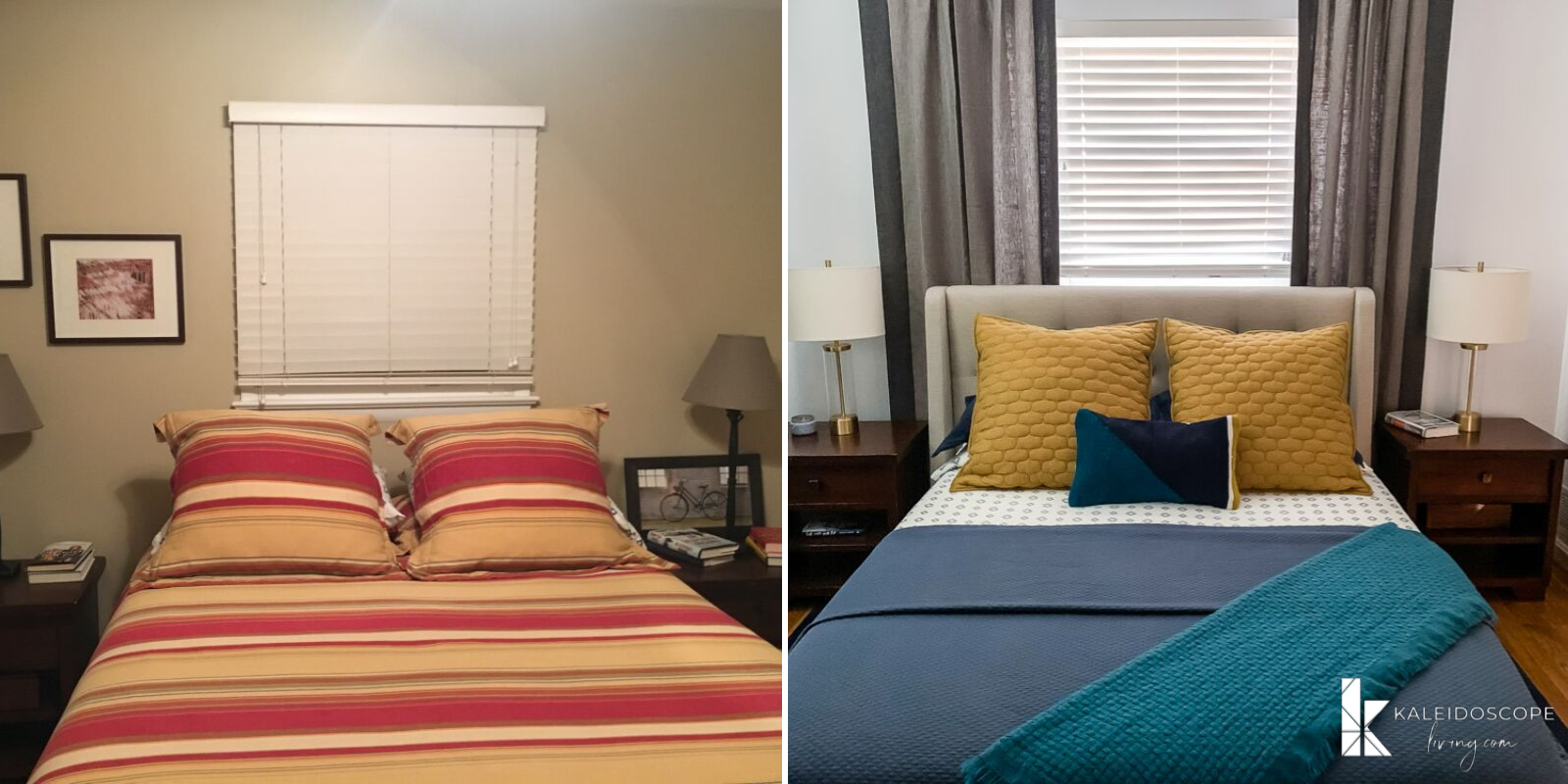 Problem: Your room feels boring and beige.
Instant Fix:
Many people invest in neutral furniture because it's so expensive and they don't want it to become outdated. And rightly so! It's a smart strategy. But it can often leave you feeling a bit bored and uninspired.
No problem! Bring in color and patterns with inexpensive items, like throw pillows and vases. I also recommend finding interesting digital art prints that can usually be purchased for around $5.00 and printed in large format for around $20.00. Adding one large print that you love to a room can have a tremendous impact.
I had all of these digital prints printed for under $75 and they fill up a huge wall in our family room. That's a small investment for an entire wall of art that adds color and interest to the room.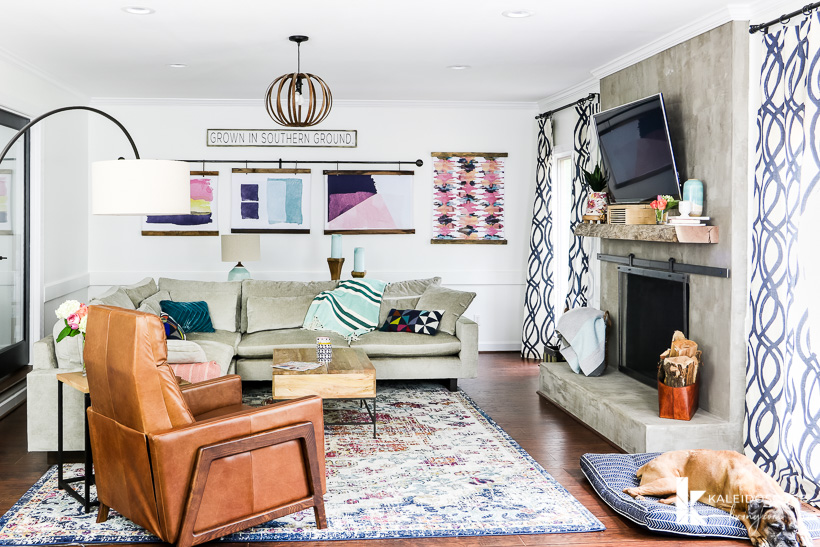 Problem: You like your furniture and decor items, but the room just feels "off."
Instant Fix:
Another instant fix that will ensure you love every room in your home is to rearrange your furniture! Usually a room feels "off" when it doesn't flow well, and that is a furniture arrangement problem. Play around with some different furniture arrangement options. One thing I recommend to everyone is "floating" at least some of your furniture off the walls, even if it's just by a couple of inches. And if you have too much furniture in the room, consider selling some of the furniture that you don't absolutely need in the space.
Problem: You are stuck with a lot of hand-me down furniture and none of it goes together.
Instant Fix:
Unite the pieces with paint, whenever possible. If you have a coffee table, end tables and entertainment center that are all different types of materials that don't look great together, invest in $50 worth of paint and paint them! Even if they are different styles, uniting them with color will make your room feel pulled together instead of accidental.
These inexpensive IKEA pieces in my daughters room did not match in finish or style, but by painting them a solid color and stacking the bookcases on top of the dressers, it looks like it was meant to be!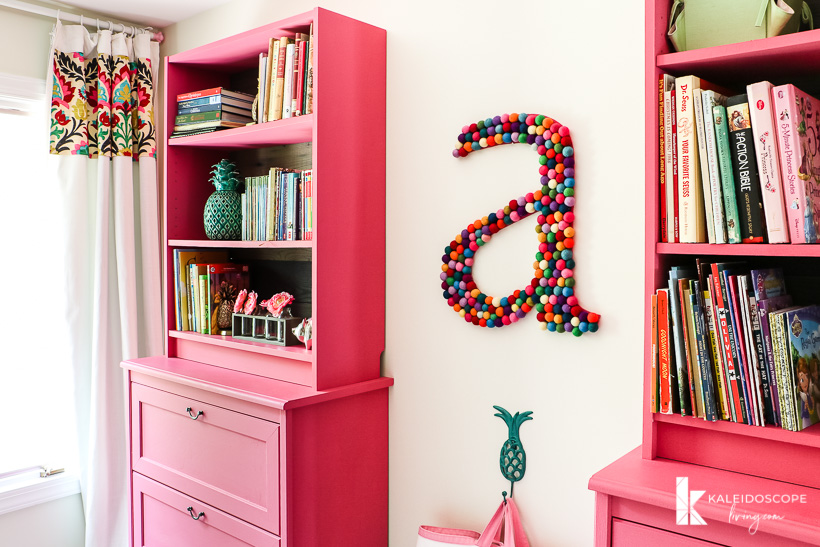 Problem: Your room feels dark and depressing because it doesn't get much natural light.
Instant Fix:
First, a little speed cleaning might be in order. Then, consider painting your walls if that's an option for you. Lighter hues tend to reflect more light, which will take advantage of the little light that you do have. Also, mirrors are your friends! Add an over-sized mirror to a mantel or wall. I've even created a whole gallery wall of mirrors in a dark hallway before to brighten it up! Mirrors work wonders for dark spaces.
Mirrors can be expensive if you purchase them new. So if you don't have any mirrors and are on a tight budget, head to Goodwill or ReStore and stock up. If the frames are ugly, you can always paint them inexpensively.
By quickly identifying the problem(s) that you have in each room in your home, you will then be able to pick the instant fix that will change the way you feel about your room for the better, without spending a ton of money or time!
To avoid feeling overwhelmed, work through your home one room at a time. Don't think of all your rooms simultaneously! If you want to make it even easier on yourself, start with your smallest room first. Once you see how much of a difference the instant fixes make in it, you will feel confident and motivated to continue with the rest of your rooms. Pretty soon you will love every room in your home.
Good luck and have fun!
Other resources you'll love:
PIN FOR LATER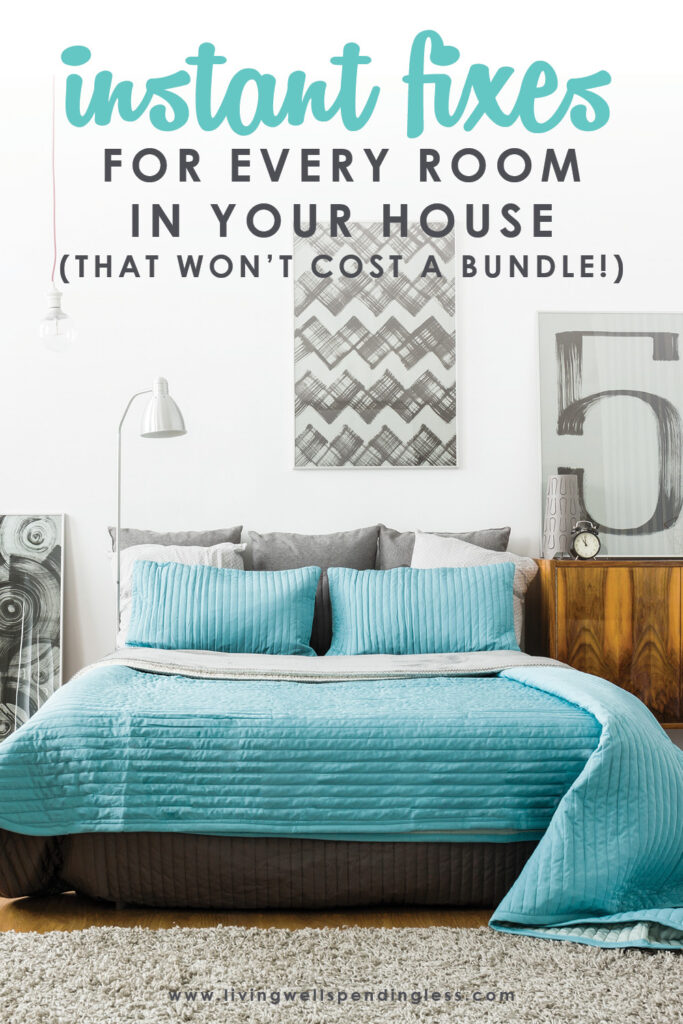 TAKE BACK CONTROL OF YOUR HOME LIFE
---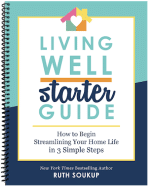 Ever feel like you just can't keep up? Our Living Well Starter Guide will show you how to start streamlining your life in just 3 simple steps. It's a game changer--get it free for a limited time!
If you love this resource, be sure to check out our digital library of helpful tools and resources for cleaning faster, taking control of your budget, organizing your schedule, and getting food on the table easier than ever before.