Do you love holiday decor, but just can't justify spending a lot of money on it?
Are you drooling over the festive holiday rooms you see on Instagram and Pinterest, but feel exhausted just thinking about making time to decorate?
The last thing you want to do is spend the precious few hours you have to relax at night and on the weekends decorating your house for the holidays. And you definitely have more compelling things to use your hard-earned money for, like clothes for your kids or a family vacation.
But still, even with those reservations, you can't deny that you really want your house to look like the homes you see in magazines that are decked for the holidays.
I totally get it!
As a mom of young twin girls that runs my own business, it's hard for me to justify spending a ton of money on holiday decor. And frankly, I'm so exhausted at the end of the day I can't dedicate several days to decorating our home. So I've figured out a simple and affordable way to decorate for the holidays that give me that magazine-worthy look without breaking the bank or my back.
And today I'm sharing all the tips I've learned with you.
Nine Simple, Chic, & Cheap Ideas for the Holiday
You can absolutely achieve the high-end holiday look you crave without spending a bunch of money OR losing sleep.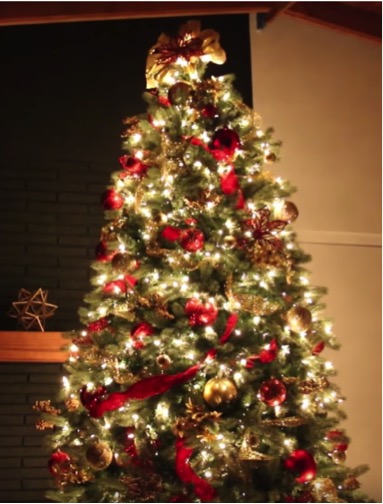 This entire tree was decorated with Dollar Store ornaments for under $50. How incredible is that?! Not only is it affordable, but the step-by-step video tutorial walks you through how to do it so that it's easy!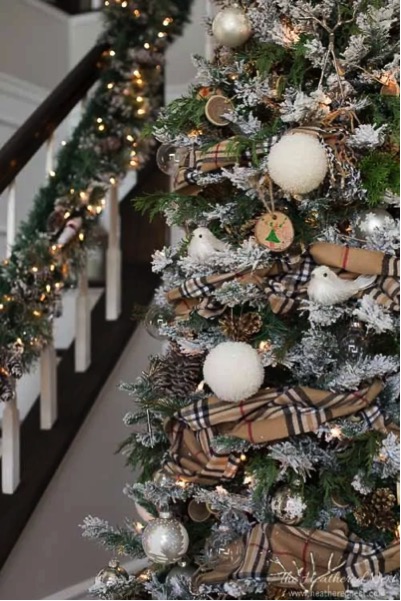 When I saw this idea, I immediately knew how genius it was! By using scarves (purchased in bulk online) as a tree garland, this tree looks so luxe and full! It takes only minutes to add the scarf garland and looks expensive even though it's not!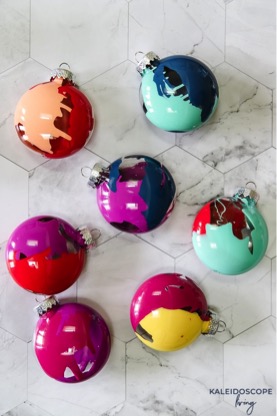 These colorful ornaments take about 10 seconds each to make, but they look like something you would find in a high-end boutique. Customize them with any colors that you like. Hang them on a tree or string them up to hang on a fireplace or wall. Bonus–your kids can help make these so you can have quality family time while making chic holiday decor!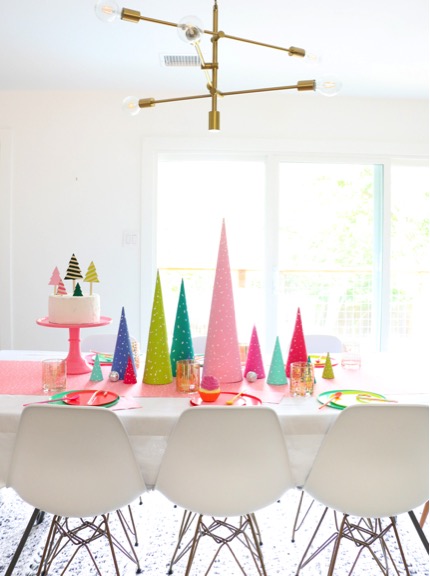 This is another great project that you can bring to life in only minutes with any colors you love! They are perfect for a mantel or tablescape. And since they are so easy, this is another great project for kids to help with.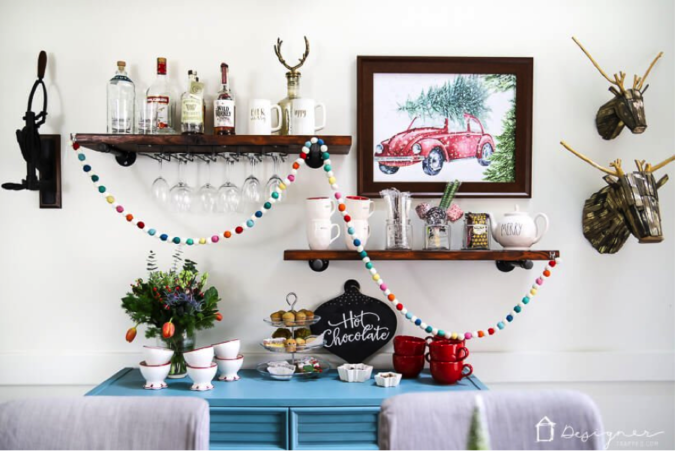 One of my favorite ways to add holiday decor to our home is to pop FREE printables in dollar store frames. You can see how simple and easy the addition of a similar printable was in our dining room last year. It's super inexpensive and takes almost no effort at all. You can click HERE for the free printable featured.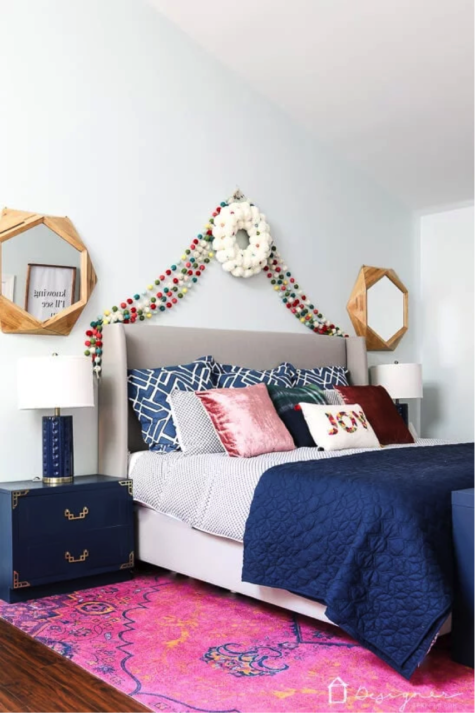 Add holiday throw pillows and a wreath
Adding throw pillows requires almost no effort and it's easy to find affordable options. You'd be surprised how festive a room can feel with just the addition of holiday pillows and a wreath!
---
Need to get the house cleaned in a hurry this holiday season? Our Holiday Speed Cleaning Checklist can help! It's free, but only for a limited time! GET IT HERE.
---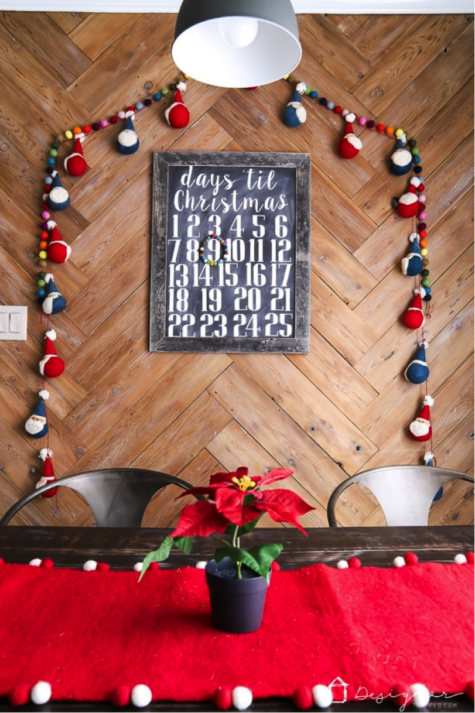 Garland for the win
Like throw pillows and wreaths, a garland goes a LONG way in making your home feel chic for the holidays with minimal effort and expense. Target and HomeGoods are my favorite places to shop for a fun garland. Felted wool garlands are my favorite!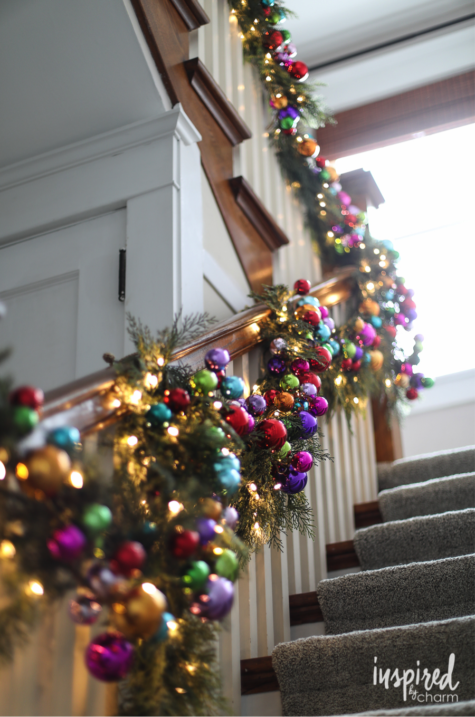 But I also ADORE this simple garland that would be easy to make with pre-lit garland and inexpensive colorful Christmas balls.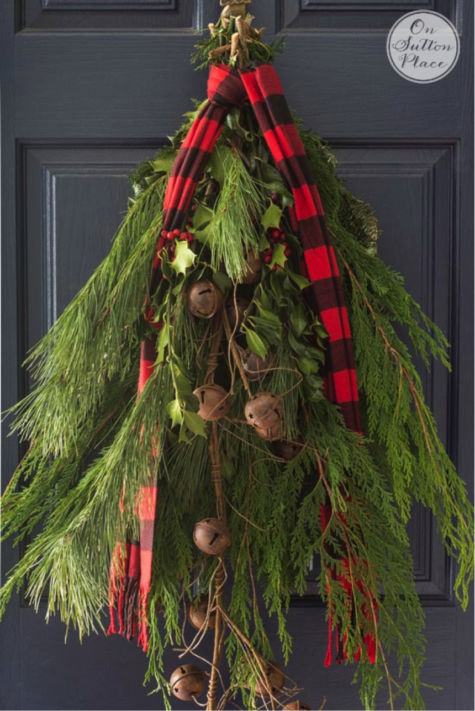 This simple bundle of fresh pine clippings plus a scarf and some bells looks like a million bucks, but cost almost nothing. Even if you don't have pine trees in your yard, most Christmas tree lots will give you the clippings off fresh trees for free!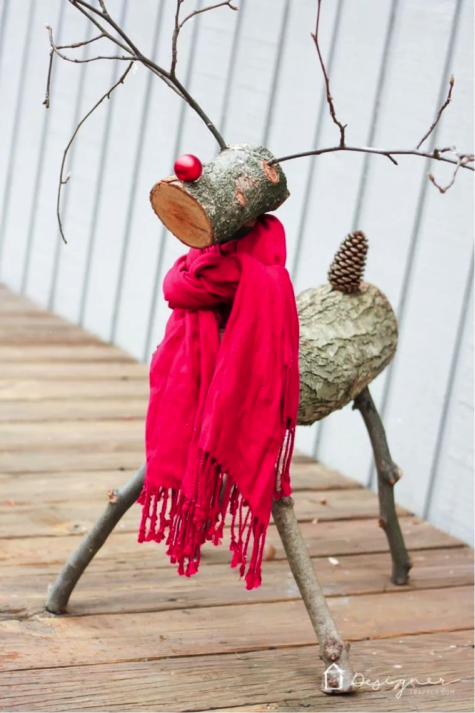 This is a personal favorite of mine. We made this adorable reindeer from logs and sticks we found in our yard. Then we added an old unused scarf and a small red Christmas ornament to finish it off. It was nearly free and took about 30 minutes to put together.
So there you have it!
Nine Holiday decorating ideas that won't leave you exhausted or broke.
You can totally do this!
Even if you add two of these holiday decor ideas to your home this year, your home will feel chic and festive for the season! Tackle all nine and you'll be drooling over your own home instead of those you see on Instagram or Pinterest!
Your friends will think you've put a lot of time and effort into decorating your home for the holidays, but you'll know better 😉 And best of all, you'll be left with plenty of time to relax and enjoy the holiday season.
Do you still need to get the house cleaned in a hurry this holiday season? Our Holiday Speed Cleaning Checklist can help! It's free, but only for a limited time! GET IT HERE.