What if you could leave the 9 to 5 behind, become your own boss, and start your own business? Don't miss these 6 steps for turning your passion into profit!
Between the list of hurried morning to-dos and the daily commute, are you stressed out before you even get to the office? For working moms, the struggle is REAL! But we've all got to pay our bills, right? But…what if there were another option? What if you could leave the 9 to 5 behind, become your own boss, and start your own business? If you've ever dreamed that it might be possible, don't miss these 6 steps for turning your passion into profit!
Imagine with me, for a minute, this scenario:
The alarm goes off. You jump out of bed and realize you're already late. You rush to throw on professional(ish) clothes, pull your hair back and throw on a little makeup. Your husband rushes to get through his morning routine and out the door. You grab a granola bar and a frozen entrée and sling them in your bag.
You wake your still-sleeping toddler, change their pull-up and give them a granola bar and sippy cup of milk. Pile your pajama-clad kiddo in the car seat and rush them to daycare. Kiss them goodbye and try not to feel sad as you drive off. Then you battle traffic for 45 minutes as you mentally go through the list of everything you forgot to do as you left the house.
All this stress, before you even get into the office!
And the thing is…..for so many of us, this is our day-to-day reality. Believe me, the struggle is REAL.
Even so, we've all got to pay our bills, even if that sometimes means a job we don't love.
Right?
But what if there was another option?
What if you could leave the 9-5 behind, become your own boss and start your own business? Click to Tweet
It's not as crazy as you might think.
In fact, thousands of women just like you do it every single day.
I've shared my own story of starting this blog as a mom of two toddlers, and how over the past 9 years, it has grown from a part-time hobby to a a full-time 7-figure business. (You can also check out this interview I gave about this very topic.)
But the thing is–my story is not all that unique. Every day there are women out there doing the very same thing–taking advantage of all the opportunities that the online world has to offer in order to leave the 9-5 behind for good.
I know this for a fact, because five years ago, I founded Elite Blog Academy® to share what I've learned about creating a successful, profitable blogging business with other online business owners (or those who aspired to be.) And the success I've seen them achieve over the past five years is nothing short of staggering.
But what I've noticed is that there are a few steps nearly all of them have taken along the way, so I invited a few of them to share their stories and tips as well. Keep reading to be inspired, then be sure to download our free Small Business Roadmap, which will show you exactly what steps you'll need to take if you are considering starting your own business, as well as what kind of investments you'll need to make along the way.
How to Leave the 9-5 Behind For Good
In the meantime, here are the six things you'll need to start thinking about right away: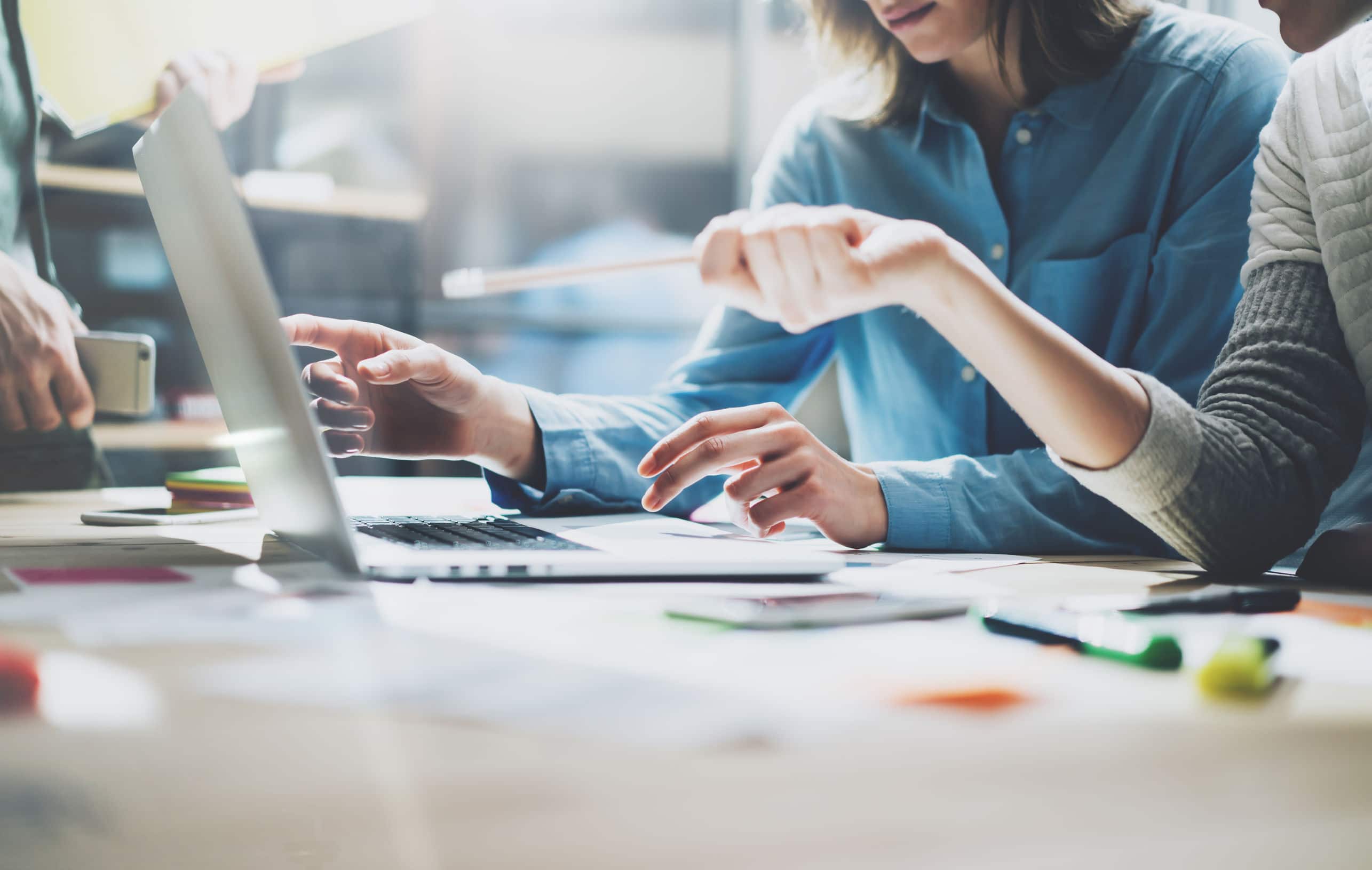 1. Discover Your Passion
What do you LOVE to do? I mean, what really makes your heart sing? Is it spending time with your kids? Helping others? Perhaps it's cooking healthy meals, working out, crafting or photography? The thing you LOVE to do, won't feel like work, even if it earns you a paycheck. This is the place to begin.
Pick what you love and brainstorm ways to earn money doing it. Of course, I'm partial to blogging, but there are other jobs related to each area of interest as well. For example, if you love kids, maybe running an in-home daycare would help you earn money and feel fulfilled. If you're a hobby photographer, perhaps growing your photography business is the way to earn money.
The best way to think about it is, "What do I love? How can I use my passion to solve someone else's problem?" You see, if you love working on your family's personal finance, chances are there's someone out there who desperately wants help with her family's budget. How will you connect with her and help her with her dilemma? The answer is the focus for your business. She is your target market.
"In March 2017 I was earning about $300 from my blog. Now, here I am in November, earning about $3500 per month! The content of Elite Blog Academy® was phenomenal in creating a specific targeted approach to my content and has given me a tremendous push for what my readers want to read each week! While working fulltime, I completed every assignment and it took 8 months of hard work. But the result was amazing. Loved it!"
Brittany Wise
Our Home Made Easy
2. Assess Your Financial Situation
If you're desperate to leave the 9-5 behind, you must get a handle on your budget. This doesn't mean you need a fortune to start a blog or another business. In fact, it costs almost nothing to set up and begin. You will however, need a strong handle on your family's financial picture.
You will need to know exactly what you need to earn to live and pay your bills. You'll need to know how much money you need to earn before you're solvent enough to leave your regular job. Understanding your financial picture and plan will help you make wise choices and keep a target in mind.
This is also the time to enlist support from your spouse (even if they're a little skeptical), friends and family. Let them know of your plans and embrace the encouragement. You may need to take up a few playdate offers and networking assistance, especially as you're getting started.
3. Invest in Yourself
When you have an idea of what you want to do, learn as much as possible about the field. When I began blogging, I read EVERYTHING I could get my hands on. At the time, there wasn't much out there, so I decided to share what I was learning in my book, "How to Blog for Profit." The response was incredible. There were many bloggers out there like me, who were learning the ropes as they went along.
Through conversations with these bloggers, business experts and my own experience, I realized there was a huge need for a comprehensive blogging course. It became a passion project for me. Now, in our 5th year, I'm proud to say Elite Blog Academy® has helped nearly 10,000 bloggers in 60 countries worldwide find success online. Here are a few:
"I started blogging in late February of 2016 when EBA® was open for enrollment. I had no idea what I was doing but this blogging thing seemed like something I wanted to try. So, I bought EBA® and started my blog the same day. I made as much money in one month of 2017 as I did the entire year of 2016 from my part-time desk job. My biggest win is that for the first time in my life I am making an income doing something that I love to do. I have never created something myself that I was proud of before and it feels amazing."
Carly Campbell
Mommy on Purpose

"Before EBA® I was working 50+ hour weeks, spinning my wheels and getting nowhere. I was THRILLED if I got more than 100 daily pageviews and my highest earning month was $.17 from Adsense. I was burned out beyond belief and ready to quit. And then EBA® came into my life and within 2 months of starting EBA®, I went from 3,000 monthly pageviews to more than 60,000 and then the next month I had 161,000 pageviews! Less than 9 months after starting EBA® I was making a full-time income, and then 14 months after starting, I made $9,665 in a month from my blog."
Caroline Vencil
Investing in yourself and the right training for your business is the single most important step toward success.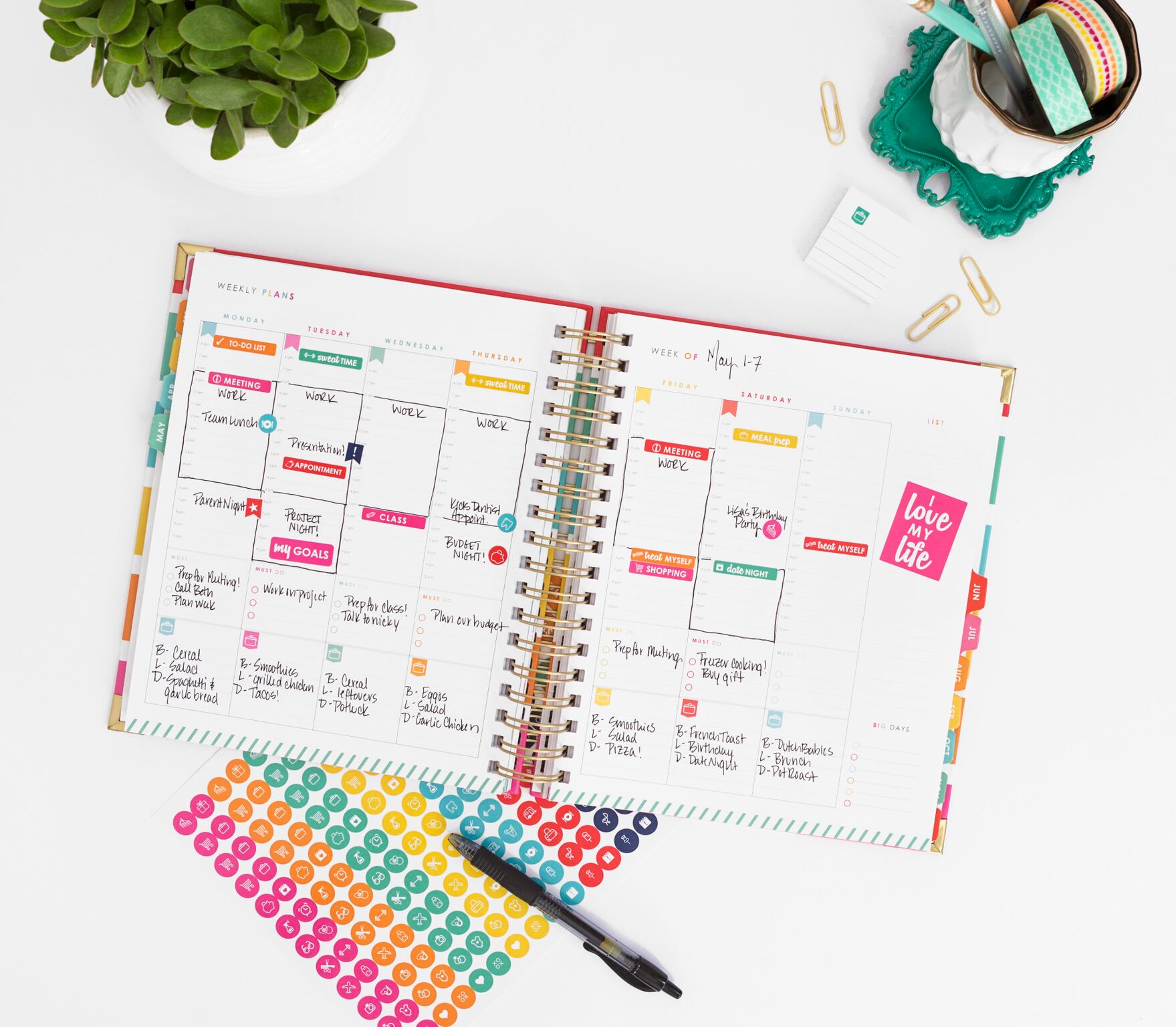 4. Own Your Schedule
When you take on a project, whether it's blogging or another business, you must take full control of your schedule. You see, friends, time isn't always on our side. We only have a limited amount each day—we're all given the same 24 hours. If we spin our wheels and lack focus we may never see our efforts pay off.
If you're building a home business, while working, "momming" and running a household, the amount of overwhelm is ridiculous. You need your steps clearly laid out in front of you. You may want to experiment with block scheduling or another productivity method to really help you manage each and every minute.
Keep your process and workflow organized. Take each step carefully and focus on each part of the process. Don't rush yourself or hurry along. It may seem like your goals are far off and you're desperate to get there, but taking shortcuts will only lead you to big cleanups and issues down the road.
"Joining EBA® is the smartest decision I have made for my business. After initially starting my blog, I was lost. I really didn't know what I was doing, and it showed in my writing, images, and lack of focus. Then I came across EBA®. I couldn't wait for the doors to open and the second they did, I was in! Having the steps laid out for me, as they are in EBA®, was just what I needed. It provided all the right strategies to grow a successful business and with consistent effort, I have seen my income grow month by month. EBA® has been worth every penny, helping me make back over 10X my investment, with even more to come. It has truly been a life-changer! "
Treasure Provost
Treasured Mom
5. Network with Role Models
Keep your network strong.
One of the biggest advantages of blogging and working with bloggers is you're given a close-knit group of role models. I've learned so much from the people I've been privileged to work with both through Living Well Spending Less, Elite Blog Academy, and the Do It Scared Podcast. And every time I meet someone, I learn something. I always ask, what can they teach me?
If you want to successfully leave behind your 9-5, connect with everyone you can. Find other work-at-home accomplished moms. Talk to entrepreneurs and small business owners. Connect with local businesses, news and media.
Your network is a powerful tool to lead you through many doors of opportunity. Avoid burning bridges whenever possible. You never know when a previous employer, an old friend or a business connection will reach out and need your services. Keep your network strong.
6. Be Flexible
The number one quality you need to run a small business is flexibility. If you want to work from home and earn money doing a non-traditional job (whether it's blogging, direct marketing or consulting), you need to embrace flexibility.
That means if something isn't working, don't feel afraid to change it. I've known bloggers who have rerouted their entire course and business model after going through EBA®. It's always scary at first, but once they're on the right path, they almost always accomplish more.
You'll need to be flexible with your schedule, with balancing time with your family, with discovering pockets of time to work, eat and even sleep. Learn to accept change and roll with the punches. In the end you'll come out even stronger.
"I started successful blogging in January of 2016. I say successfully because this wasn't my first time attempting a blog. I had tried a few years before, but I really had no idea what I was doing so it never went anywhere. One day I was only and stumbled across EBA®. As soon as I read the description I knew this was exactly what I was looking for. As I went along EBA® I realized my current blog was not a good fit for me and my brand. I made a huge change in August. A new name, a new theme, and a more focused niche. This was a huge hurdle and one I could not have done without EBA®. From there my numbers began to grow. In January 2017 I was able to quite my part-time job and then just a few months later I closed my in-home hair salon of 13 years and became a full-time blogger. How fun is my life now?!"
Tracy Lynn
Simple Living Country Gal
If you are truly serious about leaving behind the 9-5, I promise it's possible. Owning an online business has opened so many doors for me I never imagined possible. It's changed my life and allowed me to do something I LOVE every single day. And if you are ready to do the same, I encourage you to download our free Small Business Roadmap, and to join our EBA waiting list. It will show you exactly what steps you need to take to kick the 9-5 and start living the life of your dreams!
P.S. DISCOVER THE POWERFUL SECRETS THAT THE MOST SUCCESSFUL BLOGGERS ARE USING TO FAILPROOF THEIR ONLINE BUSINESSES HERE.
To recap, here are ways on How to Leave the 9-5 Behind For Good
1. Discover Your Passion
2. Assess Your Financial Situation
3. Invest in Yourself
4. Own Your Schedule
6. Be Flexible
More Helpful Resources:
If you love this resource, be sure to check out our digital library of helpful tools and resources for cleaning faster, taking control of your budget, organizing your schedule, and getting food on the table easier than ever before.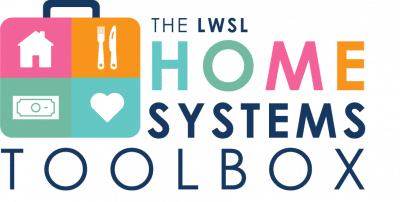 Click here to get full access to our Home Systems Toolbox now!
PIN FOR LATER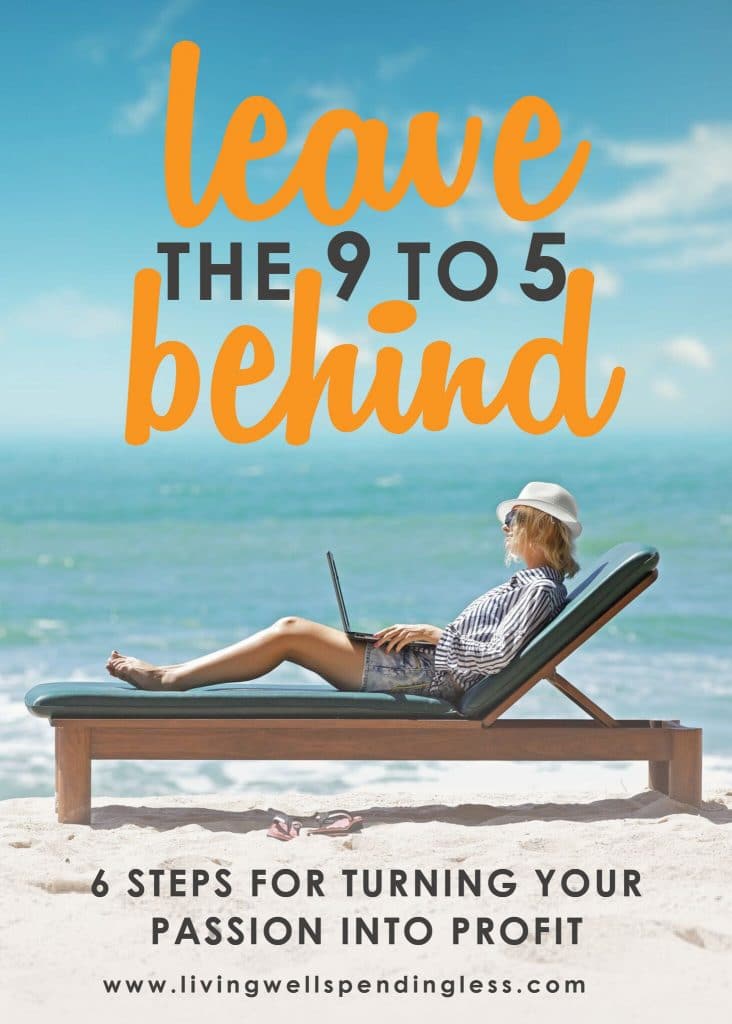 TAKE BACK CONTROL OF YOUR HOME LIFE
---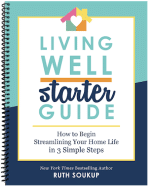 Ever feel like you just can't keep up? Our Living Well Starter Guide will show you how to start streamlining your life in just 3 simple steps. It's a game changer--get it free for a limited time!