Here at Living Well Spending Less we are 100% committed to bringing you easy recipes that taste great and don't take a lot of time, effort, or expensive ingredients to throw together. As a busy mom, I also want meals that can be made and frozen ahead of time to save time on hectic weeknights, especially as part of a Sunday Prep plan. My goal is to spend less time in the kitchen, not more, but I still want to be able to provide tasty meals that my family loves (and avoid eating out when we can!)
Over the 2 years we have shared nine different 10 Meals in an Hour ™ plans, which have each included 5 great freezer recipes that can be prepared together in about sixty minutes. (You can find the previous plans here: Part 1 , Part 2, Part 3 , Part 4 , Part 5 , Part 6, Part 7 , Part 8 and Part 9. They have been a huge hit, not only with our own families, but with many of your families as well, and we've absolutely loved hearing how much you all are enjoying these tasty recipes!
Today I am s0 excited to share with you another NEW series of awesome freezer to crockpot recipes.
As usual, in order to make the cut, each recipe must meet ALL of the following criteria:
Deemed delicious by both my kids and husband
No pre-cooking required (aside from browning veggie crumbles)
Freezer friendly
Easy to cook
Uses budget-friendly ingredients and pantry staples
In this one post you will find everything you need to prep 10 awesome freezer meals in about an hour of hands-on time (not including grocery shopping.) Just think, in just one quick weekend session you could have almost two weeks worth of absolutely delicious, family-friendly meals all ready to go!
Before you begin, you will need to gather your tools & supplies and also make sure that you have all your groceries on hand. I find it is easiest to go grocery shopping the day before I do my cooking. To save time unloading, only put away the items that need to be refrigerated. Finally, make sure your kitchen counters are cleared of clutter and sanitized and empty your dishwasher and sink of any dishes. (Check out this post for more tips on freezer cooking like a pro!)
10 Meals in an Hour™: Part 10

Here are the five recipes we will be making:
Here are the supplies you will need:
10 gallon size zipper freezer bags
Avery 8163 shipping labels or permanent marker
large mixing bowl
cutting board
sharp knife
garlic press
can opener
dry measuring cups
liquid measuring cups
dry measuring spoons
liquid measuring spoons
colander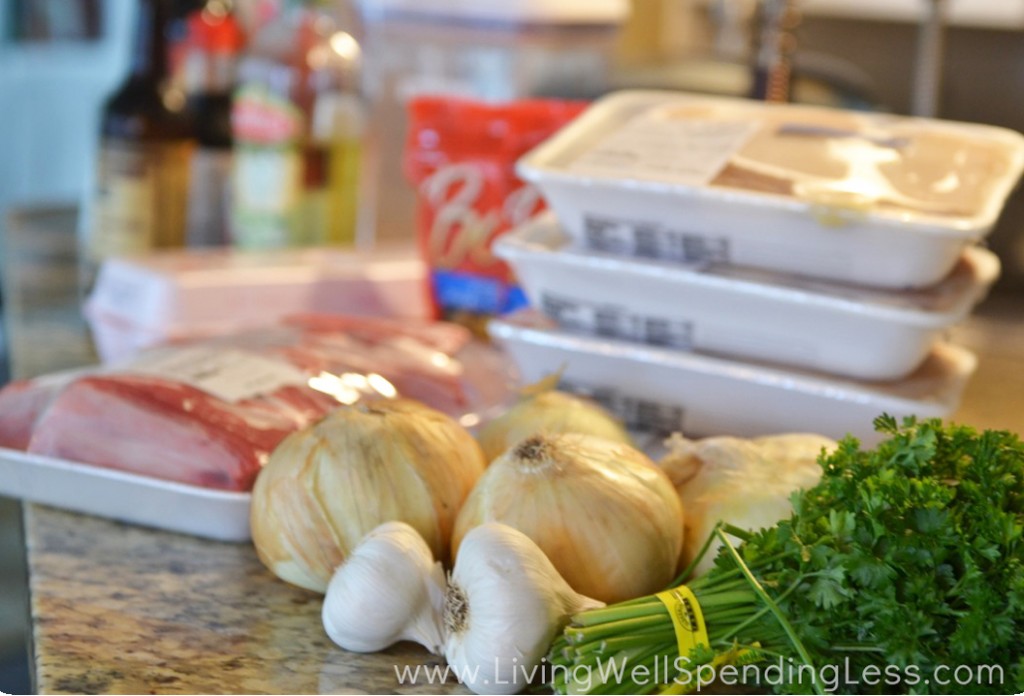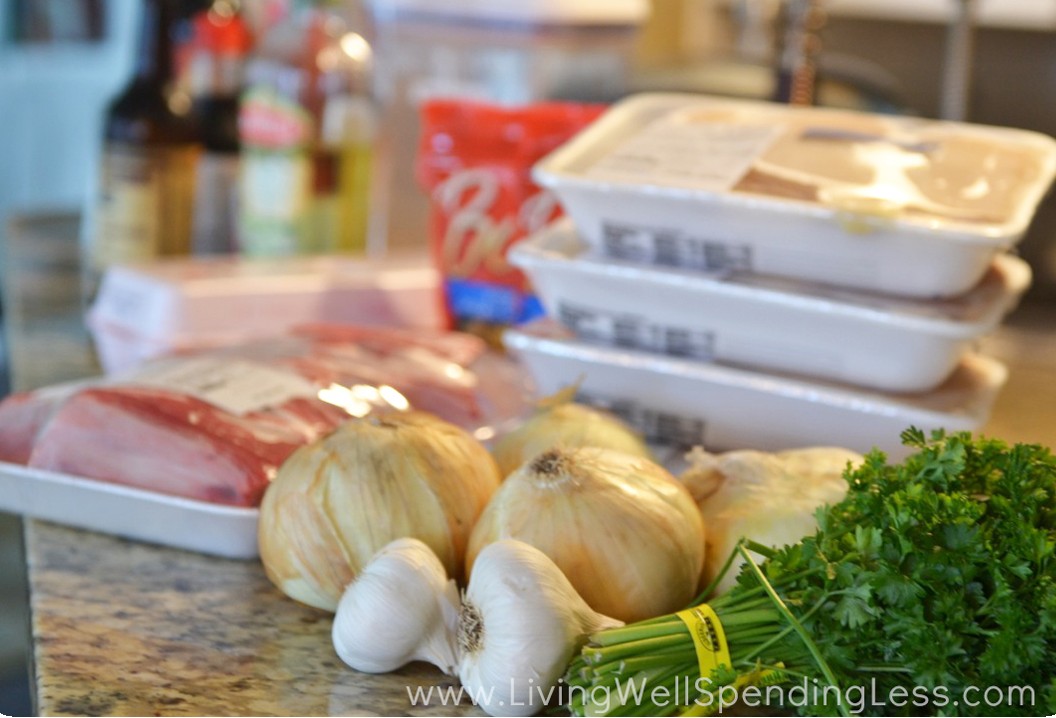 Here are the ingredients you will need:
Produce
2 small yellow onion
14-16 green, red or yellow bell peppers
1-2 cloves garlic
2 bunches celery
1 bunch of green onions
Pantry Staples
Ketchup
Brown sugar
Apple cider vinegar
Worcestershire sauce
Sriracha sauce
Red Pepper Flakes
Black pepper
Seasoned salt
Salt
Cayenne pepper
1 1.25 oz. packet chili seasoning
Hot sauce (optional; cooking day only)
Barbecue sauce(optional; cooking day only)
Canned/Dry Goods
2 32 oz. jars chunky salsa
1 15 oz. can kidney beans
2 15 oz. cans black beans
1 16 oz. bag rice
2 15 oz. cans fire roasted diced tomatoes 1 8 oz. can tomato sauce 2 10 oz. cans Rotel diced tomatoes and green chilies 1 32oz. carton chicken or vegetable stock
1 box Zatarians Jambalaya mix (optional; cooking day only)
Liquid smoke (optional)
2 bottles wing sauce
Dairy
2 8oz. bag sharp cheddar cheese, shredded (cooking day only)
Butter
1 container chunky blue cheese dressing ( optional: cooking day only)
Meat
6-8 pounds boneless, skinless chicken thighs or breasts
2 packages vegetarian crumbles or 2 pounds ground beef
1- 14 oz. package kielbasa turkey sausage
6-8 pounds of pork ribs
4 pounds chicken wings ( I used frozen wings)
Bread
Fajita shells (optional;cooking day only)
PRINT
Be sure to print the following recipes:
PREP
Prep your bags—either print labels using these ready-made printable labels or use a permanent marker to label each bag with the name of the recipe, date prepared, and cooking instructions. DO NOT SKIP THIS STEP! While you might think that you'll remember what is in every bag, I promise you will forget!
Brown veggie crumbles (or ground meat) and set aside
Cut sausage into bit size pieces and set aside.
Chop onions and set aside
Clean and chop 2 of the green peppers and set aside.
Clean and scoop out seeds of the rest of the peppers ( for stuffed pepper recipe)
Peel and mince garlic and set aside
Open up all the cans needed for prep day and set aside.
Prep raw chicken and cut 2-3 pounds into bit size pieces for Jambalaya.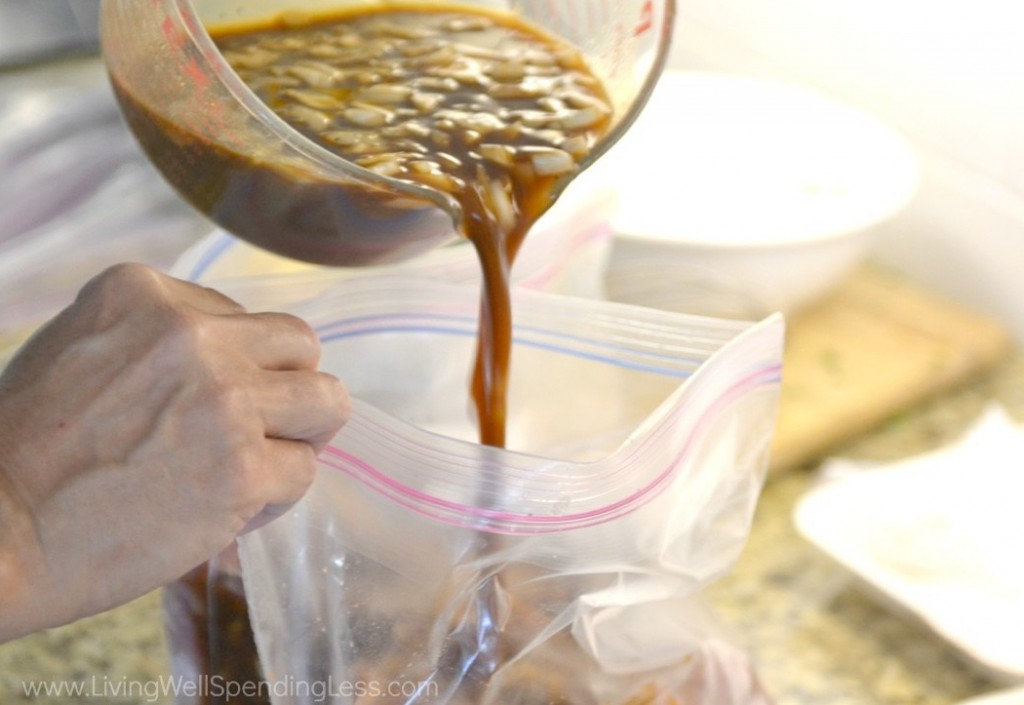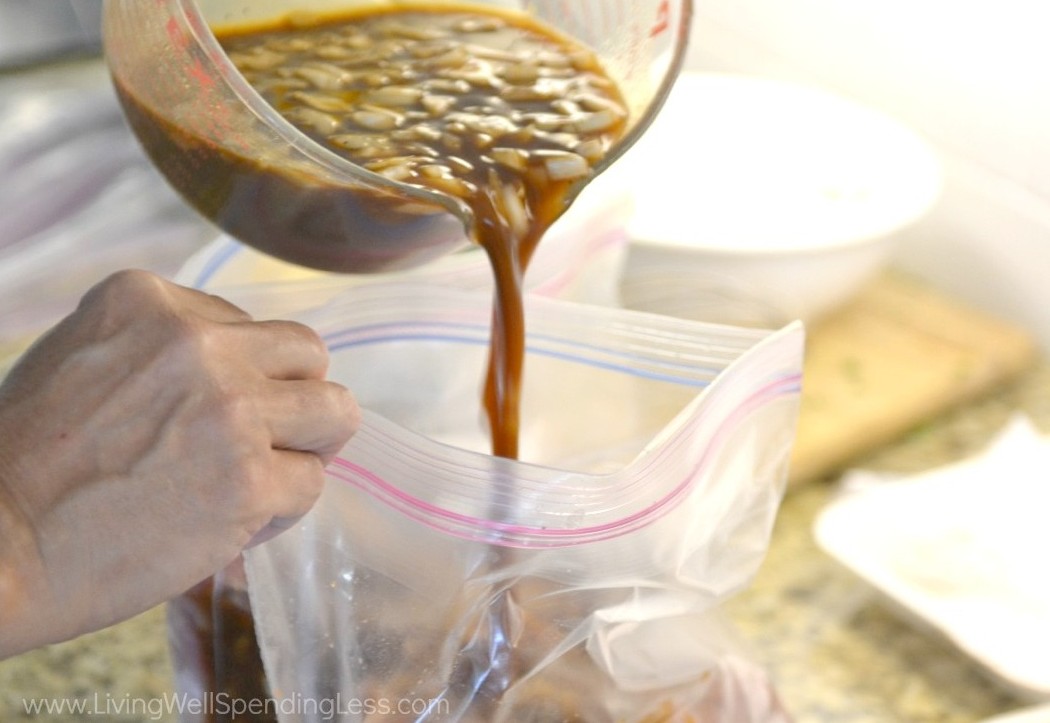 PREPARE
Prep Easy Salsa Chicken using instructions found here. Divide chicken into 2 freezer bags and cover with salsa, press out excess air, and seal well. Place bags in refrigerator.
Prep Slow Cooker Stuffed Peppers using instructions found here. Divide stuffed peppers into 2 freezer bags, press out excess air, and seal well. Place bags in refrigerator.
Prep Sweet & Spicy Ribs using instructions found here. Divide ribs into 2 freezer bags, then divide sauce mixture over top of ribs. Place bags in refrigerator.
Prep Chicken Jambalaya using instructions found here. Divide mixture into 2 freezer bags, then press out excess air and seal well. Place bags in refrigerator.
Prep Freezer to Crockpot Buffalo Chicken Wings using instructions found here. Place chicken wings into 2 freezer bags and cover with wing mixture, then press out excess air and seal well. Place bags in refrigerator.
Once all prep is complete, place all bags in freezer until needed. After you've made your meal plan for the coming week, consider setting an alert on your phone to remind you to take your bag out to thaw the day before you plan to make it.
Want more 10 Meals in an Hour? Check out the entire series!
Have you tried making 10 meals in an hour yet? What tricks or tips can you share?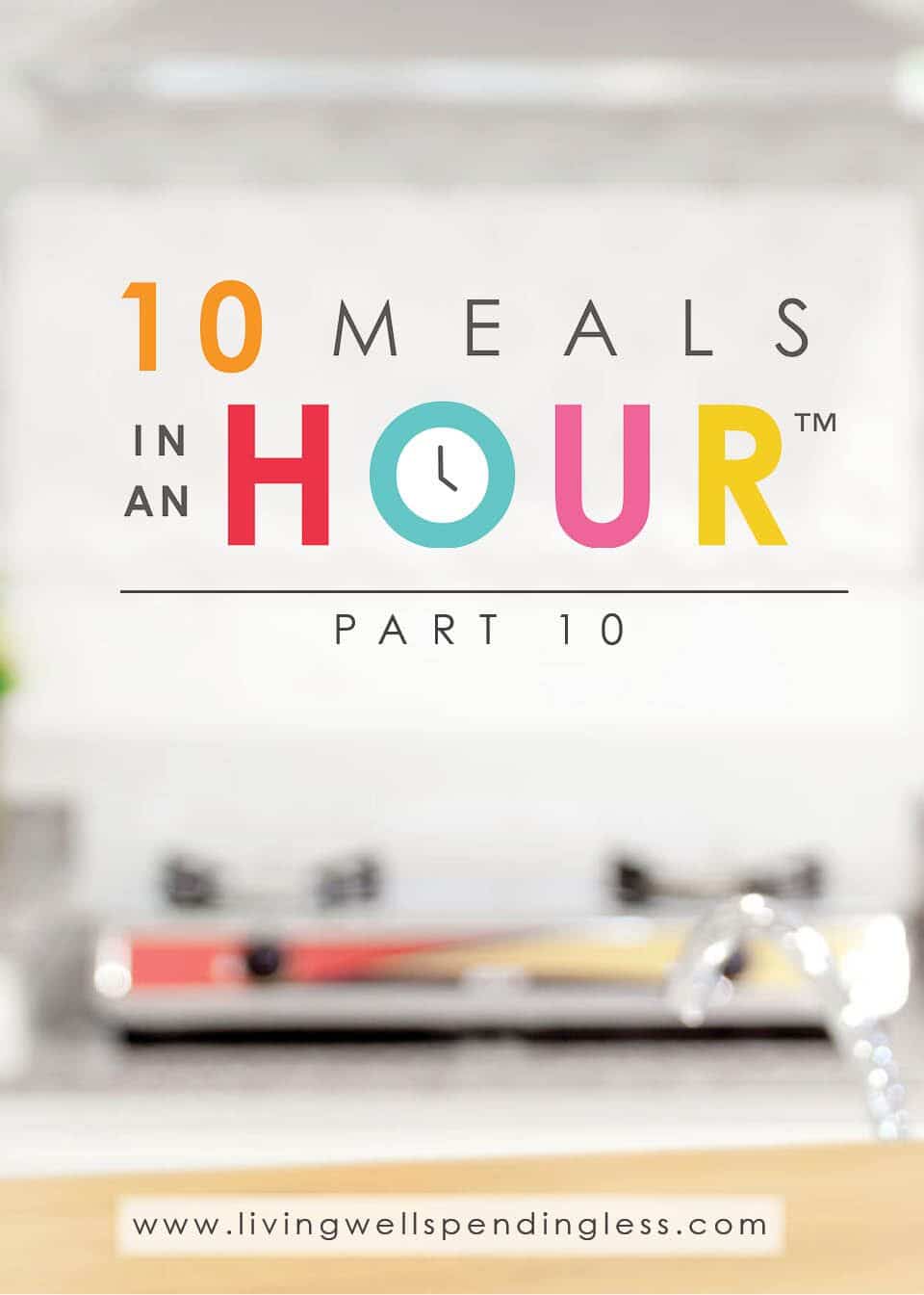 TAKE BACK CONTROL OF YOUR HOME LIFE
---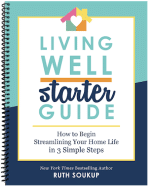 Ever feel like you just can't keep up? Our Living Well Starter Guide will show you how to start streamlining your life in just 3 simple steps. It's a game changer--get it free for a limited time!
If you love this resource, be sure to check out our digital library of helpful tools and resources for cleaning faster, taking control of your budget, organizing your schedule, and getting food on the table easier than ever before.