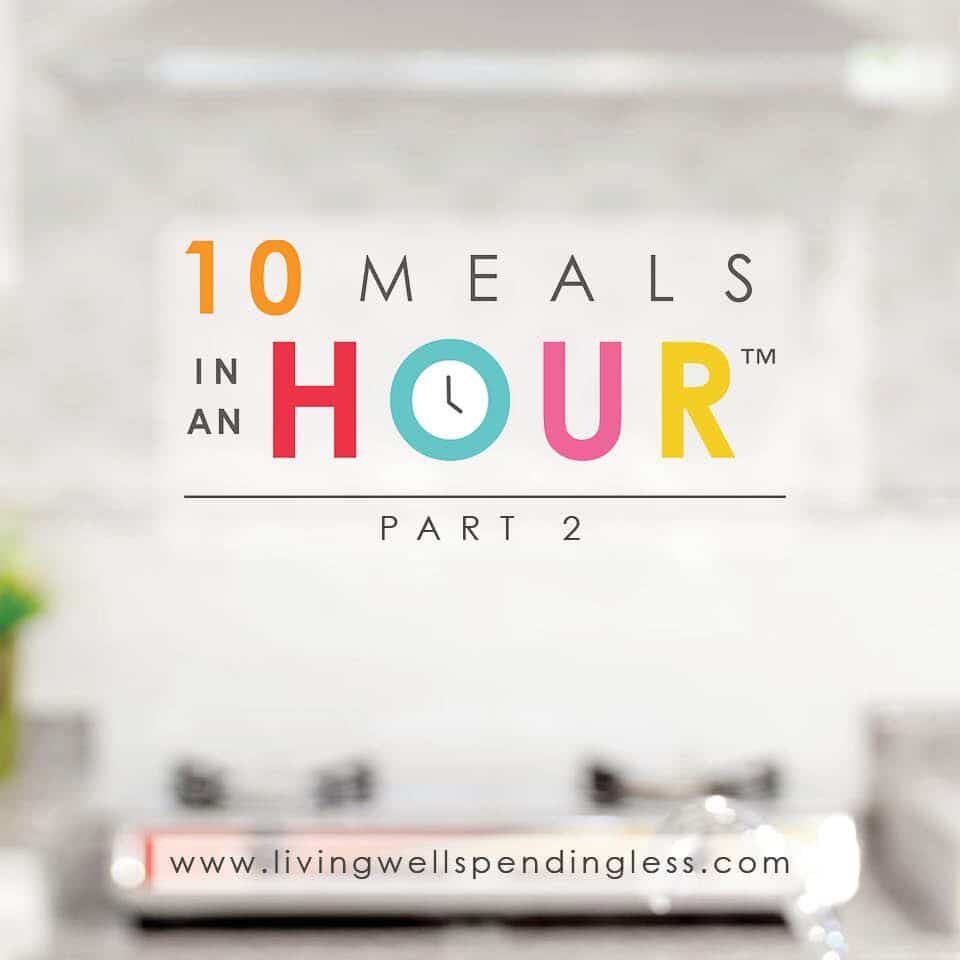 A few months ago I shared my first 10 Freezer Meals in an Hour™ plan, which included 5 great recipes that could be prepared together in about sixty minutes to make TEN separate meals. It was a huge hit, not only with my own family, but with many of your families as well!
At this point I am pretty much hooked on easy recipes that taste great and don't take a lot of time, effort, or expensive ingredients to throw together, and that can be made and frozen ahead of time to save time on hectic weeknights. My goal is to spend less time in the kitchen, not more, but I still want to be able to provide tasty meals that my family loves!
DIG DEEPER
---
Don't stress about what you are going to serve your family for dinner tonight. With just a bit of planning, you can create 10 meals for your family in just 1 hour.

I am excited to share this no-bake version of 10 Meals in an Hour™, which includes five awesome warm weather recipes that are cooked either on the grill or in the crockpot—no oven required! (Of course, if you would rather use the oven than the grill, that is always an option—you can generally just bake your chicken covered at 400 degrees for 25 minutes to get the same results!)

In order to make the cut this time, each recipe had to meet ALL of the following criteria: 
In this one post you will find everything you need to prep 10 awesome freezer meals in about an hour of hands-on time (not including grocery shopping.)
Once again, in just one quick Saturday morning session you could have almost two weeks worth of absolutely delicious, family-friendly meals all ready to go!
Before you begin, you will need to gather your tools & supplies and also make sure that you have all your groceries on hand. I find it is easiest to go grocery shopping the day before I do my cooking. To save time unloading, only put away the items that need to be refrigerated. Finally, make sure your kitchen counters are cleared of clutter and sanitized and empty your dishwasher and sink of any dishes. (Check out this post for more tips on freezer cooking like a pro!)
Here are the five recipes we will be making:
Here are the supplies you will need:
10 gallon size zipper freezer bags labels or permanent marker large mixing bowl cutting board sharp knife garlic press can opener dry measuring cups liquid measuring cups dry measuring spoons liquid measuring spoons 12 inch frying pan stand or hand mixer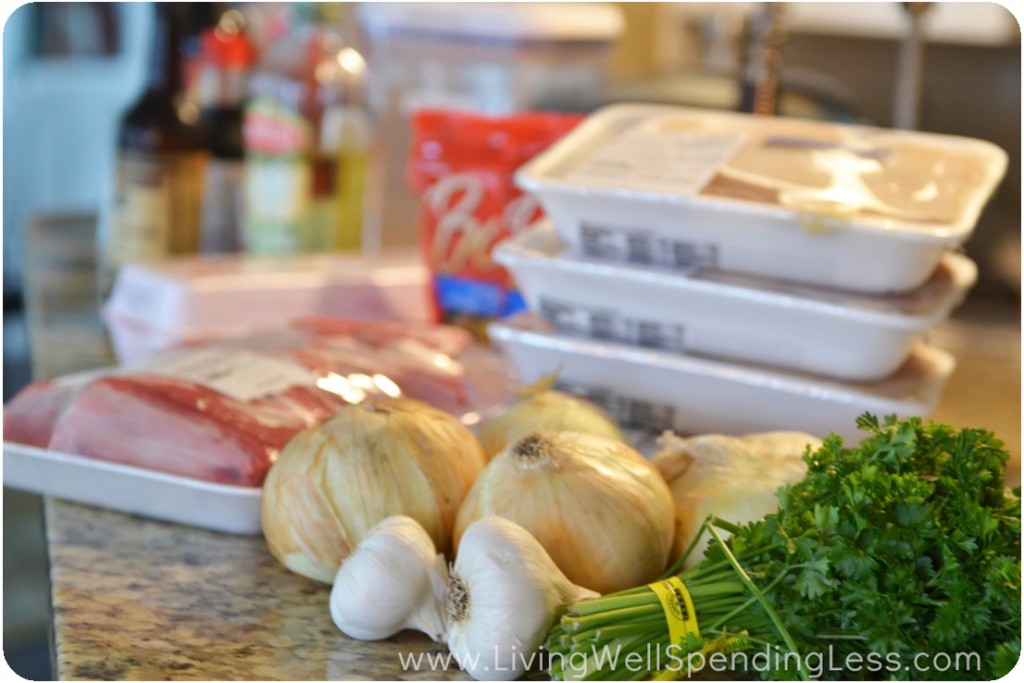 Here are the ingredients you will need:
Produce
12 cloves garlic 4 limes Fresh parsley (optional) 2 sweet onions Fresh pineapple (optional)  
Bread
Hamburger Buns or Rolls (not needed until time to serve)  
Pantry Staples
Honey Olive oil Seasoned salt Salt Black pepper Cayenne pepper Ground ginger Ketchup Worcestershire sauce Cider vinegar Garlic powder Ground mustard Barbecue sauce Teriyaki sauce Soy sauce Brown sugar Pineapple Rings (optional)  
Canned/Dry Goods
Dijon mustard 1 can coconut milk Liquid smoke (optional) 2 cans root beer 1 cup pineapple juice  
Meat
10-12 pounds boneless, skinless chicken thighs or breasts 4 pounds pork ribs 2-2-3lb pork shoulders (butts)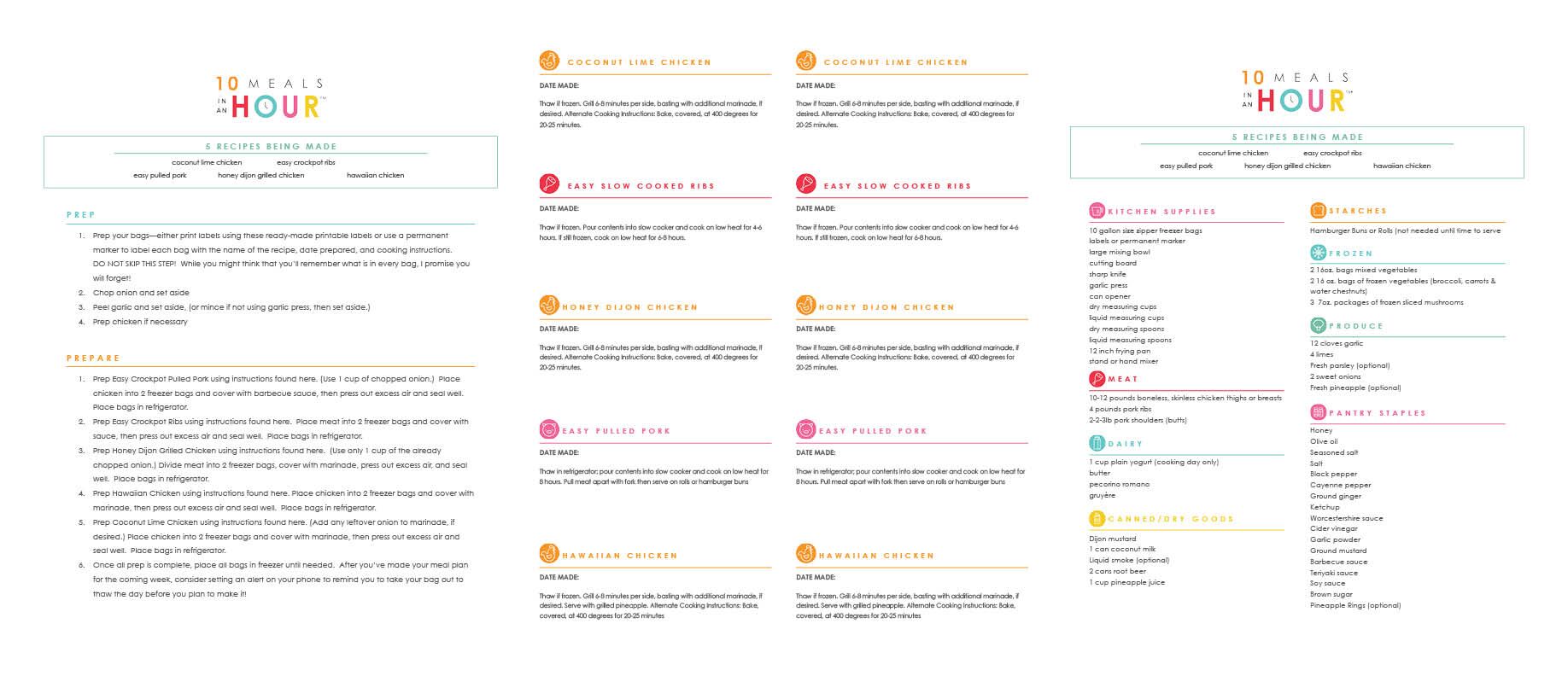 PRINT
Be sure to print the following pages before getting started. You can get them HERE

Be sure to also print the following recipes:
PREP
Prep your bags—either print labels using these ready-made printable labels or use a permanent marker to label each bag with the name of the recipe, date prepared, and cooking instructions. DO NOT SKIP THIS STEP!  While you might think that you'll remember what is in every bag, I promise you will forget!
Chop onion and set aside
Peel garlic and set aside, (or mince if not using garlic press, then set aside.)
Prep chicken if necessary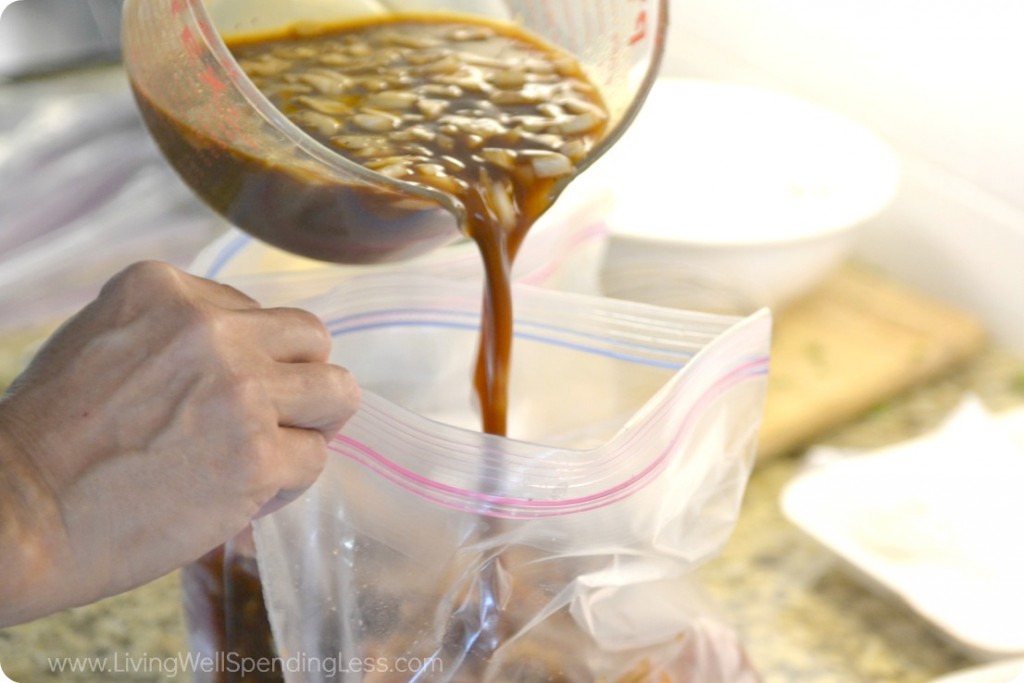 PREPARE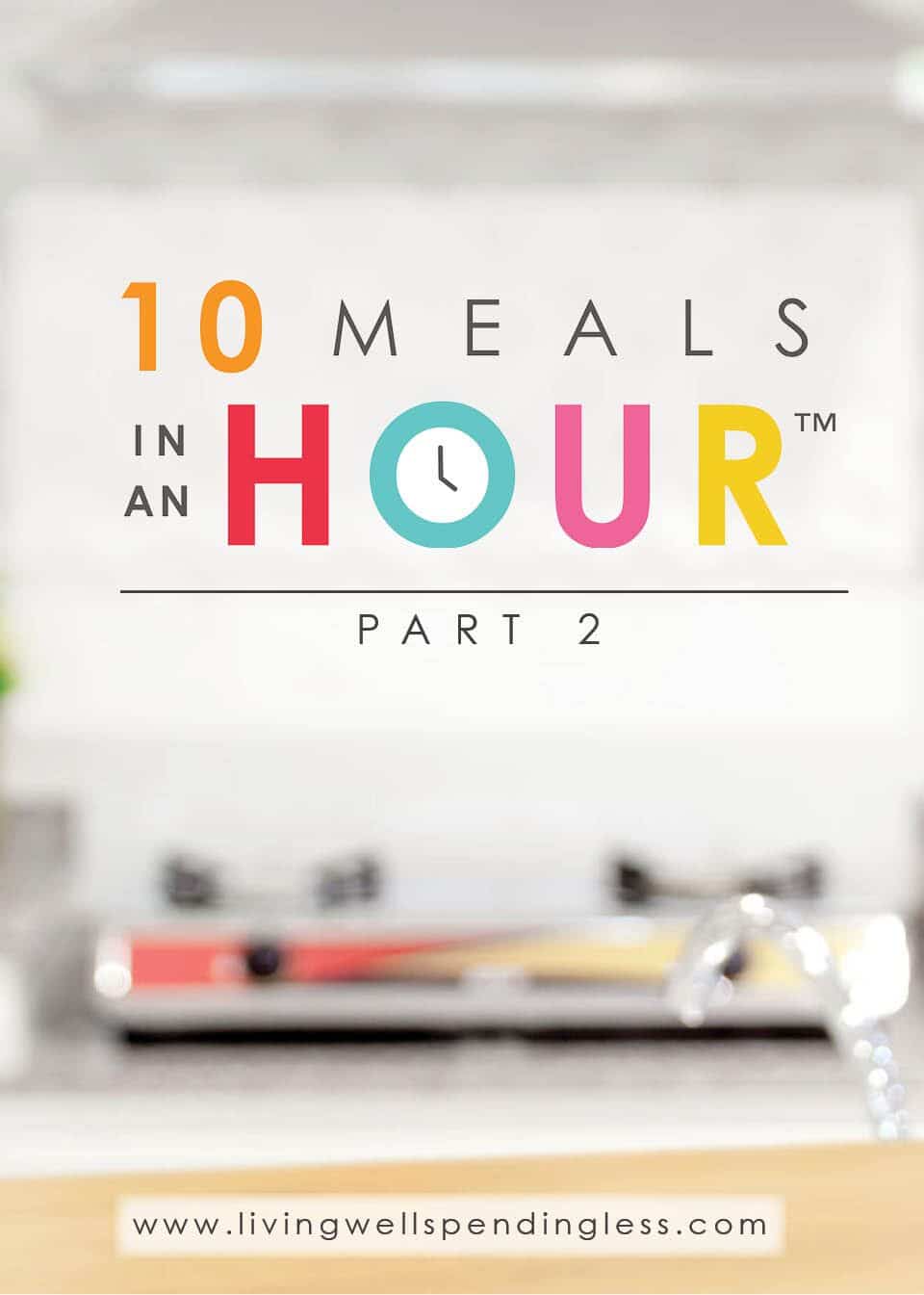 *   *   *
Have you tried making 10 meals in an hour yet? What tricks or tips can you share?
P.S. The new Living Well Planner™ has a  SIMPLIFIED MEAL PLANNING section. It gives you the option to plan just one meal a day, or all three. Check it out HERE.