Welcome back to the Beginner's Guide to Cleaning!
With two major spaces—your living spaces and kitchen—now out of the way, I truly hope you are feeling like you've found your groove and are ready to take on almost anything!
Of course you might need to dig deep for motivation, because today we taking on one of the most dreaded spaces in the house. I mean, let's be honest. Is there anything less fun than scrubbing toilets?
But a clean bathroom is not only a much nicer place to start your day, it is essential to a healthy home, since it can very easily become a breeding ground for bacteria, germs, and mold. So let's get started!
Once again I will walk you through the steps for cleaning the surfaces most commonly found in this zone, giving detailed instructions for how to clean each one. If you are a seasoned bathroom cleaning pro, much of it may be review—feel free to skip to the end of the post, or add your own tips & tricks in the comments below! If you have any questions about which products & tools to use, you can get the full lowdown in this Cleaning Supply 101 post.
Step 1: Pre-clean & declutter
Supplies needed: A large basket or individual baskets for each family member
How-To: Pick up any items lying around the bathroom, including any clutter that has collected on counters, shelves, or floors. Place items in appropriate baskets for each family, or collect items in a single basket to be put away.
Step 2: Clean the Toilet
Supplies needed: toilet bowl cleaner, toilet brush, all purpose cleaner, rag
How-To: Squirt bowl of toilet with cleaner just under rim; let sit for at least 5 minutes. Use brush to scrub inside of bowl and bottom side of seat. Spray seat, lid, and tank with all-purpose cleaner, then wipe clean with wet rag.
Step 3: Clean the bathtub/shower
Supplies needed: all purpose cleaner, non-abrasive scrub brush or sponge, bucket rag or towel
How-To: Spray tub, shower walls, and shower curtain with all purpose cleaner. Scrub stains and dirt with scrub brush or sponge. (Be sure to test brush or sponge to make sure it will not scratch the surface of your tub or shower!). Rinse with warm water until clean, then dry with old towel. Be sure to buff fixtures to remove water spots! Wash shower curtain in washer, if necessary.
Step 4: Clean the tile & grout
Supplies needed: old toothbrush, bleach, dish soap, rags
How-To: Dip toothbrush in bowl filled with bleach; scrub onto grout lines. Fill bucket or sink with warm soapy water, then rinse grout and tile clean. Wipe dry with old towel.
Step 5: Clean the sink & counters
Supplies needed: All purpose cleaner, rags
How-To: Spray countertop and sink with all purpose cleaner. Fill sink with warm water. Wet rag in water and wipe down all counters until clean. Let water out of sink and wipe down sink. Dry counters and sink with old towel. Be sure to wipe down fixtures to remove water spots.
Step 6: Clean the mirrors & windows
Supplies needed: Glass cleaner, old newspaper or squeegee & rag
How-To: Spray glass; wipe clean with old newspaper or run squeegee against glass from side to side, wiping blade with rag as necessary. Use glass cleaner to shine faucets as well.
Step 7: Dusting
Supplies needed: reusable or disposable dusting wand
How-To: Run duster over all horizontal surfaces, including shelves, the tops of light switches and fixtures, baseboards, picture frames, mirrors, storage boxes, and any knick knacks or figurines.
Step 8: Clean the floors
Supplies needed: broom & dustpan, dust mop all purpose cleaner, wet mop
How-To: Before beginning, move as much furniture from the floor as possible. Starting at one end of the room, carefully sweep loose dirt and hair towards the center of floor. Methodically make your way around the room, sweeping all dirt towards the center into one pile. Sweep into dustpan and throw away. Next, do a sweep of the floor with your dust mop to remove any remaining dust or hair. Spot clean any sticky or dirty spots, or mop entire floor with wet mop and let dry.
Of course now that you know just what to do, it is time to get to work!
Part Five Assignment
Just to review, here is your fifth assignment:
Set aside a good chunk of time—again at least 30-60 minutes per bathroom—sometime this week to work on deep cleaning your bathrooms.
Clear the clutter in each bathroom. Make it a goal to keep nothing on your counters except the products you use on a regular basis. Work on training your family to use the "collection zone" you set up in week three.
Follow the Bathroom Cleaning Checklist to get your bathroom clean and fresh from top to bottom. If possible, open up the windows to let in some fresh air as well!
Did I miss anything? What are your biggest challenges to keeping your bathroom clean?
PIN FOR LATER: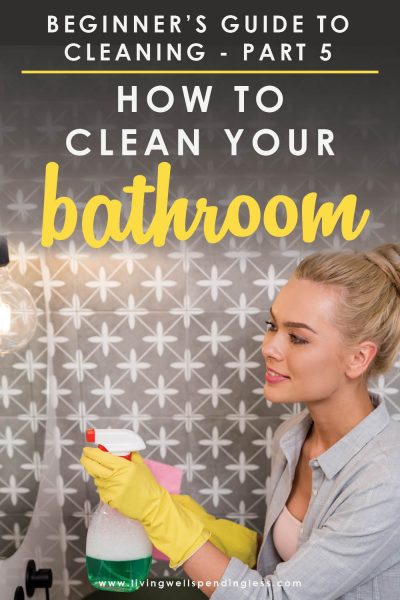 The LWSL Beginner's Guide to Cleaning:
Part 1: Getting Started
Part 2: Cleaning Supply 101
Part 3: How to Clean Your Living Space
Part 4: How to Clean Your Kitchen
Part 5: How to Clean Your Bathroom
Part 6: How to Clean Your Bedroom
Part 7: Laundry 101
Part 8: Home Maintenance & Seasonal Cleaning
TAKE BACK CONTROL OF YOUR HOME LIFE
---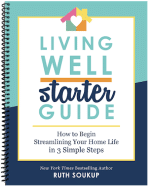 Ever feel like you just can't keep up? Our Living Well Starter Guide will show you how to start streamlining your life in just 3 simple steps. It's a game changer--get it free for a limited time!
If you love this resource, be sure to check out our digital library of helpful tools and resources for cleaning faster, taking control of your budget, organizing your schedule, and getting food on the table easier than ever before.