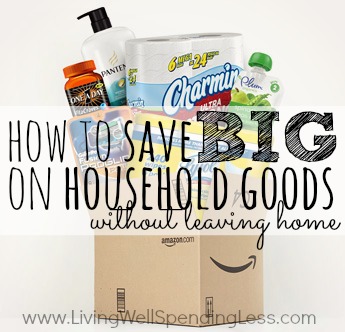 When I first started down this path of living well and spending less, I was an avid coupon-user. The thrill of getting food and household goods for next to nothing was incredibly exciting, and I couldn't wait to shop the sales each week. Thursday mornings were always spent hopping from one grocery store to the next, and Sunday afternoons were reserved for making the rounds at Walgreens and CVS. I took great pride in my bountiful stockpile, and filled our guest room closet with my own mini-Walmart.
But as much as I love coupons, I eventually had to face the reality that spending two days a week going from store to store was probably not the best use of my time, no matter how good the deals were. I decided to limit my grocery shopping trips to just one store and stopped shopping the drugstores completely.
Instead I now order most of our household necessities—the same items I used to buy at the drugstore—through Amazon's Subscribe & Save program combined with savings from Amazon Mom. There are a few hoops that you have to jump through to get the best deals, but the amount of time and money I save makes it worth the effort. The prices aren't always quite as good as shopping the drugstore deals, but they are better than Sam's Club or Costco, and for me the convenience makes up for the slight loss in savings.
Here is what you need to do to get the best deals: 
Sign up for Amazon Mom. You do not have to be a mom to qualify—you can also be a dad, aunt, uncle, or grandparent. This program used to be free for everyone but now costs $99 per year if you are not already have Amazon Prime. Once you join Amazon Mom you will get all the benefits of Prime as well, such as free 2 day shipping, free Prime video streaming, and access to the Kindle lending library. (Side note: I have personally been a faithful Prime member for almost 10 years now, ever since the program started, and I absolutely love it. However, whether or not it is a good fit for your family will really depend on how much you typically purchase online.) UPDATE: Amazon has simplified their program somewhat so that Amazon Mom is no longer essential to benefit from the Subscribe & Save savings UNLESS you are buying diapers. This makes things even easier!
Order FIVE items through the Subscribe & Save program that are all on the same delivery schedule. You can choose from delivery once a month up to once every six months. For most things I choose six months. Shipping is free on Subscribe & Save items. Once you have subscribed to five items you will save an additional 15% off your entire order, often off of already significantly discounted items.
(Optional) Cancel your subscription after your shipment arrives if you do not wish to receive it again. Canceling a subscription is super easy—just go to the "manage subscriptions" page in your Amazon account. You can always re-subscribe later!
Here are 12 of the best Subscribe & Save deals I have found (prices are after combined Subscribe & Save and Amazon Mom discounts):
Angel Soft Toilet Paper Double Rolls, 48 Count ($18.69):  In all my years of couponing I have never been able to get toilet paper for free, but I do consider it a "rock bottom price" anytime I can get a double roll for less than $0.50 a roll. This Angel Soft toilet paper is only $0.39 a roll, and there is also a $1.00 coupon you can clip which will make it just $0.36 a roll for your first shipment.
Sparkle Paper Towels Giant Rolls, 24 Count ($20.39):  At just $0.85 per giant roll, this is another item you can get at a stock-up price. Like the Angel Soft, there is also a $1.00 coupon available for your first shipment which makes it only $0.75 per roll.
Cottonelle Ultra Comfort Toilet Paper Double Rolls, 32 Count ($16.14):  While at $0.50 per roll, this is not quite as good of a price as the Angel Soft, I have to admit that I personally prefer the Cottonelle brand just a little better. Luckily there is a $2.00 coupon that will bring your first shipment down to $12.87, or just $0.44 a roll.
Finish Powerball Dishwasher Tabs, 60 Count ($8.49):  My super picky engineer husband is hooked on these Finish tabs which get our dishes cleaner than every other detergent we've tried. They are also super convenient! At $0.14 a tab they are also a steal, and there is also a 15% off coupon that will make your first order just $7.21, or $0.12 a tab!
Maxell AA Alkaline Batteries, 48 Count ($11.95):  There is nothing more annoying than not having batteries on hand when you need them! These Maxell batteries have fantastic reviews and at right around $0.25 apiece, are almost half the cost of the name brands.
Tide Pods Detergent, 77 Count ($16.34):  Another favorite of my husband, these Tide pods work wonders on dirty clothes. At just $0.21 per load, they are also cheaper than either the Tide liquid or the pods price at Sam's Club. There is also a $2.00 off coupon that brings the price down even more, to just $0.18 per load!
Swiffer Wet Jet Pads, 20 Count ($10.17):  I'll admit it, I love the convenience of my Swiffer Wet Jet and I don't think I could bear to ever go back to an old-fashioned mop, even if it means paying for refills. At $0.51 per pad, (almost $0.10 less per pad than Sam's Club), it is a price I'll gladly pay. There is also a $0.50 off coupon you can clip to bring the price down even more.
Tampax Pearl Active Tampons, 18 count ($3.37): Let's face it….when you need these, you really need them, regardless of how much they cost. Better to stock up and have some on hand! The regular price at the grocery store or drugstore for this price brand of tampons is about $8.79 for 36, or approximately $0.24 apiece. At Sam's Club you can get a 96 count box for $13.88 which makes them just $0.14 apiece, significantly cheaper. The Subscribe & Save price is $0.18 apiece, but there is a $1.00 off coupon you can clip which makes your first shipment just $2.37 for 18, or $0.13 apiece. Plus, at just $2.37, this is a great add-on item to include in your order to make sure you get your five item discount!
Huggies Simply Clean Wipes, 648 count ($10.17):  We may be finally out of the diaper stage, but we do still keep baby wipes on hand for all sorts of quick freshening tasks. At just under $0.02 apiece, these Natural Care wipes are cheaper than Sam's Club, and the $2.00 off coupon for your first order makes them an even better deal, at just over a penny apiece.
Huggies Snug & Dry Diapers (As low as $0.15 apiece):  Diaper prices vary based on which size you are buying (size 1 is cheaper per piece than size 5, etc.) and whether or not you buy in bulk, but the general rule is that anytime you can pay $0.15 apiece or less for size 1 of the name brand diapers it is time to stock up. These same diapers are almost double the price at Sam's Club, and triple the price at your local grocery store or drugstore. Even better? There is a $1.00 off coupon to use on your first order.
Luvs Diapers (As low as $0.10 apiece):  You will be hard pressed to find cheaper diapers anywhere, especially since these also have a $1.00 off coupon to use on your first order.
Kind Bars, Assorted Flavors (As low as $0.95 apiece):  I absolutely love Kind bars and try to keep them on hand all the time as a quick & easy breakfast option, or a healthy snack (especially when traveling!)  However, they can be pricey! The best price I have found by far is through Subscribe and Save, especially when paired with an additional 15% off coupon!
Other great options for Subscribe and Save might include gluten free foods, pet supplies, coconut oil, or other household goods. Just be sure to pay attention to the per-unit prices, as not every item is automatically a good deal!  I used to order my Keuring K-cups and Pull-Ups through Subscribe & Save but I can now get both of those items cheaper at Sam's Club. A good way to compare is to check the online prices at Sam's Club or Target to get an idea of what you might pay elsewhere.
Remember that in order to get the prices listed here, you need to subscribe to FIVE items for delivery in the same month (and, if you are ordering diapers, you must also sign up for Amazon Mom.)  If you don't want to continue receiving that particular item, be sure to cancel your subscription after your shipment arrives.
DIG DEEPER
---
Learn How to Extreme Coupon in just 8 weeks! Simply opt-in below to have the Beginner's Guide to Coupons Ebook sent straight to your inbox!
Please also remember that while the prices listed here are significantly cheaper than what you will find at Sam's Club or Target, you can probably still get better prices through extreme couponing. If you are interested in learning how to use coupons, check out my Beginner's Guide to Coupons, which is a comprehensive, step-by-step guide to learning how to extreme coupon.
Finally, please note that the Amazon prices listed here are subject to change!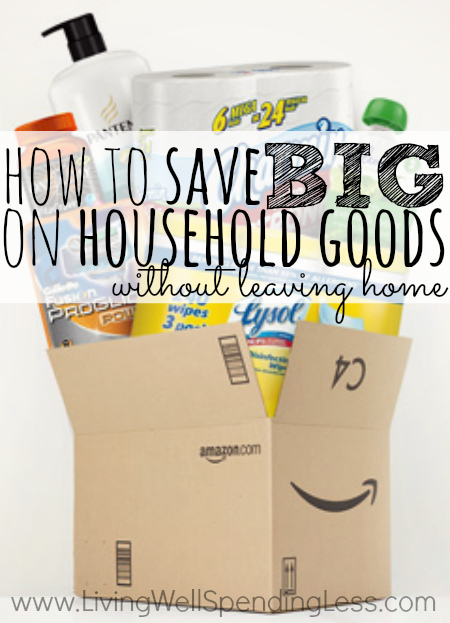 *   *   *
How do you save on household goods? Are you an Amazon Prime member? What things do you order through Subscribe and Save?