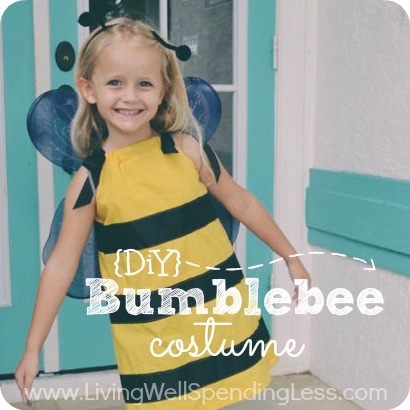 I have never attempted to sew a costume before, but my daughter Maggie really wanted to be a bumblebee this year.  When I started looking at the bee costumes that were available, I was appalled at the idea of anyone spending $25 or $35 per child when I knew I could make it for much cheaper.
At first I thought about making a black tutu and pairing it with a yellow & black t-shirt, but then I remembered the pillowcase dresses I made for the girls a while back, and decided that would be the cutest and easiest solution.
Here is what you will need:
1 yard bright yellow fabric 1 roll 2-1/4″ wide black grosgrain ribbon 2 yards of 1″ wide black grosgrain ribbon
 I used white thread because that was already in my machine!  To save money, I used some 40% off coupons at Jo-Anns and spent just under $10 on ribbon and fabric for the 2 dresses.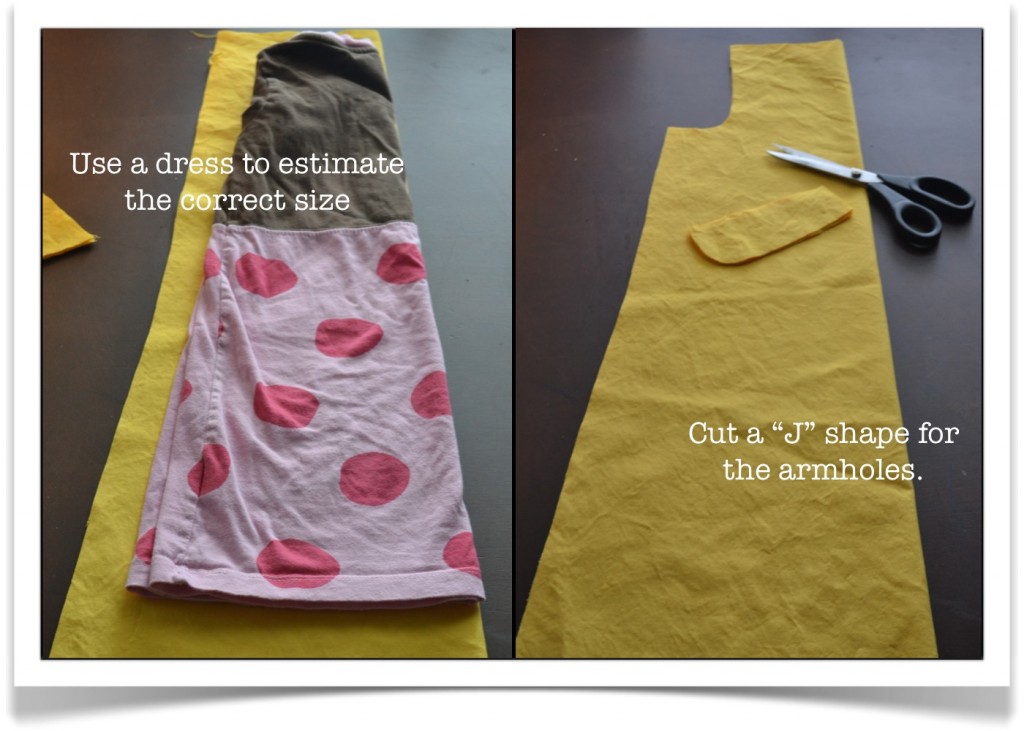 Step 1:  Cut out the dress out of 2 identical pieces of fabric. (It is a good idea to pre-wash/pre-shrink the fabric.)  The easiest way to figure out the size is to take a dress that fits and use it to measure the length, then make it a little wider.  When cutting, fold it in half lengthwise so that your armholes are uniform.  To make the armholes, cut a "J" shape about 6″ long and 3 inches wide.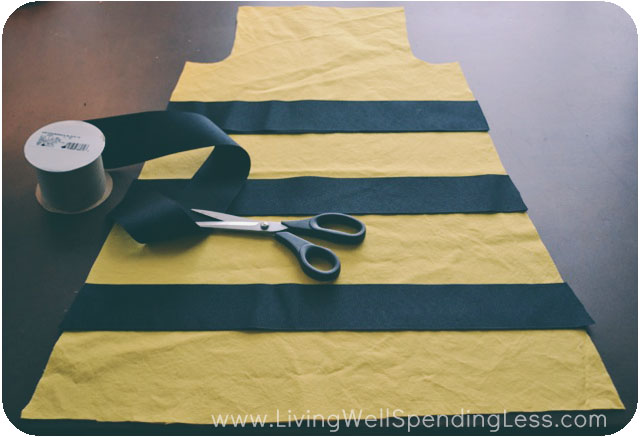 Step 2:    Lay out the 2 1/4″ ribbon on the dress to make 3 stripes & cut to size.  Be sure to cut 2 of each size.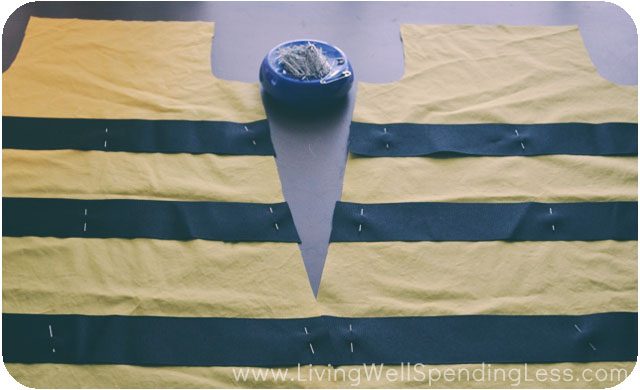 Step 3:  Lay front and back of dress on table side by side, making sure the bottom edge lines up exactly.  Pin the stripes in place so that they line up with each other.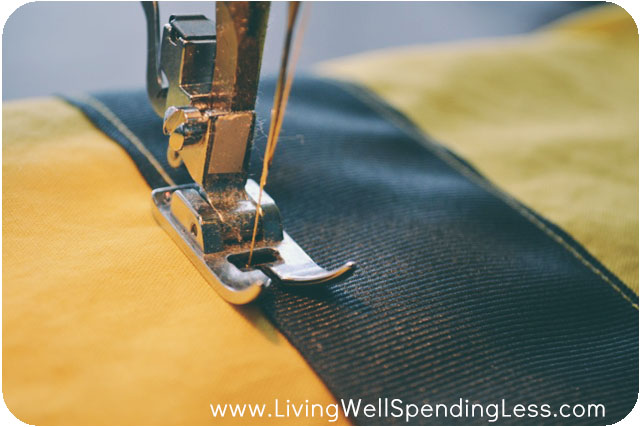 Step 4:  Carefully stitch the ribbon stripes in place.  This is the most time consuming part of the whole project!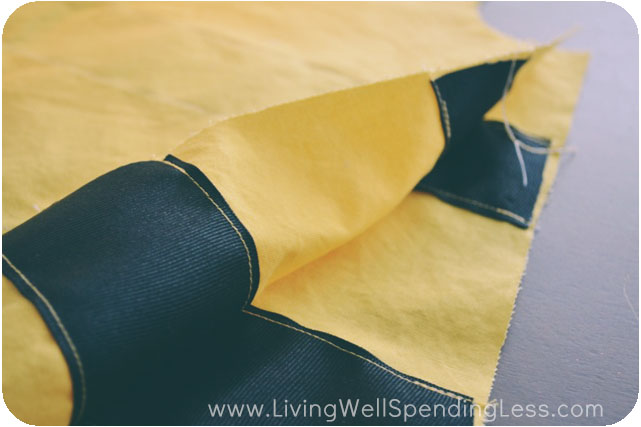 Step 5: Line up front and back pieces face to face so that stripes line up, then pin in place.  Stitch each side & remove pins.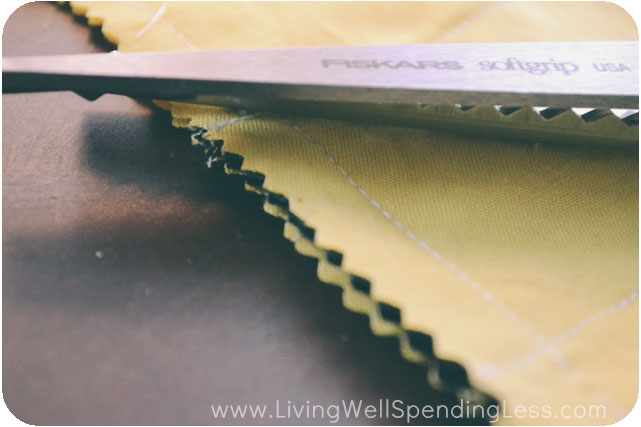 Step 6:  For a cleaner finish, trim the raw edges with a pinking shears.  Or, if you're one of those fancy sewers, finish edges with a serger
. (Lucky you–I would love one of those!  Husband, if you're reading, you can add this one to my wish list!) 😉
Step 7:  Fold bottom hem over twice to hide raw edges, then iron flat and stitch in place.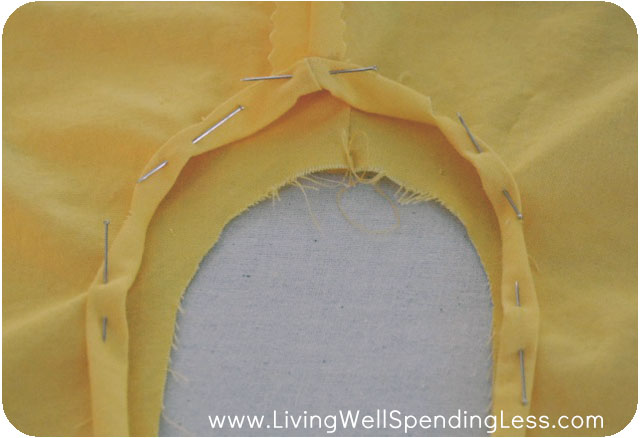 Step 8:  Fold over armholes twice to hide raw edges, iron flat, then pin and carefully stitch in place.  This is the trickiest part of the whole dress (but it's really not that tricky.)
Step 9:  Fold over twice top of front panel.  Iron flat then sew in place, leaving a 1″ allowance for ribbon to pass through.  Repeat for back panel.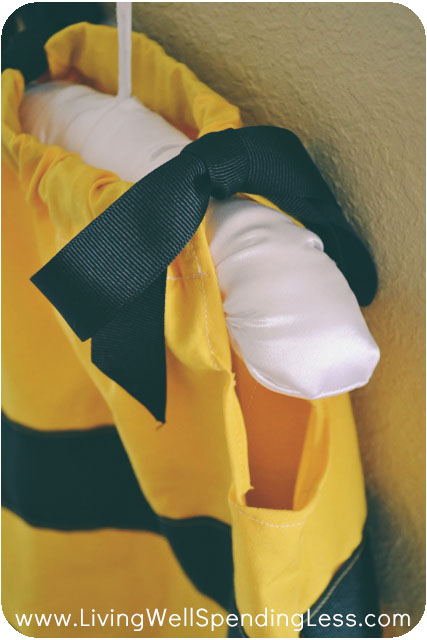 Step 10:  Thread approximately 1 yard of ribbon through 1″ ribbon through hem on front panel, then repeat for back panel.  Tie ends together at shoulders to close armholes.
That is pretty much all there is to it, at least to Part One of this little Bumblebee costume.  Check out Part Two here for instructions on the wings & antennae!
Altogether, I spent about 2 hours making two dresses.  I was a little nervous about getting the stripes to line up, but it really was very easy.  As with my original pillowcase dress, I sincerely apologize for these instructions if you are a "real" sewer.  I am a marginal sewer at best, so If you actually know what you are doing these instructions will probably seem woefully amateur!
*   *   *
So what do you think?  Do you usually make your own Halloween costumes, or do you prefer the store-bought variety?  What are your costume plans this year?
Pin It
Affiliate links may be used in this post. Printing a coupon or ordering a product through this link may result in a commission, which helps pay for the cost of running this site and keeps the content free. Read my full disclosure policy here.