Getting prepared for any type of travel is definitely a challenge! I'm sure any of you moms who have traveled before can relate to the massive coordination that goes on to make sure your kids will be cared for, dressed, chauffeured, and fed every moment you are away! And then of course, there's the packing & deciding what to wear. I am so glad that I finally got around to organizing my closet.  It made packing SO much easier!
DIG DEEPER
---
Start decluttering your home with our Clutter Free Cheat Sheet. Simply click the button below to get your Clutter Free Cheat Sheet delivered straight to your inbox!
When I get back from my trip, I am bound and determined to organize all the other neglected areas in my house. I thought I'd start today with some awesome (& thrifty) organizing ideas I found around the blogosphere.

1. How to Organize Cords and Cables from Kids Activities Blog

I don't know about you, but the billion cords underneath my desk absolutely drive me nuts! I can never tell which cord goes to which advice. I love this idea!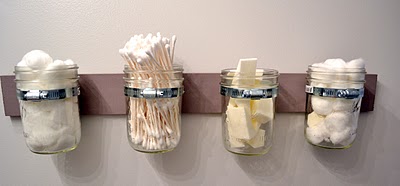 2. How to Organize Q-Tips, Cotton Balls, and Other Small Bathroom Items via Liz Marie 
I don't know if I would use this in the bathroom, since I have a serious lack of wall space, but I could definitely use it for all the small items in my home office area!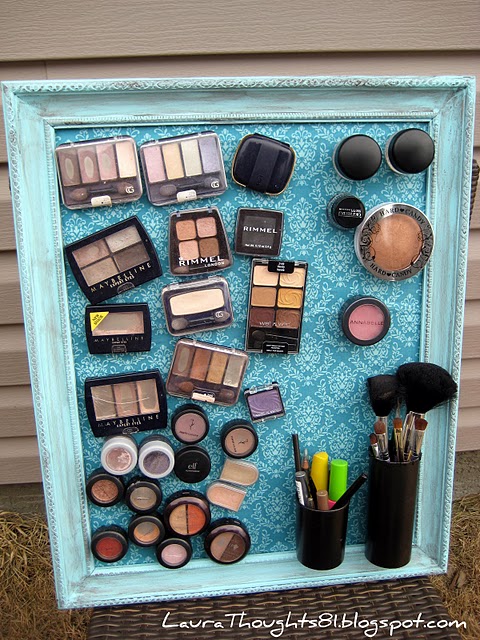 3. How to Organize Make-Up via Laura Thoughts 
This might be the best idea for organizing makeup I have EVER seen & I can't wait to make one of my own! I love this idea for other areas too–I can see doing one in my girls' room for all their small toys, or one in the hallway for things like keys & sunglasses. I suddenly want to glue magnets to everything!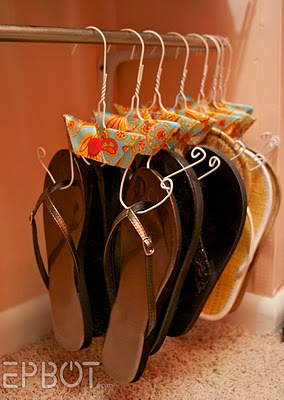 4. How to Organize Flip Flops via EPBOT 
Okay, okay, so I already organized my closet, but how cool is this? Here in Florida, flip flops are pretty much all I wear 90% of the time, and I have managed to accumulate quite the collection. This practically makes them look like art!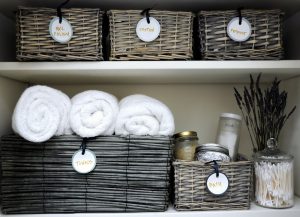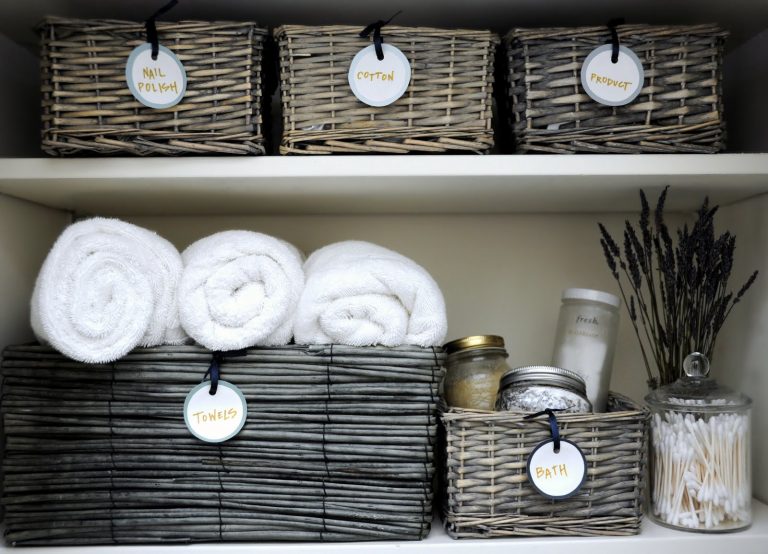 5. How to Organize Towels and Your Linen Closet via Elbow Room

Again my lack of wall space in the bathroom might make this one a little tricky, but I think it would be awesome for toy storage in the girls' room, or miscellaneous storage in the guest room!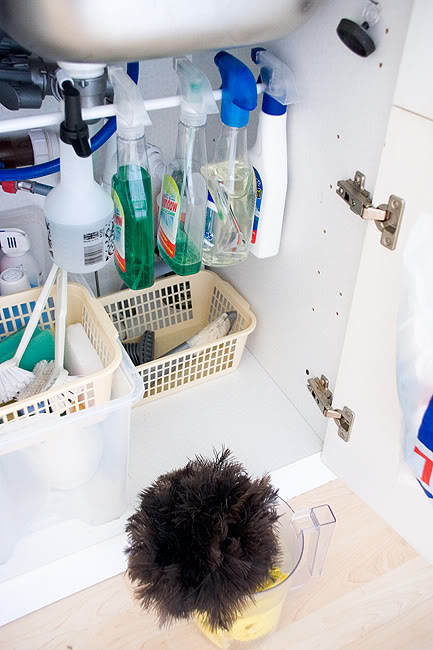 6. How to Organize Your Cleaners via Good HouseKeeping

Genius! Why have I never thought of this before?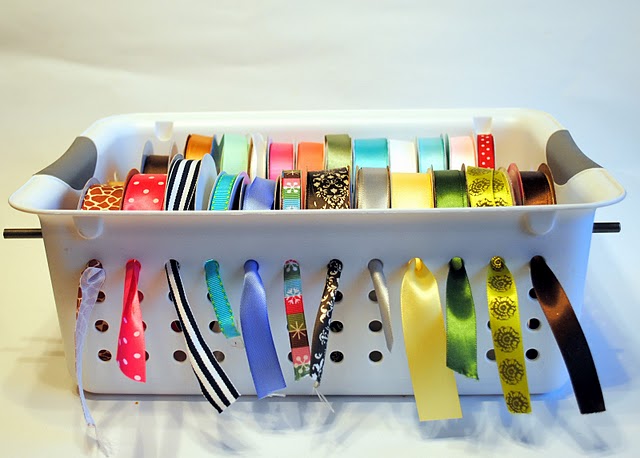 7. How to Organize Ribbon via Spunky Junky 
I have a slight obsession with buying ribbon I find on clearance. While it does come in handy for craft projects, it usually ends up as a jumbled mess! This is the perfect solution.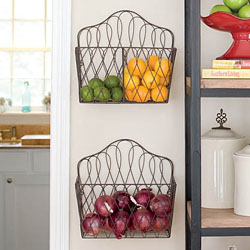 8. How to Organize Produce via All That Brings Joy

It drives me crazy to leave my fresh produce sitting on the counter, and yet more often then not, that is where it ends up! With our membership to Worden Farm starting soon, this will be the perfect way to store our fresh produce AND make it look cute at the same time!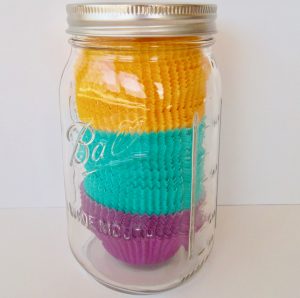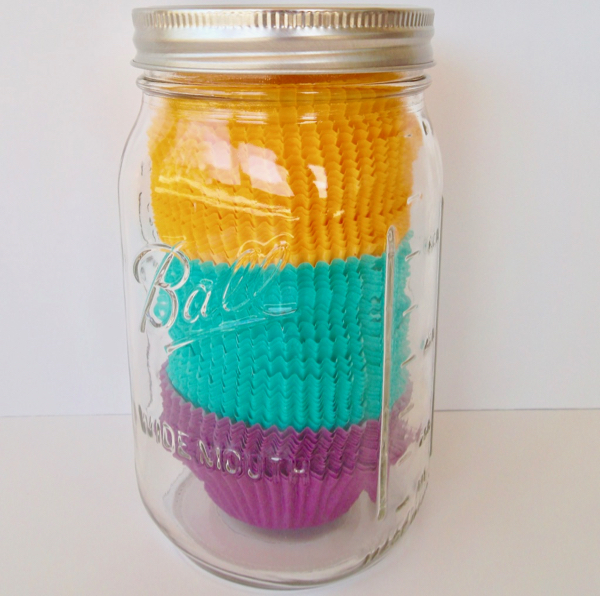 9. How to Organize Cupcake Liners via The Frugal Girls

This looks so much better than the random pile that falls on top of me every time I open my baking cupboard. Now if I could just find myself some pink polka dot liners!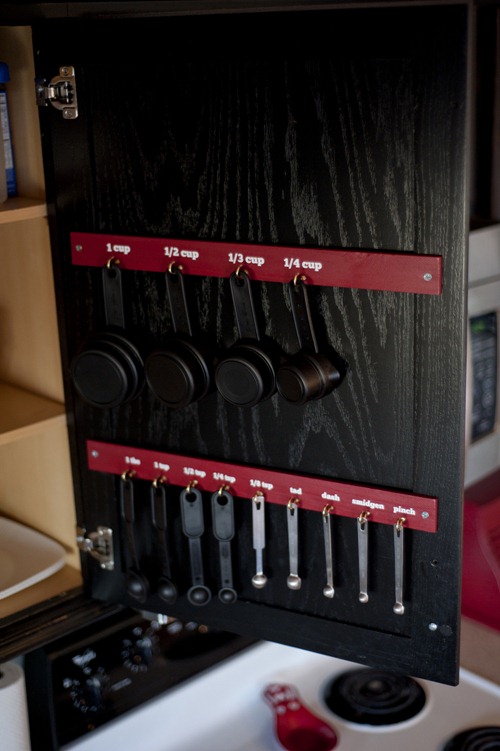 10. How to Organize Measuring Cups and Spoons via Infarrantly Creative 
Why are measuring cups & spoons so hard to keep organized? There is never a good spot for them! I love this idea for keeping them out of the way yet close at hand.
What are your favorite ideas? Do you have any fun tips for frugal living and keeping stuff organized? I'd love to hear them!