Don't bust your budget with vacation planning. Follow these 8 tips and enjoy a fun family vacation without breaking your budget!
Summer is right around the corner, which for many families means one thing: Vacation Time! I don't know about your family, but vacations have often been a budget-killer for ours. We think we've accounted for everything, and yet by the end of the trip we are find we've spent more than we planned for, whether it be on food, parking, or luggage fees. Those little things can sure add up!
Whether you are just starting to plan your next trip, or you've had something on the calendar for months already, there is always time to minimize your trip expenses and to take the time to plan for how much you can afford to spend.
8 Simple Ways to Save On Your Next Family Vacation
Here are eight simple ways to save on your next family vacation:
Avoid Peak Travel Times
It is a given that any time there are lots of people are traveling, you will pay more. If you want to travel to family destinations during any traditional school breaks or vacations, be prepared to pay a premium. There are far fewer "deals" to be found when school is out of session.
If you are planning a trip to a theme park or a major national park like Yellowstone or Yosemite, consider sneaking in just ahead of the rush (before Memorial Day) or after it has already died down (just after Labor Day). The lowest crowds are historically found at Walt Disney World the two weekends after Labor Day. Not only will you spend less on food, lodging, and transportation, you will also manage to avoid the super heavy summer crowds.
Book your flights, when possible, on one of the three cheapest days to fly: Tuesday, Wednesday, and Saturday.
Search Smarter
Whether you are searching for better prices on flights, car rentals, hotels, or even cruises, new "smart" travel sites like

TravelZoo.com

can actually do extended searches over a period of time to find you the best price and send you an alert when a great price has been located.
Simply search for flights, hotels, or other travel needs like you normally would on any other travel site. After you've selected the best option you are given an option to purchase immediately (in case you can't wait) or to watch the price and be alerted if it drops.
Research Hotels, By Owner Rentals, Amenities & Fees
It is important to know exactly what is and is not included in your hotel stay when creating your vacation budget. Be sure to check whether your rate includes special features (like a great pool), food (breakfast or happy hour), parking (sometimes up to $30 a day extra), resort fees, internet fees, and taxes, which vary greatly by state.
If you are traveling for a week or more, maybe check into a by-owner vacation rental like

HomeAway

or

Airbnb

. That way you'd be able to do a load of laundry mid-trip which can greatly reduce the number of items you will need to bring. Not to mention having access to a full kitchen so you can save BIG on meals.
Bring Your Own Food
Eating out is expensive and can easily kill your vacation budget, even if you've vowed to stay strong. The fact is that hungry people make bad money decisions! Avoid getting stuck in a situation where you need to pay for overpriced meals by packing an overabundance of healthy snacks. Make sure to bring things that won't melt or spoil in a hot car, such as nuts, crackers, dried fruit, granola bars.
If there is not one in your room, most hotels will provide a small refrigerator if requested. Be sure to call ahead to know if that option is available. If you are bringing or lunch items such as cereal or bread with peanut butter & jelly, be sure to also bring a few utensils and bowls in the event your hotel does not provide them!
Pack Smart
Florida is not always hot. Alaska is not always cold. Be sure to pack enough that your entire family is prepared for any kind of weather, but not so much that you are overloaded. Being prepared will help you avoid needing to purchase appropriate clothing at your destination, in the event the weather is not what you expect.
Bring clothes that are versatile and easily layered. Be sure to have a jacket & umbrella in case of rain. For kids, bring clothing that is cute & comfortable, preferably in darker colors that don't show dirt quite as easily.
When packing for multiple people, it is easy to forget the essentials! Make a list for each person, and be sure to include swimsuits, underwear, pull-ups & diapers (if necessary), sunscreen, toothbrushes, toothpaste, & other essential toiletries on the list! My personal secret for packing for my two daughters is matching clothes. They don't always wear the same thing every day, but packing is a breeze when I can just grab two of everything!
Make it a Road Trip
If your destination is within 24 hours of driving, consider making it a road trip instead of flying. Yes, it will take you a little longer to get there, but the cost of driving a family of four will almost always be much, much cheaper than flying.
Time spent in the car doesn't have to be wasted vacation; make it fun by planning some good old-fashioned car games and stopping at roadside attractions along the way. You may just find that getting there is half the fun!
Save on the Fun Stuff
A little pre-planning can go a long way when it comes to vacation activities. As soon as you know where you are going, sign up for email alerts to local daily deal sites (such as

Groupon

or

Living Social

), then take advantage of great discounts on local restaurants and attractions when you see them. Just be careful not to go overboard, as most of these group discounts are prepaid!
If you are planning a trip to a

major theme park

, watch prices carefully before you go, and do your research. And remember, you are FAR more likely to find significant discounts during off-peak times!
Cruising is a pretty cost effective way to wrap lodging, food, entertainment, and even childcare into one reasonable price. Sign up for price alerts at "smart" search sites such as Priceline.com find the very best rates.
Don't Go
If your choice is between going into debt or not going at all, DON'T GO. There is nothing more stressful than coming home to a pile of bills you can't afford.
No matter how carefully you plan, the cost of traveling—especially with kids in tow—adds up very fast. If money is tight, consider skipping the family vacation this year in favor of a "Stay-cation". There are plenty of memories you can make at home that cost almost nothing.
Before making your plans, do an honest assessment of what you have to spend and what the actual costs of the trip are likely to be. Use our budget worksheet to make sure you don't forget anything! If the numbers don't match up, consider postponing your trip until they do!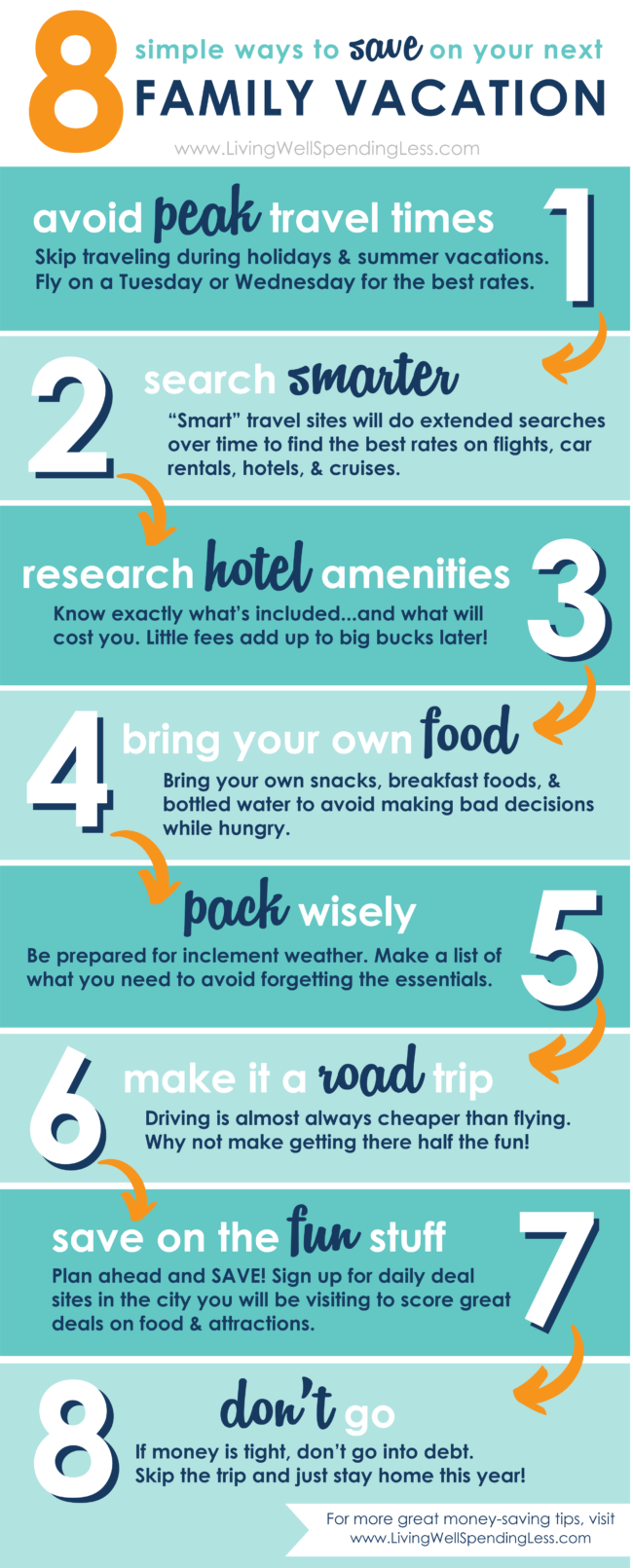 To recap, here are 8 Simple Ways to Save On Your Next Family Vacation
1. Avoid Peak Travel Times
2. Search Smarter
3. Research Hotels, By Owner Rentals, Amenities & Fees
4. Bring Your Own Food
5. Pack Smart
6. Make it a Road Trip
7. Save on the Fun Stuff
Other family vacation tips:
PIN FOR LATER: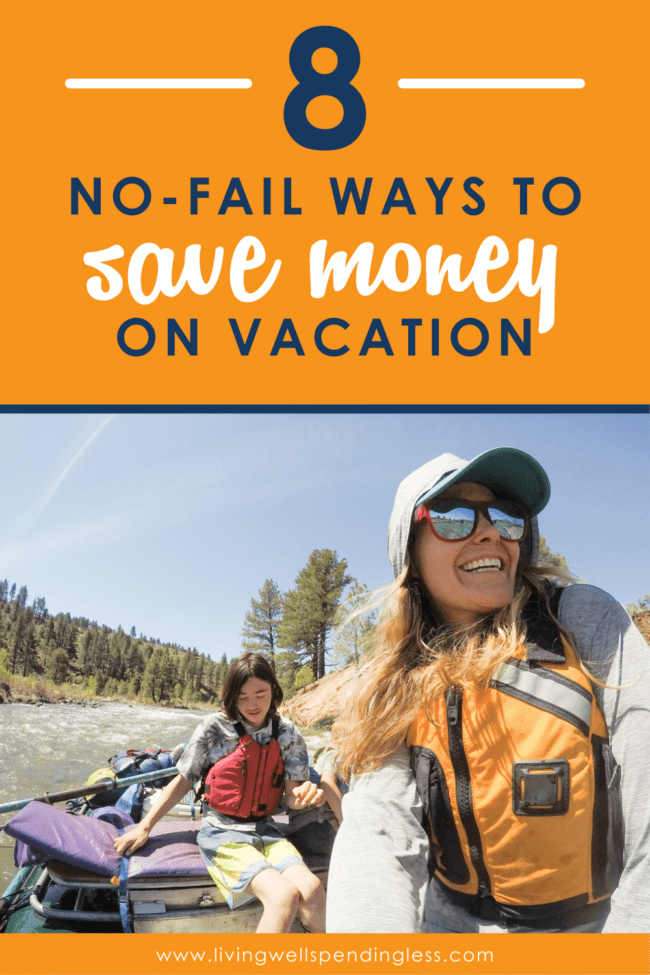 TAKE BACK CONTROL OF YOUR HOME LIFE
---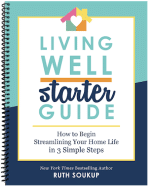 Ever feel like you just can't keep up? Our Living Well Starter Guide will show you how to start streamlining your life in just 3 simple steps. It's a game changer--get it free for a limited time!
If you love this resource, be sure to check out our digital library of helpful tools and resources for cleaning faster, taking control of your budget, organizing your schedule, and getting food on the table easier than ever before.