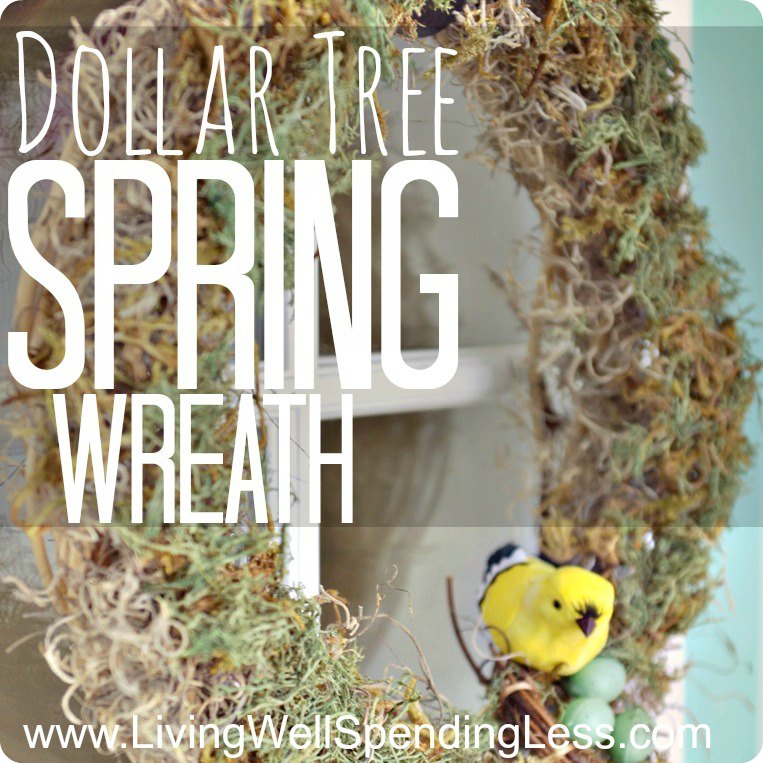 I love hanging seasonal wreaths on my front door, but I have a slight problem: my front door is actually a French door. This means that in order to make it look right I always have to hang two wreaths instead of just one. Double the wreaths means double the cost, and those prices add up quickly!
I was reminded of this again a few weeks ago when I went to pick up some new craft supplies. I knew I wanted my spring wreaths to be created out of moss but I couldn't believe the craft store (which will not be named) was charging between $4 and $7 a bag. Ouch! Even with creative use of coupons, that was more than I wanted to spend.
Luckily on the way home I decided to pop into Dollar Tree. There I found all three types of moss I wanted, as well as the grapevine wreaths I had just paid much more for at the craft store. Score! I quickly stocked up on almost everything I needed to complete my project (except the eggs, nests, & birds) for just a few dollars, then returned the overpriced items. From now on I will definitely check Dollar Tree FIRST!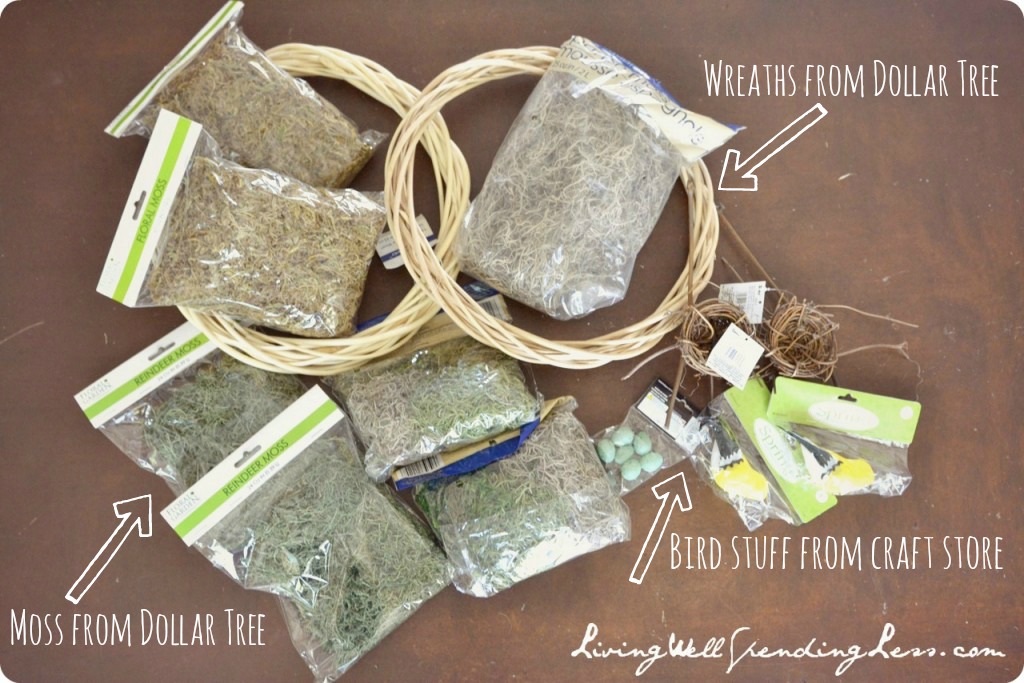 Here is what I used:
2 grapevine wreaths 1 bag Spanish moss 1 bag floral moss 1 bag reindeer moss 2 small bird's nests 2 small clip-on birds 1 package decorative bird eggs hot glue gun
Note: Even though I have more bags pictured, I only used a total of three bags of moss–one of each variety–for the two wreaths. The extra will be saved for future mossy projects!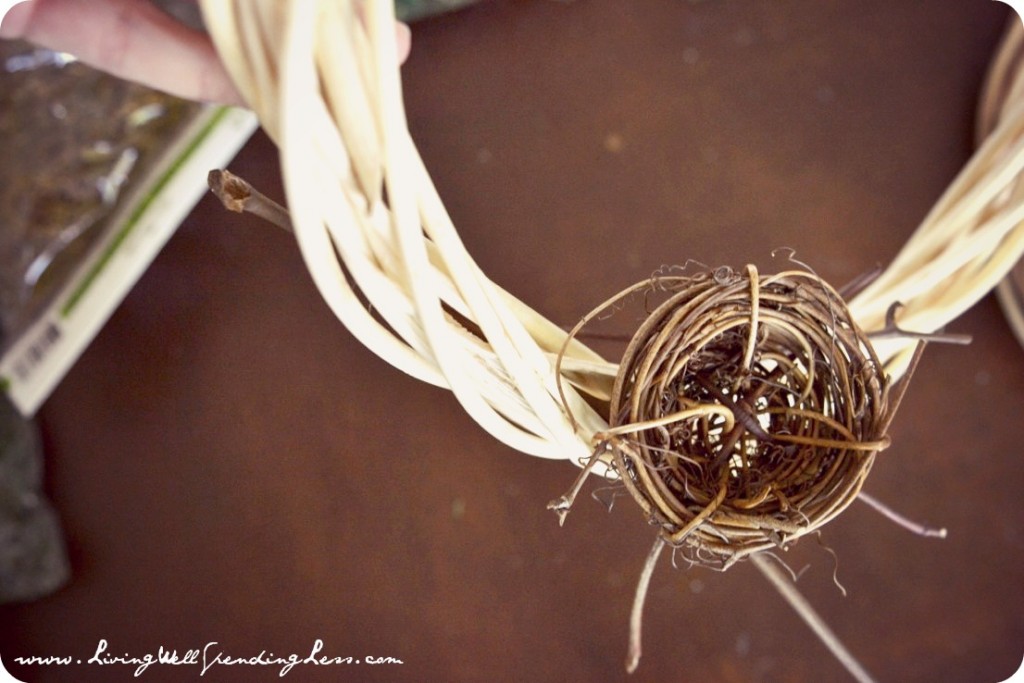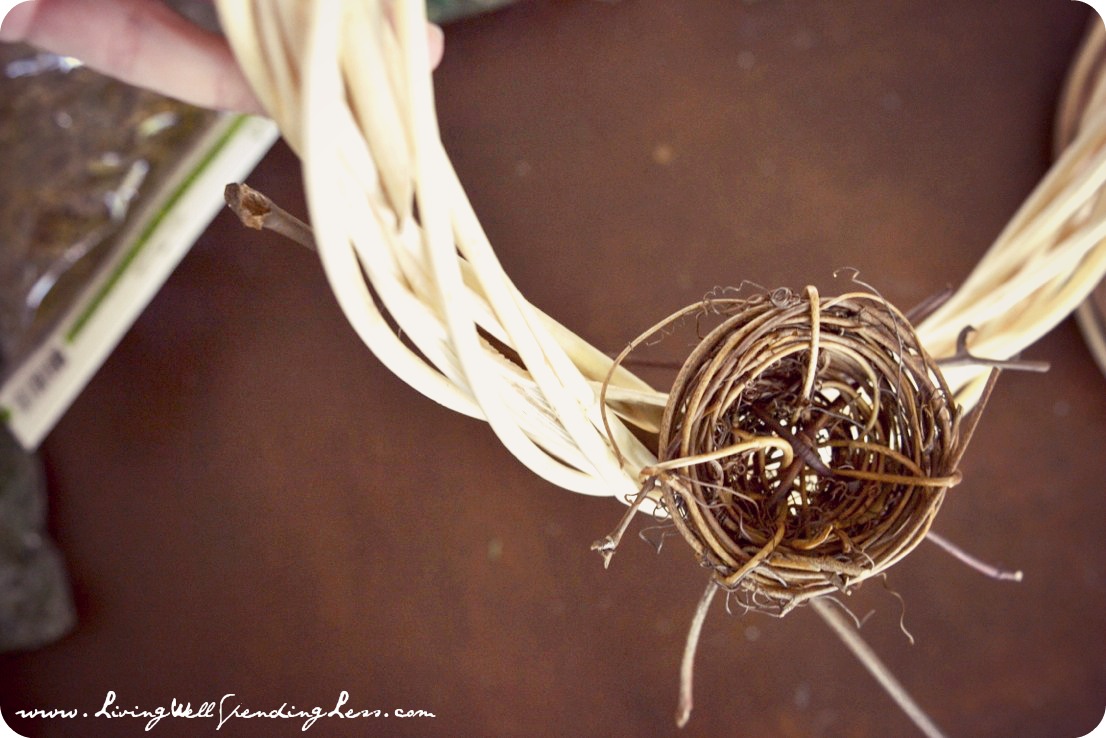 Step One: Twist the long stem of the decorative bird nest into the vines of the wreath so that it is securely attached and sits facing slightly outward. Hot glue in place if necessary.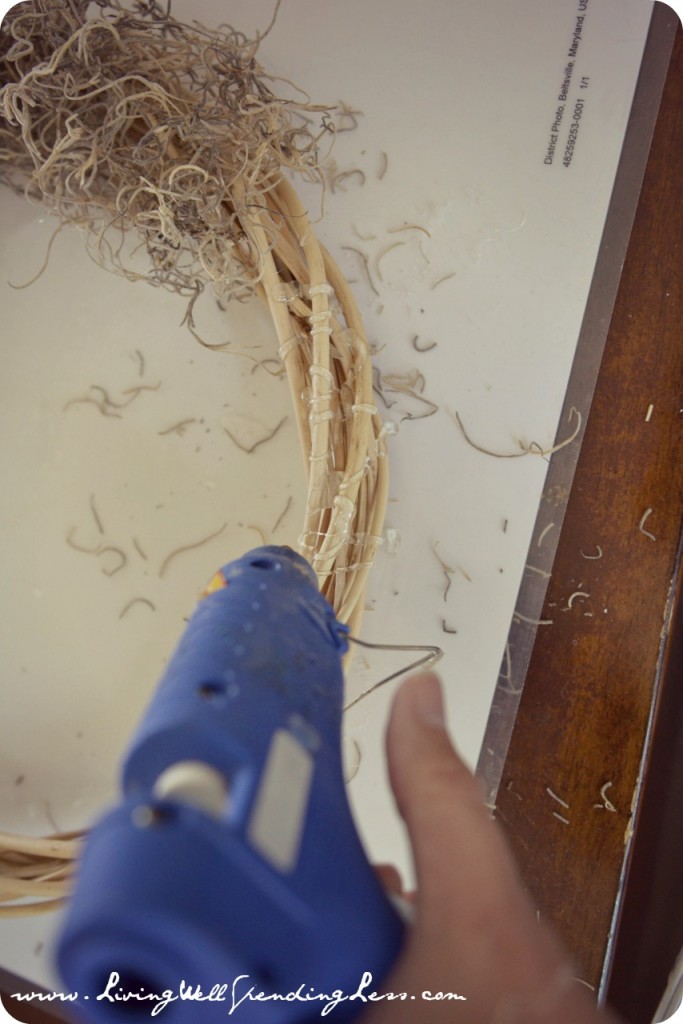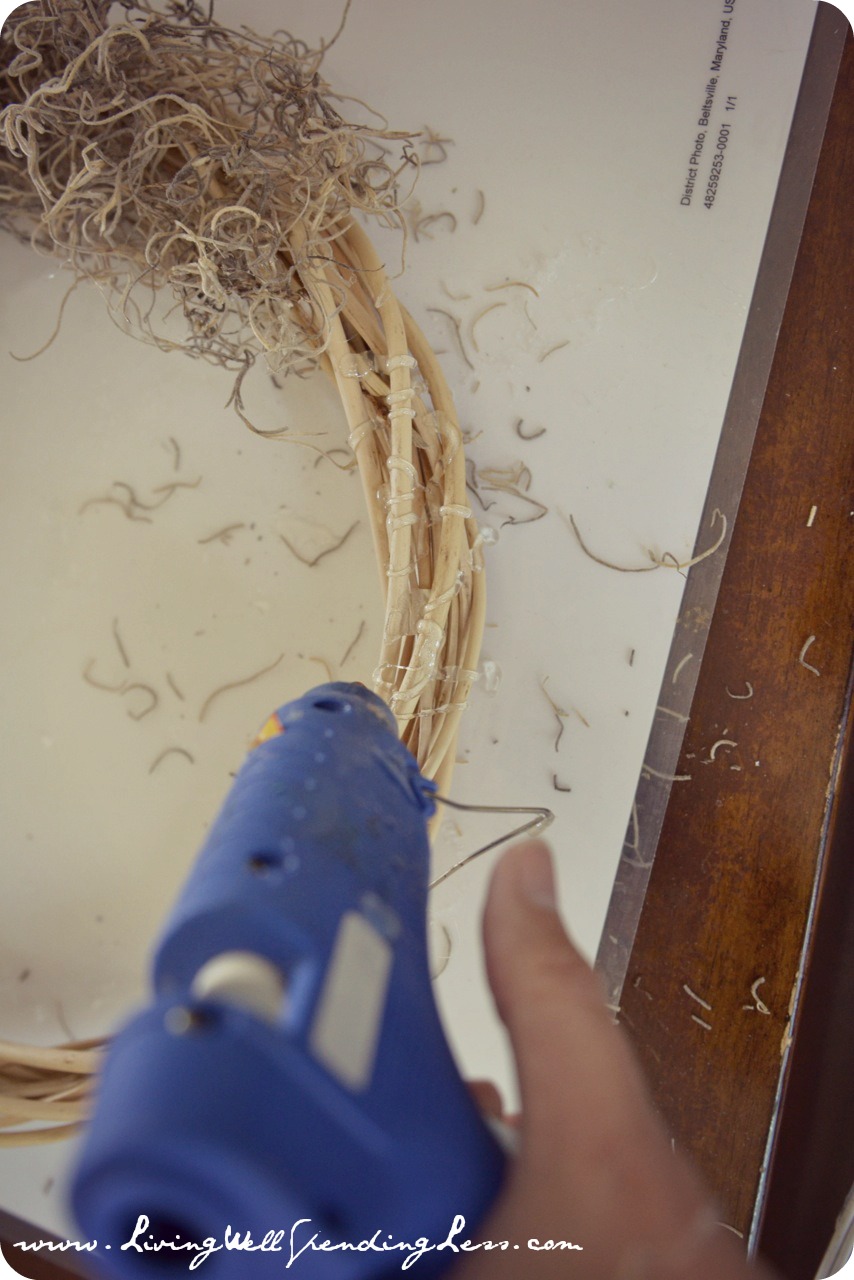 Step Two: Working over a covered surface, generously spread hot glue over a section of the wreath, then secure spanish moss to wreath as shown. Continue until entire wreath is covered.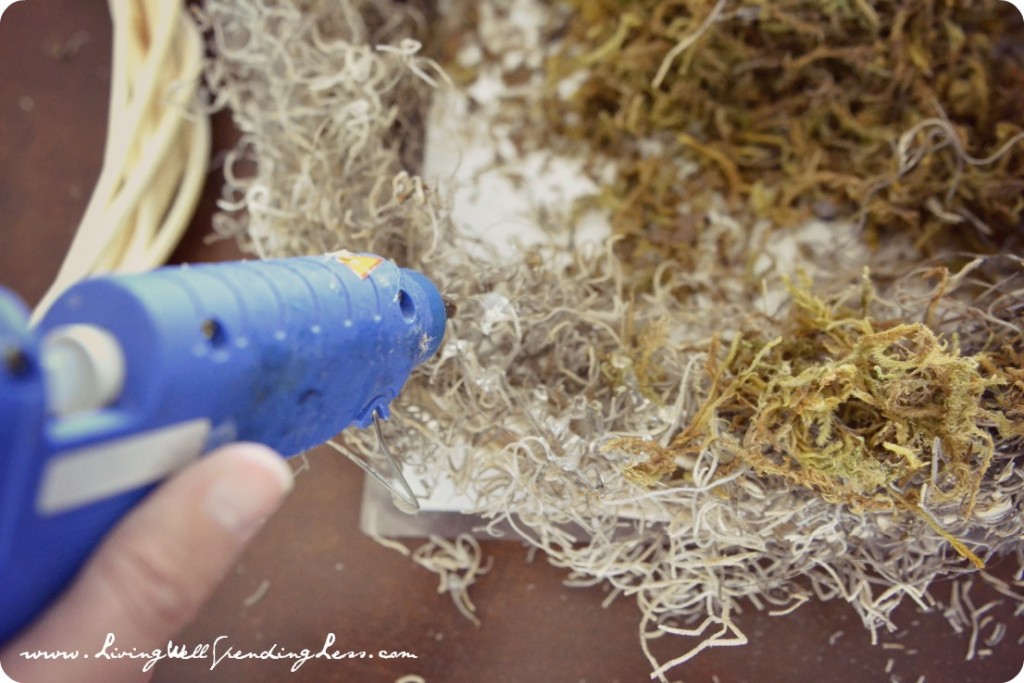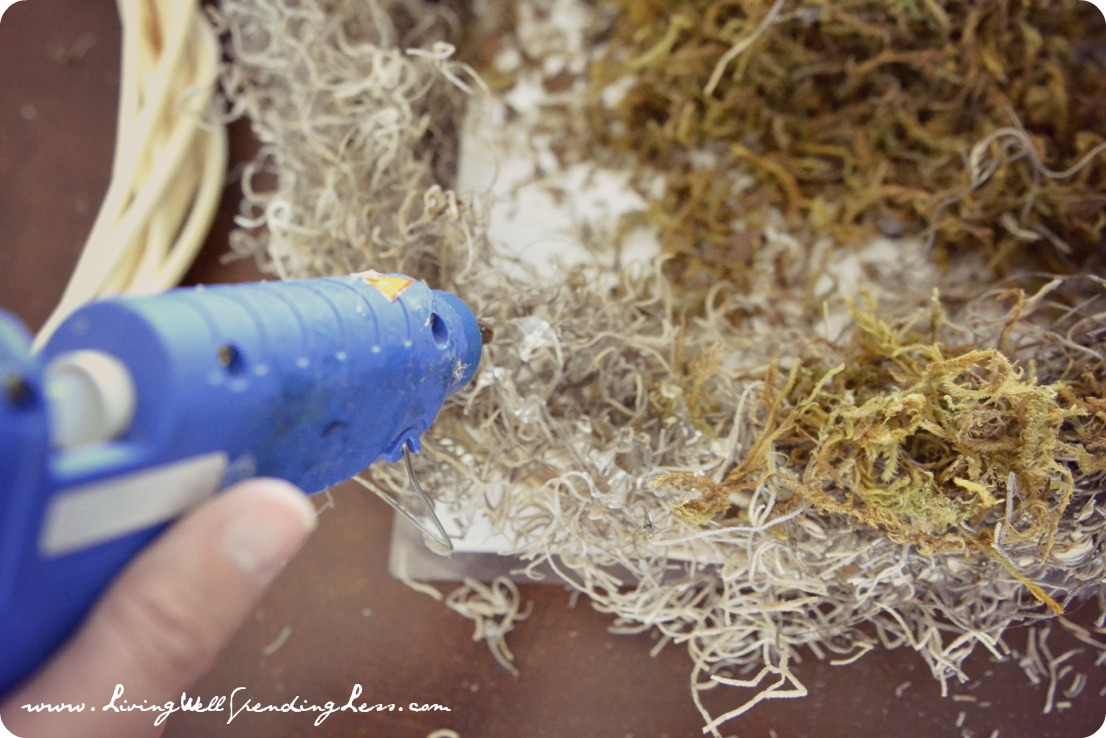 Step Three: For next layers, generously spread hot glue over spanish moss layer, then secure green floral moss layer in place as shown. Repeat for third and final layer of reindeer moss.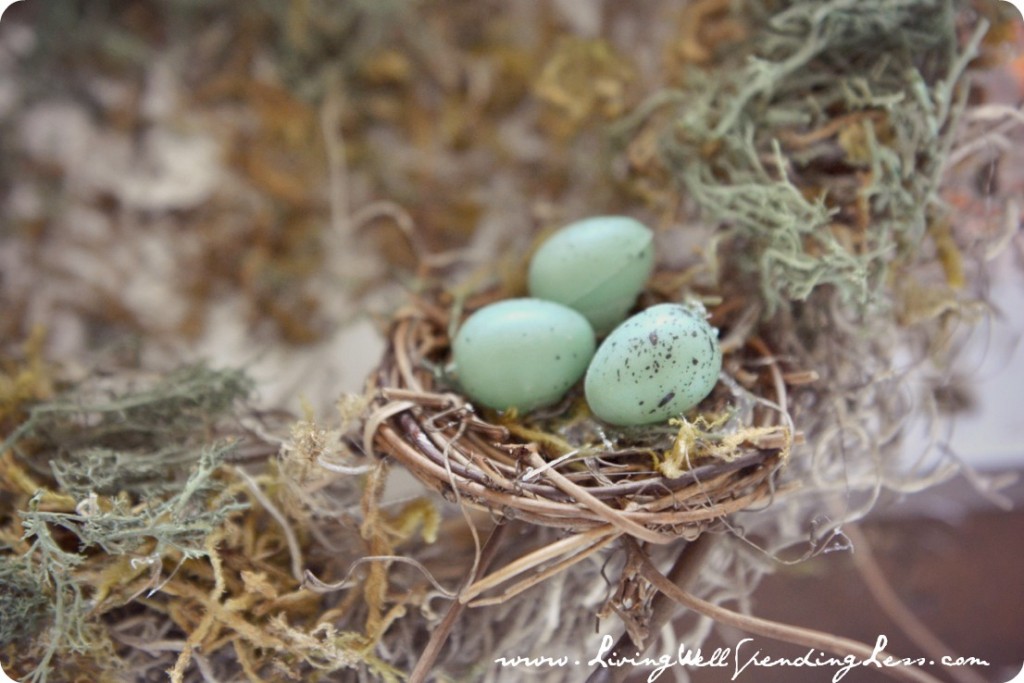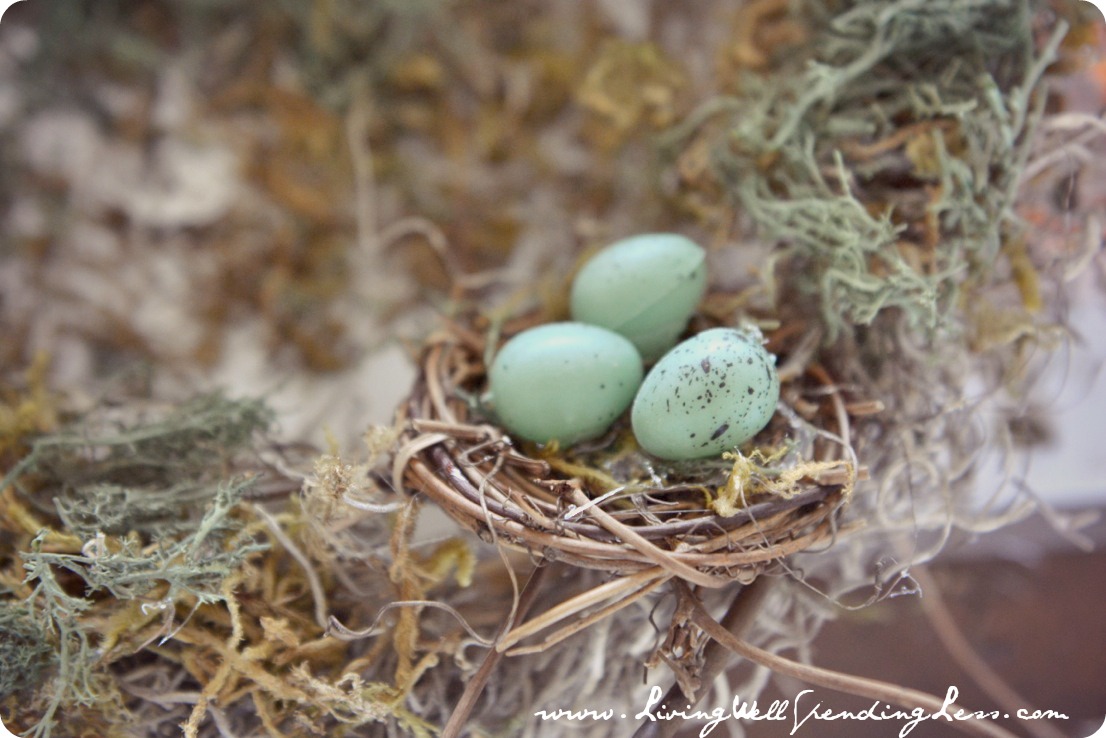 Step Four: Glue small amount of green floral moss in center of bird nests.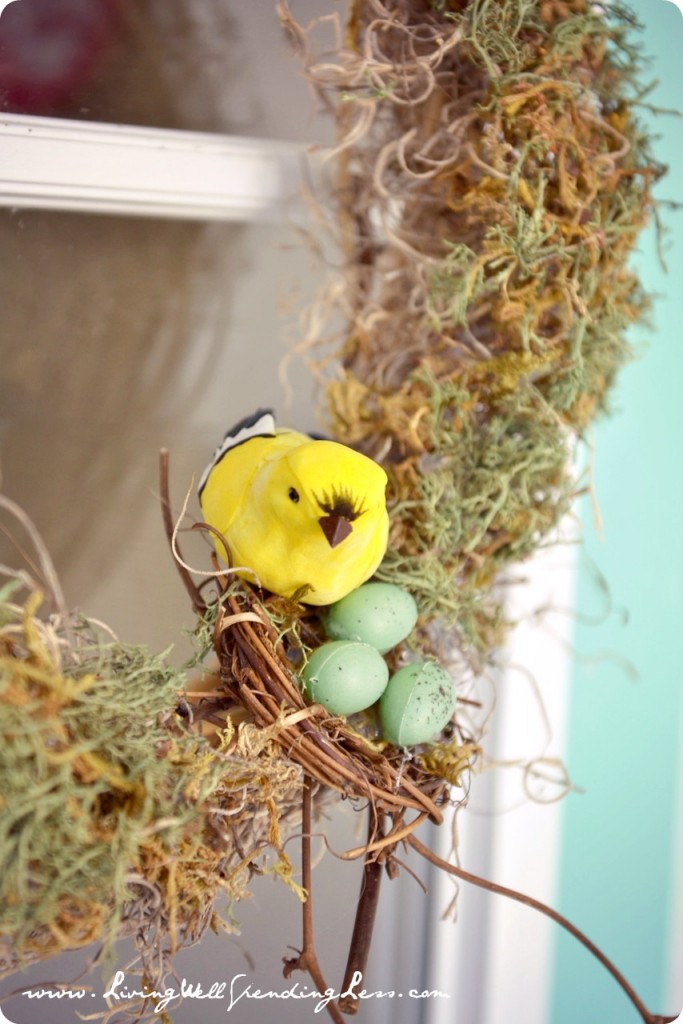 Step Five: Glue eggs in place on top of moss in bird nest. Finish by clipping the bird to the nest and you're done! I'd say the whole process takes less than thirty minutes. Easy, fast, and thrifty….now that is my kind of project!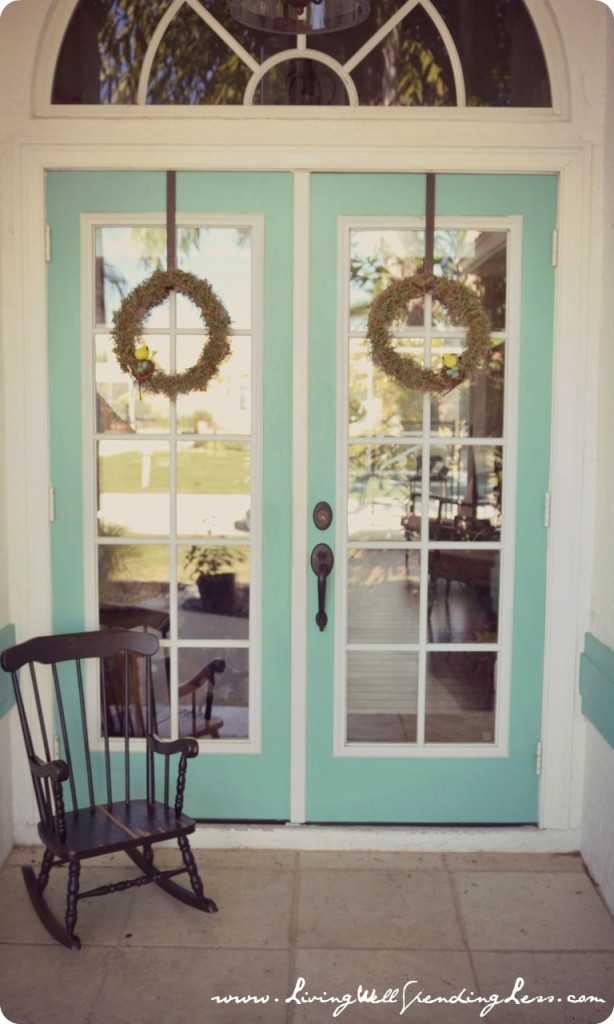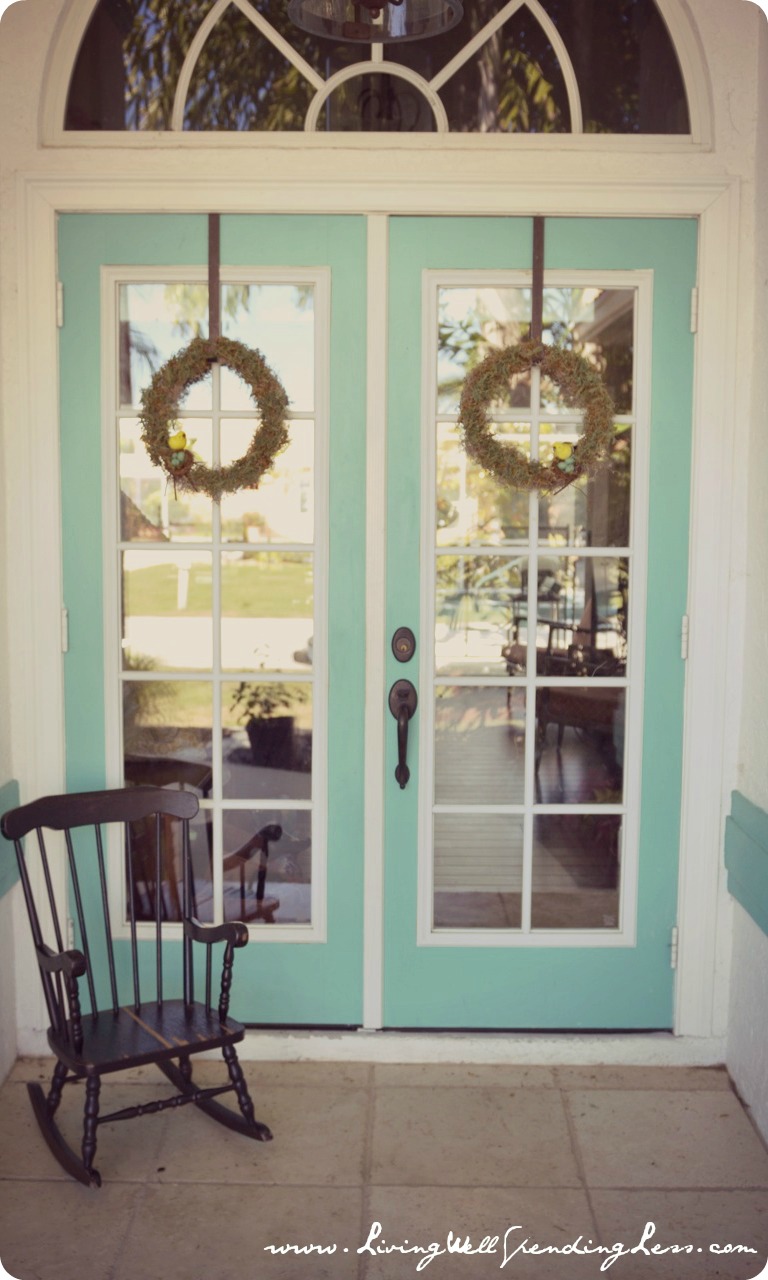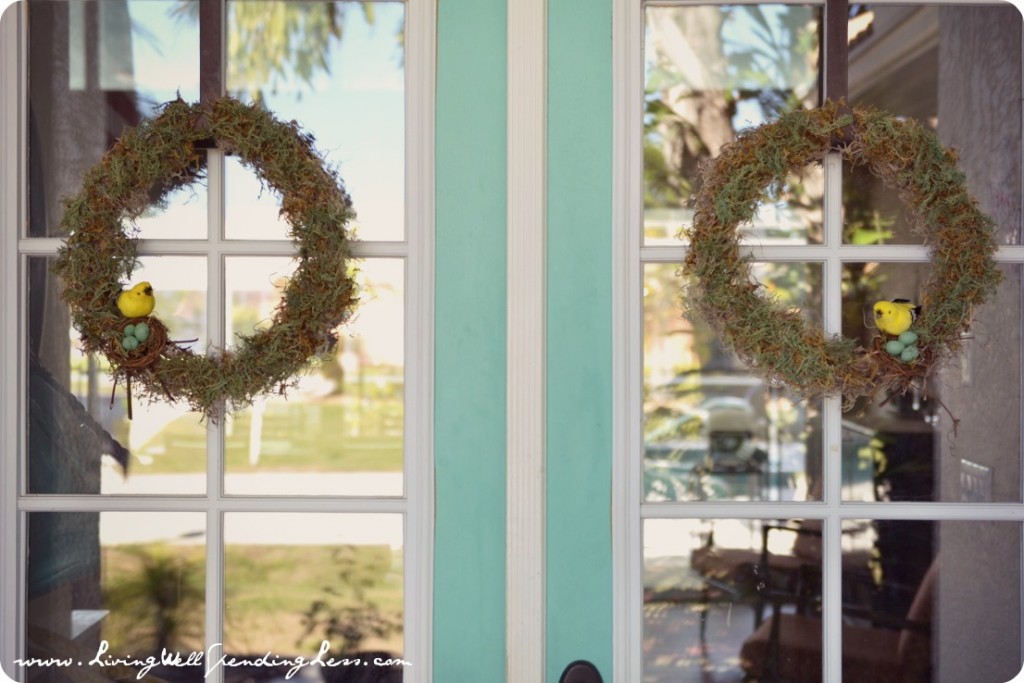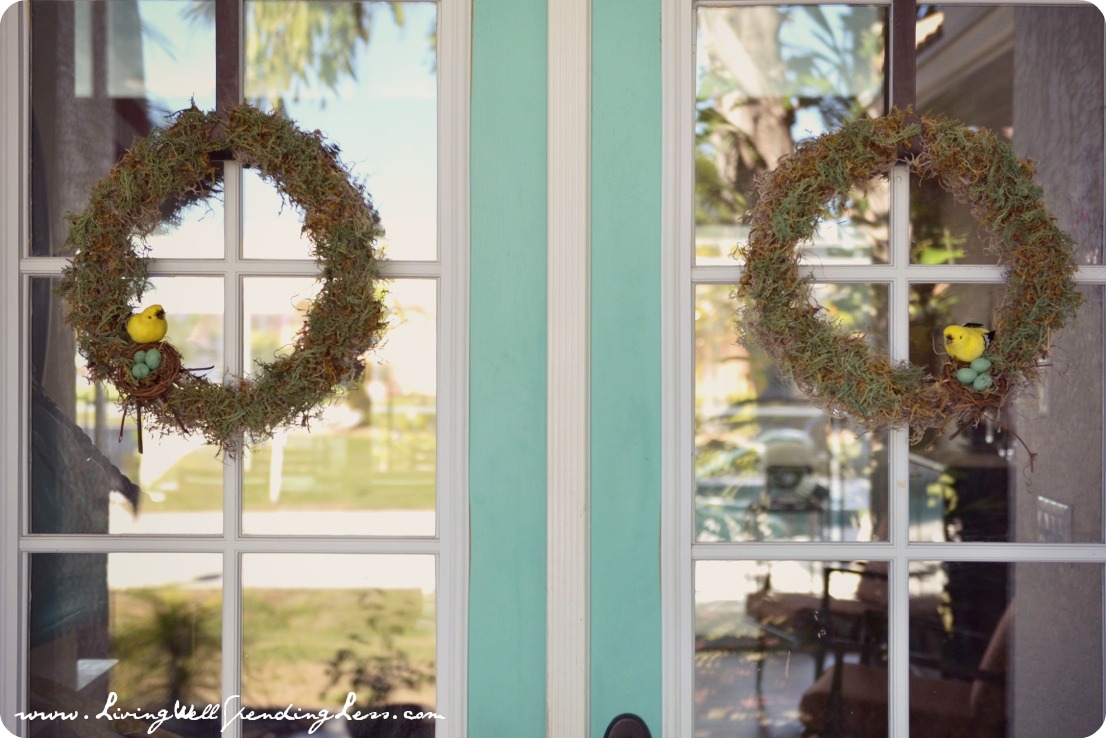 I cannot even tell you how happy I am with how they turned out–I get a little thrill every time I walk through my front door. Two beautiful spring wreaths for around $7 each? Yes, please!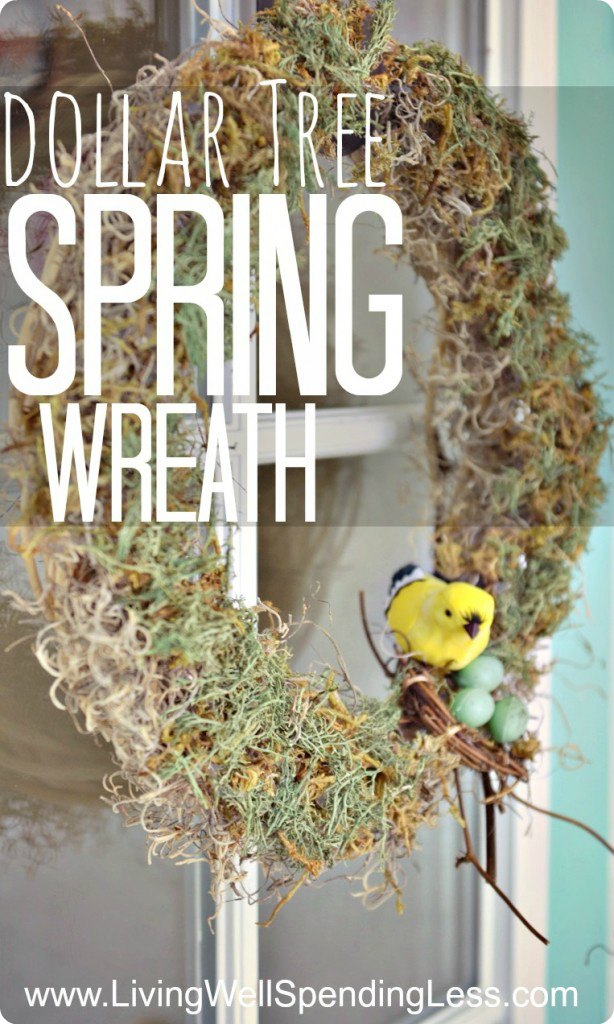 Finally, if you are wondering what to do with that leftover moss, try gluing it to some foam craft balls. Place them in a pretty decorative bowl for an instant centerpiece!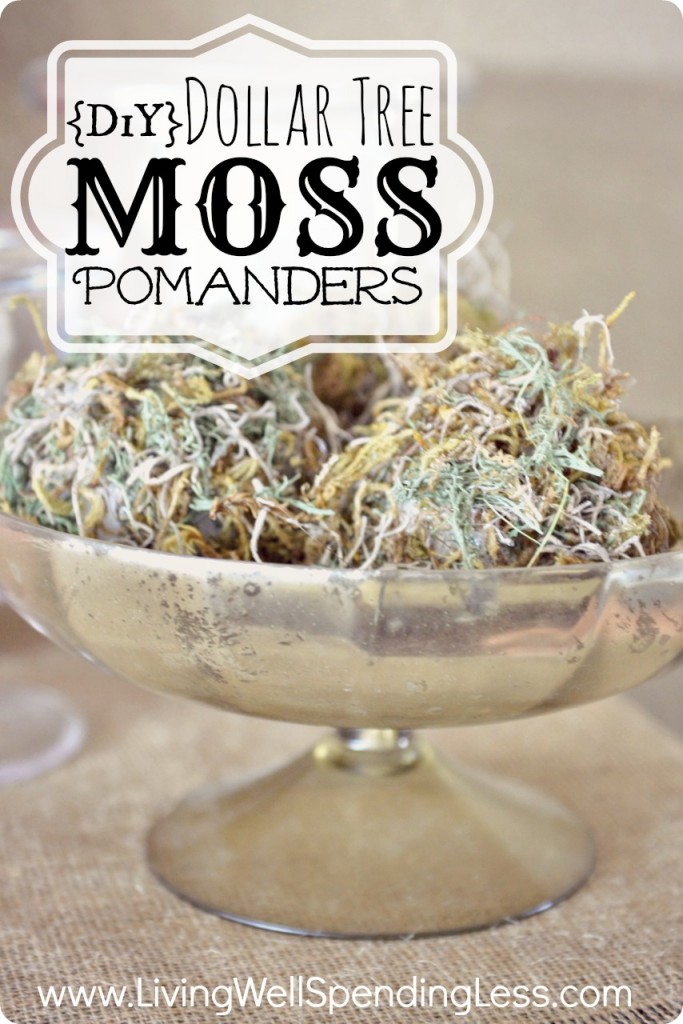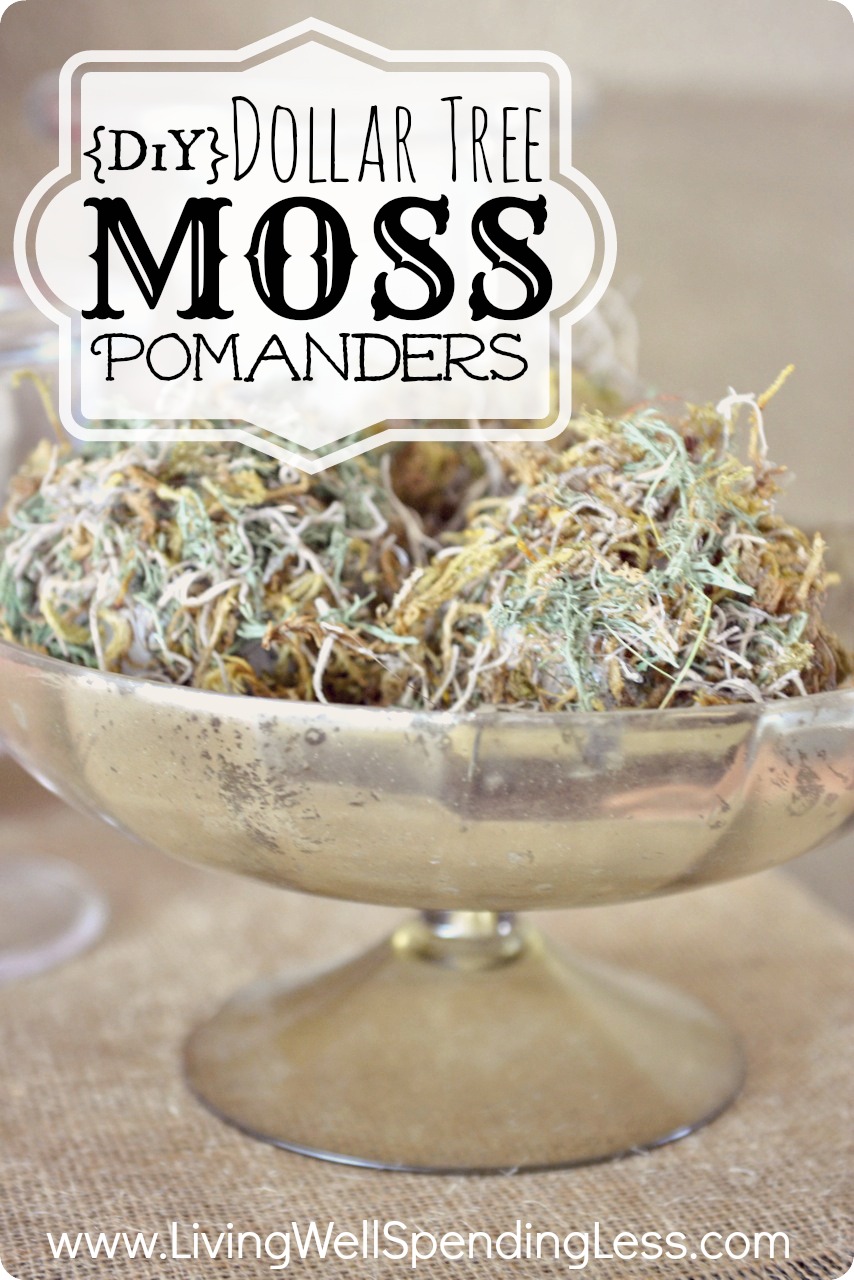 This post is underwritten by Dollar Tree. Dollar Tree offers a wide selection of name brand items for only $1. Their products, including arts & crafts, party favors, cleaning tools, school supplies, and much more, are available in bulk or smaller quantities. Along with great products, DollarTree.com also provides downloadable craft project sheets, wedding ideas and resources for non-profit and charitable organizations.

* * *
How do you decorate your front door for spring?
* * *
Sharing this post at: Get Your Craft On
TAKE BACK CONTROL OF YOUR HOME LIFE
---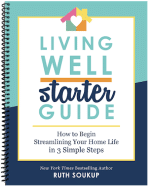 Ever feel like you just can't keep up? Our Living Well Starter Guide will show you how to start streamlining your life in just 3 simple steps. It's a game changer--get it free for a limited time!
If you love this resource, be sure to check out our digital library of helpful tools and resources for cleaning faster, taking control of your budget, organizing your schedule, and getting food on the table easier than ever before.