Want to cut your grocery bill in HALF without clipping coupons? Shopping at ALDI is a great way to save. Here's the best ALDI deals and what to avoid.
There's a budget grocery phenomenon that's slowly been taking over the United States, doubling its number of stores over the last decade. ALDI! But ALDI isn't a new store at all—for over 100 years, ALDI stores have long committed to providing low-priced groceries. I nearly fell off my chair when I found out they were that old—but it's true, ALDI was founded in 1913 in Germany and came to the U.S. in 1976.
What Sets ALDI Apart?
Shopping at ALDI is a unique experience. It certainly isn't your big, coupon-friendly, buy-everything-on-your-list grocery store. Some of ALDI's quirks (like needing a quarter to rent your cart) may be intimidating to a first-time shopper. But, once you're in the door and see all the ALDI deals, you'll be convinced!
The first of several great—really great—things about ALDI is their Twice as Nice Guarantee. On some of their products, if you end up not liking it, or it didn't meet your expectations, take the package, any unused portion of the product and your receipt of purchase back to ALDI and they'll issue a refund AND a replacement. Another bonus? ALDI recently announced they've removed several artificial ingredients from their exclusive brand products. If you're concerned about partially hydrogenated oils, synthetic colors and added MSG, this should come as great news. They also launched their own non-GMO and organic products as of late and they are just as good as any other name brands.
ALDI takes an innovative, low-overhead approach to business that allows them to offer big savings to their customers. You won't see a lot of employees straightening up the aisles, bagging your groceries, and stocking shelves. Many items are brought to the floor on pallets to allow for quick restocking and rotation. Big yellow signs above the pallets and on the shelves list the prices. If you're curious what the store looks like, ALDI offers a virtual tour on their website.
You may also notice most of the stores are much smaller than an average grocery store but follow a similar layout; this makes them easier to maintain. Their advertising is minimal, so they only issue their ALDI flyer two weeks before sales, but it's a great planning tool for your trip. Use the ALDI App to download ads, make a shopping list, and find the nearest store. ALDI is now a part of many online grocery store delivery businesses so be sure to check them out if it's something your family does.
What to Know Before You Go
Remember what I said about bringing a quarter for a cart? Well, their cart rental system is another way they keep a low overhead. It requires a quarter "deposit" when you take your cart out of the line. Simply put your quarter in the slot and the cart will release. When you're finished, return your cart and you'll get your quarter back. This way, the store saves on employees' time retrieving carts from the parking lot.
ALDI accepts most major credit cards as well as EBT, Apple Pay and Google Pay. Because the majority of their products are ALDI-exclusive brands or special manufacturers deals, they don't accept coupons. Bring your rock bottom price list with you when you go, so you can be sure you're truly getting the best deal. ALDI exclusive brands are where you'll usually find the best bargains. Purchases on toiletries and brand-name items are often cheaper in a traditional store with a coupon, although sometimes ALDI will negotiate a special offer on name-brand products.
One more thing—when you see the checkout lines, don't despair! A lot of the time, lines look long and congested, but here's yet another way ALDI is different. Their products are bar coded in several places, which means cashiers can quickly zap your products through. It's a sight to see—they're super-fast!
Did you know shopping at ALDI can cut your grocery bill in HALF without needing to clip a single coupon? Get the full scoop on exactly which items are a STEAL at this budget-friendly store (as well as which items you should probably avoid.) Click to Tweet
Be prepared to bag your own groceries. If you'd rather not pay for paper bags or their reusable bags at the counter, plan on taking your own. After you check out, there's an area beyond the registers where people get their items together and pack them up for the journey home. This front end is another area that can appear congested as people bag and box their own groceries, but it moves quickly!
So, with all these quirks—is the shopping experience a trip worth making? If you're looking at your bottom line—yes. Groceries at ALDI are undeniably cheaper. Not every single item, of course, but if you do a little planning ahead and make wise choices, you can save yourself a bundle! Once you see the prices, I promise you'll be hooked!
15 Things to Buy at ALDI
1. Fresh Meat Specials
While I'm not a big meat eater, my family does enjoy meat meals from time to time. Each Wednesday, ALDI offers a special "Fresh Meat Special Buy." Some weeks it's brisket, some weeks it's boneless pork chops ($2.99 a pound!!), but usually, it's top cuts of meat at really low prices. These are great choices for planning freezer meals and doing your weekly meal planning.
A word to the wise—these ALDI meat specials go FAST. Prepare to make the trip on Wednesday because the cuts often come in limited amounts and once the specials are gone, they're gone.
2. Canned Broth
ALDI's Chef's Cupboard (regular) or Fit & Active (low sodium) cans of broth are between $.49 and $.99 a can; these may be one of the best ALDI deals out there! They offer a veggie broth in their SimplyNature organic line and comparable products are nearly double the price.
Their canned broths are also flavorful and a great pantry staple to keep on hand. I often stock up on several cans when I'm there.
3. Almond Milk
Depending on where you shop and whether you have coupons, regular milk can be found for a little cheaper at other grocery stores. Though ALDI's regular milk is priced pretty darn well, their Friendly Farms Almond milk is often at $2.49 or less, which is a great buy. It can be over a dollar more at many other stores. They also offer SimplyNature Organic Soy milk for a similar price and occasionally they carry coconut milk as well.
4. Yogurt
ALDI offers many varieties of yogurt and dairy products. The Friendly Farms Moo Tubes are their brand take on the popular yogurt-in-a-tube kids' snack. They even carry kefir; a drinkable yogurt. The regular snack-sized Friendly Farms line of Lite Greek yogurts are around $.65 each and come in fun flavors like Strawberry Cheesecake and Caramel Macchiato. They're creamy and don't have a fake aftertaste like some flavored yogurts.
5. String Cheese
Great for kids' lunches or a little protein kick in the middle of the day, a Fit & Active low-fat string cheese pack comes in 12-stick packs for around $2.69. Their cheese selection is worth checking out, particularly the soft or specialty cheeses they offer around the holidays. Their brick cheese tends to be a little pricier and the typical shredded cheeses have received mixed reviews online. Their specialty cheeses like Gouda and Havarti are definitely worth a try. I haven't tried it personally, but they add cornstarch to keep it from caking, which apparently can also cause it to burn easily.
6. Red Hot Deals (in the center of the store)
Each week ALDI offers a "Red Hot Deal" theme in the center of the store. If the theme is picnicking, you might find grilling utensils, paper plates and coolers paired with chips, buns, and condiments. Another week it might be a back-to-school theme with school supplies, lunch-boxes, and easy, fun snack foods.
Whatever the weekly ALDI deals theme, it's worth paying attention to. Very good deals on outdoor items, tailgating supplies, and other fun household buys are often found in this area of the store. Use the ad cycle that comes out two weeks in advance to discover if any of the Red Hot Deals fulfill your family needs, and plan accordingly.
7. Organics
In the last few years, ALDI started to offer a wider selection of USDA Certified Organic and non-GMO items. If you're looking for organic options, keep an eye out for their SimplyNature brand foods. Popular items include lettuce, spinach, baby foods, snacks, frozen berries, milk, and grass-fed beef. These items are free of additives, and they come with much lower prices than a health food store or Whole Foods. They also offer a line of plant-based products called Earth Grown. Their antibiotic and hormone-free meat is sold under the Never Any! brand.
Their SimplyNature Fruit Squeezies and Organic Fruit Snacks are lunchbox favorites and they're made without artificial sweeteners or preservatives. At around $2.50 a box, they're a great way to send your kids to school with something you can feel good about.
8. Gluten-Free Items
The liveGfree brand is yet another of the ALDI deals that's worth checking out, especially if you're watching gluten or have someone with gluten sensitivity in your household. Their Southwest Veggie stuffed sandwich is an easy grab-and-go lunch item at under $3 for two—a full $2 cheaper than similar gluten-free products at the grocery store.
They also offer gluten-free crackers, bread, tortillas, cookies, pretzels, and baking mixes. At under $3 per box, it's worth it to stock up on quite a few of these gluten-free goodies just to have them on hand. Even if no one in your house is gluten-sensitive, it can be handy to have something to offer guests with dietary restrictions.
9. Salad Dressing
ALDI's Specially Selected brand offers several gourmet food options at prices that beat the non-gourmet version at other stores. They have salsa, cookies, and my favorite—salad dressings. They offer several vinaigrette options (the raspberry is to die for!) with restaurant-quality taste. You'd pay much higher prices for these dressings in the refrigerator section of your grocery store.
10. Frozen Jumbo Shrimp & Seafood
Frozen seafood items are usually one of the best ALDI deals. The frozen jumbo shrimp are always a bargain. Don't bother with the other sizes of shrimp though, they aren't worth the price compared to their weight. The frozen salmon portions and tilapia fillets are also a few dollars less than your average grocery store.
11. Produce
A word on the produce: much of the ALDI produce is a good buy but use common sense. They package a lot of the produce together, so look carefully at the package to ensure everything looks up-to-par and in good condition. Items rotate frequently and I often find really great prices on tropical fruit like pineapple, kiwi, and even mango. Most of the veggies are pretty cheap too. You'll get a better deal on fruits like apples and oranges if you buy in bulk, but occasionally you'll find a good price at ALDI. I'll admit though, their bananas are not usually a great buy or they're already past their prime.
I added produce to this list because much of what I've read about ALDI produce is that it's their weak spot. I don't necessarily find this to be true. The selection is often decent, they offer a decent Organic selection, and you can usually find a bargain, so it's not something to skip over. I've found fresh organic blueberries at a lower cost than regular ones at other stores more times than I can count, so definitely give this isle a look.
12. Choceur, Moser Roth, and Specialty Chocolate
The regular chocolate chips and baking chocolate are so-so. They're passable for cookies, but not great. But good news—they have a wonderful selection of specialty chocolate! These bars are delicious and often European chocolates (read: no wax and creamy amazing texture). I'm sure I don't have to tell anyone twice—give their chocolate bars a try.
13. Canned Goods
The canned veggies are such a great ALDI deals. It's hard to beat $.65 per can. In my opinion, the majority of canned veggies taste pretty similar and it's hard to discern a big difference by brand. ALDI's selection has the same specialty options you'd find in name brands, including crushed tomatoes with garlic and oregano, low sodium, and organic options. I know canned food isn't always ideal, but for pantry storage items like beans, tomato sauce, and other staples, this is the place to fill your shelves!
14. Baking Supplies
I like to bake from scratch, but I know there are people who rely on a mix. And if kids are in the picture, having a few boxes of mixes on hand gives little ones a chance to test their culinary skills. If you're cooking from scratch, baking staples like flour and sugar will be cheaper in a bulk store. But ALDI has a lot of great options for smaller-quantity items like baking powder, cornstarch, and their organic cane sugar is very cost-friendly.
15. Frozen Veggies
Edamame? Sweet peas? White corn? ALDI has them! Even though they don't have the vast row of frozen veggies your local supermarket boasts, they definitely have a wide range that can easily fill in for fresh vegetables and fill out any dish. I like to keep bags of frozen veggies on hand to bulk up a dish that needs a healthy addition or so I can slip an extra handful in a meal as a side.
5 Items to Avoid at ALDI
Not every item at ALDI is a don't-miss item. As I said before, you aren't likely to find everything on your shopping list. There's usually only one version of most items, so you won't have the wide selection you're used to at your everyday grocery store. I've found a few items don't make the cut, even if they're priced cheaper.
Not every item at ALDI is a don't-miss item. Here's are a few items to avoid at ALDI, even if it seems like they're cheaper! Click to Tweet
1. Chips
ALDI chips just aren't as tasty as brand name chips. I've also found it always seems like there's only half a bag of chips once you get ALDI chips open. I know there's natural settling involved, but they're also usually broken and lackluster in taste as far as chips go. If chips are on the table, it usually means there's a party and at a party, you don't want to find you only have enough chips to fill half your bowl.
2. Coffee
ALDI's coffee seems to regularly make both the "don't pass up" and the "pass up" lists. It's reasonably priced at $4.99 a package, but if you're even a little bit of a coffee snob, you'll want to leave it on the shelf. If you've already given up your Starbucks trips to save money and you're brewing your cuppa at home, do yourself a favor and spend an extra buck or two on a decent bag of coffee.
3. Paper Goods
Toilet paper, paper towels and napkins are good deals at ALDI, but if you're a coupon shopper you already know how to save big on these items. If you're stacking coupons for name brand paper goods, you'll save more shopping somewhere else.
4. Dough
Pillsbury crescents, biscuits, and cookie dough regularly go on sale and are frequently coupon-friendly items at most grocery stores. ALDI offers its own brand of these refrigerated pre-made dough items, but frankly, they aren't as good. Not only that, but you'll probably pay more without a coupon for the ALDI brand than you would at the grocery store with a coupon for the name brand.
5. Cereal
This is, again, a coupon issue. You can find great deals on cereals when you buy in bulk or when they go on sale, which is often. The ALDI brand cereal tastes about the same as regular cereals, but there isn't a huge selection, and you can find other, better cereal on sale and with a coupon elsewhere.
To recap, here are the 15 best ALDI Deals you should totally take advantage of!
1. Fresh Meat Specials
2. Canned Broth
3. Almond Milk
4. Yogurt
5. String Cheese
6. Red Hot Deals (in the center of the store)
7. Organics
8. Gluten-Free Items
9. Salad Dressing
10. Frozen Jumbo Shrimp & Seafood
11. Produce
12. Choceur, Moser Roth, and Specialty Chocolate
13. Canned Goods
14. Baking Supplies
15. Frozen Veggies
And the 5 ALDI items you should avoid:
1. Chips
2. Coffee
3. Paper Goods
4. Dough
5. Cereal
ALDI products and deals can vary from store to store. What ALDI items are a great deal in your area? Tell me your thoughts if you've tried them, or anything else you love!
Other helpful resources:
Pin for Later: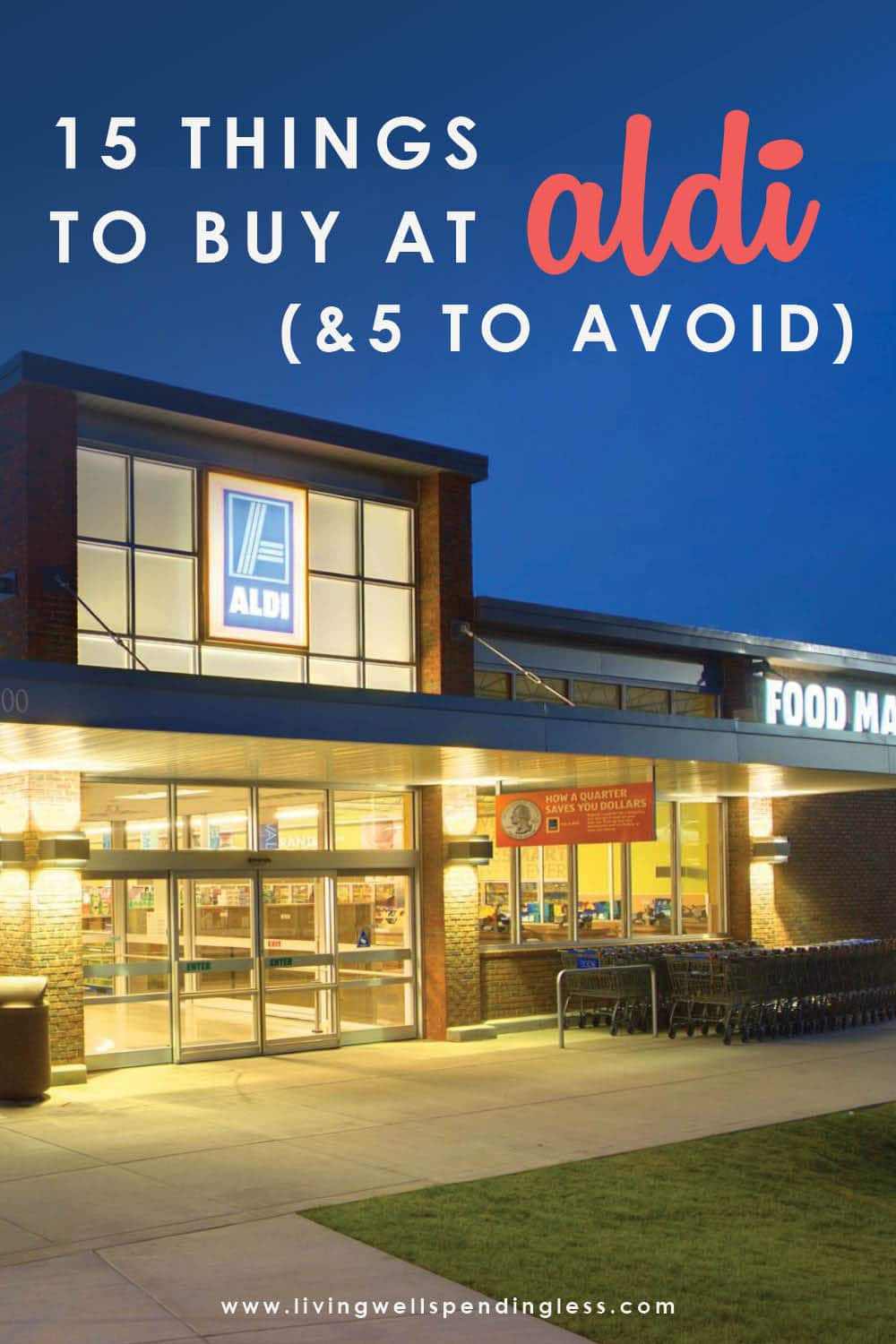 TAKE BACK CONTROL OF YOUR HOME LIFE
---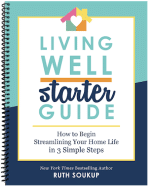 Ever feel like you just can't keep up? Our Living Well Starter Guide will show you how to start streamlining your life in just 3 simple steps. It's a game changer--get it free for a limited time!
If you love this resource, be sure to check out our digital library of helpful tools and resources for cleaning faster, taking control of your budget, organizing your schedule, and getting food on the table easier than ever before.