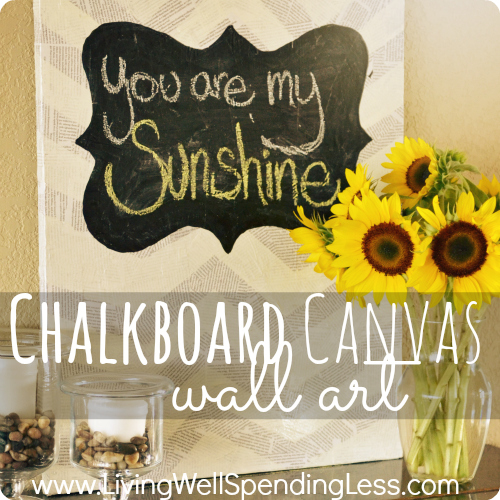 I loved having my niece visit a couple months ago, not only because she is a total sweetheart, but also because she loves a good DiY project almost as much as I do. In the week she was here we made several cool projects, including these ombre vases, monogrammed felt baskets, and these cute mason jar candy pedestals. But my favorite, by far, was this chalkboard canvas wall art.
Did someone say Mod Podge and chalkboard paint? Seriously, what's not to love?
I'm a little bit of a commitment-phobe when it comes to home-decor–I have yet to actually hang something on this big wall–so for me the biggest appeal of this piece of artwork is that I can change it up whenever I want. I love that it is interesting to look at, but still somewhat neutral. Who knows? Maybe one of these days I'll even *gasp* hang it.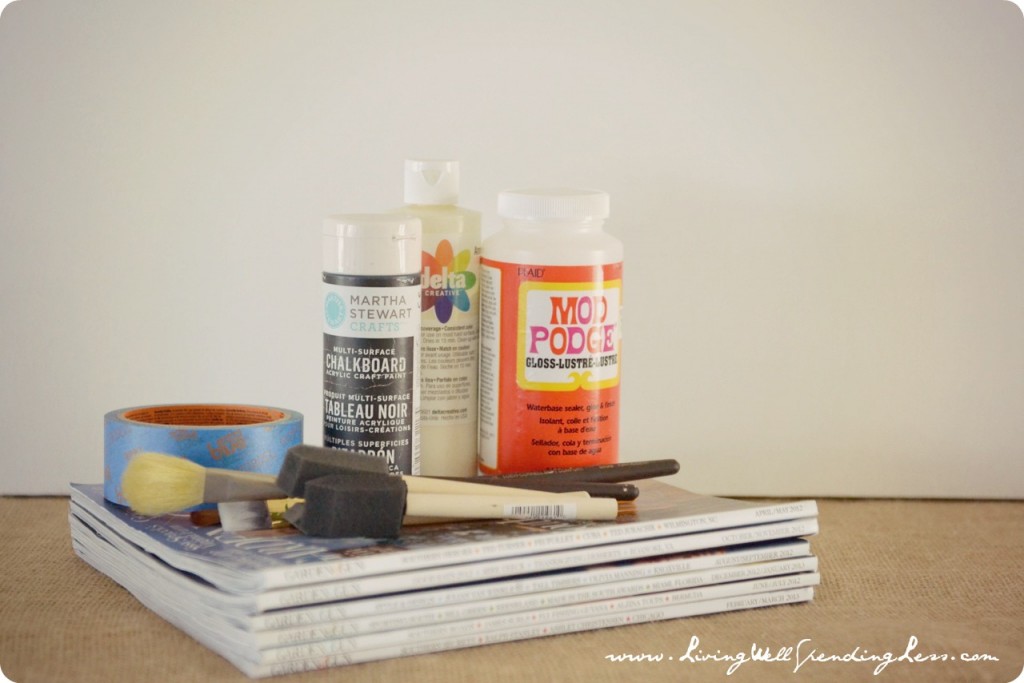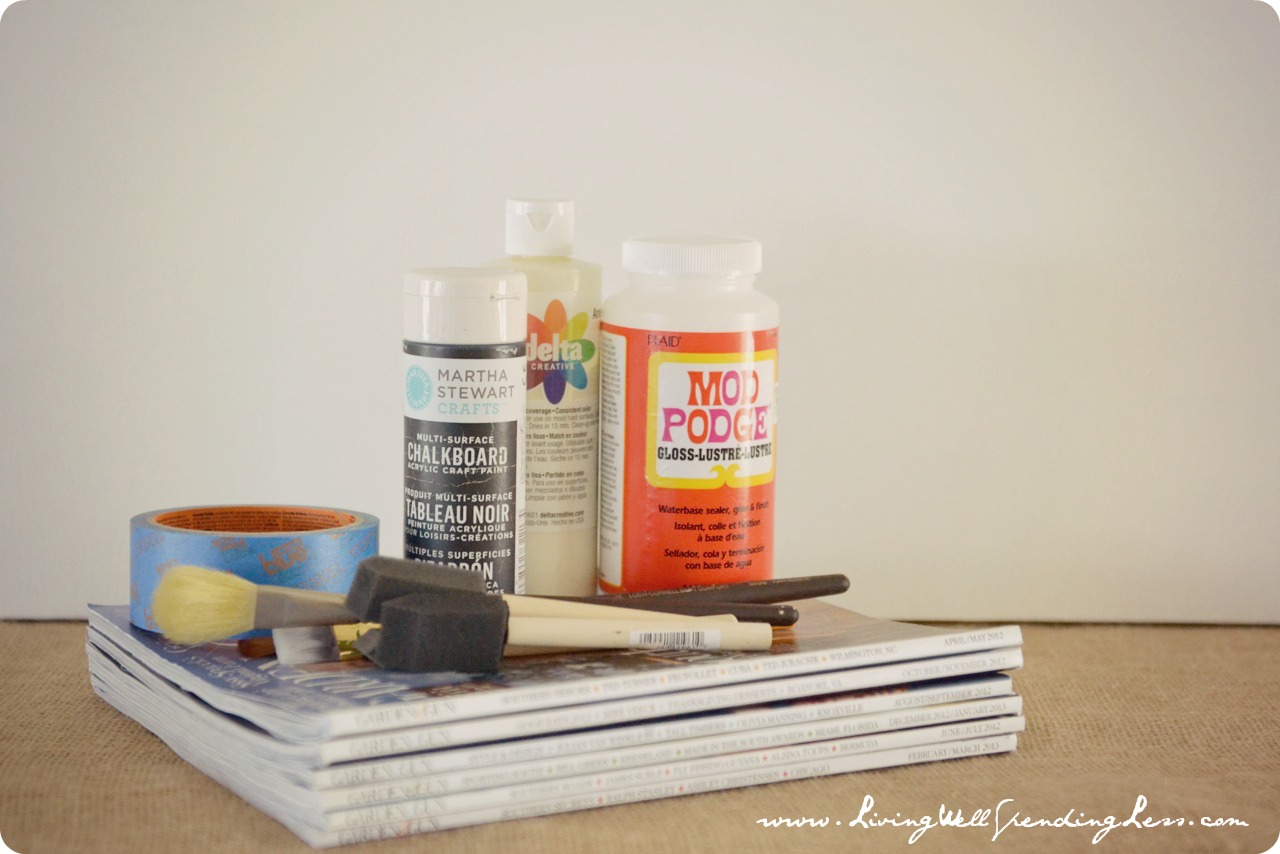 Here is what you need:
large canvas old magazines (preferably ones with lots of text–we used Garden & Gun) scissors Mod Podge paintbrushes (the 1 1/2″ disposable brushes work best) blue painter's tape acrylic paint (I used cream; use something brighter for a bolder look) black construction paper pencil sharpie marker chalkboard paint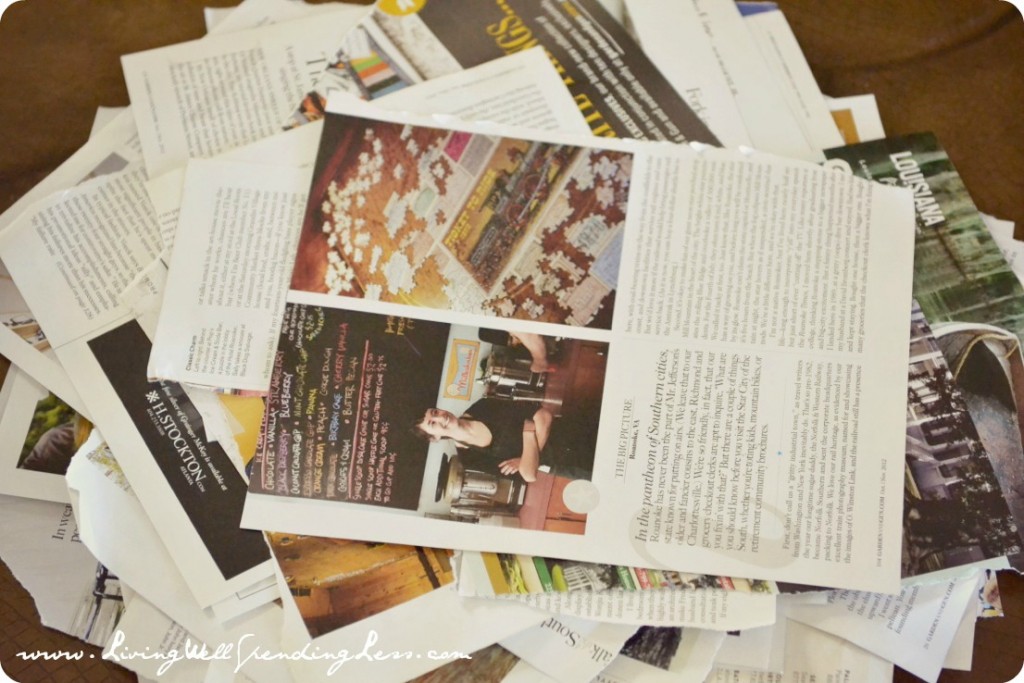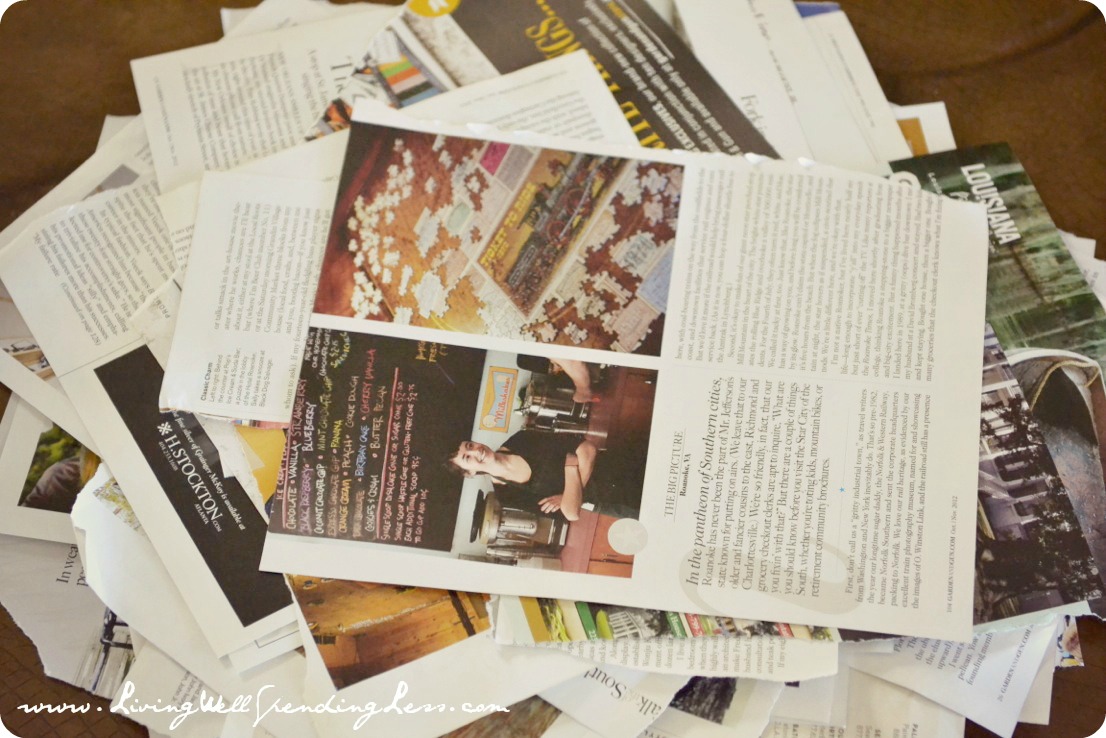 Step 1: Tear out many, many, many pages of print from your magazines. This is a great task for kids!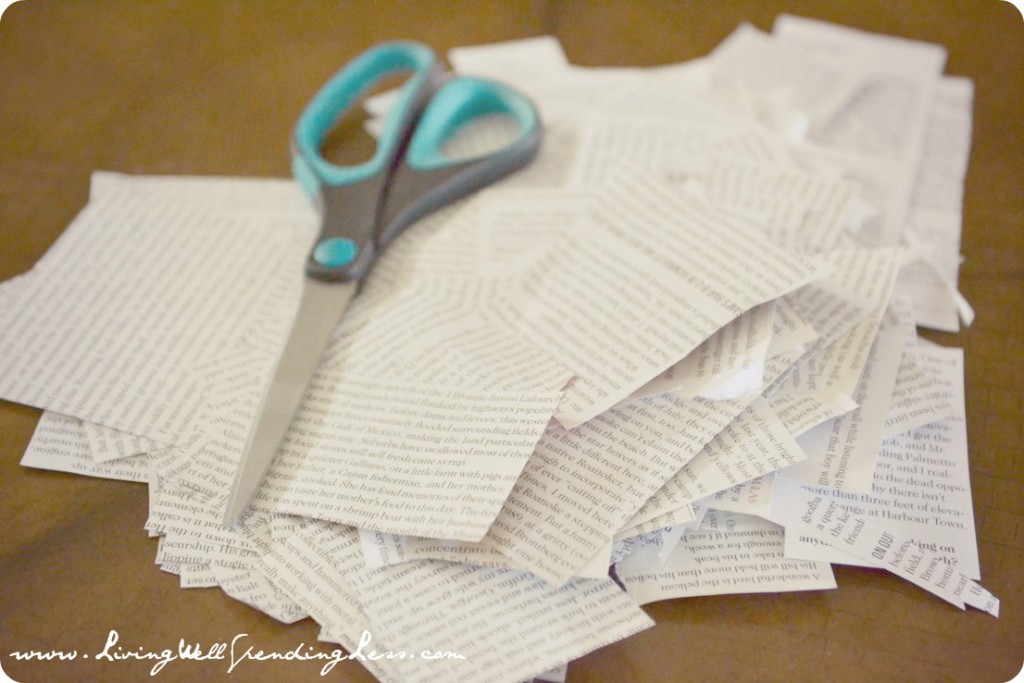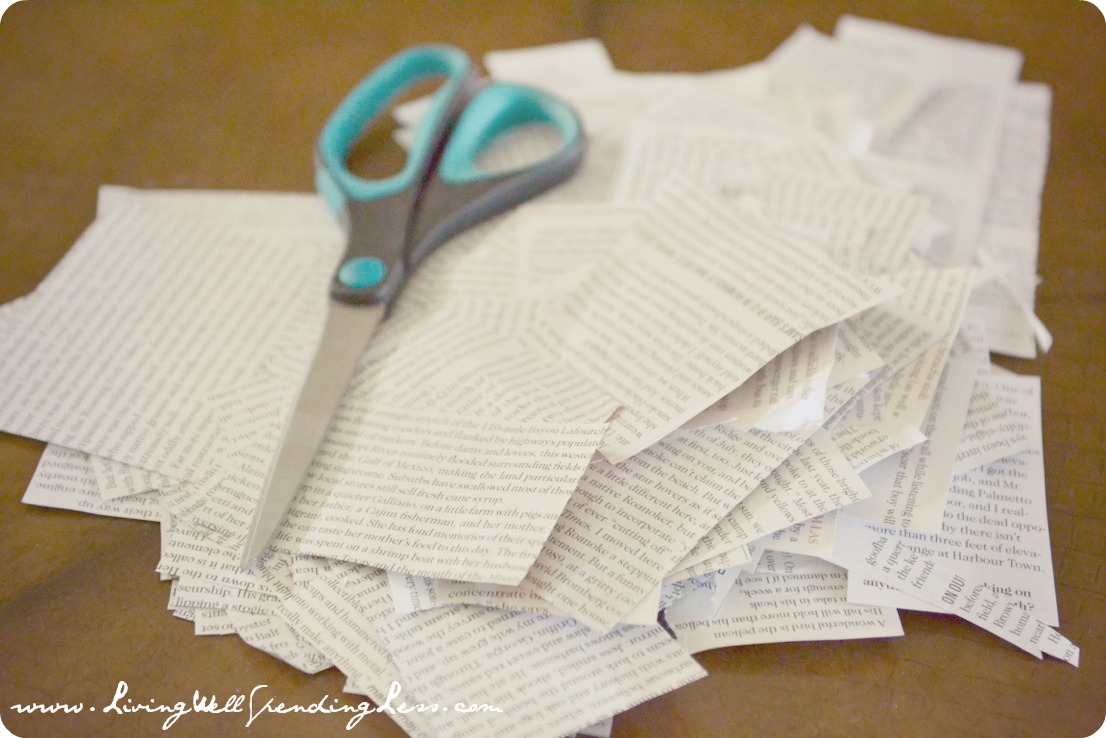 Step 2: Trim your text into smallish rectangles. I trimmed most of the white space off.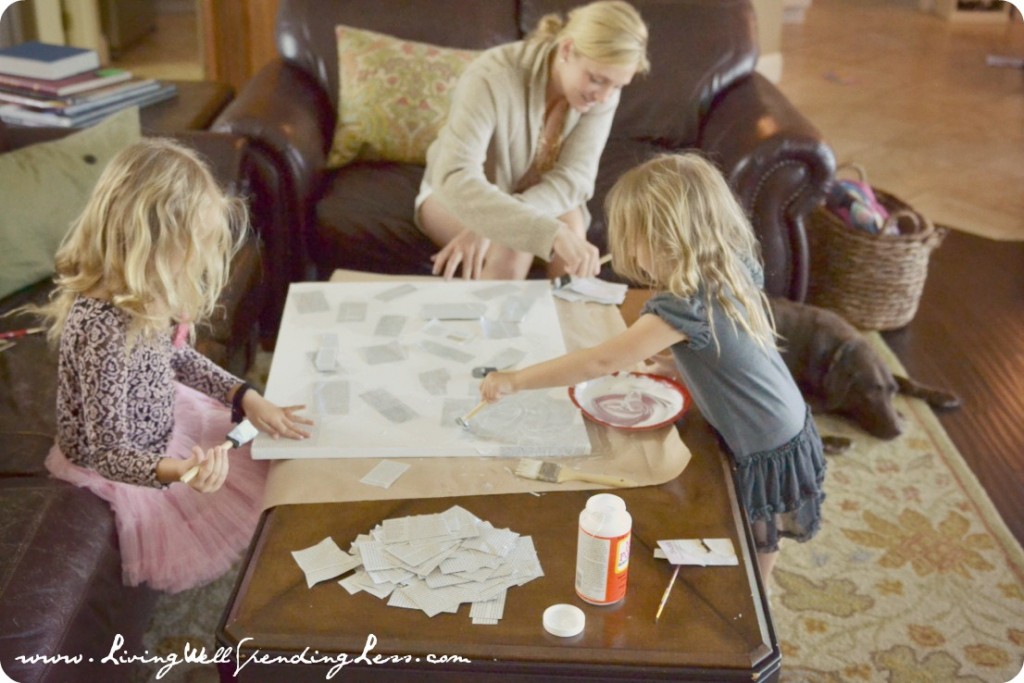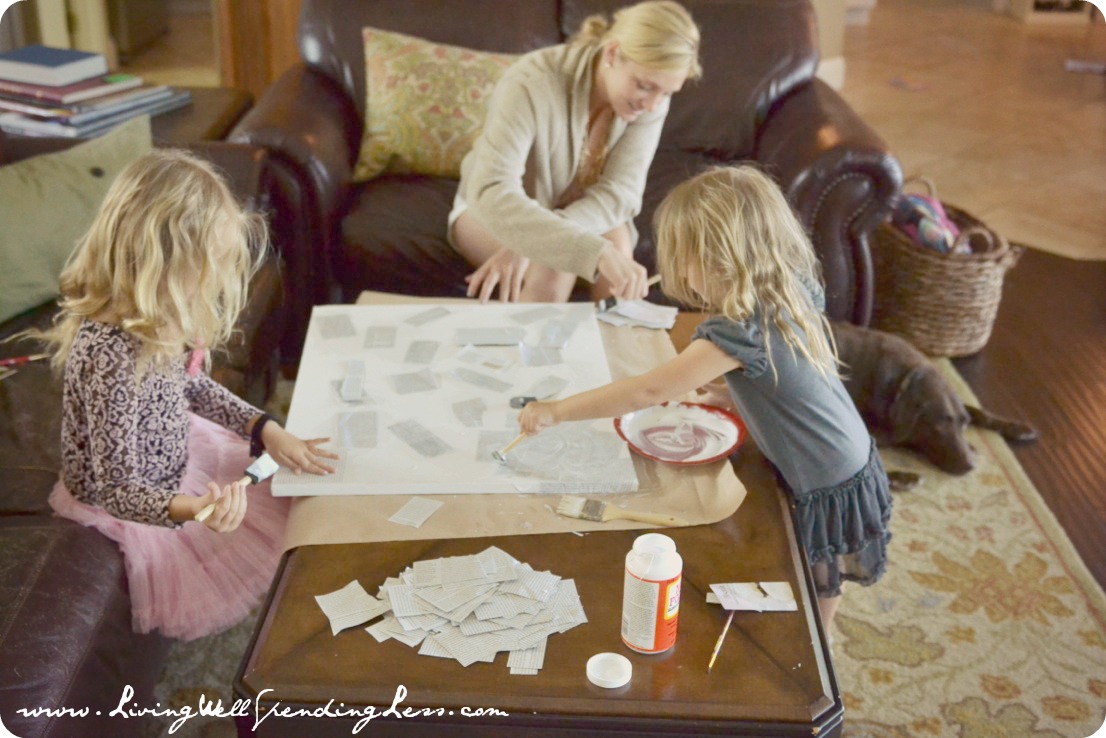 Step 3: Start Mod-Podging the rectangles onto the canvas.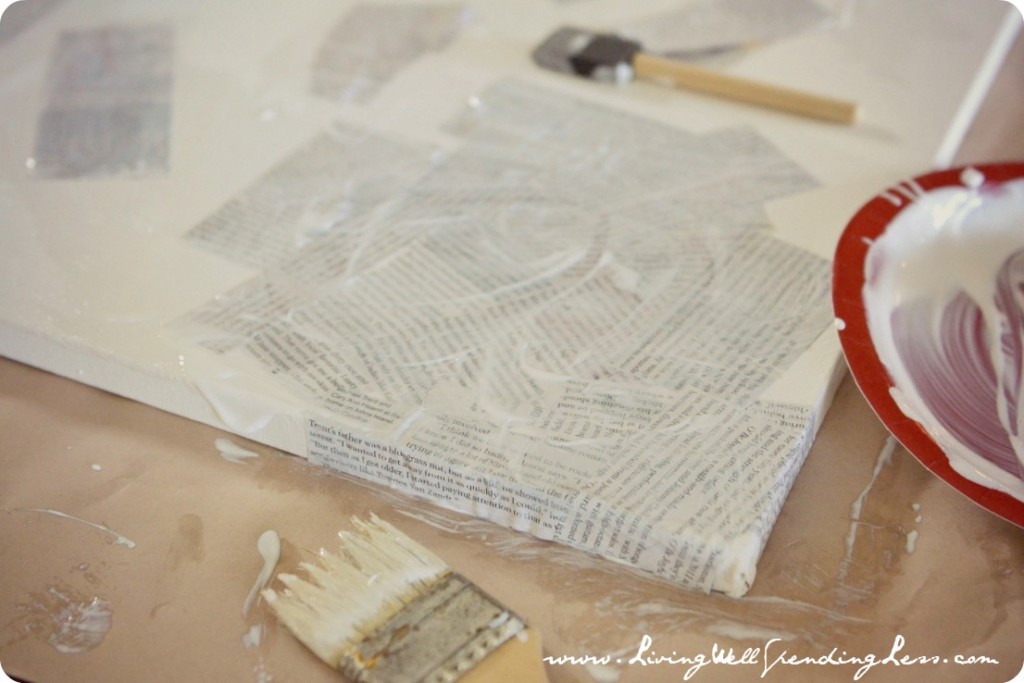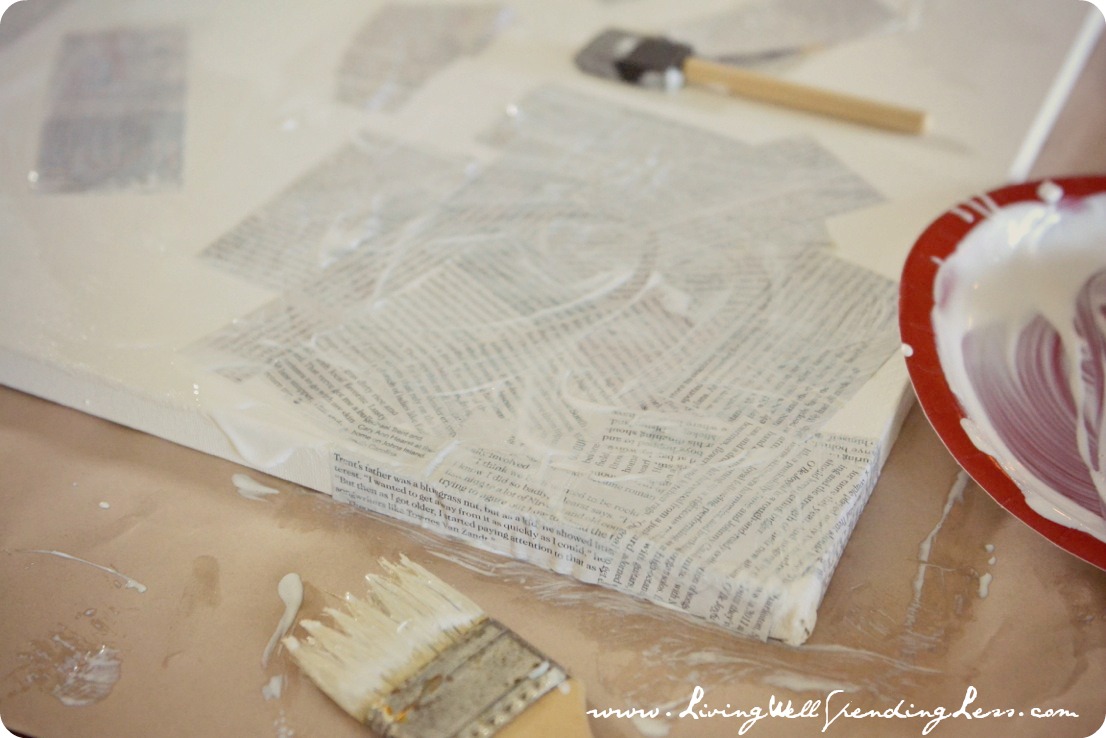 Step 4: Keep Mod Podging until the entire canvas is filled, wrapping the newsprint around the edges as well. Be patient, it takes a while.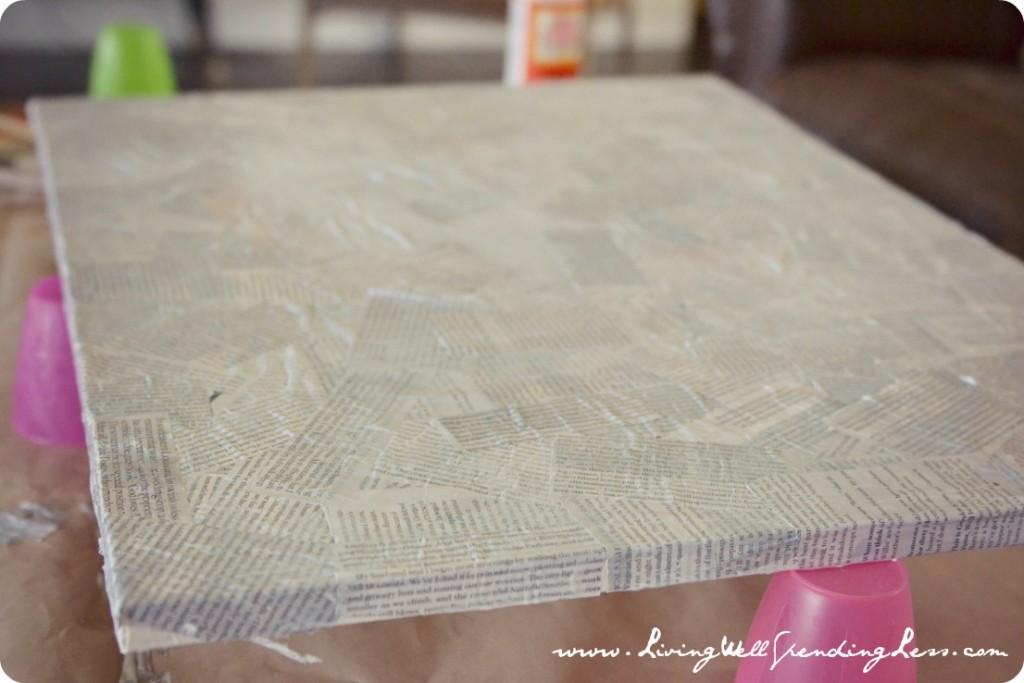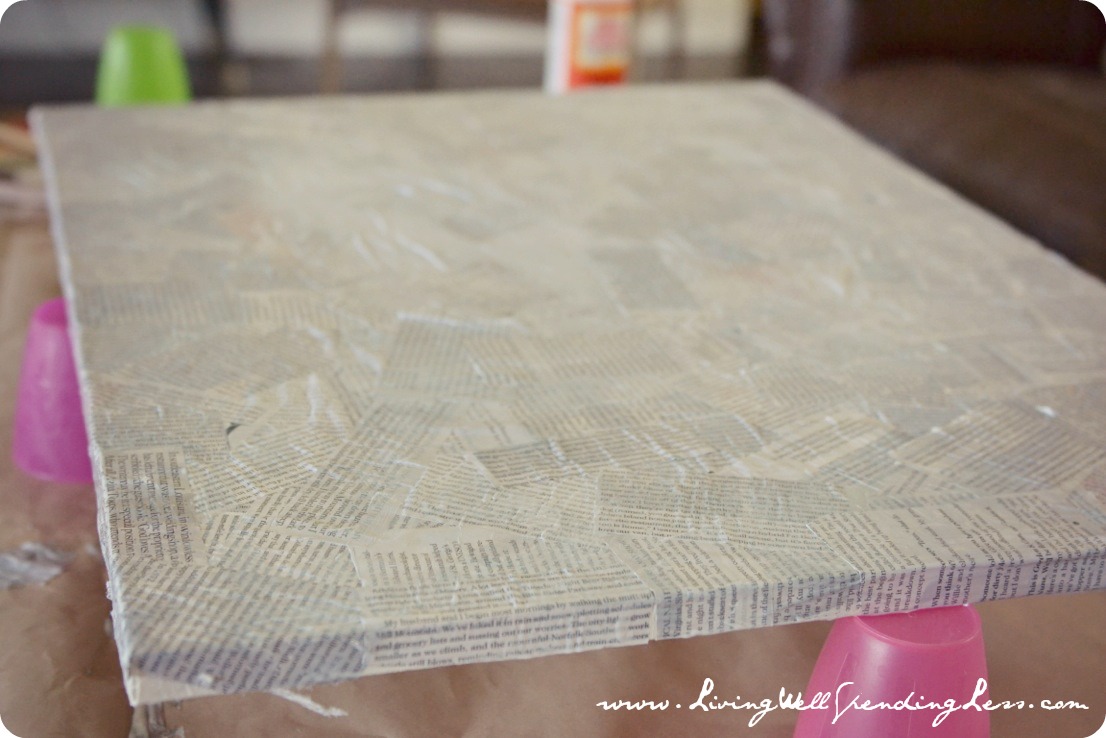 Step 5: Prop up the canvas and let it dry overnight.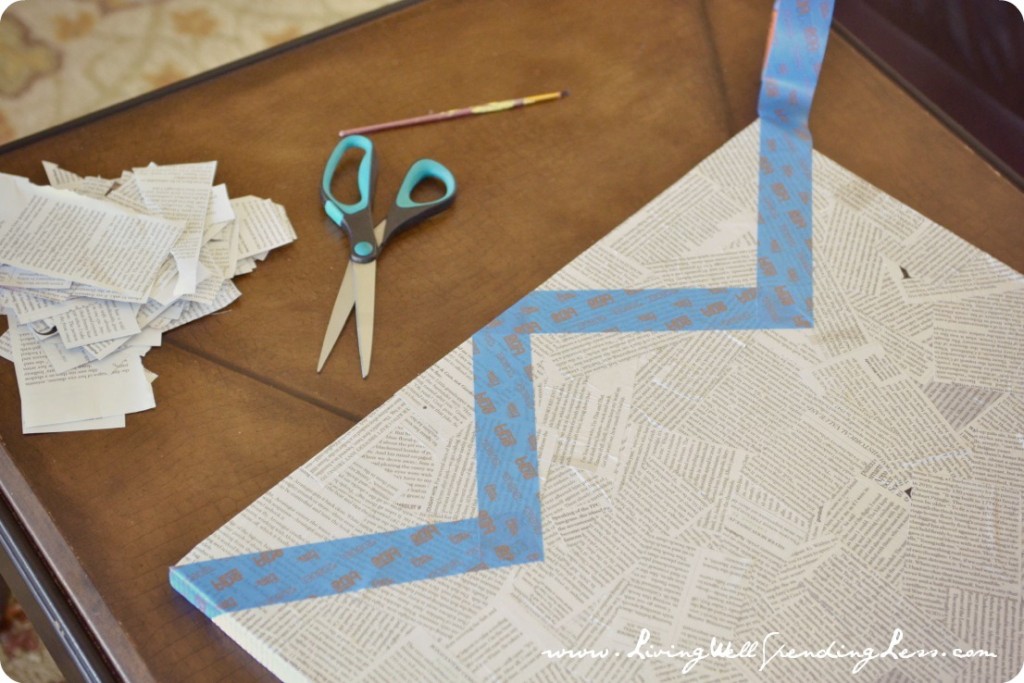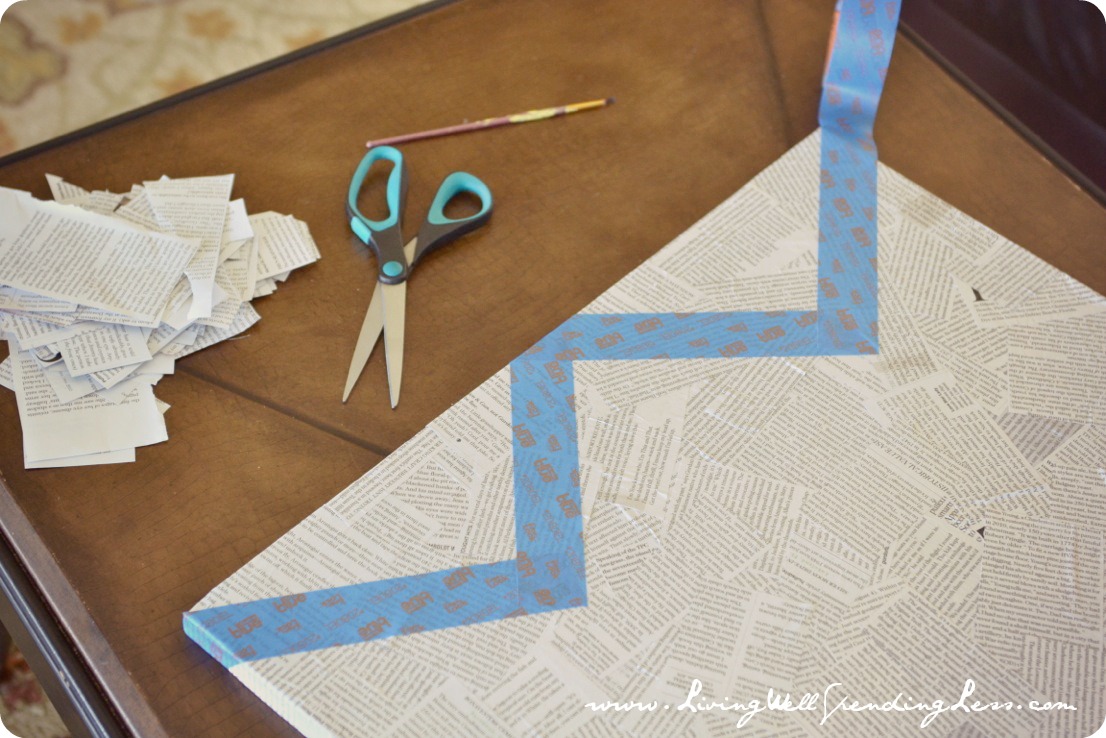 Step 6: Using your blue painter's tape, create a zig zag at one end of the canvas.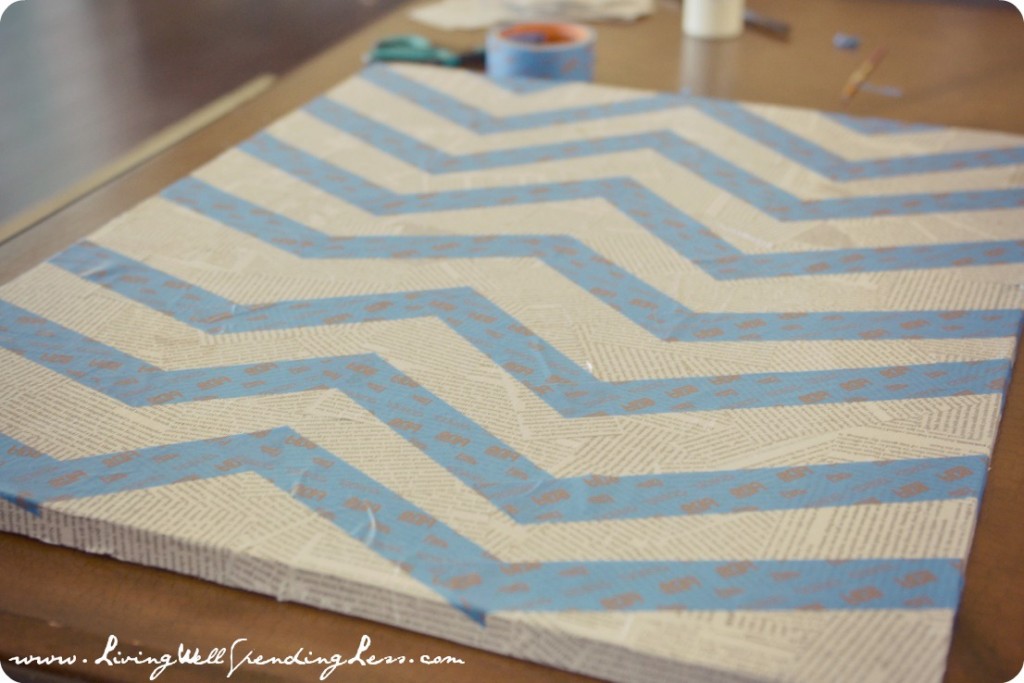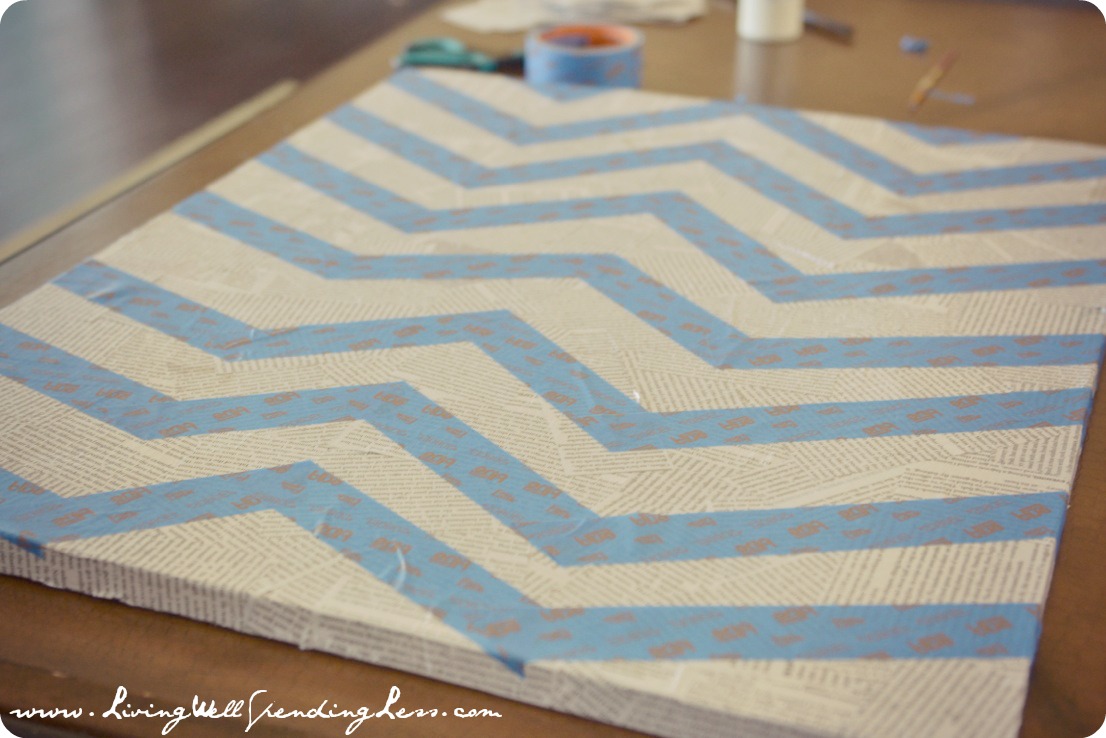 Step 7: Fill the rest of the canvas with zig zag stripes. I knew I would never be able to get them perfect (I don't have nearly enough patience for that!) so I purposely made them a little imperfect. I like it a little better that way, but if you are one of those super perfectionist types, this step might take you a LONG time!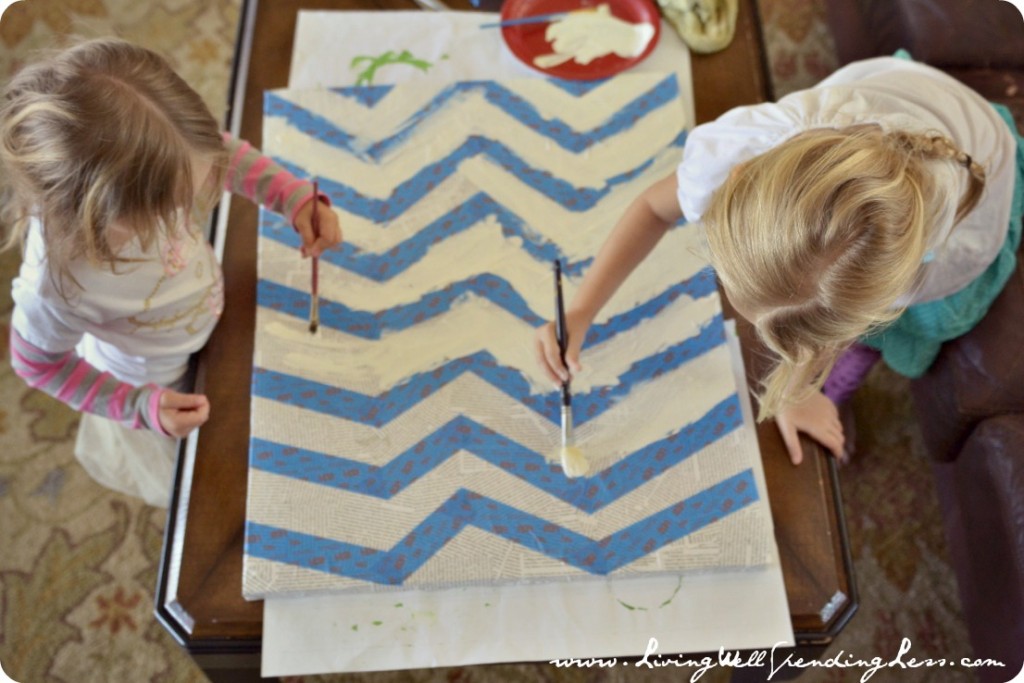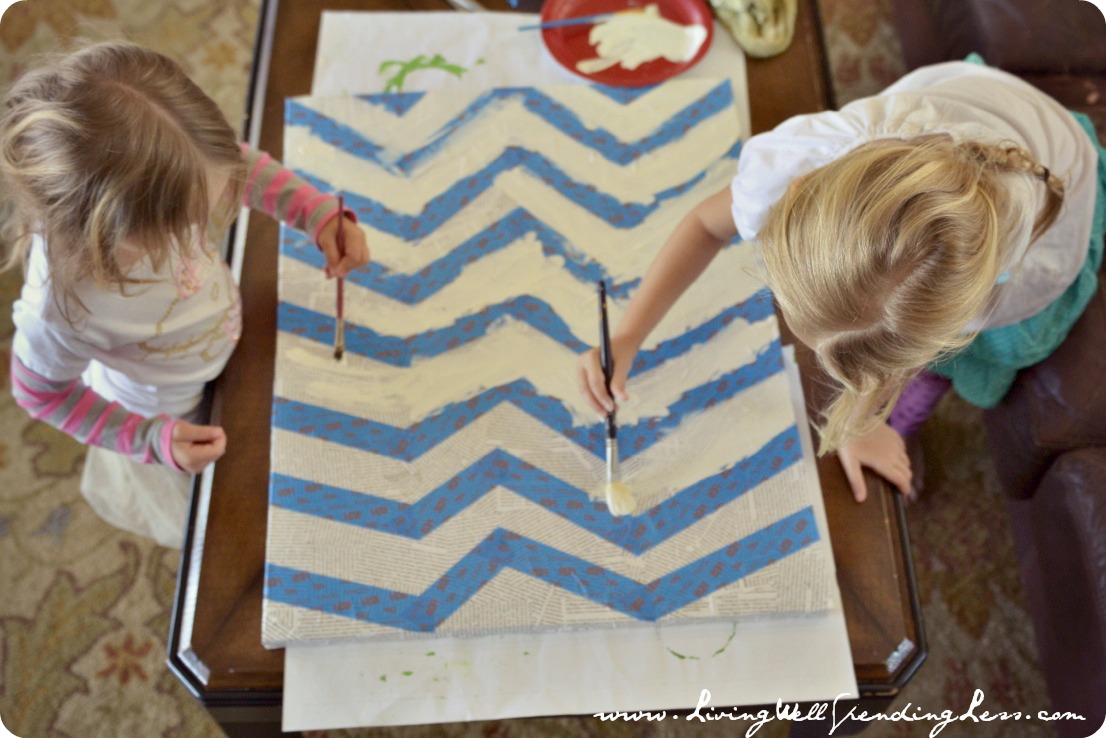 Step 8: Paint over the portion of the canvas not covered in tape. Let dry, but not too long.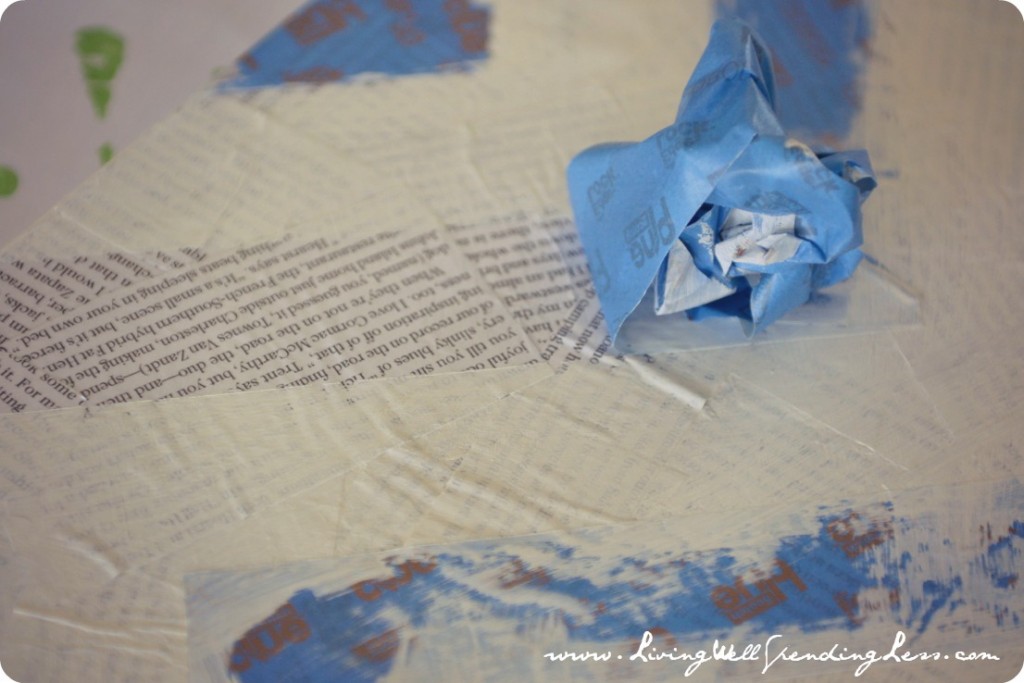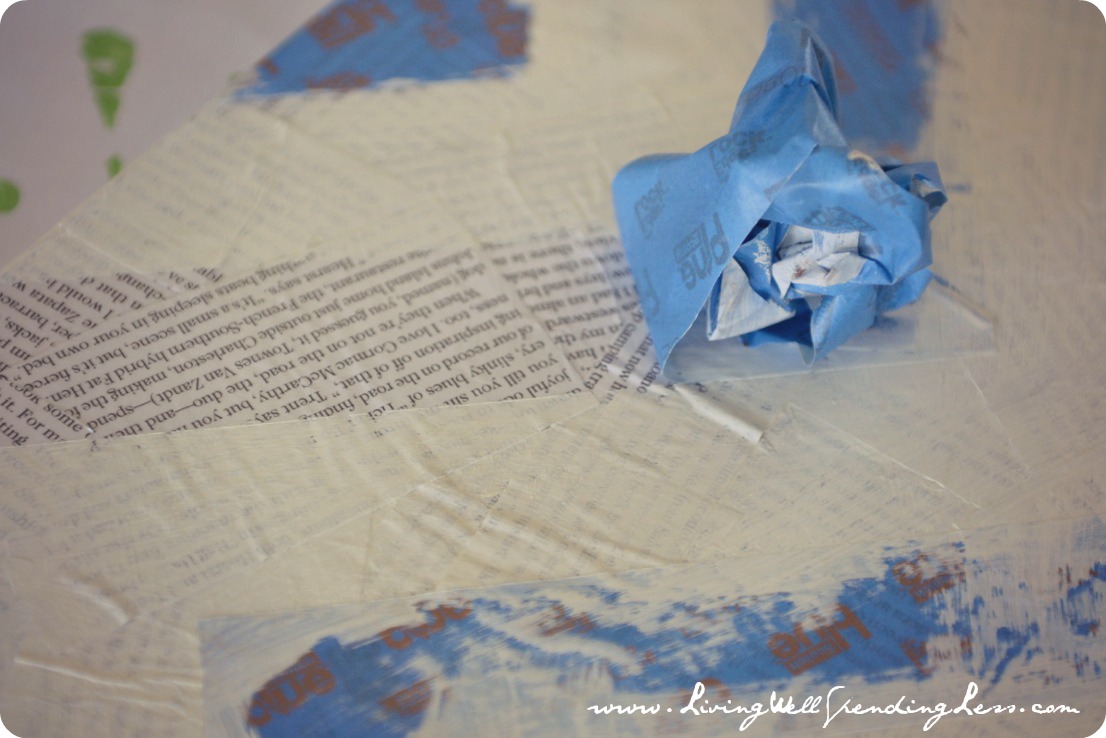 Step 9: Very carefully remove the tape from the canvas.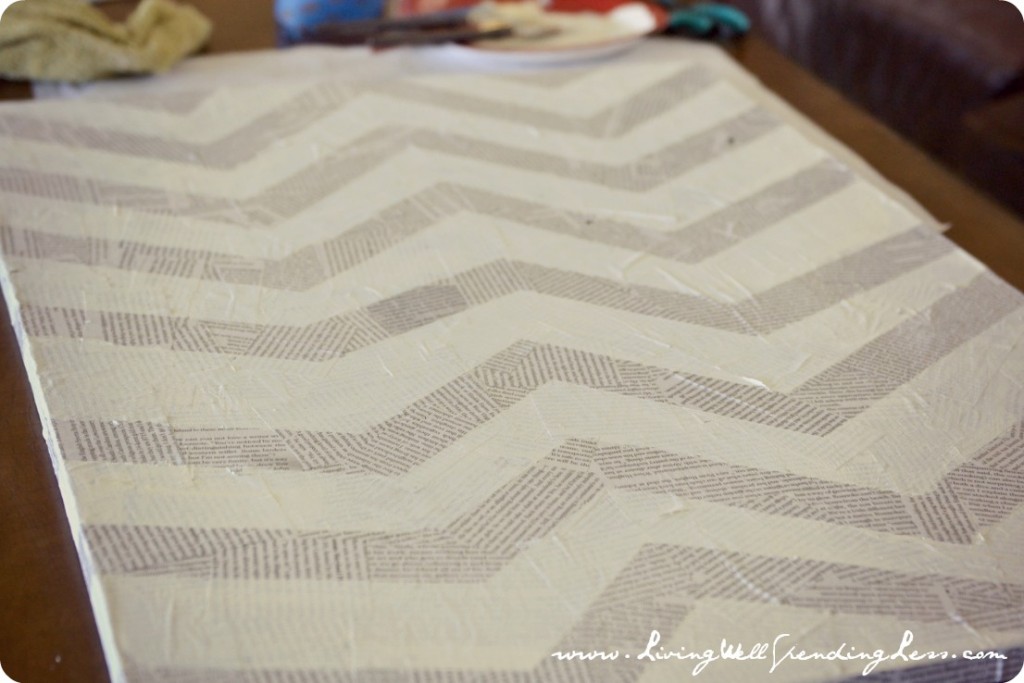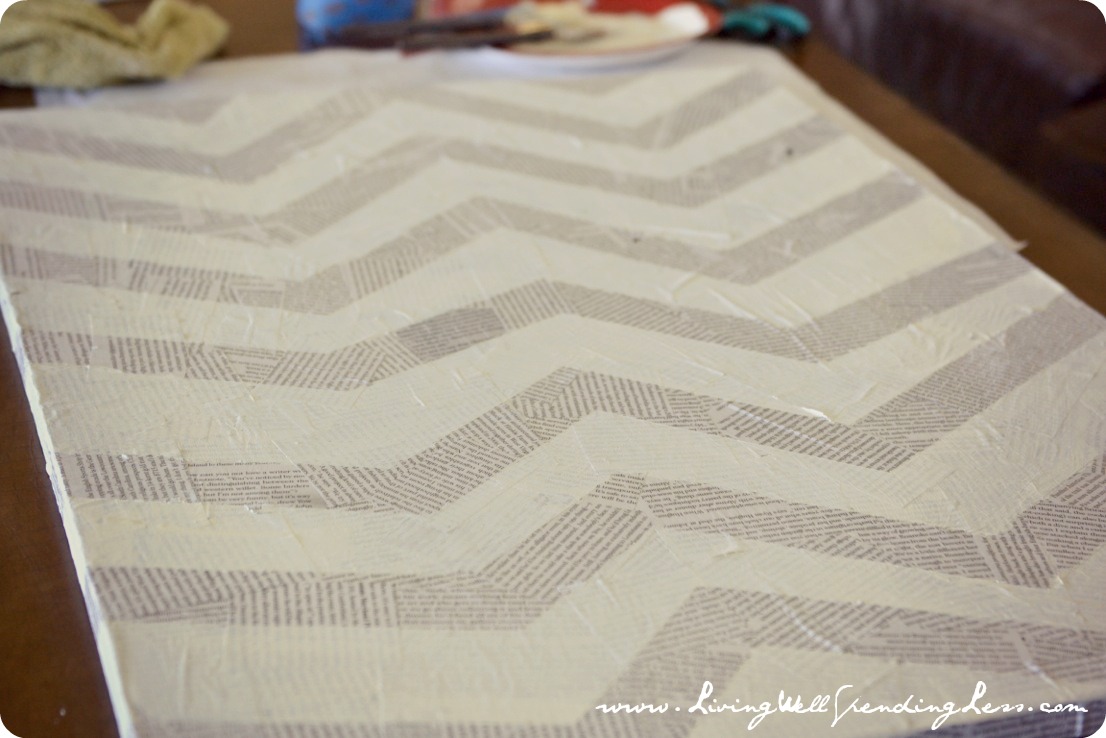 Step 10: Keep removing the tape until canvas is clear, then sit back and admire your stripes. Let paint dry completely (overnight is best.) You're almost done!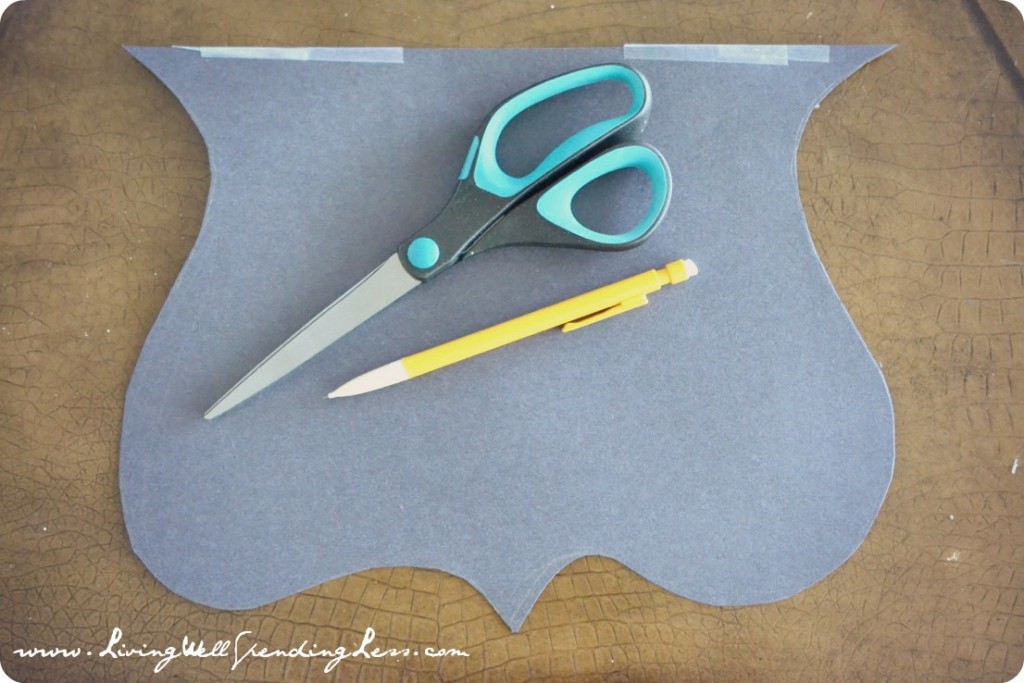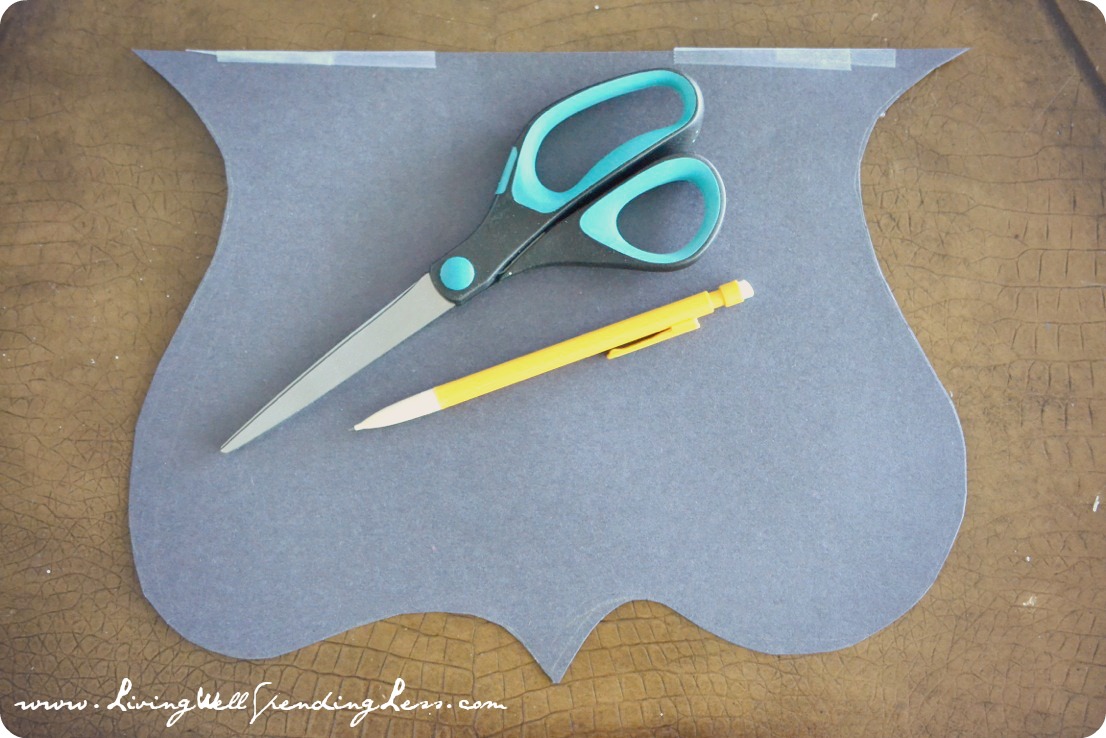 Step 11: Tape 2 pieces of black construction paper together, then cut out your desired shape. I don't know what this shape is called or how to tell you to draw it. I just did it freehand. It is also a little imperfect, but again, I like it that way.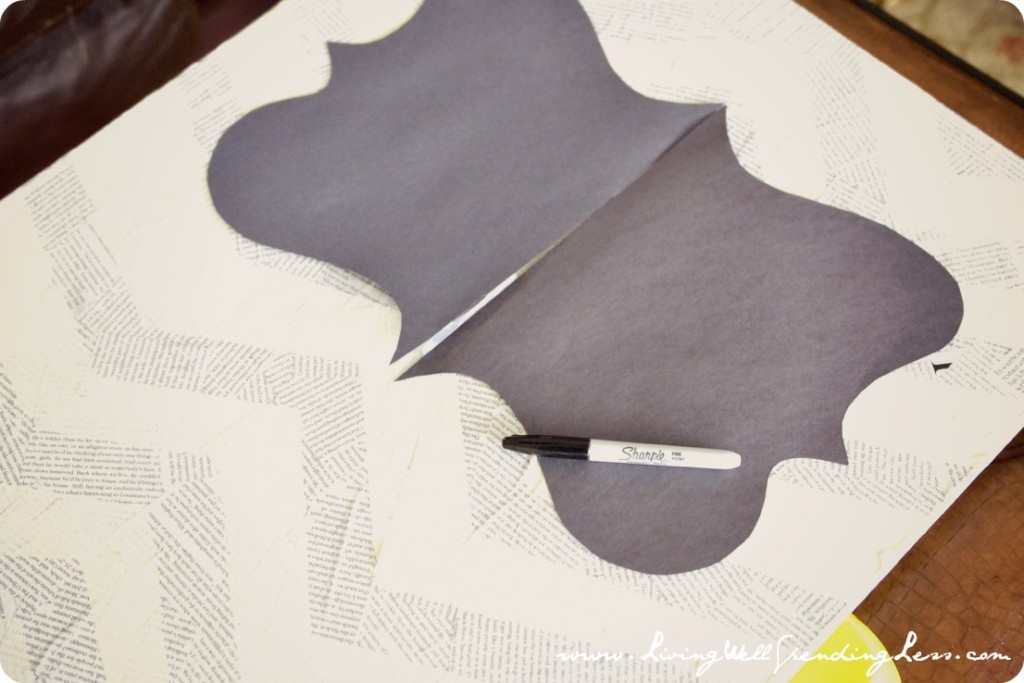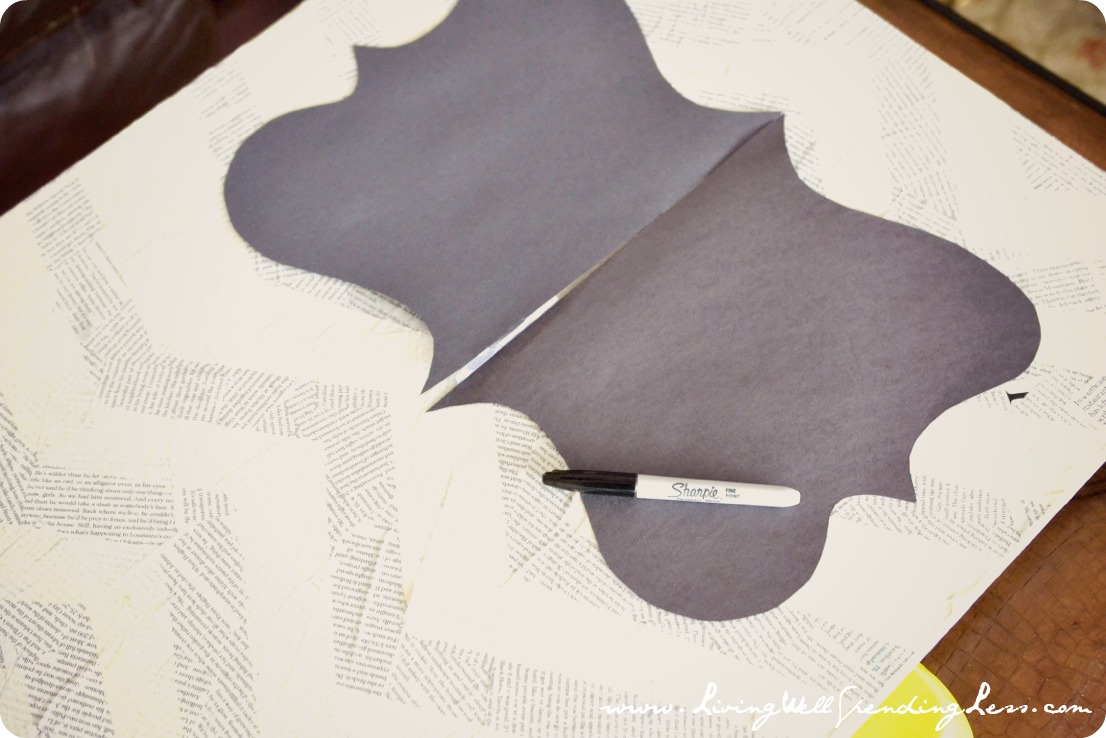 Step 12: Place your paper shape on your canvas to determine where you want the chalkboard section to go.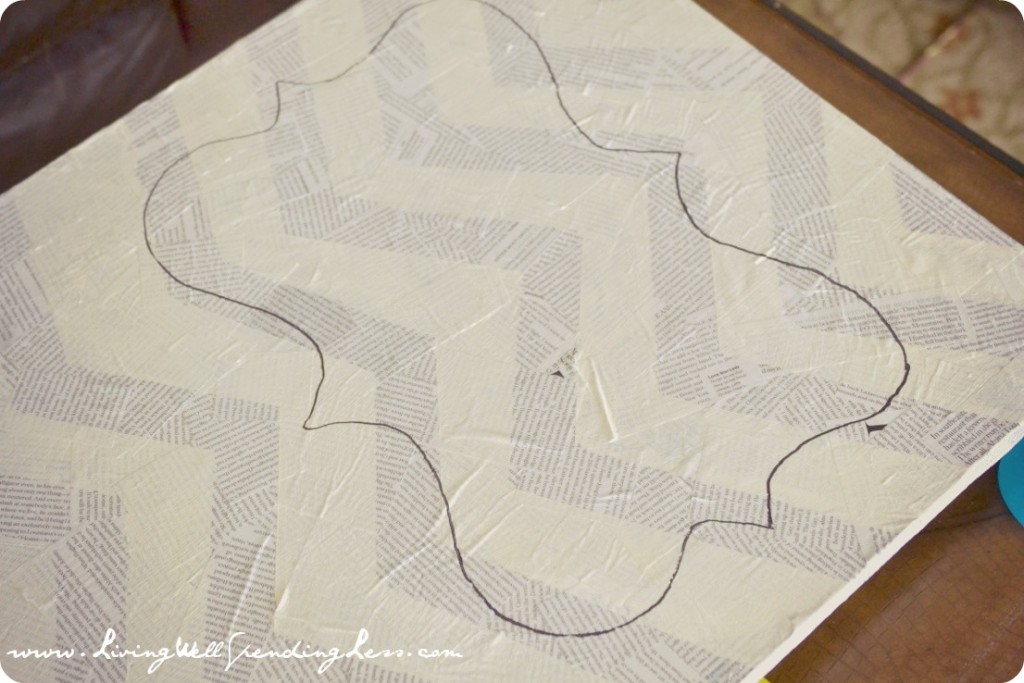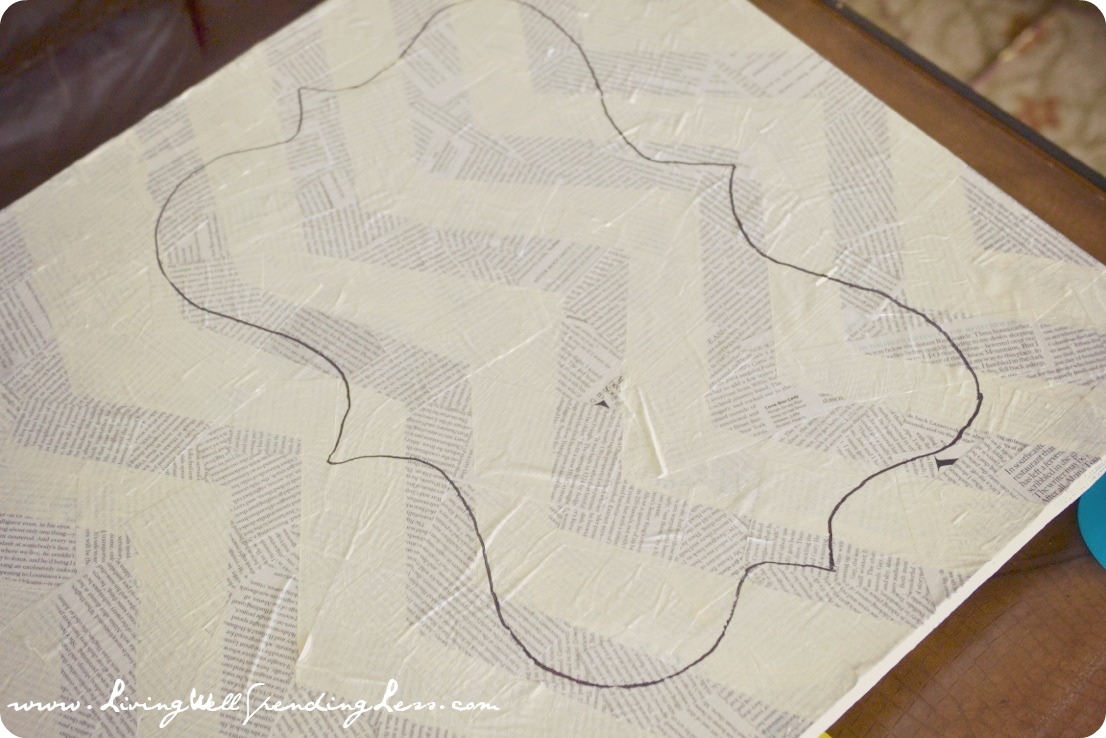 Step 13: Once you are satisfied with your placement, carefully trace the paper shape with your black sharpie marker.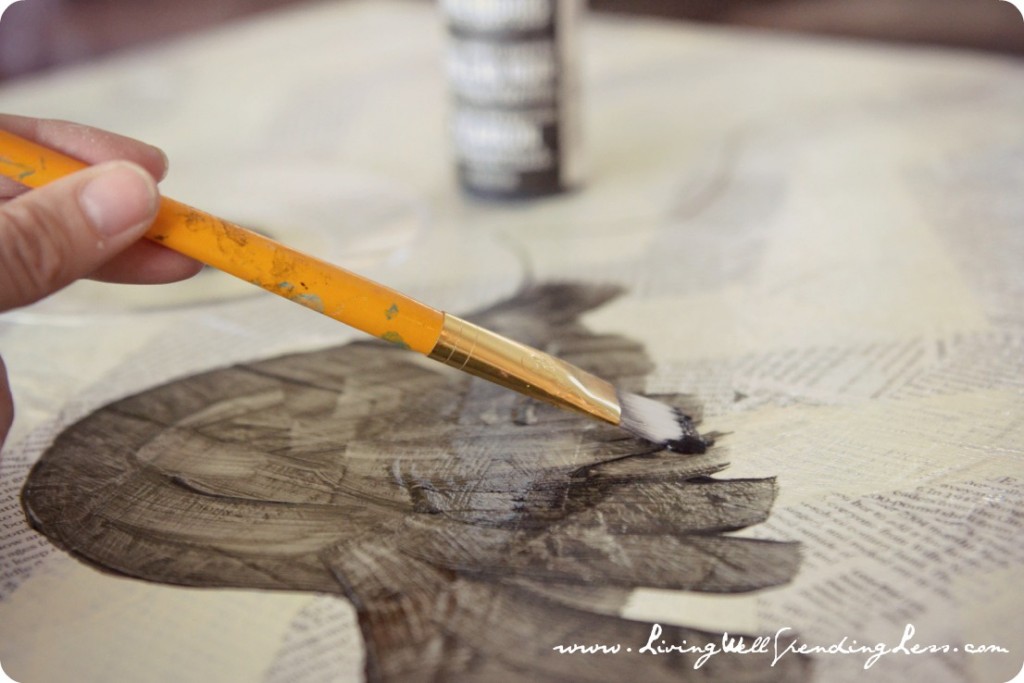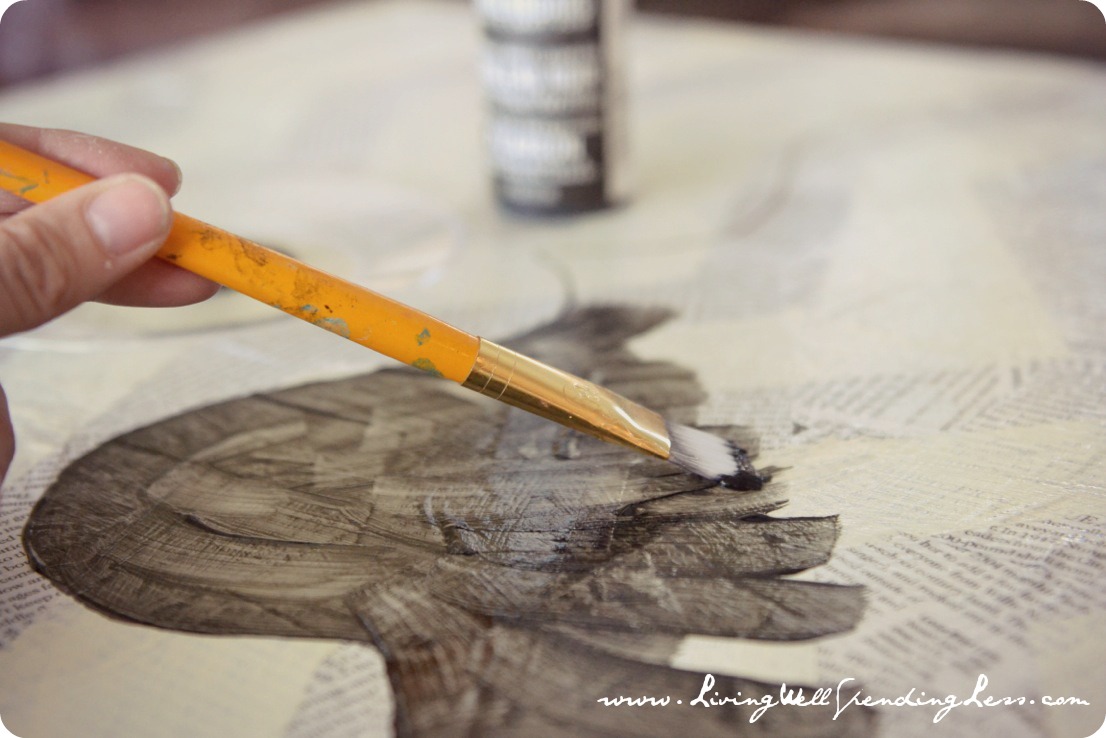 Step 14: Carefully fill in shape with chalkboard paint; let dry.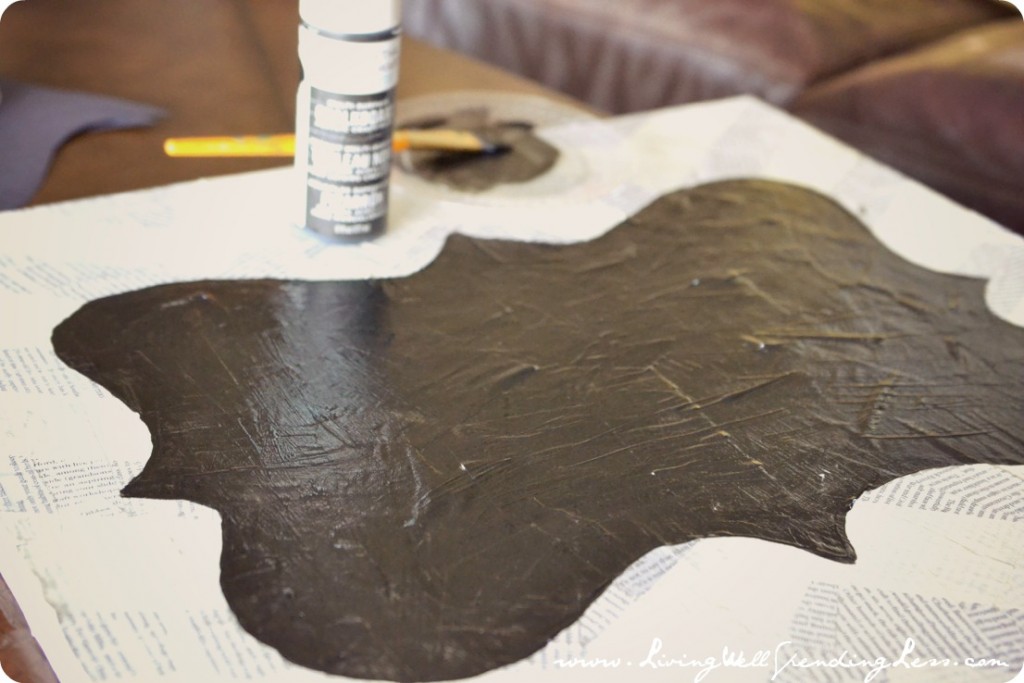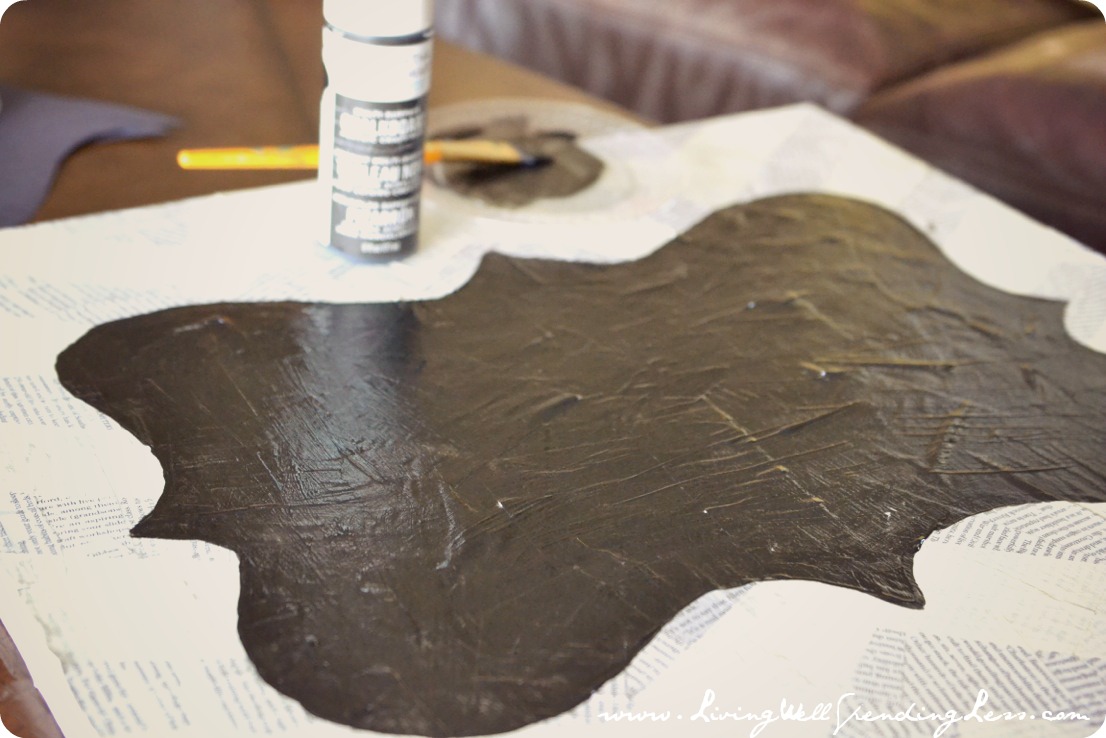 Step 15: Do 2-3 more coats of chalkboard paint, letting paint dry in between coats. After final coat, let paint cure for 24 hours, then season chalkboard by rubbing entire chalkboard surface with wide side of chalk. Wipe clean and you are good to go!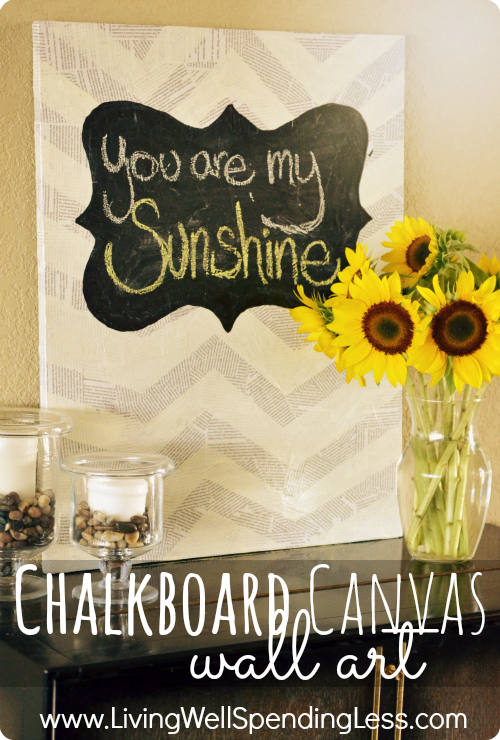 There is so much you can do with this idea–use bolder stripes for a brighter look, or simply change out the message and accessories to correspond to the season. Or sometimes just use it to remind yourself to breathe!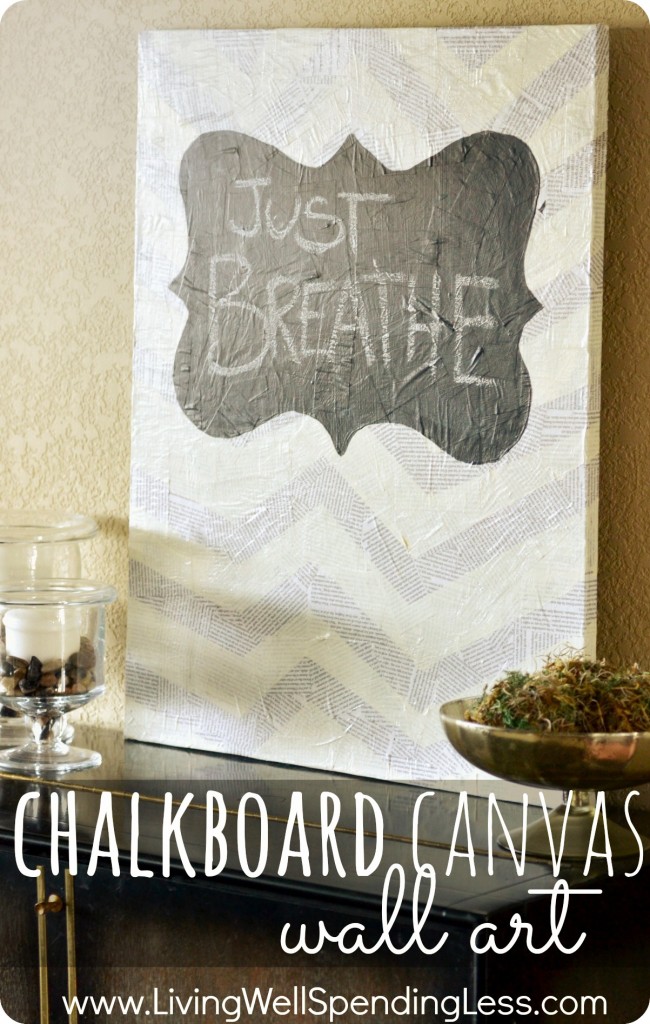 * * *
How do you change up your wall art?
TAKE BACK CONTROL OF YOUR HOME LIFE
---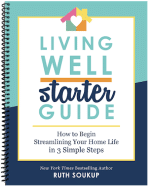 Ever feel like you just can't keep up? Our Living Well Starter Guide will show you how to start streamlining your life in just 3 simple steps. It's a game changer--get it free for a limited time!
If you love this resource, be sure to check out our digital library of helpful tools and resources for cleaning faster, taking control of your budget, organizing your schedule, and getting food on the table easier than ever before.