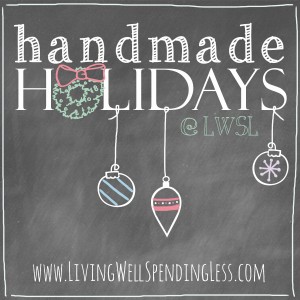 This year I am beyond thrilled to introduce you to a revamped series here at LWSL called Handmade Holidays! In past years I have shared my own holiday gift ideas, but this year I thought it would be fun to get some inspiration elsewhere. I asked eight of my favorite up-and-coming bloggers to share a simple and frugal handmade gift idea. I was so blown away by all the amazing ideas they came up with, and I think you will be too. Each Monday, from now until Christmas, one of these talented women will be sharing their gift idea. Please be sure to welcome them here to LWSL, and to take the time to check out their blogs. You will be so glad you did!
* * *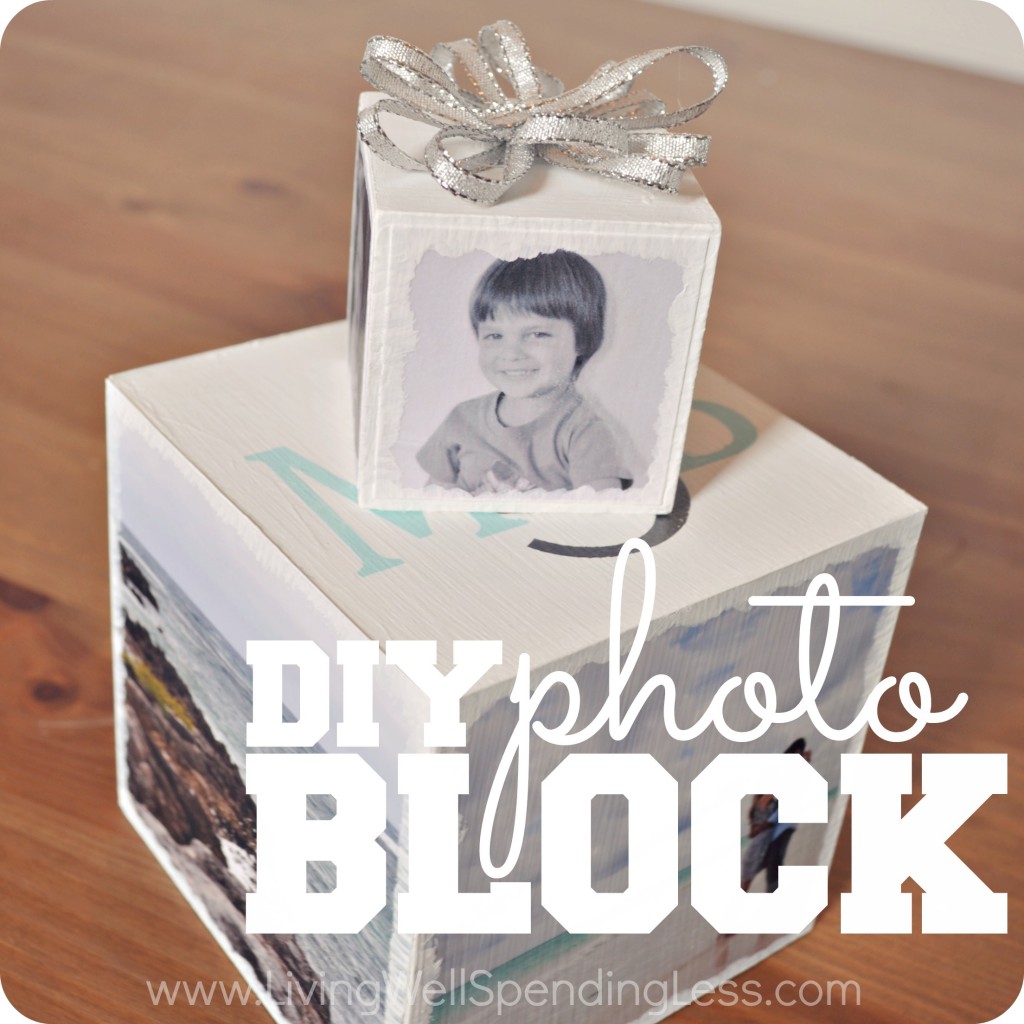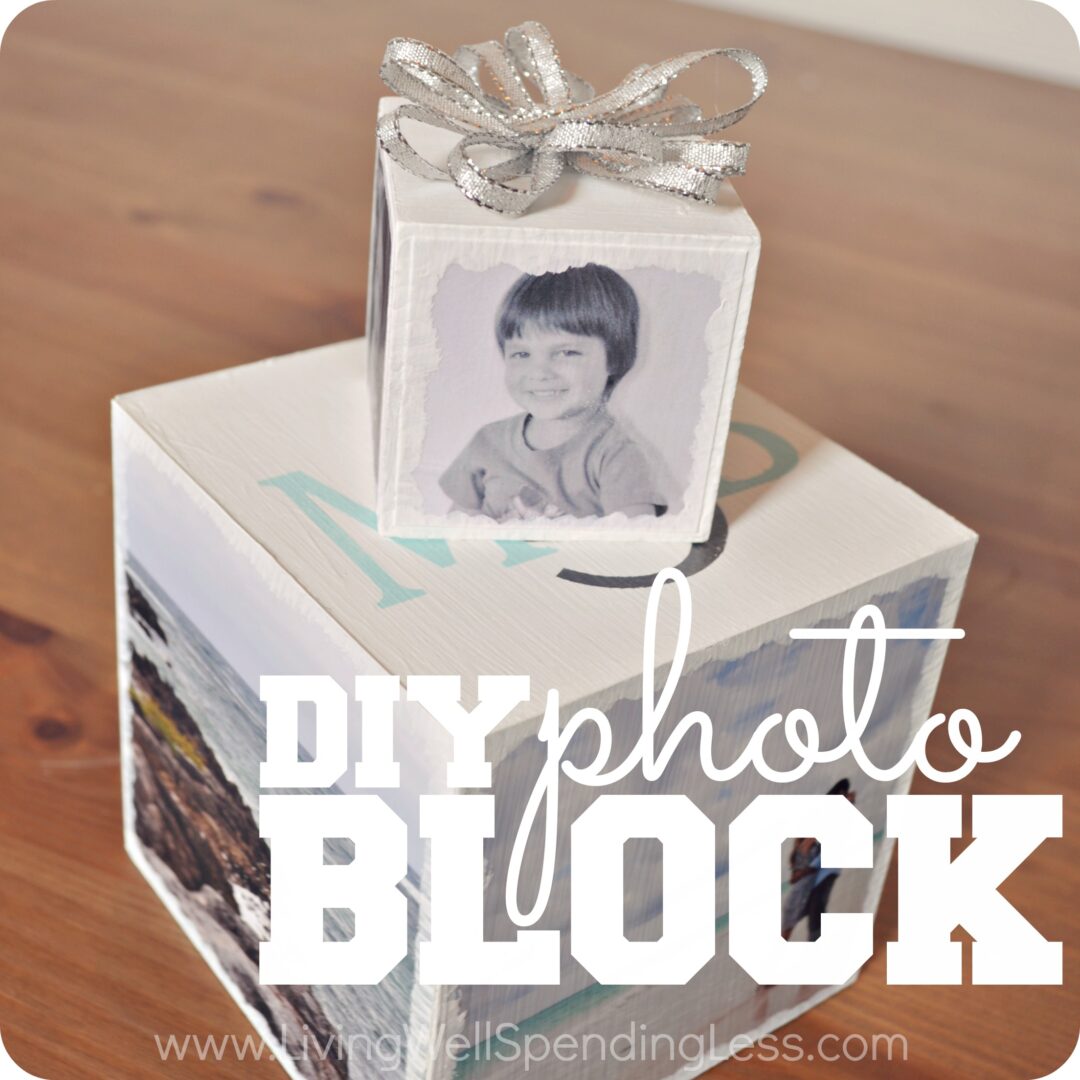 Hi everyone! I am Maggie from The Love Nerds, and I am so excited to be here at Living Well Spending Less sharing my Handmade Holiday gift idea with all of you.
Every year, I try to make as many handmade gifts as possible. While I don't have a problem buying someone the sweater or DVD they might want, I much prefer giving something personal which is why I was so excited when Ruth reached out to me about participating in her Handmade Holidays series!
I have wanted to craft some photo blocks and decided it was the perfect project to share with all of you because it is so versatile. You can use a large block, as shown below, to make a fun statement piece for a shelf, or you can use a smaller block to make a meaningful ornament. I just love how the same technique can be used to make so many unique variations!
Here is what you need:
naked wood blocks paint photos sized to your block mod podge (I used Matte) 2 paint brushes or sponges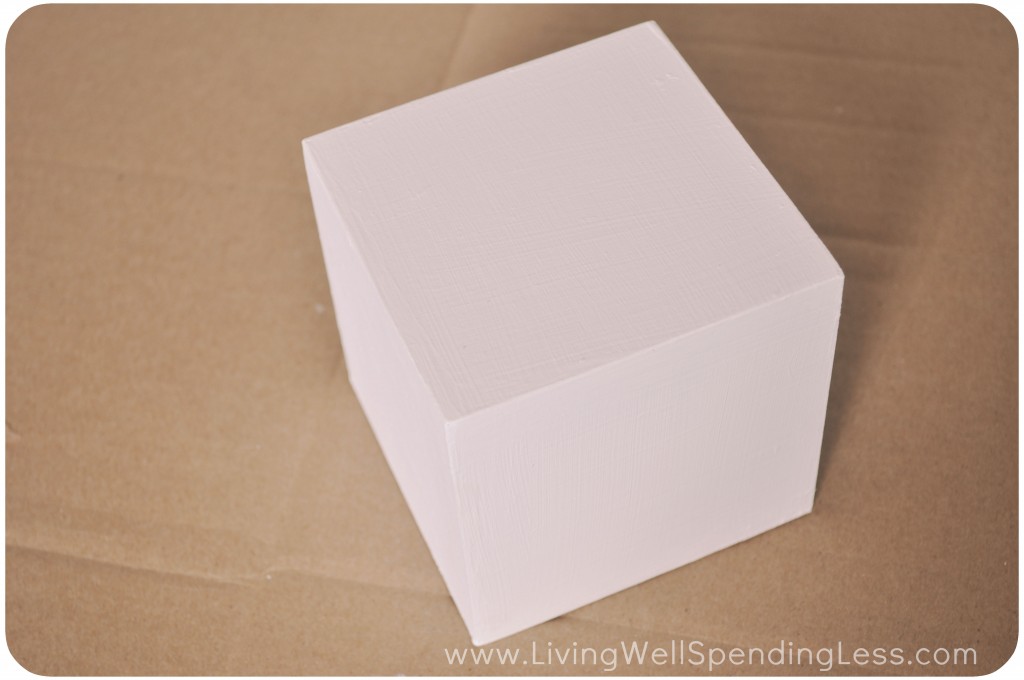 Step 1: It can be hard to find large wood blocks, so I bought this 4×4 MDF block from McMemories on Etsy. I knew I wanted to have a white background for the project, so I started by painting the block with two coats of white paint.
Step 2: For your photos, I suggest two options. You can order your pictures at a photo center, keeping in mind your photo will need to be cropped down smaller and into a square; I love using wink flash for projects like these because they have a 4×4 photo size option.
You can also print out your pictures using a LaserJet printer. If you don't a LaserJet printer at home, you could also make a jpeg/document with all of your appropriately sized photos on one sheet and have it printed somewhere like OfficeMax or Costco. I do not personally recommend printing your pictures out with an InkJet printer; I have tried multiple techniques, and the photos always bleed from the mod podge.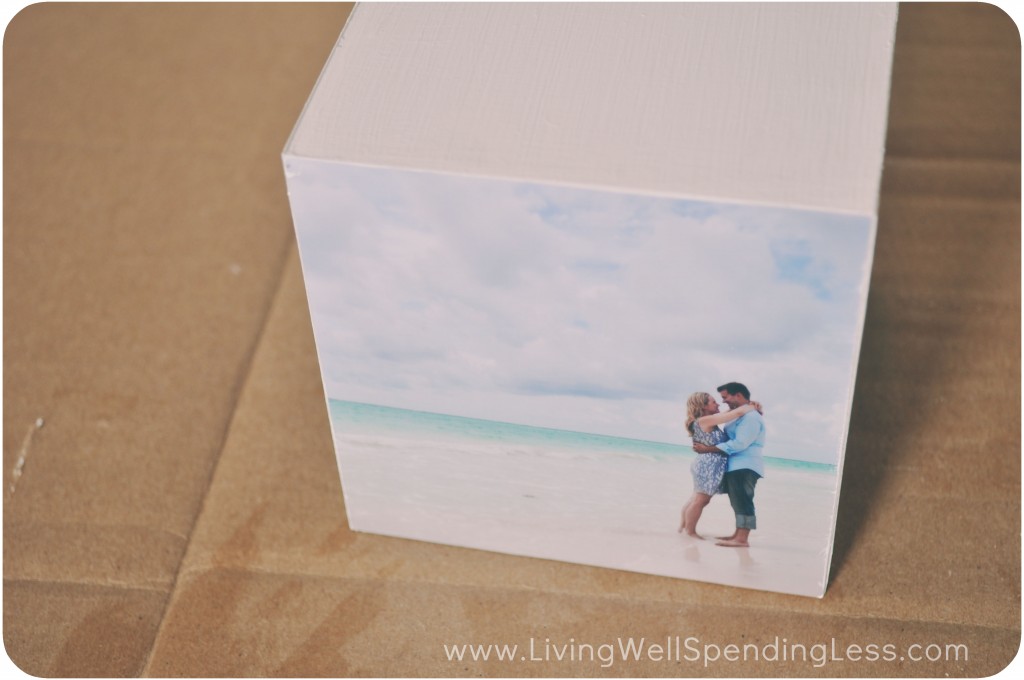 Step 3: When your photos are cut out and ready to go, place an even layer of mod podge on the first side you are working on. Then, starting at a corner, slowly rub your picture smoothly onto that side of the block. Then, let it dry before continuing to the next side. Be carefully not to put a photo face down on your work surface until it has dried.
Step 4: Once all photos are attached to the block and have had time to dry, put a thin layer of mod podge on top of each photo one at a time. Do not put a really thick layer on top or rub over the image too many times. The photos will have a white finish on top for awhile, but the mod podge will dry clear.
Again, be carefully not to put a photo face down on the surface until it has dried for at least 30 minutes. You will want at least 2 layers of mod podge on each side to seal the project.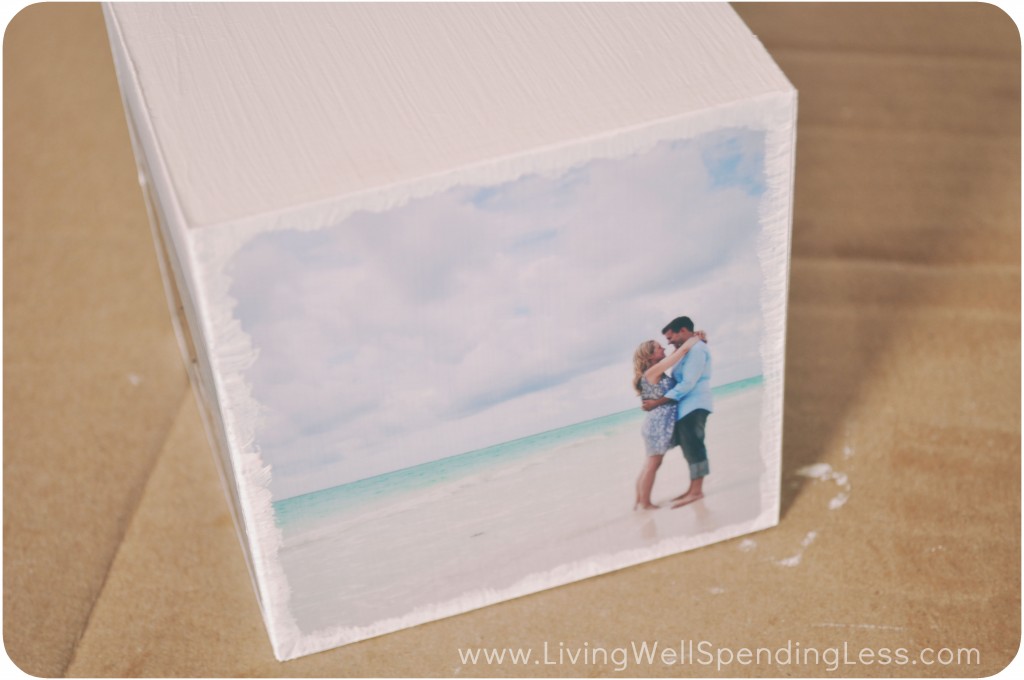 Step 5: After the entire project dried, I decided to go back with the white paint and put a thin layer on the edges of the photos. I think the soft edges give the photos a bit of a vintage look. If you have any mistakes or uneven edges though, this technique will also allow you to mask any imperfections.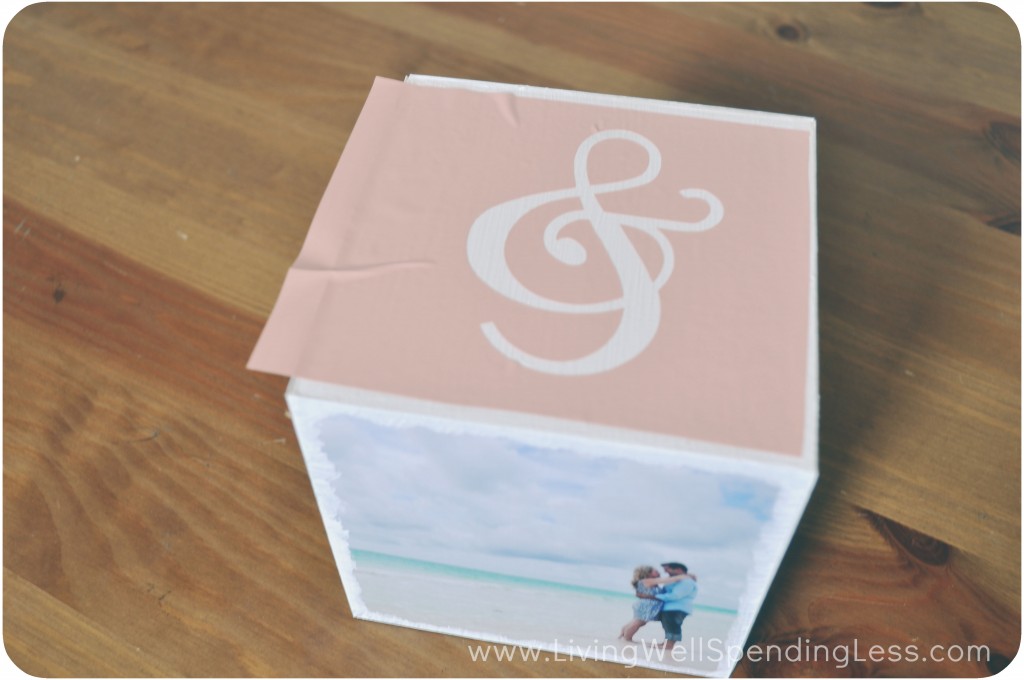 Step 6: I decided for this block to only put four pictures around the side and decorate the top. Since these were honeymoon pictures, I decided to paint the couple's initials on the top. There are many methods you could use to do the same, such as hand painting or paint markers.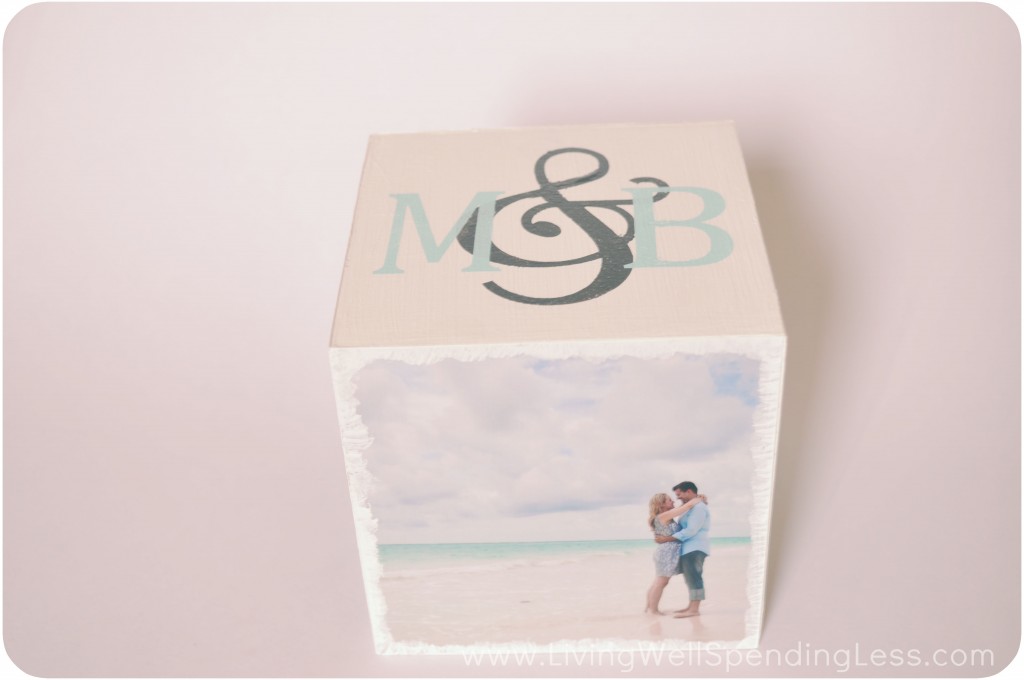 For my block, I decided to make two different stencils by cutting out the design onto vinyl with my Silhouette Cameo; the first stencil only had the ampersand, and the second stencil had the two letters. I made sure the first stencil was on smoothly and used a sponge to dab on the paint. After the paint dried, I took off the first stencil and completed the same process for the letters.
There are lots of gift ideas you can make by following this process. For example, if someone has had a new baby, consider putting photos of the baby around the block with the name and birth date on the top. I used honeymoon photos, but this would make a great gift for newlyweds if you use wedding pictures as well.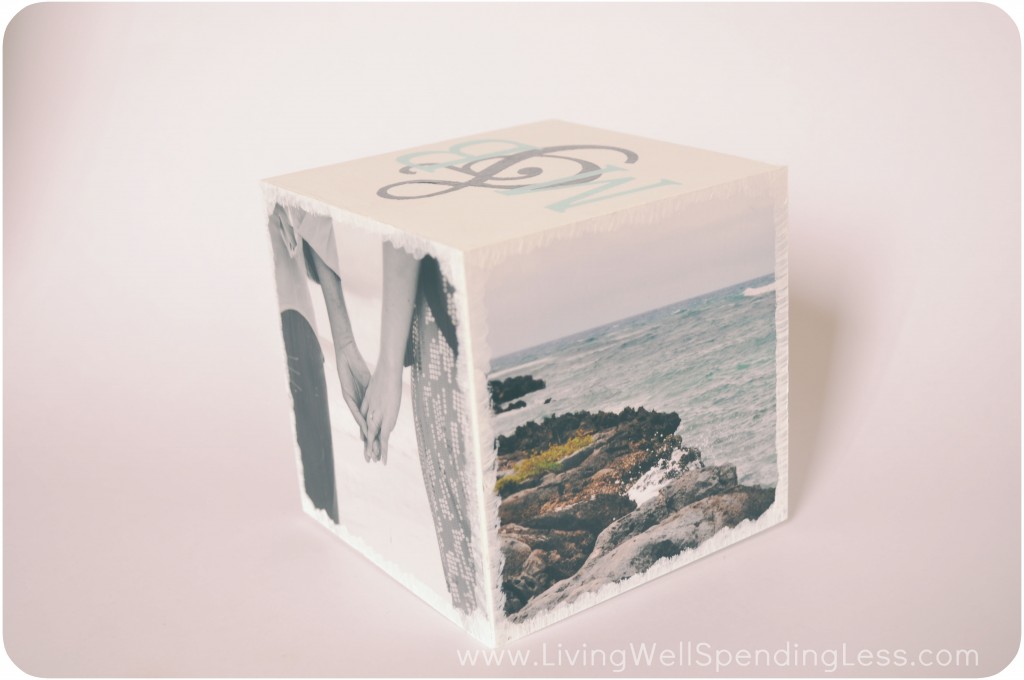 If you use a smaller block (2×2), you could cover 5 sides with photos and attach a ribbon on the top to make a Christmas ornament. Another option is to use wood boards instead of blocks and make wood canvases with photos on them. Whichever version you decide to make, this handmade gift will be cherished for its unique and sentimental value.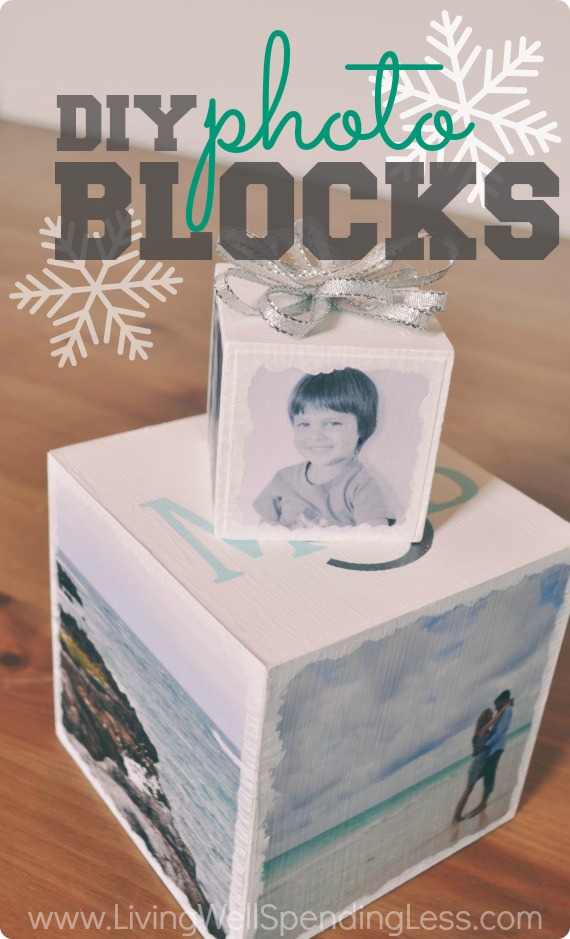 * * *
What handmade photo projects have you made as gifts before?
I am Maggie from The Love Nerds, which consists of my blog, Etsy shop, and event planning boutique. The blog is where I share my love for crafts, weddings, party décor, art prints, and cooking. I am recently married and working hard to make a home out of our apartment while on a budget. Many of my projects are centered on the nerdy interests of both me and my husband, from books and comic book superheroes to Star Wars and Dr. Who – almost all of which were highlighted at our wedding. I am excited to keep sharing our adventures with my readers and all of my crafty and business endeavors.
TAKE BACK CONTROL OF YOUR HOME LIFE
---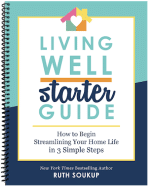 Ever feel like you just can't keep up? Our Living Well Starter Guide will show you how to start streamlining your life in just 3 simple steps. It's a game changer--get it free for a limited time!
If you love this resource, be sure to check out our digital library of helpful tools and resources for cleaning faster, taking control of your budget, organizing your schedule, and getting food on the table easier than ever before.