Living on your own for the first time and feeling clueless? It helps to be prepared! Here are some helpful tips on how to stock your first kitchen.
You're on your own for the first time! The world is your oyster! You can do what you want, wear what you want, eat what you want….
"Wait, eat? I have to cook for myself?! Oh no!"
For many of us, whether we're newlyweds, college students or just living on our own for the first time, kitchen essentials are tough! Some may have never cooked much on their own outside of sandwiches, macaroni and pizza. How can you eat well, navigate a (small) kitchen, and avoid opting for takeout every night?
If you're a newlywed or dating someone, cooking for a significant other for the first time can be especially nerve-wracking. You want to be impressive (or at least competent) and to cook some things that you'll both enjoy. You might be building up your culinary repertoire and learning which dishes work (and which ones aren't such a hit).
How to Stock Your First Kitchen
Knowing some kitchen basics is an important step in the right direction. For those of us with a little more experience under our belts, a refresher course never hurts. We might even be able to pass our knowledge on to our younger friends and relatives who might be struggling with living on their own for the first time.
So if you're ready to boost your cooking knowledge, cook for others and give a few new dishes a try, let's visit some basic kitchen essentials.
Where to Store Certain Foods
First homes and apartments can be quite small. You might be navigating a tiny kitchen and trying to get by with very little cupboard space. Many apartments have smaller fridges and stoves as well and a deep freezer is unheard of.
Don't worry! There are still many easy ways to store items. Hanging baskets can be a great space-saver for produce. Bananas and many fruits are just fine when left out of the fridge (although they will spoil faster). Some items, like tomatoes, shouldn't be stored in the fridge at all, so a counter or basket is a great option to keep them tasting their best. You can also store onions, garlic, avocados, pineapple, kiwis, and apricots outside the fridge and in a basket.
A windowsill lettuce garden can be a great option, if you want to have fresh salad always at the ready, but you tend to forget about it when it's in the fridge. You can also grow fresh herbs on your windowsill, such as dill, parsley, cilantro, thyme, chives and basil. Snipping a few sprigs to enjoy over pasta or a baked potato can make your meal taste gourmet.
Speaking of potatoes, did you know potatoes should be stored in a cool dark spot (rather than in the fridge)? You can put them in a bin on the lowest shelf in your cupboard. Make sure it's dry, cool and dark, and wrap them in a paper bag. Don't store them with onions as it can encourage faster sprouting.
For other produce items, store them in the fridge. Apples, grapes, celery, carrots, peas and green beans can all go in your fridge. Store them in the produce drawer. Keep in mind, apples can release gas that causes food to ripen faster, so keep apples in the produce bag or store them separately.
For lettuce and herbs, store them in the fridge, cleaned and dry. Put a damp paper towel in the bag with greens to help keep them fresh and store them in a plastic bag. Berries should be rinsed and thoroughly dried—any moisture can cause them to spoil much faster.
Keep eggs safe by storing them in the back of the fridge (even if there's an egg container on the door). The temperature from opening and closing the fridge can be too unstable and can make them go bad. Butter, yogurt, milk (obviously) and cheese should all be stored in the fridge in closed containers. You can leave butter on the counter in a butter bell, if you use it regularly, but if you want to be cautious, put it in the fridge.
Meat should always be refrigerated, even when thawing. Simply move it from the freezer to the fridge. Keep meat on a low shelf to avoid cross contamination if it leaks or drips onto food below. Always use meat within three days of purchase or freeze it. Never refreeze meat or anything else, for that matter.
Bread should be stored on the counter or in a cupboard, as the fridge will cause it to quickly go stale. Bread can also be frozen! Some people aren't big fans of freezing bread, but I've never had an issue with it, particularly for toasting later.
As far as freezing other foods, I've found that you can literally freeze almost anything cooked. Soup and sauce-based meals freeze the best, but I've had luck freezing pasta, cooked a little firmer than normal, browned ground beef, even peanut butter sandwiches!
Frozen veggies tend to have more nutrients anyway. They're frozen at their peak ripeness, rather than traveling on a truck and sitting on store shelves for days before they make it to your home. Frozen veggies are great convenient sides and they can really stretch meals.
Store leftovers in the fridge for no longer than three days. All open condiments should be stored in the fridge as well. You can store butter in the freezer, along with hard cheese and herbs (freeze in cubes of veggie broth or oil). If your freezer space is limited, try to save room for full meals, veggies and frozen fruit.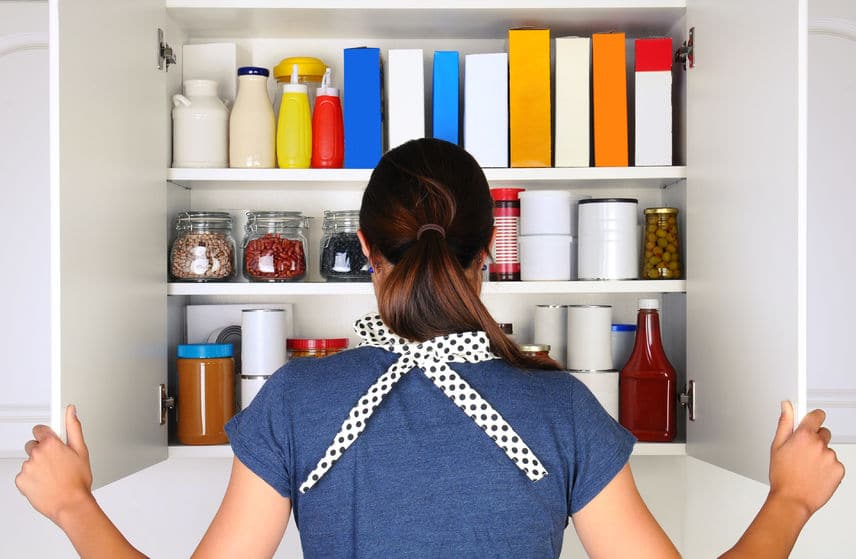 Basic Foods to Keep on Hand
You can stock your pantry and cupboards with some basic foods to help you create plenty of different meals. There are some great items to buy that can be combined to make a myriad of dishes—pasta dishes, chicken or tuna salad, rice and beans, and soups. Once opened, store items in the fridge in a glass container. Some items to keep on hand:
Rice, grains and quinoa
Pasta
Canned tuna
Canned chicken
Salsa
Canned vegetables
Beans dried and canned
Potato flakes
Crackers
Dressing
Mayonnaise
Mustard
Tomato sauce
Boxed pasta Meals
Sun-dried tomatoes
Jarred peppers
Jarred olives
Applesauce
Vegetable & chicken broth
Boxed cake mix
Pizza crusts
Soy sauce
Cream of mushroom soup
Cream of tomato soup
Nut butters
In addition to these pantry staples, keep the following fridge and freezer items on hand:
Cheese
Milk (or almond milk)
Plain yogurt
Eggs
Peppers, onions & mushrooms
Soy crumbles (or browned ground beef)
Butter or margarine
With these basic items, you can make plenty of meals to enjoy. Of course you'll want to also include items to suit your tastes—bread, tortillas, fresh and frozen vegetables, fruits, and of course meat you like—but with these listed basic ingredients, you can still make tons of dishes.
Keep basic spices on hand—salt, pepper, chili pepper, garlic powder, cinnamon, sugar, and olive oil, as well as your other favorite seasonings. Spices don't keep forever, so buy only what you'll use up regularly to get started.
Helpful Kitchen Tools
If your space is limited, there are just a few basic kitchen tools you'll need. It can be tempting to go out and purchase all kinds of kitchen gadgets, but a space free of clutter can be far more helpful than a counter full of one-trick ponies.
Opt for a basic set of pots and pans: a sauté or frying pan, a larger pot for pasta, and a small pot for soups and sauces. Get a sheet pan and a square glass casserole dish (which can double as a cake pan). Every kitchen needs good knives, a chef knife, a serrated knife for bread, and a paring knife.
For kitchen tools, look for a set of stackable measuring cups and spoons.
A silicone spatula is helpful along with a few wooden spoons or heat-resistant serving spoons. A can opener is a must and a cheese grater can be very helpful as well.
Most kitchens need a hand mixer or hand-held blender. A slow cooker can be extremely convenient and there are so many meals you can make ahead to keep you fed all week long. Imagine the convenience of prepping and cooking once and then eating all week long! Master make-ahead meals to make your whole week go more smoothly. In just an hour's time, you can prepare ten meals!
Cooking for yourself and stocking a basic kitchen doesn't have to be intimidating. It can actually be a lot of fun once you get involved in creating different dishes, finding what you enjoy and what you have an easy time creating.
Jot down the recipes you love or bookmark them on your computer so you can return to them later. When you're first starting out, go with simple dishes—spaghetti, tacos, sautéed veggies and chicken over rice. As you become more confident, branch out and try new dishes or recreate some of your favorites from restaurants or home.
Cooking is a lot of fun. Give yourself a chance to learn the kitchen essentials and you'll be a culinary master in no time!
Other helpful resources:
PIN FOR LATER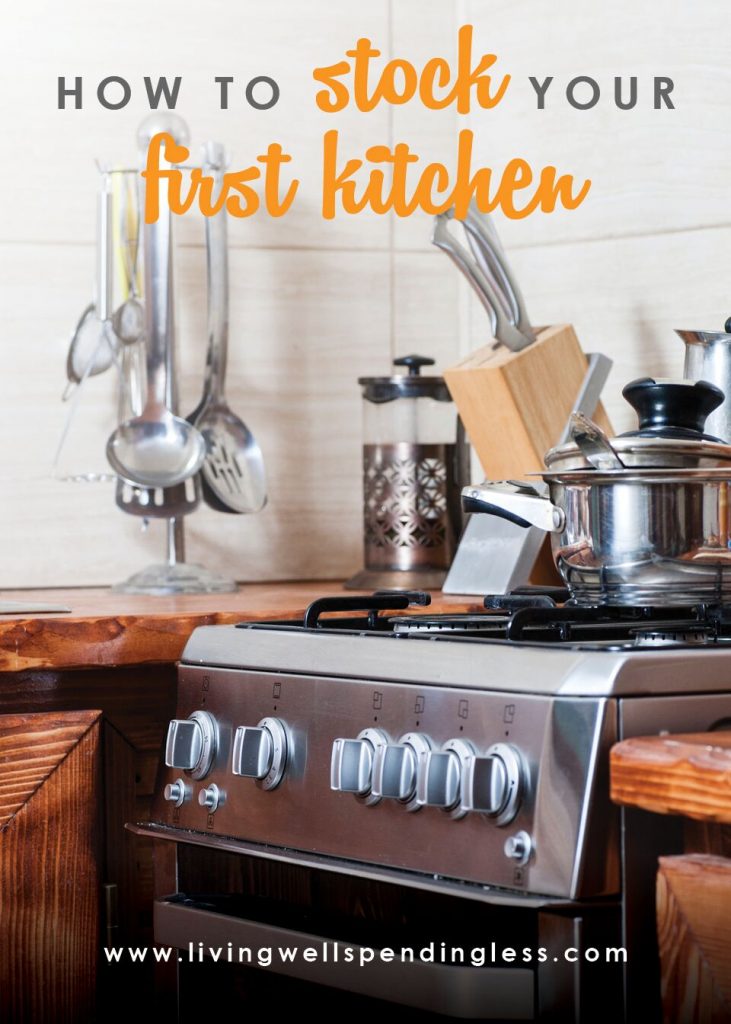 TAKE BACK CONTROL OF YOUR HOME LIFE
---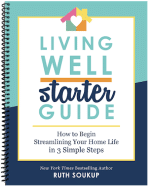 Ever feel like you just can't keep up? Our Living Well Starter Guide will show you how to start streamlining your life in just 3 simple steps. It's a game changer--get it free for a limited time!
If you love this resource, be sure to check out our digital library of helpful tools and resources for cleaning faster, taking control of your budget, organizing your schedule, and getting food on the table easier than ever before.