Kids always asking for snacks? The most-asked mom question can be solved with these tips on how to set up a simple, healthy snack shelf for grab & go days!
"Mom, I'm HUNGRY!"
It's the phrase every mom dreads, especially when you're busy doing, well, everything BUT preparing a healthy, nutritious snack for your kids.
But what if we could solve that dreaded snack issue for good? Believe it or not, the solution is closer than you think! By setting up a self-serve snack station, cupboard, or shelf that is easily accessible and packed with snacks you can feel good about, your kids can exercise a little independence and choose snacks that they'll actually eat. Better yet, you'll save yourself the aggravation of having to drop everything else when snack time comes.
Setting up a snack shelf in your pantry and in an area of your fridge gives your family access snacks they love, right on hand. You'll be able to prep ahead, then your kids can grab their snacks quickly whether it's the night before, in the morning, or after school—without even thinking about it!
Besides, snacks can add up at the grocery store—all those cute convenience packs are priced higher because of individual packaging. You'll save a bundle by buying in bulk at Costco or Sam's Club. Stock up on items at rock bottom prices and easily put them together yourself for a fraction of the cost.
Include snack prep in your Sunday prep plan and within 10 minutes you can bag, shelve, and ensure a bunch of great snacks are ready to go for your kids (and even for yourself)!
With a snack shelf, the whole family can make healthy choices they'll love to keep them fueled for anything that comes their way.
How to Set up a Snack Shelf (So That Your Kids Can Help Themselves!)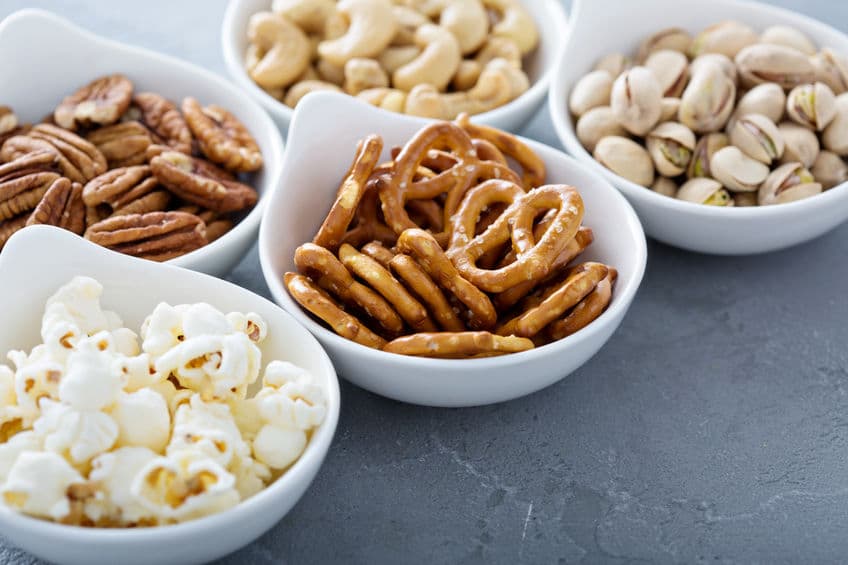 Great Snack Shelf Items for the Pantry
Pantry snack items are great because you don't have to worry about spoilage. Some items, like pretzels or cereal can get a little stale after a while, so rotate them and always put the most recent snacks toward the back of the shelf.
Pretzels

Pretzel Crisps

Veggie Sticks

Popped Chips

Whole Grain Crackers

Popcorn

Apple sauce

Dried Fruit

Dehydrated Fruits & Veggies

Nuts*

Granola

Trail Mix

Seeds

Nut butter*

Raisins

Whole Grain Cereals

Sesame Crisps

Wasabi Peas

Granola Bars

Energy Bars

Fruit Leather

Fruit Snacks

Baked Chips

Cereal Bars

Rye Crisps

Rice Crackers

Chex Mix

Wheat bread with jam

Beef or turkey jerky

Bagel thins

English muffins
*Check your child's school guidelines on tree nuts, as many schools are nut-free due to allergies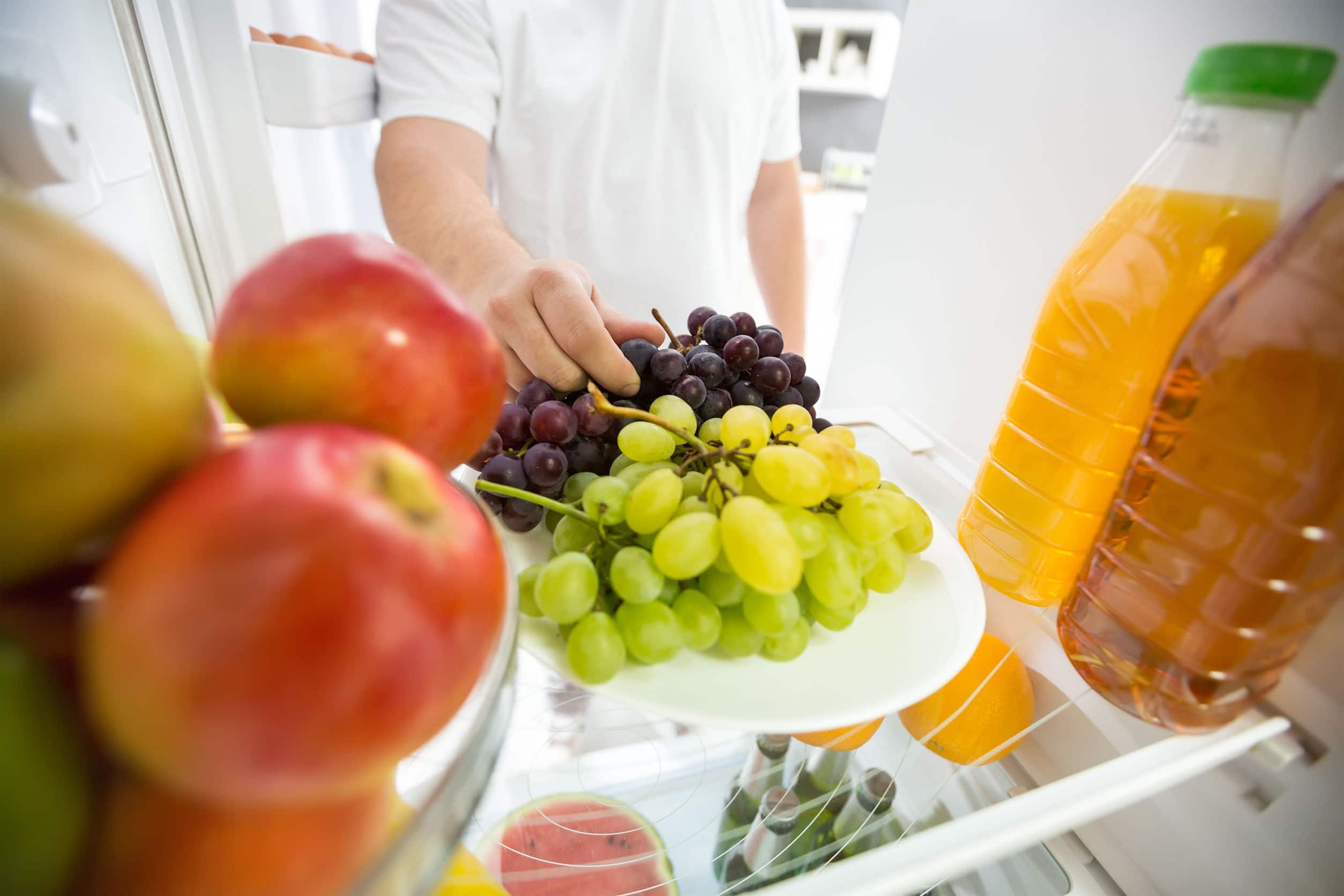 Great Snack Shelf Items for the Fridge
When it comes to fridge snacks, have them at the ready for after school or as a morning snack. Include an icepack or even freeze some snacks like yogurt tubes to keep them cold for longer. Pack lunches in insulated containers to keep them cool as well. Some products, like hummus and cheese can stay unrefrigerated for longer than mayonnaise, egg and milk-based snacks.
Hard-boiled eggs

Cubed cheese

Yogurt tubes

Cottage cheese

Hummus

Chopped or sliced carrots

Celery sticks

Sugar Snap Peas

Snow Peas

Sliced sweet peppers

Grape tomatoes

Edamame

Salsa/Dip (for veggies)

Whole-edible fruits like nectarines, peaches and plums

Oranges

Sliced apples (sprinkle with lemon juice)

Pineapple Slice or chunks

Sliced mango

Grapes

Clementines

Bananas

Cherries

Berries

Fruit Juices

Seltzer

Fruit Cups

Jell-O cups

Rice pudding

Chia pudding

Cubed Melon
How to Set Up a Snack Shelf
Setting up a snack shelf is very easy. Simply clear a shelf of your pantry or cupboard and create a designated area in your fridge. Organize your pantry and clean out your fridge if you need to make room.
Supplies
To put together a snack shelf, you'll need some bins or boxes. You can label them using these convenient and cute printable labels so your kids will always know where to check for snacks.
Look for snack-sized Ziploc baggies and sandwich-sized baggies as well. Shop Costco or Sam's Club to buy bags in bulk or watch for great sales (check your rock bottom price list). You may also want cling wrap and some small individual containers—yogurt and dip-sized as well.
A sharpie marker can be helpful for labeling and dating the individual bags to tell if something is getting close to expiration date.
Prep
Pick 5-10 snacks to add to your grocery list and you'll have plenty for a whole month of snacking. Save money by buying food items in bulk or in large and "family-size" bags. So many items are marked up when we buy them pre-chopped or individually packaged. Doing it yourself allows you to make sure serving sizes fit your kid's hunger levels and helps you to avoid paying extra just for packaging.
Make snack-prepping part of your Sunday prep. Take 10 minutes to chop veggies and fruit, make hummus, or set Jell-O and pudding. Cube up cheese and go through bags and boxes of snacks and repackage them into single-serving-sized containers. In just a few minutes, you'll have a whole month of snacks prepped and ready to go!
Labels
Once the items are prepped and bagged, label them with the date (so you can be sure they aren't getting old). Print out labels and affix them to bins or boxes. You can find cute bins at the dollar store for cheap or use something you already have on hand. A cardboard box can work, but clear containers are easier so you can see what's in the bin.
Once you've labeled and assembled your bins, put everything on a low shelf where your kids can access it. Include an area in your fridge (a drawer or a bin) where you can store the refrigerator snacks as well.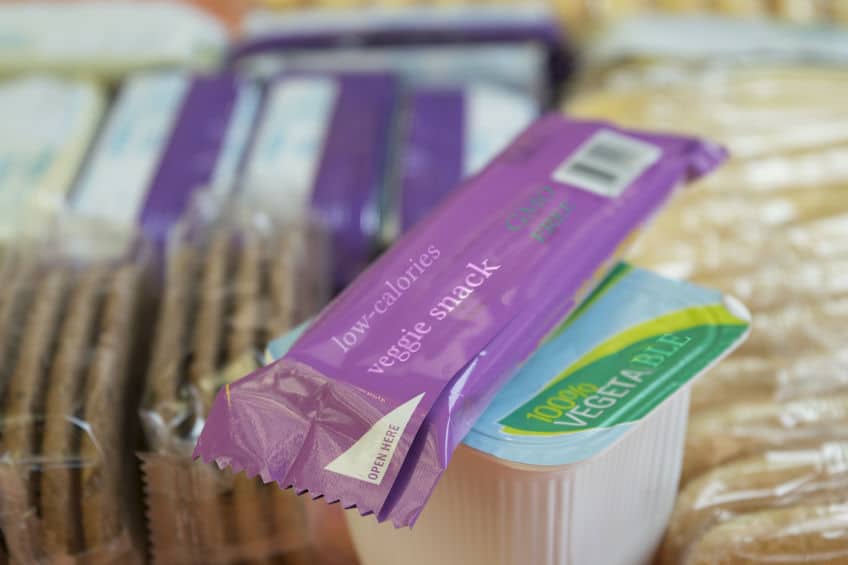 Notes
Take notice of what your kids love and the snacks that go to waste. You may want to help them select a different snack each day (especially if your kids love pretzels and crackers, but avoid fruits and veggies). Offering them a few items to choose from will help get them excited about their different snacks.
You can create a freezer-pack by using a kitchen sponge, soaked in dish soap. Put the sponge in a freezer bag and it will stay frozen and pliable and keep lunches and snacks cold. It will also help you avoid a mess because it won't leak if the bag gets a hole.
If your snack requires a spoon, include a plastic spoon right with the snack in the bin. You can tape the spoon to the snack to make it even simpler for kids to remember to grab.
Wipe out lunchboxes and bags every night and wash them once a week (or run hard boxes through the dishwasher) to keep them clean and free of mold, mildew and bacteria. Insulated lunchboxes are great because they keep snacks colder for longer (even without an ice pack).
Encourage your kids to eat cold snacks in the morning to keep them fresh and avoid any spoiling. Most schools don't allow kids to refrigerate snacks, so plan accordingly. You can also offer cold snacks after school and stick to the pantry snacks for school hours.
Pack easy freezer uncrustables and then have your child grab a few snacks to go along with their sandwich for an easy lunch that will keep them going. You can also make basic sandwiches (cold cuts or shredded meat, cheese, mustard, lettuce and bread) a few days ahead of time. Put the lettuce and cheese closest to the bread to avoid sogginess later on.
With a little planning, school lunches and snacks don't have to be a pain in the mornings. You can set up a snack shelf and get your kids on board to grab their own snacks and food as they head out the door. Having everything ready to go sets you up for success during the busy week!
Try a snack shelf so you'll always know what to grab and your kids will be able to help themselves to delicious, convenient and healthy snacks on the go!
Other helpful resources:
PIN FOR LATER: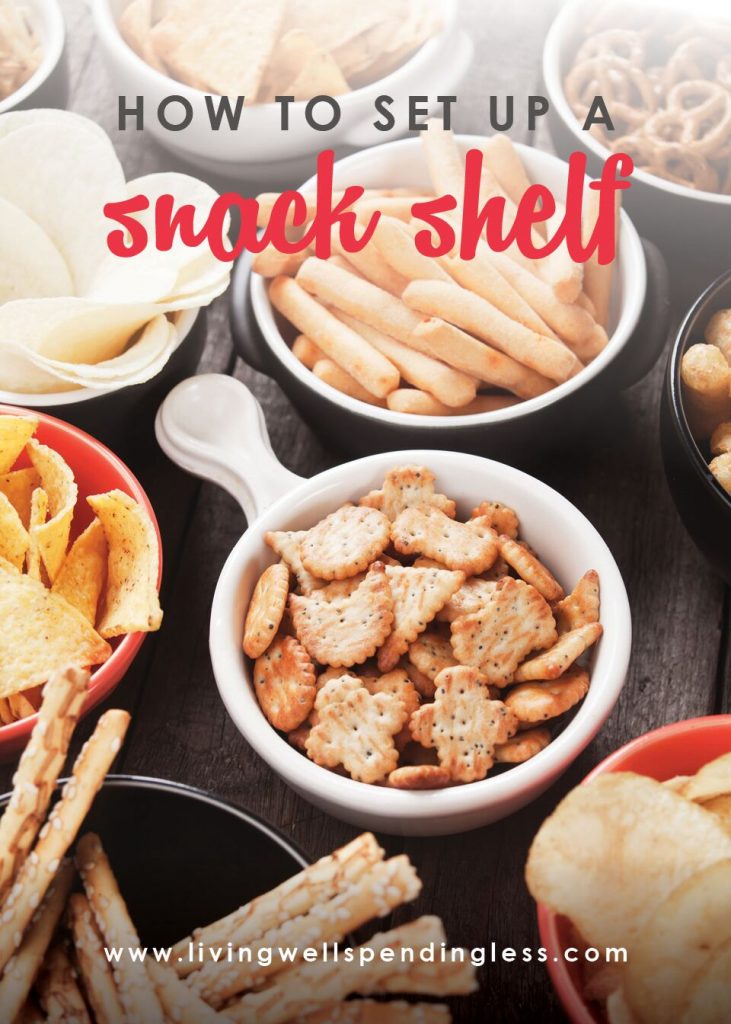 TAKE BACK CONTROL OF YOUR HOME LIFE
---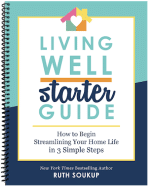 Ever feel like you just can't keep up? Our Living Well Starter Guide will show you how to start streamlining your life in just 3 simple steps. It's a game changer--get it free for a limited time!
If you love this resource, be sure to check out our digital library of helpful tools and resources for cleaning faster, taking control of your budget, organizing your schedule, and getting food on the table easier than ever before.