This is our second day of the 31 Days of Living Well & Spending Zero Challenge. Read Day 1 HERE.
* * *
I should probably warn you from the start: we are going to be doing a lot of cleaning, organizing, and taking inventory this month! (I never said it was going to be easy!) One of our main goals for the month is to get into the habit of using what we have, rather than buying more. Another goal is to realize and appreciate all that we do have, which is easier to do when our things are cleaned, organized, and inventoried. Sometimes all you need is a fresh look.
If I had known you were going to put us to work I never would have signed up for this challenge! Just kidding! My pantry is a mess but you make it doable. — Zoey
We will be starting off our challenge for the next few days by planning our food strategy. I don't know about you, but the second I start to think about trying to cook with only the food in my pantry and freezer for a whole month, I start to panic. My brain shuts down, and although my cupboards may in fact be brimming, all I see is "Nothing to eat." Worse, I have found that when I am hungry I make my worst financial decisions. I am willing to spend more when I just want to get food in my belly as quickly as possible!
Our first day of our no-spend, month long challenge involved setting some ground rules and assessing where we were at. Today, we are going to channel that energy and momentum into organizing our pantries.
TAKE BACK CONTROL OF YOUR HOME LIFE
---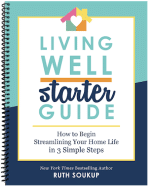 Ever feel like you just can't keep up? Our Living Well Starter Guide will show you how to start streamlining your life in just 3 simple steps. It's a game changer--get it free for a limited time!
This particular task might be a little different than pantry cleanups you have done in the past. This time, we'll be treating our pantries (and freezers) more like a store. It's time to go through everything, assess what we have on hand, figure out what we need to use up (I'm looking at you, can of beets), and get a general handle on everything.
The first time I posted this guide, several readers posted panicked responses about if it was cheating to buy things like toilet paper, for example. I am in no way advocating that you should start collecting leaves from the backyard! However, this isn't the time to stockpile and hoard either. Yesterday you should have given yourself an allotment for a few needed items. (For example, my family can't go an entire month without bananas, and even the best bunch doesn't last a whole 31 days.)
My husband and I decided not to buy any food except fruits, veggies, and dairy. After three weeks I had $200 left over. What an awesome feeling. — Stacy
When you go through your pantry and freezer, try to think creatively. Think of new ways to use up what you have on hand or ways you can stretch their use. You can make a great pasta dinner with some frozen broccoli, olive oil, and pasta. A big pot of rice, a few cans of corn and beans, and some taco seasoning can make a satisfying Mexican rice bowl that will keep your family sustained for at least a meal or two.
Think simple. And follow these easy steps to bring order to your pantry.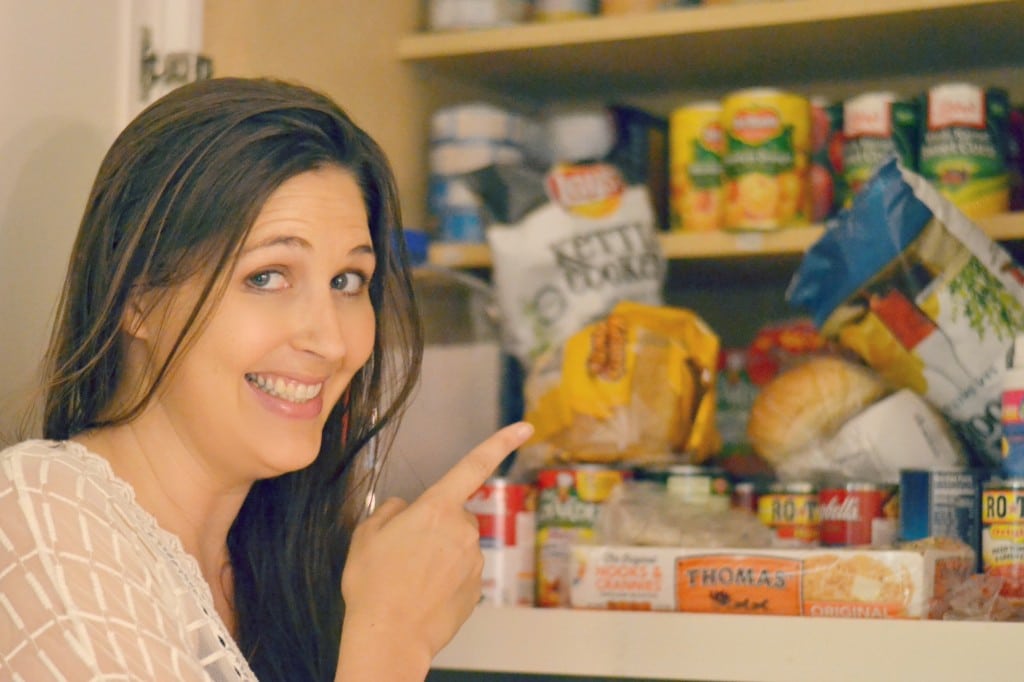 6 STEPS TO ORGANIZE YOUR PANTRY
1. Clear out a large space to work on. If you plan to do your cupboards or if your pantry is in your kitchen, you may want to clear off a counter. If your pantry is in another area of the house, like the basement, set up a card table, and be ready to set things out, assess, and put back.
2. Remove everything from each pantry shelf, one at a time. Check expiration dates and watch for anything that may have spoiled or is beyond salvaging. Canned items should not be bulging or leaking. Place open items in a cupboard or separate section. I like to keep my unopened items in the pantry, then place items in my cupboards once I've opened them or once they're in use (like baking soda, flour, pasta, and so on).
3. As you clear each shelf, wipe it down thoroughly. You can use a multisurface spray, or try a few tablespoons of vinegar diluted in three cups of water. Add a little dish soap and a few drops of your favorite essential oil, and you've got a spray that will freshen and clean without chemicals.
4. Write down each item as you go. This will become your go-to list when you're meal planning. Plus, it'll save you from running back and forth to the pantry for every ingredient.
Are you surprised to discover items you weren't expecting to find? Didn't realize you had seven cans of corn on hand or an unopened box of cereal that was hiding in the back? Great! Write it down and remember. You may be getting creative with these treasures in the next few weeks.
5. Put back your pantry items in a clean, logical order. You're going to want to do it just like the grocery store: each item should be faced towards you, stacked in a way that's easily accessible, and the most popular items should be placed at eye level. If you have several of the same item, check expiration dates and put the oldest item to the front.
6. Sit back and bask in the beauty of your clean, organized pantry! Don't you feel calmer now? If you're still feeling ambitious, try tackling the freezer! Use the same process and see what you have stored up.
I did this last night and I was so proud this morning when I opened my pantry and everything was organized. Doing this one day at a time makes it seem possible to spend nothing this month! —Angie
If you've found you're missing a few staples and you know you can't substitute or make it through the month without (or your family might mutiny and boycott the whole process), some folks use this time to pick up these limited items (which you should have allotted for on your worksheet yesterday).
Others like a challenge. If you feel it's better to take an all-or-nothing approach: go for it! Ramen for the month? Hooray! When we did the plan we ate a lot of peanut butter sandwiches, and I was definitely craving something different by the end of the month!
But you know what? We made it through—and I just know you can do it too!
TAKE BACK CONTROL OF YOUR HOME LIFE
---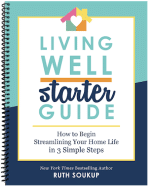 Ever feel like you just can't keep up? Our Living Well Starter Guide will show you how to start streamlining your life in just 3 simple steps. It's a game changer--get it free for a limited time!
If you love this resource, be sure to check out our digital library of helpful tools and resources for cleaning faster, taking control of your budget, organizing your schedule, and getting food on the table easier than ever before.