Getting ready to move to a new home? Don't miss these practical tips on how to plan a big move! From planning to moving day and unpacking your new home, these tips will save you tons of stress.
Ugh….moving.
Few things inspire more dread, stress, and sheer panic than the prospect of planning and executing a big move, especially one to a new city or state.
Believe me, I know. Since we've been together, my husband and I have moved cross-country four times, sharing more than a dozen different addresses, and are now preparing for our fifth big move. And so, I think I can safely say that we have learned a thing or two about how to pack, organize and prepare for the trip, physically, mentally and emotionally. We've also amassed quite a list of things to avoid.
Moving is always fraught with adventure, excitement, stress and expectations. After all, it's a new beginning, which entails tackling many unknowns and embarking on new experiences. A new home can be symbolic for everything the future can and will hold for you and your family!
My biggest piece of advice is to simply embrace the journey as an exciting new adventure. I can can guarantee that not everything will go smoothly, but you will most certainly create a lot of memories. The truth is that everyone remembers a move, from our first apartments to our temporary digs to our forever homes, because each one holds a little piece of our hears.
Everything You Need to Know About How to Get Organized
Here are a few things you can do to help make the experience a little easier.
Before Your Move
The best way to ensure a smooth move is to be organized beforehand. Hopefully you've been ruthlessly purging and decluttering your home for some time now. If not, then there's no time like the present to get "Unstuffed"—particularly when a move is on the horizon!
Purge & Clean
When you have the option to store items, it can seem easier to hold on to them. But when you have to make the "to move or not to move" choice, things become cut and dried. If you don't love it, need it, use it regularly, or if it's broken, get rid of it! Obey this rule for everything you touch: clothing, books, magazines, toys, knickknacks and even kitchen appliances. Embrace the "when in doubt, throw it out" mentality. There's nothing worse than unpacking boxes of stuff later on, only to realize you don't really need any of it.
Sell your stuff on Craigslist or even eBay to get some return on your investment. Post any furniture or large items to your local community Facebook page or to your neighborhood swap board. Couches, appliances and other items can fetch a decent price and may really help offset the cost of some of your move.
Measure & Arrange
Ensure you have a floorplan for your new home so you can arrange your family's living space in advance. Measure your furniture to ensure everything you want to keep fits and has a place in your new home. Some people only measure the largest pieces, while some measure everything. It's really up to you and how much you like to plan and play with layouts.
Download an app like MagicPlan or Homestyler so you can arrange your layout before you get into your house. This will also help you decide where each piece of furniture should go and where it will fit.
Collect Boxes
Is your move fast approaching? Start collecting boxes as soon as possible. If your budget is tight, heck Craigslist and Freecycle to find people who've recently moved and are looking to get rid of their collection of packing supplies (and make a mental note to return the favor post-move). If you've got some wiggle room, consider purchasing boxes. U-Haul offers moving boxes for a very reasonable price, and they also buy back any boxes you don't use.
Check with liquor stores and grocery stores for boxes. Have your office save paper boxes for you and hold on to any boxes that come into your home. Flatten the boxes and store them in a dry location until you're ready to start packing. You can begin packing up to eight weeks ahead. Assess whether your holiday decorations, camping supplies, and seasonal items are already packed up to go.
Several handy services offer plastic bin rentals, including ZippGo and Rent-A-Green Box. These services can be really helpful. They save you time and the frustration of dealing with collapsed cardboard boxes; plus, they'll inspire you to unpack quickly because you have to return the bins.
As you're collecting boxes, try to aim for consistent sizes, if at all possible. They'll be easier to stack and arrange. You'll also want to collect bubble wrap, packing tape, and large sheets of paper and plastic bags to pack around breakable items. Get creative with the way you pack: blankets can cushion fragile items and food containers and cardboard can protect breakables.
Set a Date
Schedule your official move date. Coordinate which day based on your closing date (if you're buying a house) or the end of your lease on your current place. Try your hardest not to break your lease. If you must, sublet if you're in the middle of an agreement. Breaking your lease can cause a great deal of additional expenses, like having to pay rent on a place where you no longer live.
Schedule your move during the week if you can, and keep in mind the first and last of the month are peak moving times. June and September are also busy times with graduation and back-to-school. Movers are swamped and the rates are sky high. If you can go off-peak, you'll definitely save money.
Decide on Movers
Back in our college years, many of us could rally friends to move our stuff for a six-pack of beer and a pizza. Unfortunately, as adults, it's asking a lot to expect family and friends to move you out or in. I've watched my husband struggle to help friends move, and it's a big favor to ask of anyone.
Even if you think you can move items yourself, consider the pros of using a professional mover: they're experienced, they're usually bonded and insured, and they can alleviate a great deal of stress while saving you time. When your washer doesn't fit down the stairs, movers will understand how to angle it or position it so it will fit (or they'll be able to definitively tell you it won't). You aren't left playing a dangerous game of Tetris as you throw out your back.
A word to the wise: moving costs between companies can vary greatly depending on a variety of factors—and cheap isn't always best. Our family friend moved cross-country a few years ago. She went with the cheaper movers and ended up with a lot of damaged furniture. (Some was even damaged from the straps holding it in place.) Some movers apply muscle to fit everything into the truck and some apply finesse. Do your homework on your moving company and evaluate whether it's really worth it!
There are a bunch of ways to offset the cost of hiring professional movers. First, do your research and find the best deal on a moving company. Check the Better Business Bureau and visit http://www.protectyourmove.gov to get a handle on your rights and the protections available. Check with your homeowner's insurance to be certain your movers are covered. If you hire local students off Craigslist or Facebook, they might not be covered and you could be out more than it's worth.
Second, consider what you can DIY. Oftentimes, you can save by doing your own packing (but your movers might have restrictions on what they'll insure based on who packed it, so always check). You might also be able to drive the truck yourself, then simply hire movers to pack and unpack for you. (Chances are, you'll probably find more helpful friends and neighbors in your current town than strangers willing to help you in your new town.) If you're moving locally, you may be able to take a few smaller loads in your own car, reducing your transportation and shipping costs. If you're moving a few states away and your moving company will be taking one of your cars along with the van or truck, be sure it's in a trailer, rather than driven to your new home. I've heard too many horror stories of cars arriving with serious damages, or worse, lost along the way only to arrive weeks (or even months) later!
Additionally, many employers will offer a bonus or incentive to offset moving costs, so if you have to relocate to take a new job, always bring that up in negotiations.
All in all, I'm a big fan of DIY in almost all cases, but when it comes to moving, hiring movers is the way to go. You'll preserve your health, your back, your friendships and your sanity. If there's a place to splurge on your moving costs, movers are it.
This is also a good time to determine if you'll need a cleaning service to take care of your old home after you've moved out. Depending upon your arrangement with your landlord or realtor, you may need certain areas professionally cleaned. If you'll be doing all the cleaning yourself, be sure you leave time (and energy) to do so after the movers have everything out.
Change Your Address
About a month before your move, you're going to want to start the process of changing your address on bills, credit cards, subscriptions, correspondence, etc. Fill out a change of address form with USPS and you'll get a moving packet filled with hundreds of dollars in coupons, plus ideas on ways to save on your move. Send out a moving announcement to friends and family with your new address and information.
Check with all utility companies and inform them of your move. Schedule services like phone, cable, electricity and water ahead of time so you aren't left in the dark. If you have a gas stove or dryer, you may need to have it turned on by a professional, as with the furnace. Plan ahead to ensure your utilities are ready to go.
If your pets are chipped, be sure to change your contact information and address on the chip. This is as simple as calling the manufacturer and updating your information. If you're not sure of the manufacturer, contact your veterinarian or look up the microchip ID on the American Animal Hospital Association website.
Get Set Up in Your New Town
Contact the City Hall, Visitor's Bureau and local Chamber of Commerce in your new town to find ideas of things to do and explore local culture and businesses. (Definitely find the closest grocery store!) If applicable, familiarize yourself with your new local DMV so you can get your new IDs and driver's licenses taken care of sooner rather than later.
If you're moving to a new state, ask if there are any restrictions on what you can move into your new home. For example, some states have plant protection laws and regulations—meaning you may not be able to move all your houseplants or you may have to comply with regulations. Look up your state's details by visiting the National Plant Board. (Also, if you're moving really far, consider that your plants may be trapped in a hot truck for days on end.)
Be sure to set up a new bank account (if need be) and order new checks if you like. (Be sure to prep to move the contents any safety deposit boxes as well.) Scope out new doctors and remember to ask your current doctor for the information they'll need to transfer your family's medical records. Likewise, visit your kids' school and arrange to have their transcripts and records transferred. Check out your new school district online and consider corresponding or arranging to meet with your child's teachers before they enroll at their new school. If you have pets, be sure you find a good vet and transfer your pet's records as well.
These little pre-planning activities can help you feel more at home when you arrive at your destination. There's nothing worse than having a panic attack at the grocery store because they won't take your check or trying to find a new doctor for a sick child in the middle of the night. Be prepared to make your move a welcoming and positive experience.
Moving
Moving is more than simply packing boxes and throwing things on a truck. If you're organized and careful, you can save yourself a huge headache down the road.
Pack your necessities in a suitcase (toiletries, clothing, bath towels, washcloths) and plan as though you'll need to live out of a trunk for a few weeks. Be sure you have all medications filled and on hand, and plan for anything you might need to access quickly. Back up all your digital data and your computers. Be sure you have chargers for phones and electronic devices ready and handy.
I usually set aside a few boxes labeled "MOVING DAY" packed with everything we'll need when we get to the new house. You'll want to pack these boxes with cleaning supplies, rags and paper towels, a small toolkit, paper plates and utensils, dishcloths, towels, and anything else your family may need at-the-ready when you arrive (especially if you plan on arriving ahead of the truck).
As you pack, each box should be full but not cramped and any weight should be held evenly. Don't forget that while the movers may be physically moving the boxes from your old home to your new home, you're still going to have to lug them around a bit when you're unpacking! Be sure they're not too heavy for you or your family to handle. If you have a family of bookworms, be sure to place books in the bottoms of multiple boxes to offset their weight.
As you complete and tape them shut, number and color-code every box according to the room they will go in. Label everything in two places (on the top and on the side) to ensure you have a handle on the contents. Wipe down anything dusty or dirty. (There's no sense bringing extra dirt with you.) Take photos of the contents of each box as a reminder for where you put items and to document the condition of everything inside each box.
Likewise, as you're packing, note any damage to furniture and appliances. (You don't want to argue with a moving company whether a table had three legs or four to begin with!)
When it comes to the kitchen, compare your old kitchen layout to the kitchen in your new home. It's likely it will be easiest to move your kitchen cabinet by cabinet. For example, if you currently keep your spices, measuring cups and spoons, and potholders in one drawer, pack them all together. You can always reorganize later. This way, when you get to your new kitchen, you'll instinctually know which items are grouped together. You'll be able to find everything much more quickly and you'll feel more comfortable and at ease.
Plan on defrosting your refrigerator at least 24 hours in advance of moving day if you're taking it with you. Try to eat any food and donate your pantry items rather than moving them. Avoid grocery shopping at least a few weeks before you go and use up those freezer meals! It's usually not worth the hassle to have to worry about keeping food cold and safe during a big move.
When it comes to valuables, paperwork and vitally important or expensive items, consider transporting them with you in the car or shipping them to your new home fully insured and tracked. It's just too dangerous to put these critical items on a moving truck and risk the loss, but also keep in mind that storing them in your car can be dangerous if you're driving and staying overnight in a hotel. Always keep a list and inventory of every single thing you pack, whether it goes with you or on the truck.
Packing the Truck
Pack the van with the heaviest stuff first. Put large items and big bulky items like couches on the very bottom. Stack heavy boxes on the remaining bottom, then fill in with light boxes and items like pillows, blankets, and accessories. Pack your mattress at the end of the truck to catch any items and pad them if contents move during the journey.
When planning for movers, you can make the process go more smoothly by keeping the largest items closest to the door and the smaller boxes piled together to fill in afterwards. Keep in mind that items will go in the opposite way they come out, so don't plan on unpacking those books until the bookshelf comes off the truck.
Try an app like Moving Van to keep track of box contents and the order they go in and come out, as well as where they should go. Hopefully you've cleaned out as much as possible by this time. Organizing your move in advance really helps everything run smoothly and efficiently.
On moving day, make things as easy as possible for yourself by hiring a babysitter and pet-sitter to keep little ones out from underfoot. Take at least a few days off of work (more if you're moving across the country). Arrange to eat simple foods: have sandwiches, soda, water bottles and granola bars on hand, so you can grab and go. Be sure to have cash on hand for the movers, your keys, extra paper towels, and any other vital supplies you might need for the day.
Moving Into Your New Home
If you can get to your new place ahead of the moving van (especially if you're moving cross-country), go for it. Make it a fun "camp out" adventure for the whole family. Bring your suitcase and cleaning supplies so you can put some extra work into the bathrooms and the kitchen, if need be.
Hang signs on each doorframe indicating the name and the color of that room to avoid confusion when the movers arrive. You can also write a list or put down labeled pieces of paper to signify placement of where each piece of furniture should go. It can also help to instruct the movers to place your boxes in each room's corners, away from the furniture, so you have more room to work with.
Trust me, it really helps to get a head start!
If you don't have a chance to get to your new home before the moving truck, be sure the movers know exactly where each piece of furniture and each color-coded box is supposed to go in your new home. Provide your moving company with a floorplan and/or a list of corresponding color-coded rooms. Remember: it's not the movers' job to "design" your home, but they'll certainly thank you when they don't have to move your grandmother's credenza up and down the stairs, twice.
If there's more than one team of movers present on moving day, have one team unload boxes and the other team focus on furniture so you can better direct the furniture placement (especially if you're the only adult present on moving day). The moving company will likely set up beds, bookshelves and other furniture. Check to ensure all major appliances (washers, dryers, stoves, refrigerators) are hooked up as well. I recommend verifying these services are included in your contract—it's SO much easier to start your life in your new home when everything is set up and ready to go.
Once the movers pull out and you're left surrounded by an enormous pile of boxes, you're probably going to feel pretty darned overwhelmed. You got this! The first step is to sort the boxes into the correct rooms, using your color-coding system. Hopefully your movers have followed the plans you've laid out and things are mostly in the right spot.
Start by unpacking the bedding and making your beds. When you have a place to sleep all set up, you'll instantly feel more at home. Play some music, and get some lamps set up or open the blinds to let the light in to make things feel a little more homey. After that, tackle the bathrooms. If your new home is dusty or dirty, be sure to wipe down mirrors and countertops and clean out shelves and drawers before you move each item into its new location.
Hopefully you've packed enough clothes in your suitcase for the next day or two and you have some easy snacks on hand. Knowing where your food, clothing and necessities are will help you feel more settled and oriented. If that's as far as you get that first day, that's perfectly okay! You're probably exhausted. Enjoy some takeout (be sure to grab plastic forks) or pizza your first night and settle in!
When you start to unpack the rest of your house, do it systematically. If you need to clean the kitchen or any built-in shelving before unpacking, do that first (but save the floors for the end or you'll just end up redoing them). I prefer to start with the kitchen—it's a focal point for the whole home, so getting it set up right away fills the new space with feelings of family and warmth. Next, I usually move on to the clothes closets.
Get boxes out of the way by taking decorations and seasonal items to their storage location (attic, basement or garage) right away, especially if they don't require unpacking. Arrange furniture first to be sure items like books can be easily unpacked and stored in their proper home.
Set an unpacking goal each day and try to tackle one or two rooms at a time. Get the whole family involved! Even little ones can help empty boxes, put away their clothes and shoes, arrange their toys and books, and more. When your kids get involved in unpacking and organizing their own rooms and play areas, it can really help them acclimate to their new space.
Keep cleaning supplies at the ready and clean as you go. Be sure you have a hammer, nails, and other supplies on hand so you can hang pictures and really settle in.
Embarking on your big move can feel overwhelming at first, but with a little pre-planning and organization it can be an exciting adventure. If everything doesn't go exactly as planned, try to remind yourself that it's ok to go with the flow. Take photos and keep track of the new discoveries you make as a family! It's a lot of work, but moving can be fun, I promise. Happy moving!
To recap, here are Everything You Need to Know About How to Get Organized
Before Your Move
Purge & Clean
Measure & Arrange
Collect Boxes
Set a Date
Decide on Movers
Change Your Address
Get Set Up in Your New Town
Moving
Packing the Truck
Moving Into Your New Home
Other helpful resources:
PIN FOR LATER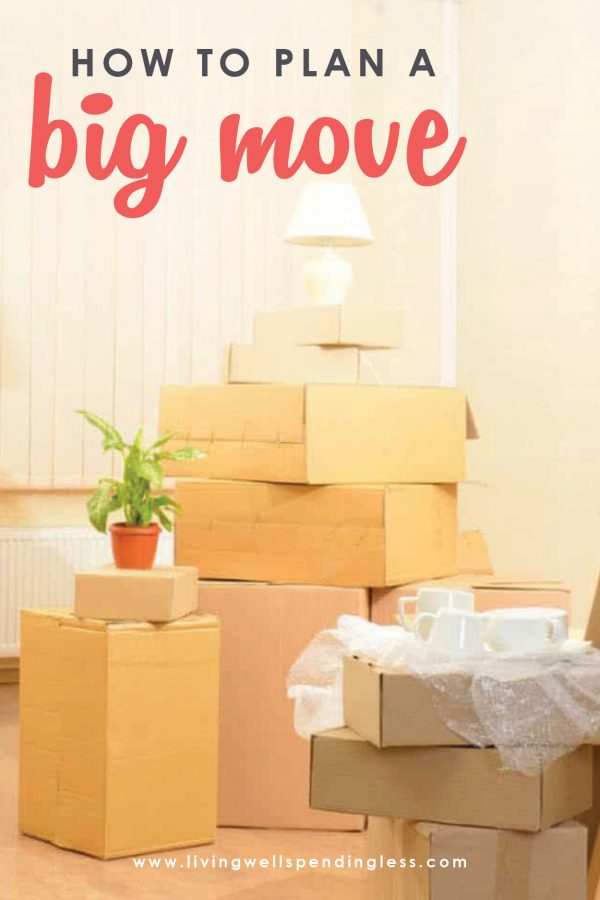 TAKE BACK CONTROL OF YOUR HOME LIFE
---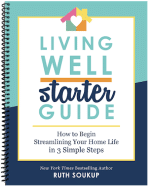 Ever feel like you just can't keep up? Our Living Well Starter Guide will show you how to start streamlining your life in just 3 simple steps. It's a game changer--get it free for a limited time!
If you love this resource, be sure to check out our digital library of helpful tools and resources for cleaning faster, taking control of your budget, organizing your schedule, and getting food on the table easier than ever before.